It might not be tank top weather quite yet, especially where we live, but that doesn't mean we're not already thinking about our summer wardrobe! In fact, most years we can be found beginning to make ourselves new summer pieces when there's still snow on the ground outside. Sure, there are lots of cute summer pieces that will be gracing the clothing racks at our favourite stores soon, and we'll no doubt treat ourselves to a few new things for the season, but there's just something about making out own summer clothing that gets us really excited! What's our favourite summer garment to make, you ask? We absolutely adore making ourselves DIY halter tops! There are just so many different styles, kinds, and upcycling options for creating shirts of this style that are both stylish and comfortable to wear in the summer.
Just in case you love wearing and making halter tops as much as we do, here are 15 awesome styles and tutorials that will help you get ready for this year's warm weather!
1. No-sew halter shop
Do you absolutely love transforming t-shirts into all kinds of different tank tops and shirt styles but you prefer to stick to very simple designs because you actually don't sew? In that case, we've got just the halter tutorial for you! Wobi Sobi guides you step by step through the process of making a simple no-sew halter top that's classic in cut and style.
2. DIY cropped halter top
Even though you love halter tops, do you actually sometimes avoid buying them in stores because you have a short torso and you don't like the baggy way store bought clothes fit you? Then perhaps you'd prefer to make yourself a custom style that actually fits, just like this crop top halter design from Injoyy! They show you how to make a top that fits high on your torso on purpose so you can feel comfortable and show off your figure.
3. V-neck, low back halter from a t-shirt
Do you love the way the straps look on a halter top but you find that the halters with a super high cut at the neck kind of bother you and make you feel too warm in hot weather? Then perhaps you'd prefer this V-neck design from True Blue, Me and You instead! We love the way this design balances the dip at the front by making it sweep low to show off your back as well.
4. DIY halter with a pinched string top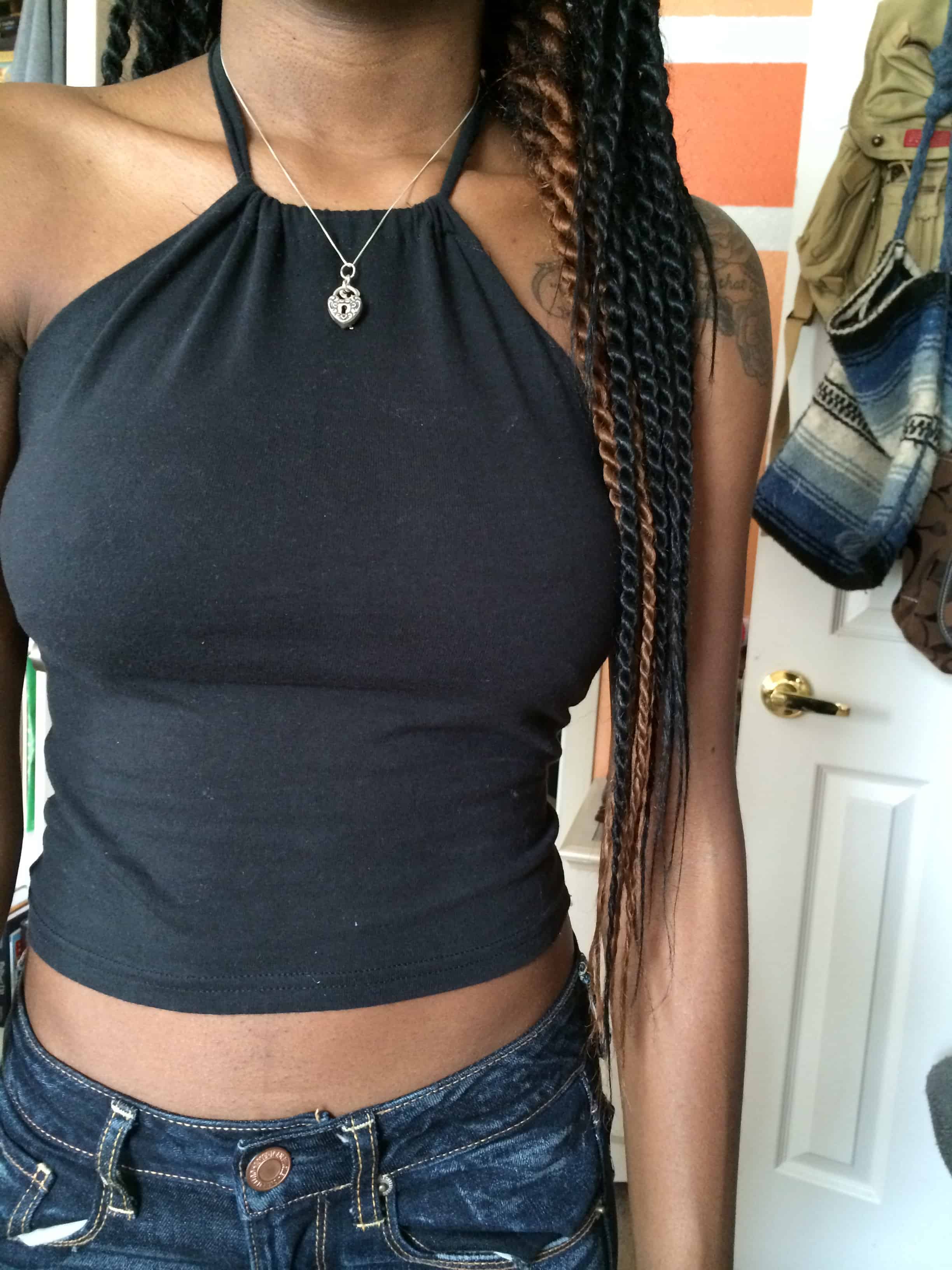 Have you always quite enjoyed the way puckers and bunches look in summer shirts and tank tops? We like them too because they're a very subtle way to add some detail even if you prefer your halter tops quite plain. That's why we like this tutorial from A Jackee of All Trades so much! They show you hot to make a halter with a pinch at the neck for your halter string to gather through.
5. Metallic and ribbon crop halter
Are you completely okay with the idea of a simple crop cut when it comes to your DIY halter top but you'd still prefer to make the design flashy in some way so that it's really eye catching? In that case, you might be the perfect person to make this awesomely metallic shirt design from Tie Dye Eyes! Their tutorial shows you how to work with shiny costume fabrics that can be a little tricky to sew but are totally worth it in the end. We love the way that using a bright ribbon as the halter tie adds a cute finishing touch!
6. Cross neck and knotted strap halter
Have you always really liked the way that halter tops look at the front, gathered at the neck, but you feel like the back leaves something to be desired? In that case, we have a feeling that you're really going to love this cutely knotted design outlined on True Blue, Me and You! They show you how to make a criss-cross front halter that actually ends in pretty ties on the bac of each shoulder rather than simply tying at the back of your beck.
7. Floral patterned halter with thick straps
When you choose your halter tops in stores, are you actually usually drawn to more dressy looking designs, rather than relaxed ones that you might wear to the beach? Well, it's true that not every halter top has to be made with thin spaghetti straps and small strings! Focus Positives reminds you how lovely satin florals and thicker halter straps can look (as well as how simple the design is to make).
8. Long fringed halter shirt
Are you quite used to the process of making your very own halter tops, particularly from old t-shirts that you want to upcycle, but you'd still like to add some kind of flare to your shirt to really make it stand out? Then perhaps some super fun fringe is just the thing for you! We love the way Something Borrowed Vintage left their fringe long like a fun skirt and knotted pieces from the back of the shirt down towards the bottom for even more detail.
9. DIY scarf and knob halter
Even in your simple summer tops, have you always preferred making yourself versions of popular styles that are a little more high fashion or unique looking? Then perhaps you'd prefer to make yourself this halter design from Inspiration Realisation that actually gets you using other things with your simple fabric too! They show you how to mimic this runway design by wrapping material in a halter style around a clear drawer knob at the neck.
10. DIY bandana halter
Have you always loved the fun, country inspired aesthetic that comes along with wearing simple bandana tops, but you're just not sure you trust the knots involved in simply tying an actual bandana around your body like you've probably seen on Pinterest and YouTube? In that case, this alternative from AyyitsTeddy might be the best design for you! They show you how to sew your own halter from a bandana with a proper tying neck and an actual shirt back to make sure everything stays where it should.
11. DIY crocheted halter top
Perhaps your DIY and crafting skills have always lied more in the area of yarn crafts rather than fabrics? Well, it sounds to us like you're still completely on track for making your own halter top, just in a different style! Krystal Everdeen walks you through the steps for creating a simple crocheted crop top with a halter tie and three cute, delicate looking little ties lower on the back as well.
12. DIY halter top dress
We've shown you all kinds of halter top style shirts by this point on our list, but shirts aren't the only garments you can make using the halter style! Halter ties also make a very pretty detail on dresses, especially if you like how a gather looks on top. That's why we enjoyed this tutorial from Crafty Geeky so much! They show you how to make a dress that's lovely in its simplicity but still gives you that halter style you love.
13. No-sew Boho halter with beads and feathers
Has your personal style always been a little more eye catching and full of flare than the average person, so just making a plain halter top isn't quite enough for you? Then we have a feeling this Boho inspired top featuring exciting patterns, bright colours, and even feathers and beading is much more your speed! Life Ann Style shows you how to make it happen step by step, in a very stylish and almost vintage looking way.
14. Long sleeve to 50s inspired halter with a bow
Are you intrigued by the idea of transforming t-shirts into halter tops but you don't actually have any short sleeve shirts available right now? Then we'd suggest looking to your unused long sleeve shirts instead! This awesome and surprisingly simple tutorial from Refashion Co shows you how to turn sleeves into a thick halter with a vintage inspired bust that looks right out of the 1950s.
15. Baby halter top romper
Have you always been a big fan of making yourself and your baby adorable matching outfits? Well, if you're going to make yourself a cute summer halter for when the weather gets warm, why not make a cute little onesie for your little one too? A Beautiful Mess shows you how to make an adorable halter top baby onesie with a cute fringe detailing in the middle.
Do you know someone who adores designing and making their own fashion designs and has been looking for new halter top ideas in preparation for summer but they could still use some inspiration and guidance? Share this post with them to help them make all kinds of pretty halter tied tops!