35 Adorable and Stylish DIY Baby Mobiles
Jazz up your baby's bedroom with something you made with your own two hands. And his or her mobile is a great way to start! Adorn the crib and stimulate your bundle of joy with a sweet and stylish accent! Check out these 35 different adorable baby mobiles that you can create all on your own!
1. Twigs & Hearts
Untamed Petals made this textural and fun piece from scratch and you can too! Follow the tutorial and make a rustic-styled piece for your baby on the way!
2. Felt Hot Air Balloons
Hot air balloons are always adorable, especially these festive little bundles. How Joyful shows us all how to put these cuties together!
3. Paper Airplanes
Everyone needs to know how to make a classic, paper airplane. And we love how Apartment Therapy incorporated them into the scheme of a children's room.
4. Simple Circles
Decor and the Dog went with a simpler, more contemporary idea. This project is easy to dive into and can make a chic, modern splash in a more sleek-visioned nursery.
5. Pom-Pom
Who doesn't love a charming bout of pom-pons? Small For Big used this favorite craft supply for their DIY mobile idea and it turned out quite magical.
6.  Girly Tassels
Style Me Pretty has beautiful, aesthetic vision and this piece is no exception. This feminine chandelier would be such a gorgeous addition to the nursery.
7. Just Clouds
HGTV made this simple cloud mobile and we're swooning over it. Not only is it versatile and will fit in all kinds of nurseries but it's so whimsy and fairy-tale like.
8. Geometric Rain
Are you looking for something a bit outside-the-box? Tiny Me presented us with this contemporary idea and we love its architectural detailing.
9. Yarn Balls
P & N made these yarn balls and showed us all how to recreate them quite easily right at home. This is perfect for a more cozy and comforting space.
10. Paper Boats
Hello, Wonderful put their paper skills to the test for these paper boat creations. We love the creativity and unique appeal of this design and love how fun it would be to pick out the different kinds of paper to use.
11. Flying Pigs
Have you ever heard of the saying, "When pigs fly …." Well, this design from Festival Girls brings that thought to life in this adorable project.
12. Hemma Bead Hearts
Morning Creativity took contemporary fashion and rustic vision, combining it into one unique design for a baby's trendy nursery.
13. Bubbles
BabyList Blog may have made one of the most creative on the list. This pastel bubble design couldn't be anymore beautiful or fun to decorate around.
14. Geo Straw
Here's another inspiring, geometric idea from Brit + Co. And who would have thought to use straws as the main foundation to mobile making?
15. Veneer Trees
Wood veneer trees are one of many ways to get creative but help to cultivate the trendiest of all nurseries for your little boy. Take a peek at this DIY from You Are My Fave.
16. Wisteria
Honest to Nod made something whimsical and delicate for a baby girl, and we're in love. This handmade floral accent would be a great addition to a femininely-inspired nursery.
17. Moon & Stars
This project was brought to us by Fantastic Fun & Learning and we think it'd be quite the inspiring accent for a brand new nursery.
18. Paint Swatch
We can't help from love this chandelier made by Hey Gorg. How beautiful would it be hanging above a little princess's crib adorning the fairy-tale scape.
19. Colored Cubes
Curbly gives us another modern design to swoon for. Some classic wooden blocks make this project a breeze for even novice DIYers.
20. Crystals
God Bless Our Nest went with ultra femininity with their DIY mobile and we love it! Add a bit of posh appeal and elegance with some gorgeous crystals that hang.
21. Forest Animals
Ceci Bean went with a trendier idea – woodland creatures – or at least those found in the forest. Any little one's room would embrace this charming, artistic addition.
22. Galaxy Star
Honest to Nod always has great ideas and inspiration – and that goes for this galaxy project as well. We love the sparkling silvers and ease of this design.
23. Gold Dreamcatcher
And here Honest to Nod does it again by creating my personal favorite of the pack. This gold-dipped dreamcatcher is quite dreamy, don't you think?
24. Ribbons
Bebeh Blog took ribbons to a whole new level with this ribbon chandelier. This is one of the more versatile ideas as you can change color and patterns so easily.
25. Blue Dinosaurs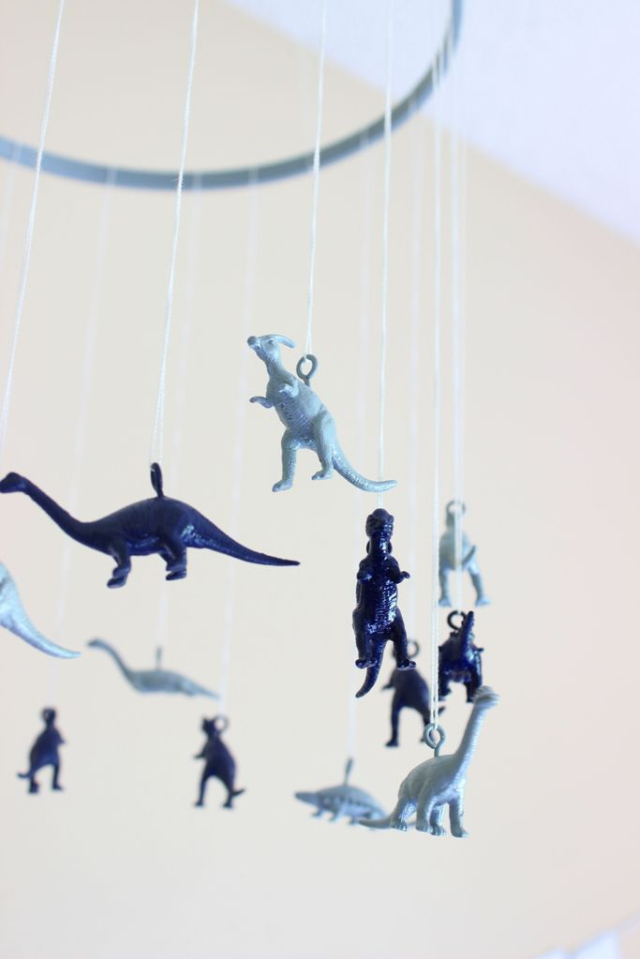 Melissa Creates made something any little one would adore – as do we. Some plastic dinos can go a long way with a bit of spray paint!
26. More Feathers
Here's another feather design and this one is from Tinker With This. We love the whimsy behind feather accents and love the play on colors in this piece.
27. Clay Cloud
Petit Pippin made a petite little mobile from Claire! We love it's tiny appeal and the personalization of the entire design.
28. Owls
Who doesn't love some cozy, charming owls? Over at Youtube you can watch and learn how to make this piece at home all by yourself!
29. Hot Air Balloons
Chickypea seems to adore hot air balloons too and you can really tell in this design. How it was made was incredibly innovative and unique.
30. Ice Cream Cones
Icing Designs made another favorite and standout piece – who doesn't love ice cream? Especially when they're dipped in pastels and ruffles!
31. Vibrant Garland
Check out this vibrant and funky piece from Honest to Nod. Change out the colors on your own but get inspired from this artistic piece!
32. Grey & Gold
DIY On The Cheap made a feather design that we can't help but gush and swoon over. A bit of glitter and classic neutrals come together to make something magical.
33. Gold Geos
Ruffled had a versatile piece that's full of contemporary style and can truly fit into a variety of nurseries from chic to masculine.
34. Capiz Shell
Design Sponge made this chandelier from capiz shells and we think it could be a perfect addition to a little girl's room full of delicate references and details.
35. Felted Balls
Style Me Pretty made a dainty and girlishly charming DIY that anyone can replicate! Decide on the color scheme and go for it!