DIY Storage Ideas for Small Apartments
When it comes to small space living, we have a lot of experience. We've lived in countless little apartments and we even lived in residence back when we were students, so we've tried out all kinds of tricks and tips for maximizing our space and making the most of the home we had without having to pare down our belongings too badly. We always found that finding the best solution for a particular space took a bit of creativity, which is why we've been combing DIY blogs and crafting sites for new ideas that we might not have tried before. We certainly don't live in the smallest space we've ever occupied right now, but we still like to save space in the rooms of our modest little house whenever we can!
Just in case you're used to living in small spaces as well but you still feel like you could use a bit of help getting some additional storage organized, check out these awesomely creative and well thought out DIY ideas for making the most of the space you've got!
1. Wall mounted spice rack and grater utensil holder
If you happen to have already lived in a house with a total kitchen enthusiast when you were a kid then mounting your spice rack on the wall might not sound all that unique or ingenious. What we really liked about this kitchen design featured on Captain Walt, however, was that they also mounted some of the other kitchen tools and utensils that they need quick and regular access to while they're cooking! In particular, the way they used an old cheese grater turned upside down as a spot for mixing spoons and ladles was particularly creative to us. We liked the way it upcycled something and suited a sort of vintage kitchen decor.
2. Small balcony seating area
Are you fortunate enough to have a tiny balcony with your apartment but it really is quite small and you're looking for ways to make the most of it? Then we'd absolutely suggest taking a look at how Engineer Your Space created a little seating area fit for at least you and one other person! We'd suggest making the bench on the far side a crate seat that you can store things in, just to give yourself even more places to stash things. Just make sure it's weather proof so nothing gets damaged if it rains or snows.
3. Wall mounted crate bathroom storage
You'd think by this point in our time as crafters and DIY enthusiasts we'd stop being surprised by the power of crates, but there truly are just so many things you can do with them! Have you ever looked at the shallow kind of crates that you often find in home stores and wondered what they're used for when their sides are so short? Well, in a small apartment home, we'd suggest using them just like Manual Biz 19 did here! They make great simple bathroom shelves to get your morning routine stuff up off the tiny counter.
4. Space efficient corner shelves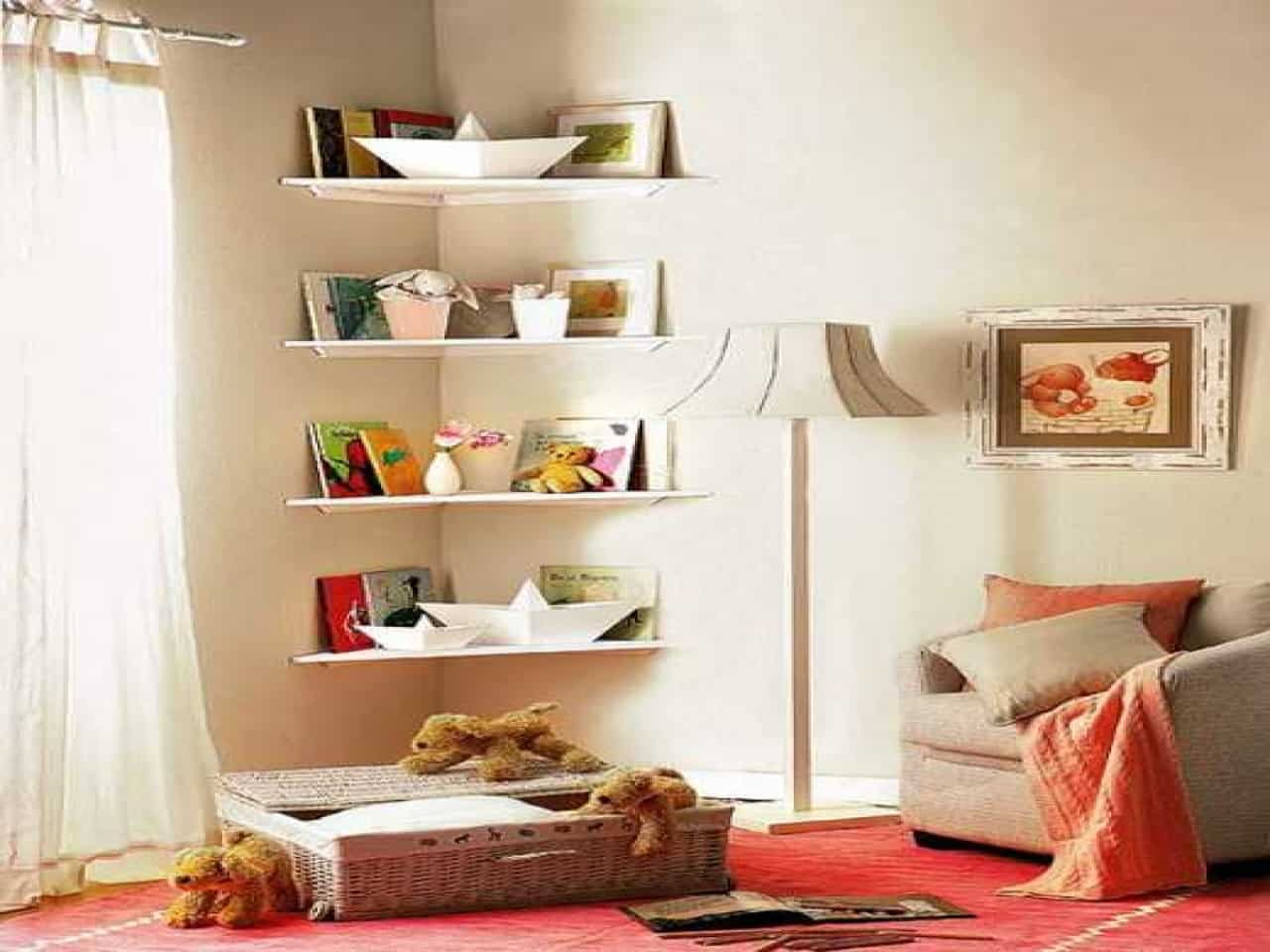 Perhaps you feel as though you've already maximized the available space you have on the walls for shelving but you'd still really appreciate at least a few more shelves to hold decor trinkets, crafting supplies, or even just pictures of your loved ones? In that case, we'd suggest looking to the corners of your rooms and considering those as storage space too! Any corner that's not blocked by furniture can actually make for great extra shelving if you can find or build the right kind of piece. Check the whole idea out in more detail on Sun City Villas!