Spiced Honey Roasted Nuts
Spiced honey roasted nuts – a little sweet, a little spicy, a little salty and a lot addictive!
Christmas is fast approaching and it is time to start thinking about gifts! These spiced honey roasted nuts make a lovely home-made gift if you wrap them up in a nice jar, or they are just great to have to hand to nibble on throughout the holidays.
These spiced honey roasted nuts have the perfect balance between sweet and salty and have a nice level of spiciness – it is definitely there but not so much that it overpowers the taste of the nuts themselves. You can of course vary the spices to suit; I used cinnamon, nutmeg and ginger for a festive flavour, and cayenne pepper for a nice hint of warmth.
They are very easy to make but you do need to keep a fairly close eye on them while they are in the oven so that they don't catch and burn. Once they are cooked and cooled they should be stored in an airtight container, where they will keep well for a couple of weeks (provided you manage to restrain yourself from eating the lot!); perfect for gifting!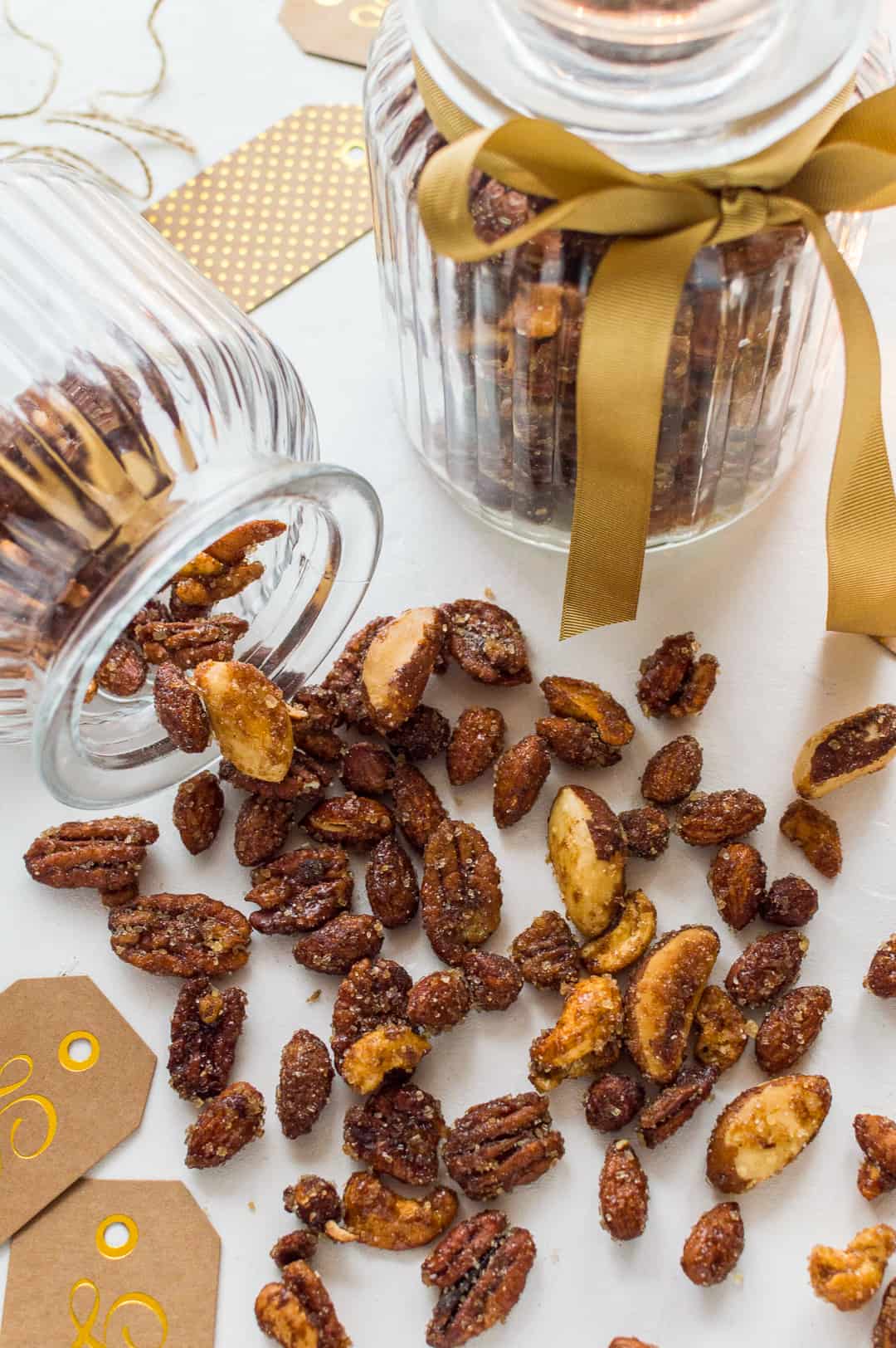 Here's what you'll need:
1 lb mixed nuts (I used almonds, cashews, pecans, hazelnuts and brazils)
3 Tbsp runny honey
1 Tbsp butter
1/2 tsp ground cinnamon
1/2 tsp cayenne pepper
1/4 tsp ground nutmeg
1/4 tsp ground ginger
1/2 tsp salt
1/4 cup turbinado sugar
1.Preheat the oven to 325°F and line a roasting tray with baking parchment.
2.Place the honey and butter in a pan and heat gently until the butter has melted. Stir in the cinnamon, cayenne pepper, nutmeg and ginger then add the nuts and stir until they are well coated.
3.Spread the nuts out on the prepared roasting tray and roast for about 20 minutes, giving them a good stir every five. The nuts should be browned but not burnt.
4.Leave to cool for 2 minutes while you mix together the salt and turbinado sugar in a large bowl. Add the nuts (they should still be hot at this point) and stir until they are well coated. Taste and add more salt and/or sugar as needed.
5.Return the nuts to the roasting tray, spread out in a single layer and leave to cool completely before decanting into jars.