DIY Shower and Bathroom Benches
Contrary to popular belief, shower stools aren't just for the elderly! In fact, they're trending back into the average home in a very big way because they're so convenient. They're great for shaving your legs, setting things on, enjoy a good, hot steam after a long day at work, and so on. That's why, in our upcoming DIY bathroom renovation, we're considering including one! To prepare for it, we've been on the lookout for all kinds of different DIY shower bench options and info.
Are you feeling just as curious about the process of making shower benches as we are, if not more? Check out these 13 awesome shower bench tutorials that we've come across so far in our search for inspiration and guidance!
1. Redwood shower bench
Are you the kind of person who has at least a little bit of woodworking experience under your belt and isn't afraid to use it? Then we just might have found the perfect shower bench tutorial for you right out of the gates! Whether you're planning on building a new shower like we are or already simply have the space in your current one, this lovely wooden redwood DIY bench outlined on Ana White  is a great option.
2. Teak folding shower seat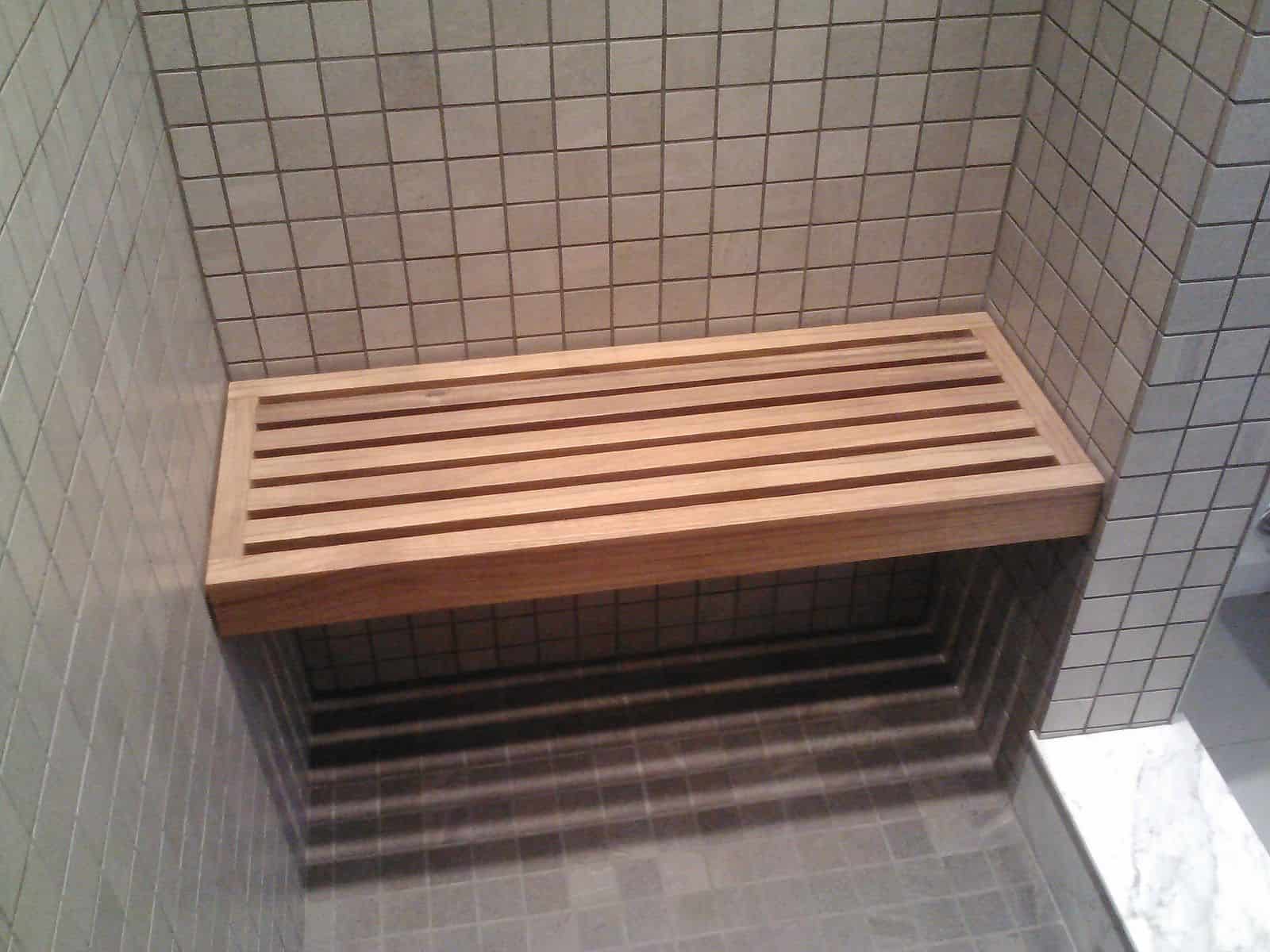 Do you have the space for some kind of shower bench in the end of the shower you currently had, but it certainly isn't the kind that's a whole separate piece of furniture with legs? In that case, we think you might get along much better indeed with something like this wall mounted folding bench that slots right between the walls and can collapse downward. My Urban Orchard shows you how they made this one from teak wood.
3. Full DIY shower with a built-in bench
Perhaps you're building a whole new shower from scratch like we are and you're so set on the idea of making yourself a shower bench that you'd rather build it right into the design? Then we think you'll be quite interested indeed to see how Countryesque measured out and allotted for there's like an actual piece of the wall extending outwards a little ways at just the right height.
4. Spare patio wood shower bench
Are you the kind of crafting enthusiast who will use just about any kind of DIY project as an excuse to upcycle if you can? Well, if you happen to have wood left over from other home improvement projects, like Forever Redwood did here, then you've got most of what you need to make this well-sized DIY shower bench from scratch! They show you how they did it using leftover wood from their deck and patio.
5. Tile corner shower seat
Are you feeling quite intrigued indeed by the idea of building a shower bench right into the wall of your shower but you're working with a lot less space than some of the ideas you've seen so far require? Then we think you might have a little more success with this tutorial from The Tile Shop that shows you how to use a thick, strong piece of diagonally cut tile mounted into the corner of the wall to create a small seating nook!
6. 2×4 shower bench for over one end of the bath
Perhaps you're interested in the idea of a shower bench but you have a full tub and not a standing shower? Well, believe it or not, that doesn't actually mean you have to miss out on all the fun. Instead, check out how Cassandra Greer used 2x4s stained to look rustic chic and laid them over the end of the tub from ledge to ledge like a platform. They also give you tips for making sure it's actually solid enough to sit on and won't slide out from under you, which we think is pretty important!
7. Wood framed, tile covered shower
Just in case you're still interested in making yourself a shower bench that's part of the wall but you need a little more explanation on the very basics of it, here's a detailed outlined from Floor Elf about how they built the inner wooden frame that maps out the basic dimensions of the wall stool. They also give you tips for tiling right over it when you tile the walls!
8. Custom fit wood framed corner bench for a DIY shower
Did you actually really like the idea of giving your shower a corner style bench instead of a full one across the end because it saves space but you'd rather build it into the wall like the one above than simply stick a large tile into place? In that case, we'd be willing to bet that you'll get along quite well with this tutorial from Trugard Direct.
9. DIY distressed finish bench that fits in a walk-in shower
Perhaps you're still considering your options when it comes to the slightly more low maintenance ideas and you know you'll have enough room to simply place an external bench in your standing shower but you're looking for a style that's more minimalist and rustic looking, like something you might find in a farmhouse? Then DIY Network is here to give you precisely what you need.
10. Folding down bench that can be adapted to your shower
Did we actually really catch your attention when we mentioned the teak folding bench above but you're fortunate enough to have a full sized walk-in shower and you're looking for a version that's a lot more spacious? In that case, we'd suggest using the basics of this wall mounted folding bench from Specific Love Creations and adapting the location and mounting technique to your shower wall!
11. Wide bench in a large walk-in shower
Just in case you don't actually have a full sized walk-in shower yet but that's actually what you're planning on building yourself, then here's a way to build the much larger sized bench we just talked about right into one wall instead! Sal DiBlasi shows you how they did it with wider and longer dimensions than the other built-in benches you've seen so far.
12. Even simpler DIY tub bench
Are you still thinking about how much you loved the idea of adding a simple, removable wooden bench to your shower by placing it across the ledges of the tub, but you're in need of a design that's slightly simpler and a little smaller than what you saw before? In that case, we'd absolutely suggest taking a look at how Charleston Crafted made this little insert bench instead!
13. How to fit a shower tray (which helps you leave room for a shower bench)
Just in case you're in the process of building your shower and you've reached the part where you're ready to put in the bottom shower tray but you're hesitating because you' still haven't decided which kind of bench you want, here's an awesome step by step guide for inserting the tray in a way that will help you account for the bench, figure out your measurements, and leave space for it! Get the full details courtesy of Family Handyman.
Do you know a fellow home crafter and DIY enthusiast who wants to build their own shower bench but who you know could use a little bit of guidance and help along the way? Share this post with them so they have all kinds of inspiration, information, and choices to work with!