35 MORE DIY Baby Shower Favors We're Loving
When it comes to celebrating, the more you can DIY the better. It's more personalized and more fun! And as we've said before, don't allow your guests to leave empty handed. Baby showers are parties too and deserve a little favor to have as a keepsake. Check out these 35 DIY baby showers that we're loving and think you'll love too!
1. Cheesecakes
Project Nursery made some delicious, personalized cheesecakes and we have fallen in love with the idea. It's memorable and everyone will enjoy them fully!
2. Tiny Planter
Over at Lily Shop, you'll find all the details for creating a tiny little plant for your guests to take care of. The metaphor is quite fitting for a baby shower, don't you think?
3. Sweet Tea Kit
Cate Ronquido shows us how to make tiny sweet tea kits to send off with our guests. All they will have to do is add water!
4. Bun in the Oven
You'll have to fill the box with something special but the box itself is quite adorable, don't you think? Check out the details at Just Me.
5. Champagne Pop
Fashionable Hostess grabbed some celebratory "popping" champagne and used it has a really fun and pun-perfect gift. Topped with a cookie too, of course.
6. Sweetie Pies
Jenny Steffen gives us mini pies with the most adorable labeling. Pass out sweet pies at the end of the party!
7. Dish Cloths
Learn how to whip up some fancy dish towels with some help from Grace Happens. They're usable and completely unique!
8. Little Peanuts
She's having a little peanut, so why not pass out some little peanuts on the way out the door. It's perfect for themed events like circus showers or even elephants!(via)
9. Smores Bags
Create a s'more's bag like this one from Landeelu and send your guests off with something they can enjoy and have a little fun with. This favor definitely won't go un-used.
10. Candy Animal Jars
The TomKat Studio shows us how to make these super stylish baby animal jars. And all you have to do is fill them with your favorite candies.
11. Chalk Wood Ornaments
Scout Mob gave us some super inspiration. If you're having a shower in the wintertime, close to Christmas, create some ornaments for your guests to remember the day with.
12. Raspberry Lemon Lip Balm
Simplistically Living featured a beautiful recipe for homemade, raspberry lemon lip balm. It's just another great treat to leave your guests with as a thank you.
13. Sea Glass Candy
Hop on over to Happiness is Homemade and learn how to make some sea glass candy. This too is unique and it's perfect if you have a themed shower – whether it's nautical or "under the sea" in vision.
14. Mini Pinatas
DIY Candy has us swooning for these mini pirates. If you're celebrating the baby's arrival around Halloween-time, be a little festive with the favors.
15. Build-A-Snowman
I Watch Them Grow has this easy idea up their sleeve and we're loving it. Whether it's a Frozen-themed shower or just a nod to winter – it's interactive and edible!
16. Popsicle Boxes
All you have to do after you learn to make these absolutely adorable boxes from Oh Happy Day – I fill them up with your favorite treats! Easy, creative and memorable this one is.
17. Bath Salts
Something Turquoise shows us how to make a few different kinds of halt salts. Although hers were labeled for a bridal shower – you can pass these out for the baby showers too!
18. Pumpkin Spice Latte Syrup
Earnest Home Co has one of my absolute favorite ideas and recipes. Everyone loves pumpkin spice – why not send your guests home with their own syrup to enjoy every morning in their hot cups of coffee.
19. Cinnamon Sugar Pretzels
And if you visit One Good Thing, you'll be able to snag the recipe for this delicious favor too. Cinnamon sugar pretzels will be a hit with all of your guests.
20. Pineapple Bags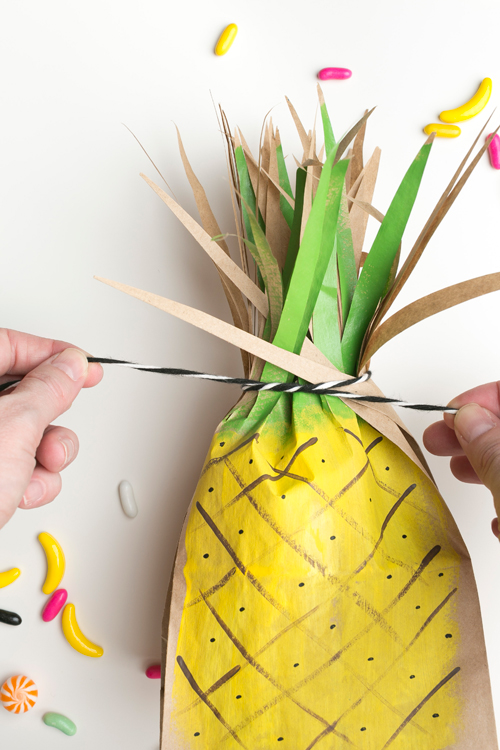 The House That Lars Built gives us another great tutorial for a super fashionable favor bag. And then all you have to do is drop some goodies inside.
21. Pinecone Fire Starter
Mon Cheri Bridal has one of the more surprising favor ideas on the list. Learn how to make some pinecone firestarters for those celebrating in the wintertime.
22. Dreamcatchers
The Elli Blog wants you to get really crafty. Make some dream catchers for your friends and theme the entire event behind its whimsy.
23. Red Wine Lollipops
Now You're Cooking shows us how to make some red wine lollipops and we're loving this brilliant idea. Just make sure you have some non-alcoholic versions for your mom-to-be to enjoy too.
24. Rice Krispie Treat Hearts
Edible favors are always a hit, especially when they're this adorable. Learn how to make some dipped, heart-shaped rice krispie treats with ease! (via)
25. Berry Granola
Always Order Dessert has a delicious recipe for winter berry granola that you can serve up in so many different fun and fashionable ways. And the guests can use it for a variety of different things as well – from yogurt to an afternoon snack on its own!
26. Chocolate Bark
BHG shows off an easy and fan-favorited favor. Chocolate bark is easily made and can be embellished in all kinds of ways to fit the party.
27. Mixed Treats
Over at Blitsy Crafts, grab some inspiration for providing all kinds of funky and adorable treats. A mix and matched assortment could always be a fun way to say thank you.
28. Tea Tins
Tea tins could be a unique way to delight your loved ones as well. Grab all the details for creation over at Something Turquoise.
29. Fresh Flowers
Proper gives us a super great idea that will be a hit with every single one who shows up to celebrate. Grab some fresh flowers and present them in a stylish and chic way.
30. Knotted Fabric Boxes
Minted brings us a tutorial for knotted fabric boxes that can house anything from bite-sized cookies to candy with lots of charm and excitement. Just grab fabric that matches the day's event.
31. Donut Holes
Donut holes are always a hit too. Do an assortment of flavors or hop on over to Ruffled and follow along with their instructions.
32. Sprinkle Oreo Pops
Catch My Party makes another fun and edible favor that would be a perfect fit at a baby shower. Oreo sprinkle pops look celebratory in and of themselves!
33. Salted Chocolate Caramels
Learn how to make one of those precious boxes above and them follow along at epicurious and learn how to make these candies. Salted chocolate caramels are always scrumptious.
34. Tissue Paper Pumpkins
One Little Project features another great idea if your celebration falls in autumn. Tissue paper pumpkins filled with sweets!
35. Baby Food Jar Candle
And finally, visit Kelly Hicks to learn how to make a candle right inside an empty baby food jar. It's festive and usable!