15 Best Sand Crafts and Activities For Summer
Usually, when we talk about sand, we're thinking of sprawling beaches and lovely tropical holidays rather than DIY projects that you might do at home. This time, however, the beach isn't what's on our mind! Sure, this list involves sand, but we're actually talking about crafting with sand rather than running our toes through it on a hot day. We will admit, however, that making things with sand is a pretty good way to get in touch with your beach-loving side when you need a quick summery remind in the midst of chillier weather.
Check out these 15 super awesome DIY projects that are all made with or somehow involve sand!
1. DIY moon sand
Did you click on this list hoping to find a sand based craft that you can do with your kids? Then you have indeed come to the right place! One of the things our kids are most obsessed with in the DIY world lately is moon sand. You can find full instructions for making your own on Domestic Charm.
2. Rainbow sand art
Just because you're crafting with sand doesn't mean you have to stick to the regular neutral colour that natural sand normally comes in. In fact, there are plenty of sand projects that use fun, colourful sand instead! We love this completely DIY rainbow sand art jar idea from Busy Kids, Happy Mom.
3. DIY sand impressions
Have you ever made footprints or written message sin the sand at the beach and loved how they looked so much that you wished you could capture that forever? Well, Paging Fun Mums is here to show you that you actually can! Check out their tutorial to learn about sand impressions that you can actually frame and display.
4. DIY sand block instrument
If you never got the hilariously fun opportunity to play the sand blocks in music class as a kid, then we're sorry to say that you really missed out! They're one of those instruments that are simple enough to play but provide a whole lot of both amusement and sound quality. You'll be happy to hear that they're also very easy to make! Fairy Dust Teaching shows you how it's done.
5. DIY sand necklace pendant
Do you have a favourite beach that you love more than any other place on earth? Then here's your chance to actually craft with real sand! Diary of a Mad Crafter shows you just one stunning way to preserve the natural sand from your dream place; by turning it into a beautiful necklace pendant!
6. DIY kinetic sand
If you haven't had the chance to feel kinetic sand yet, then we suggest you swing by any crafting or toy store and give it a poke, because it's truly a fun experience. Kinetic sand moulds even better than natural sand but sprinkles little pieces a lot less, making it perfect for playtime. Instead of buying the sand while you're there at the store, though, we suggest making your own because it's a whole other layer of fun. Get the details for doing that on Parenting Chaos!
7. Beach sand memory tags
Are you an avid traveler who has been to many a beach in your lifetime, and who plans on visiting many more? Then check out this simple and super original way to chronicle your beach journeys across the years! Makezine teaches you how to make simple, adorable sand tags marked with the beach they came from. We love the way that you can see the differences in the sands when you put all the tags together in one place.
8. DIY sand picture frame
Do you have some pretty pictures of you and your kids at the beach but you've been waiting to try and find the perfect frame to put them in before you set them on display? Then stop wasting your time in store bought places and check out how Simply Nicole made her very own photo display by using applique techniques to affix sand all around the front of a picture frame!
9. Ombre sand centre pieces
Have you been collecting sand of all different kinds for years and now you're looking at your samples and wondering what you could possible do with them? Well, don't throw them out just yet, because Something Turquoise has a pretty neat suggestion. Pour your sand into glass jars or vases, with your darkest at the bottom and your lightest at the top. Finally, nestle some candles into the top and get ready to relax.
10. Sand dollar place cards
Did you know that sand can be useful for temporary décor needs as well? By "temporary décor" we do, of course, mean parties and special occasions! Beach themed parties and events are always a great place to incorporate sand as long as you can find a way to do so without making a big mess that you can't clean up well. One of those ways is this simple but adorable sand dollar idea from Doyle Dowdell Photography! They've used a small, shallow sand table to stand place cards made of sand dollars on their sides telling each guest which table to sit at for dinner.
11. Layered sand art planters
So far a lot of the ideas we've told you about have used sand paired with something else to make you stunning decorative things, but what if you really just want the focus of the pieces to be the actual sand itself? Perhaps you adore the look of natural sand scooped right up from the beach and you want to harness that beauty? Then check out these lovely layered sand art planters from Pith and Vigor! We love the way the bright green of the plants looks sprouting from the top of the sand striped planters but, if we're being honest, we actually love the layered sand look so much that we'd even enjoy the concept if you forgot the plants.
12. Colourful sand art terrarium
Did the idea of layered sand art really take your mind but you prefer the rainbow crafting sand because you just can't resist an opportunity to add a pop of colour? We don't blame you! That's why we tracked down a project that really lets you portray the coloured layering while also giving you something else really neat. Check out how Kelly Christine created this awesome rainbow sand terrarium!
13. DIY flower and sand decor
Are you a big fan of adorable tea light candle votives and you've definitely used sand to nestle the little candles in before but you'd also like a bit of similar but contrasting décor to set on your side table along with them? Then check out these stunning shallow sand and flower vases from Something Turquoise! We can't get over how pretty the flower and its petals look nestled right on top of a soft bed of sand.
14. Sand and sea shell jelly candles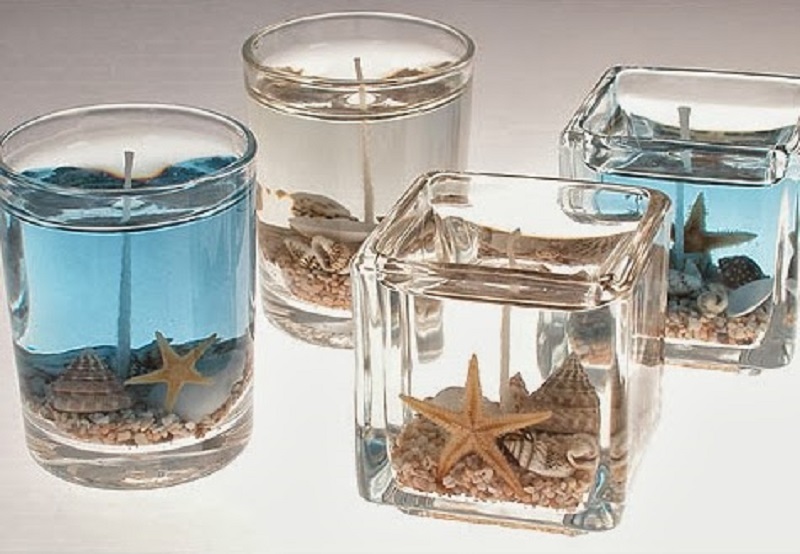 Perhaps your favourite beach has sand that's a little more rocky and made of slightly larger stones and the very fine sand we've shown you projects made with so far? Don't worry, there are totally DIY projects out there that use that kind of sand too! One of our favourites is this DIY beach themed jelly candle from Completely Coastal. They're a particularly fun process to make!
15. DIY sand box with bench cover
Alright, we know that technically building yourself a sand box isn't necessarily a "sand craft", but it's certainly a DIY project that definitely involves sand! This project might involve a little bit more handiwork and time than candle votive making but we promise it's worth it and we have a feeling your kids will agree! Get the full instructions for making your very own wooden sandbox on Stately Kitsch.
Do you know someone who thinks and is as interesting and full of crafting potential as we do? Share this post with them for a little bit of crafting inspiration!