With the season of parties and holidays approaching, you'll want to be sure to had a well dressed dinner table, and part of those decorations can include napkin rings. Often overlooked, napkin rings are a great final touch to any place setting and can give the table a tailored, finished look. Try your hand at these cute rings, made from toilet paper holders.  Yep, before you throw them away, you can use them one more time, and create a DIY project that can last forever.
For this DIY, you'll need:
Toilet paper rolls
Hot glue and gun
Rope or twine
Optional: decorative embellishments
Optional: Acrylic paint and paintbrush
Optional: Painter's tape
For this project, I made eight napkin rings, so I needed three toilet paper rolls. Make sure they are not torn or otherwise damaged. I also added a wooden embellishment at the top for extra flair. I purchased a bag of these wooden pieces from my local craft store, but you can use jewelry, or any decoration that's small enough to sit on top.
I started by painting the wooden chip with a white acrylic paint.  Initially, I was going to paint with multiple colors, but loved the contrast of the white paint and blue napkins. They are great for a minimal place setting. I used painter's tape to keep the lines straight. Let the paint dry for a few minutes before removing the tape.
While the paint is drying, start working on the rings themselves. Cut the toilet paper rolls in one inch segments. Three rolls should give you nine rings.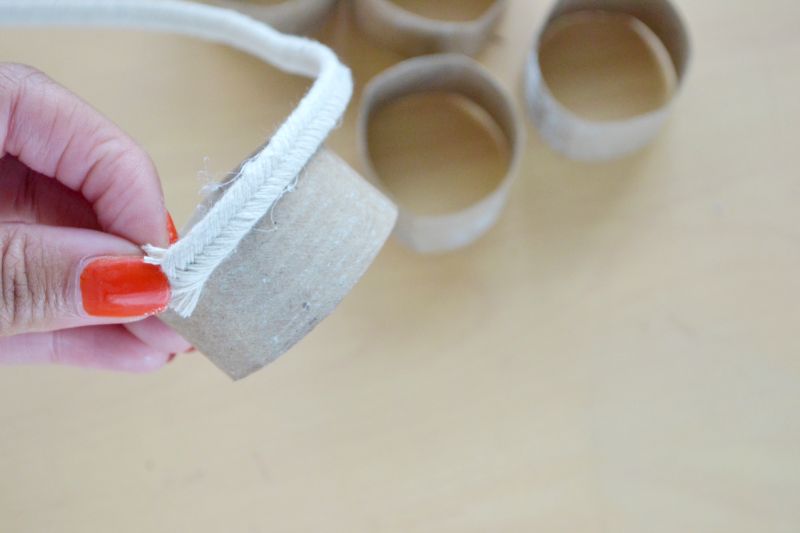 Being very careful with the hot glue, begin gluing and wrapping the toilet paper around the one inch, rings. When you get to the end, cut the rope at an angle and use the glue gun to secure it down as neatly as possible. Using a thinner twine may take longer, but it could be easier to wrap and secure at the ends.
Add a bead of glue to the top of the napkin ring and add the decorative wood chip. Press it down so it is nice and secure.
Create as many of these that you need for your Fall place settings or give to a friend as a housewarming gift.