Delicious Prime Rib Recipes To Try
To be totally honest with you, if we had to pick a single food to eat for the rest of our lives, giving up everything else, we'd probably pick prime rib! There's just something so delectable about if that we can't get over, savouring it every single time we make it. We already have our favourite way to make something in the classic way, but every once in a while we think it's nice to change things up a little and put some kind of exciting flavour twist on our favourite dishes. That's why we always have our eyes peeled for awesome new prime rib recipes we've never tried before!
Do you love prime rub just as much as we do, if not more, and you're also interested in learning how to prepare it in new, different ways? Check out these 15 mouthwatering ideas, recipes, and tutorials that we came across in our search.
1. Garlic butter and herb prime rib
Like us, are you the kind of person who would pick the flavour of garlic over essentially anything else? Well, we certainly can't say we blame you! It's the kind of flavour that not only complements but ramps up basically any other taste and we love its versatility. It'll come as no surprise to you, then, that the first recipe option we bookmarked right of the bat was this one for garlic butter and herb prime rib from The Recipe Critic!
2. Simple, classic prime rib for beginners
Have you actually never made rime rib before because you're a total beginner at cooking, but you're feeling really keen on learning? Then we'd definitely suggest starting with a basic recipe that will walk you step by step through the process of making a classic prime rib. We'd recommend this one from Tasty that's perfect for beginners!
3. Smoked prime rib
Are you feeling totally open to the idea of making a kind of prime rib with a bit of additional delicious flavour but you'd like it to be subtle? Then maybe you'd prefer to simply get an alternate taste by preparing it differently, rather than adding flavour to it. We'd suggest taking a better look at Vindulge to see how they made this smoked prime rib!
4. Slow roasted prime rib with au jus
Whenever you order prime rib in a restaurant, is the au jus that it often comes with actually your very favourite part of the whole meal, since your bread and veggies taste so wonderful dipped in it? Then we think you'll really appreciate the way Chowhound teaches you how to slow roast your prime rib perfectly in a way that gives you peak flavour and yields a delicious amount of flavourful au jus.
5. Herb crusted prime rib
Have you actually been scrolling through our list thinking about how adding flavour from external ingredients you really enjoy is precisely what you'd like to do, but you're just not sure that garlic butter is the way you want to go? Then we'd absolutely encourage you to consider this recipe and tutorial from Taste of Home that teaches you how to make a unique tasting herb crusted prime rib!
6. Smoked beef ribs with salt and pepper
Your craving might be for prime rib specifically, but that doesn't mean other beef based recipes that have a flavour you really love won't still work for you or translate perfectly! The process of adapting this next recipe from Bon Appetit to be done on prime rib instead is a very easy one, so feel free to check out how they made these smoked beef ribs with salt and pepper.
7. Poor man's mock prime rib
Are you actually either working on a huge budget for which a perfectly cut prime rib is too small, or just too new at cooking to feel confident preparing the more expensive cut properly, so you're wondering if there isn't an easier or cheaper way to get the taste you love so much? Then we think you'll be rather intrigued indeed to learn how Frugal Hausfrau made this "faux prime rib" by cooking a cut of more affordable rump roast to a very particular level of juiciness!
8. Balsamic prime rib with pumpkin gnocchi
If you're going to put in all the time and effort it takes to prepare a delicious cut of prime rib, would you rather actually find a recipe or guide that shows you how to make it as part of an entire delicious meal with complementary flavours? Well, particularly if you've ever loved the flavour of pumpkin, then we'd absolutely suggest checking out this scrumptious meal tutorial from DIY Crafts Mom for balsamic prime rib with pumpkin gnocchi.
9. Sous vide prime rib
Just in case you've never had it and don't know, "sous vide" actually means medium rare! That means this particular tutorial from Anova Culinary is here to walk you step by step through the slightly particular process of cooking your prime rib just enough to get that perfectly juicy tenderness but not so much that the texture of medium rare beef is lost.
10. Perfect garlic prime rib
Did we almost have and hold your attention when we started talking about the garlic butter and herb idea because you really adore the flavour of garlic, but you're just not sure the involvement of butter and the emphasis on herbs is really what you want to work with? Then we'd suggest giving this alternative recipe from Lil' Luna some consideration! They show you how to make the perfect garlic prime rib.
11. Slow roasted prime rib in horseradish sauce
Are you still interested in the idea of slow roasting your prim rib but you're also not averse to the idea of adding a little bit of flavour, so you're looking for some more preparation and serving suggestions that might get you that punchy taste you're looking for? Well, if you're okay with a little bit of kick in each bite then we think you might enjoy the way Grateful made this very yummy slow roasted prime rib in a homemade horseradish sauce.
12. Salt and pepper crusted prime rib with sage au jus
Are you actually feeing quite tempted by by several of the options and flavours that we've shown you on this list so far but youre having trouble choosing between them? Well, who ever said you can't combine a few of them to get something even more delicious? Instead of picking just one thing, we'd suggest checking out the way Food & Wine made this salt and pepper crusted prime rib with sage au jus!
13. Rib roast in gremolata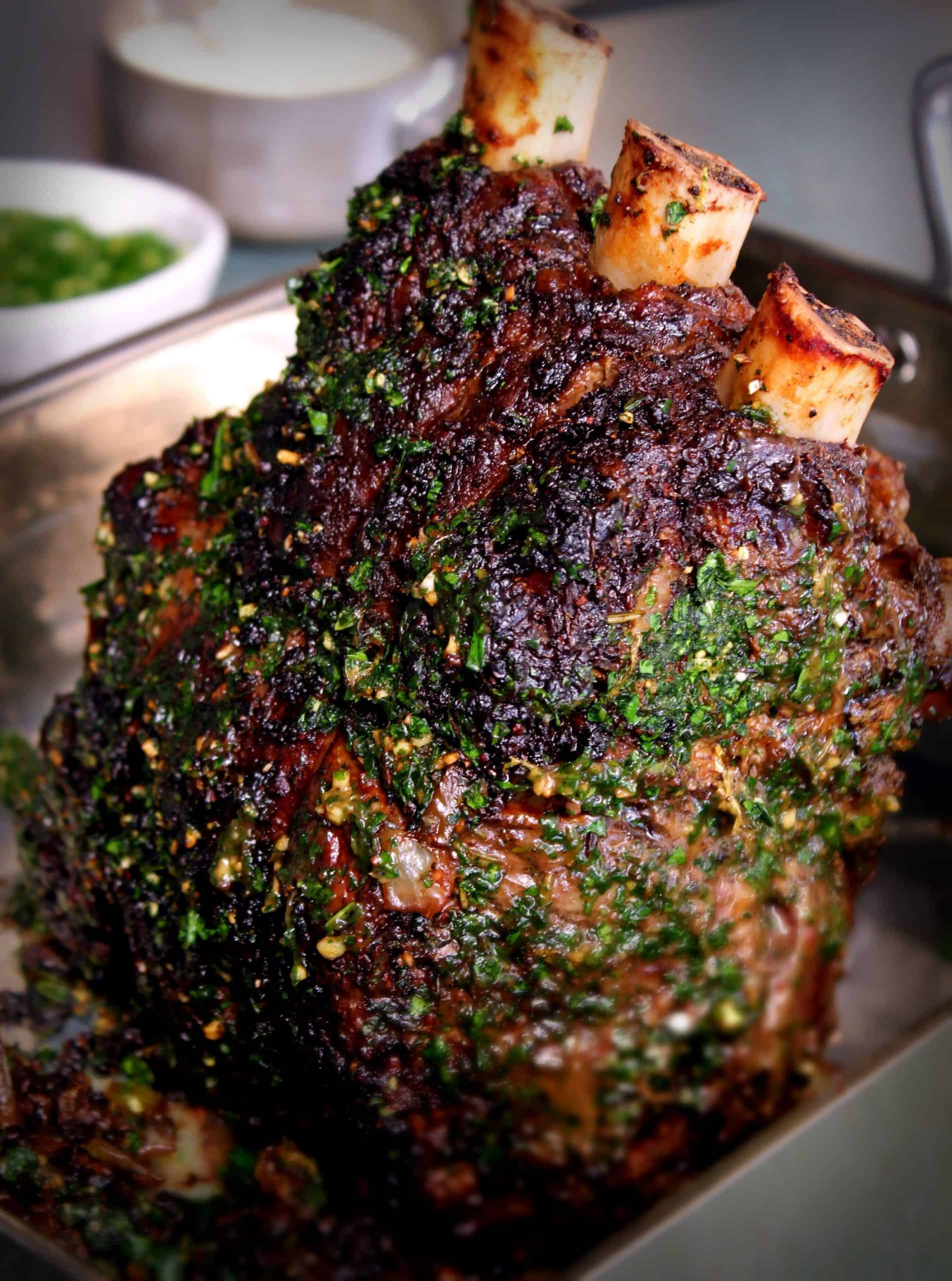 If you've never tried gemolata before then we're sorry to tell you that you've been missing out on something very delicious indeed! We'd suggest fixing that right now by giving this delicious recipe from Emeril Lagase for prime rib roasted in gremolata a try. They even show you how to make your own gremolata from lemon zest, garlic, and parsley.
14. Instant pot herbed prime rib roast with horseradish cream
Like most of the people we know, did you get an instant pot this Christmas and now you're completely obsessed with it and can't help wanting to try making essentially everything in it? We got one recently too and not even prime rib was an exception to our obsession with it. That's why we were quite pleased indeed to come across this recipe from Sur La Table for instant pot herbed prime rib roast with horseradish cream.
15. Pecan crusted prime rib
Have the ideas that you've seen so far that appealed to you the most absolutely been those that involved crusting your prime rib with something delicious but you're still holding out for something a little more unique than various herbs? In that case, we think you simply must take a look at the way Rachael Ray in Season made this pecan crusted prime rib in surprisingly few simple steps!
Do you have another favourite way to prepare your prime rib that your family adores but that you don't see here on our list? Tell us all about it or link us to the recipe in the comments section so we can try it out for ourselves!