Healthy Green Bean Casserole with Homemade Crispy Onions Recipe
This healthy green bean casserole recipe is so rich, creamy, and delicious that no one will know it is good for you! Made dairy-free, this Thanksgiving side dish is sure to be a huge crowd-pleaser. Have you ever had a Thanksgiving without Green Bean Casserole? I have once, and it was an experience I do not want to repeat!
Picture this: I had just found out I was allergic to dairy 2 weeks before Thanksgiving. The table was set, the buffet was overflowing with food, and there I was with my dairy-free plate, and a big empty spot on my plate and in my heart where my beloved Green Bean Casserole should be. That was my first dairy-free Thanksgiving and my last Thanksgiving without Green Bean Casserole.
Sometimes, out of the most desperate times, our best ideas are born. The tragedy of a Green Bean Casserole-less Thanksgiving had a silver lining – I went into the kitchen and made this Healthy Green Bean Casserole. And my, oh, my… is it GOOD!
The first order of business was to swap the cream of onion soup for a dairy-free version. In place of the soup concentrate, we sauté up some onions and mushrooms in a heart-healthy oil until tender. While that is cooking, we blend up raw cashews with some water and lots of garlic to make a dairy-free cream.
We stir the cream into the onions, mushrooms, and green beans and voila! The perfect dairy-free healthy green bean casserole filling.
The second swap is to ditch the store-bought french fried onions, and make your own. This isn't a dairy-free swap, but a serious general health swap. Instead of fatty fried onions, we use real fresh onions to make our crispy topping.
The trick is to take thinly sliced onions, dip them in seasoned rice flour and non-dairy milk breading and then toss them into some crispy breadcrumbs. Then they head to the oven until they are golden, crispy, and irresistibly good!
Ingredients for healthy green bean casserole:
For the crispy onions:
2 onions, halved and sliced into thin strips
3/4 cup milk of choice
1/2 cup rice flour
1 tablespoon apple cider vinegar
2 teaspoons Old Bay seasoning
1 teaspoon garlic powder
1/2 teaspoon salt
1 1/2 cups breadcrumbs (gluten-free if needed)
For the green beans:
2 teaspoons avocado oil
1/2 onion, diced
8 oz. crimini mushrooms, diced
2 lbs green beans, trimmed and cut into 1 inch pieces
1/2 cup cashews, soaked in water overnight and drained
1/2 cup water
3 cloves garlic
1 teaspoon salt
Directions to make a healthy green bean casserole with crispy onions:
Preheat the oven to 450 degrees. Spray a cookie sheet with nonstick oil and set aside.
In a bowl, whisk together the rice flour, Old Bay, garlic powder, and salt. Add in the milk and whisk until smooth. Add the onions into the batter and stir to evenly coat the onions.
Add the breadcrumbs to another bowl. Remove a few onions at a time and shake off excess batter. Place them into the breadcrumbs and toss them to coat. Transfer the breaded onions to the prepared baking sheet. Repeat until all the onions are breaded. Bake the onions for 30 minutes or until they are golden brown and crispy.
While the onions are baking, add the cashews, 1/2 cup of water, garlic, and salt into a blender. Blend until smooth, scraping down the sides as necessary. Heat a large pan over medium-high heat. Add in the oil. Once the oil is hot, add in the onions and mushrooms. Cook, stirring frequently, until the onions are translucent and the mushrooms are tender, about 5-7 minutes.
Add in the green beans and cook until crisp-tender, about 3 minutes.
Add in the cashew mixture and stir to combine.
Transfer the mixture to a 9×9 baking dish. Top the green beans with the onions.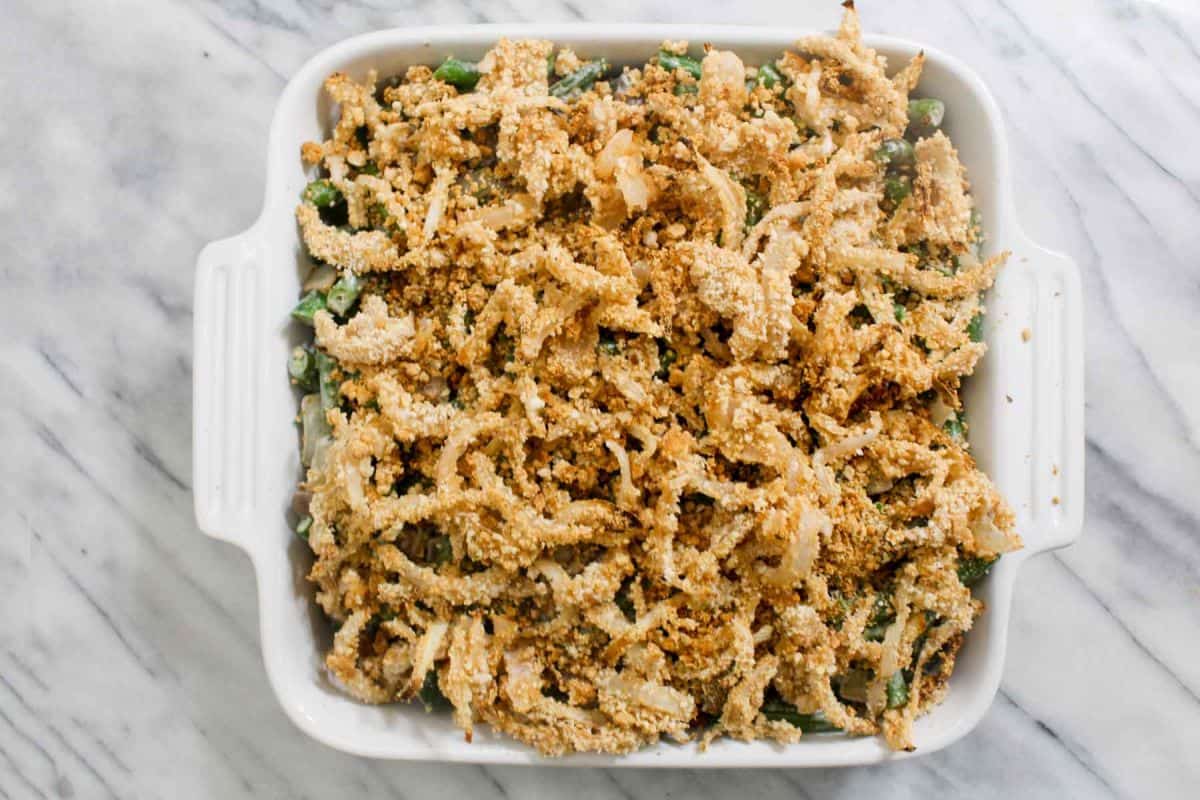 Reduce the oven temperature to 400 degrees and bake for 10-15 minutes or until the casserole is warmed through. Let sit for 5 minutes and serve.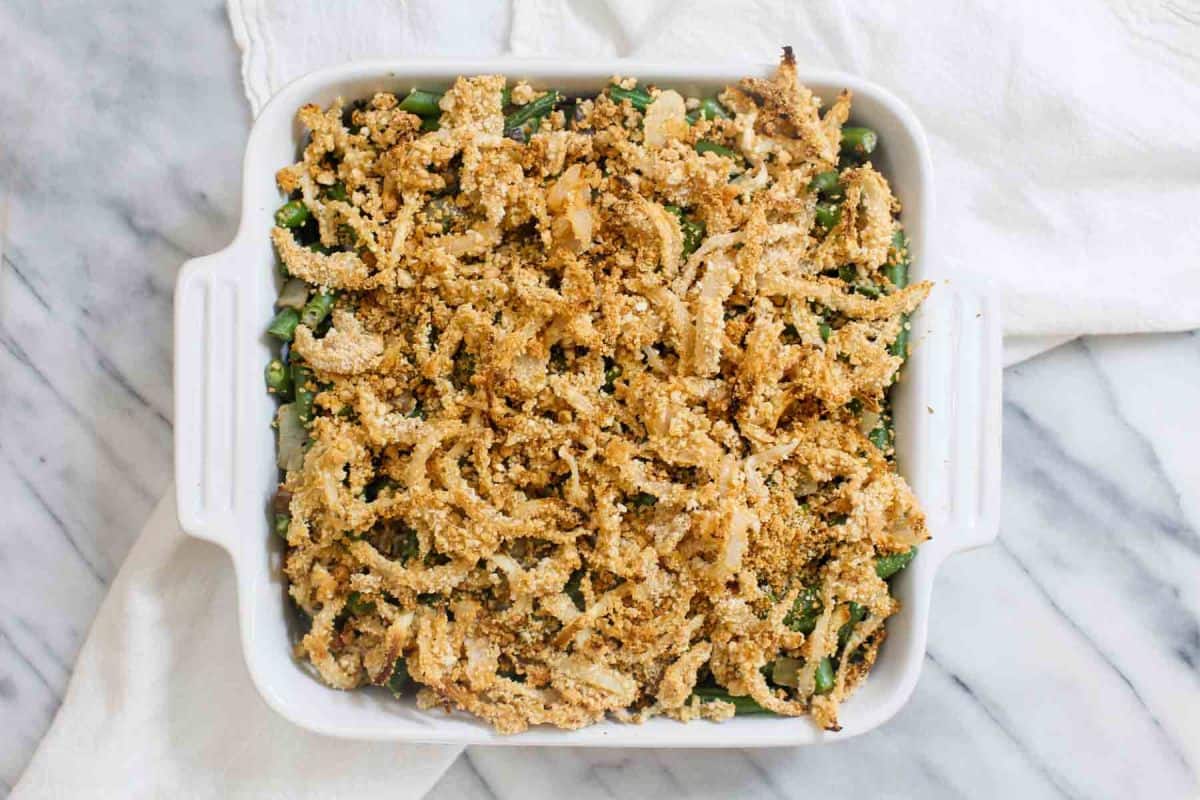 This Healthy Green Bean Casserole is every bit as tasty as the original version! It is dairy-free, can be made gluten-free, and is cooked with heart-healthy oils. This is the perfect gourmet side for Thanksgiving!