Mouth-Watering Crispy Cauliflower Tacos Recipe
These cauliflower tacos are a delicious weeknight meal! The crispy cauliflower bites are nestled into a soft corn tortilla and topped off with finger-lickin-good lime crema. Cauliflower is the hot new thing. Cauliflower rice, cauliflower wings, and now, crispy cauliflower tacos. Just like I didn't think cauliflower wings would be an edible appetizer experience, I had my doubts about cauliflower tacos, but let me set aside your fears, these babies are a 10 outa 10.
Once the cauliflower is breaded and cooked, it is reminiscent of popcorn chicken. When breading the bites, we use a three-part breading station for maximum crispness, because crispness is where it is at. They bake into crispy little nuggets with soft and "meaty" interiors. They get TONS of flavor from the seasonings we add to the breading mixture.
These crispy cauliflower bites get nestled into taco shells with cabbage for crunch, onions and cilantro for flavor, and then they get smothered with a homemade lime crema. Sign me up for this Taco Tuesday!
Cauliflower is the "meat" of these tacos, but packs in a bunch of nutrition benefits that chicken just can't match. One serving of cauliflower has 100 percent of your daily vitamin C needs. This pale veg can reduce our cancer risk, can prevent clogged arteries and high blood pressure, and even help balance hormones.
Cabbage comes from the same family as cauliflower, and this is one family with potent health benefits! Cabbage juice has been shown to heal stomach ulcers and improve overall digestion. Cabbage can also support a healthy cardiovascular system and improve bone health.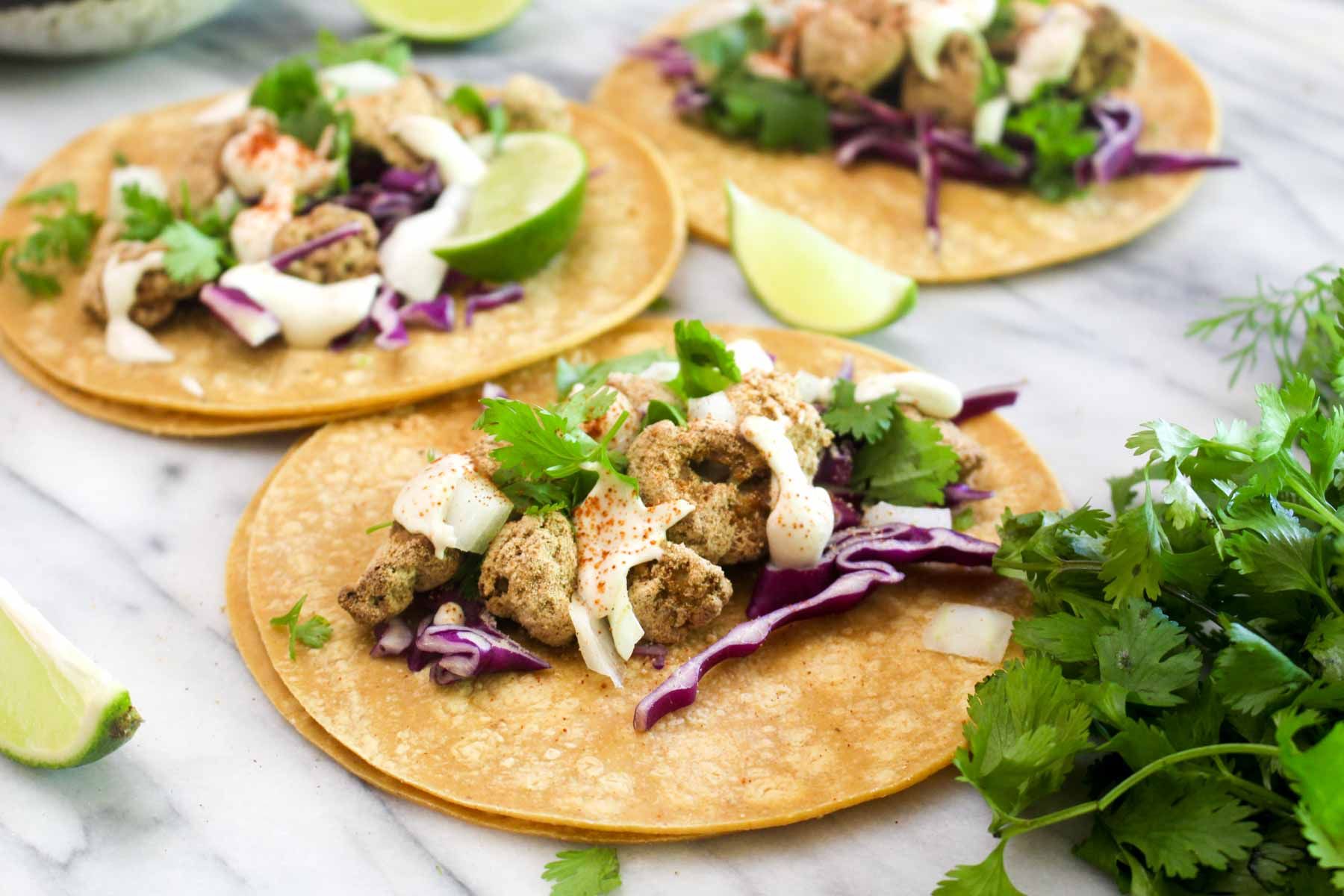 To make perfect crispy cauliflower, there are a few guidelines to follow. First, cut your cauliflower into small florets. They should be one bite-sized pieces. This small size allows the cauliflower to cook through before the exteriors burn. You also want to shake off excess breading that is clinging to the cauliflower. If you don't gently shake this off before baking, the bites will still turn out crispy and tender, but a little dry, so give them a gentle tap to get off the excess.
While most "crispy" or fried foods tend to loose their crunch when stored in the fridge, for some beautiful reason, this cauliflower holds onto its crispiness and doesn't get even a tiny bit soggy. That means that these tacos are great when made fresh, but that taco Tuesday can turn into leftover taco Wednesday with no complaints from picky eaters. Just reheat the cauliflower in the oven or toaster oven to keep them crispy.
Ingredients to make the cauliflower tacos recipe:
 For the crispy cauliflower:
4 cups small cauliflower florets
1 cup rice bran
1/2 cup potato starch
2 tablespoons chili powder
1 teaspoon salt
1 cup non dairy milk
For the lime crema:
1/2 cup raw cashews, soaked overnight
1/4 cup freshly squeezed lime juice
1/4 cup water
1 clove garlic
1/4 teaspoon salt
For serving:
8 tortillas
1/4 of a head of red cabbage, sliced thinly
1/2 cup cilantro
1/3 cup chopped white onion
How to make the cauliflower tacos step by step
Preheat the oven to 425 degrees and line a baking tray with a silicone mat or parchment paper. Add the nondairy milk into a bowl and set aside. Whisk together the rice bran, potato starch, chili powder, and salt in another bowl.
One at a time, dunk the cauliflower florets into the nondairy milk and immediately transfer into the dry mixture. Toss to coat the cauliflower floret. Shake off any excess breading and place on the prepared baking sheet. Repeat with the remaining cauliflower.
Spray the cauliflower with coconut oil baking spray and bake for 45 to 50 minutes or until crispy. Transfer to a wire rack to prevent them from getting soggy.
Drain and rinse the cashews. In a blender, combine the cashews with the remaining crema ingredients. Blend until the mixture is very smooth.
To assemble the tacos, top the tortillas with finely shredded cabbage.
Place the crispy cauliflower bites on top.
Top with onion and cilantro.  Drizzle on the crema and serve.
Conclusion
These cauliflower tacos are the perfect Meatless Monday or Taco Tuesday entree. They can be made quickly, have a plethora of health benefits, and even work great as leftovers!