DIY Passport Cases That Will Keep Your Documents Safe
Putting your passport in a case or a cover isn't required when you're on the go, but any experienced traveler will tell you that it's definitely a good idea. Take a look at some of your friends bent, worn out passports to see why! You can buy covers and cases at the store, but guess what's more fun than buying a pre-made one? Making it yourself, of course!
Check out these 15 awesome DIY passport cover designs that are easy to make, protective, and completely adorable.
1. Faux leather cover with embroidered flowers
Craft Hubs shows you how to sew a little faux leather booklet that your passport slides right into. To make it pretty, use embroidered flower patches! You could also embroider your own if you're very crafty and experienced with a needle and thread.
2. Cover with gold writing
The Sorry Girls show you how to make this simple slip cover with an adorable metallic quote on the front! You don't have to do the same one as the picture, but something travel related will sure look cute. We love the unfinished chic edges, as though you were raring to get on the road instead of folding seams!
3. Stamped leather cover
A Beautiful Mess shows you how to use a special tool to stamp leather! We love the detail in this design, and also the images and letters the tutorial teaches you to stencil onto the front.
4. Leather cover with chunky stitches
Lisa Nagel reminds you how fun a bit of shabby chic can look! Instead of choosing a thread that perfectly matches your leather or a thin floss that looks discreet, choose something thick in a contrasting colour. Chunky stitching gives you a stylishly handmade finish.
5. Owl print cover
Okay, so technically you could choose any fabric design if owls aren't your thing, but we love the idea of little sketched birds! No matter your choice, get the instructions for how to make it on Lisa Nagel.
6. Stamped leather with polka dots
Always Rooney's adorable leather design might resemble other covers at first, but it's cuter than most once you've gotten it stamped and polka dotted! You could also try making the polka dots a brighter colour if stark white isn't your thing.
7. Patterned fabric cuover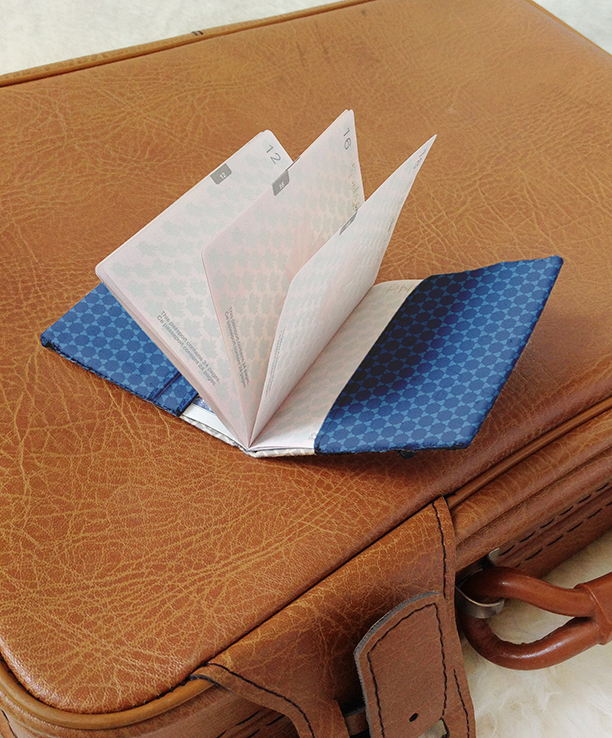 If you're going to get into working with fabrics, why not go all out with the visuals? Choose something bright and covered in an interesting pattern! That way, no matter how simple the actual sewn cover is, it'll still be eye catching and impressive. Check out this design by Camelot Fabrics!
8. No-sew cover
Do you love the idea of making yourself a passport cover but you haven't learned to sew quite yet? Adventures in Fashion has you covered! We love this simple cover in a flashy animal print, but you could pick something a little subtler if you like.
9. Felt cut out cover
If you're looking something a little different but still simple, this felt cut out passport cover by Shelterness is an adorable option! Choose a colour that you love to peek through the cut shapes and patterns!
10. Striped cover with a stud
Oh No Rachio suggests a simply styled cover that lets stripes be a standout pattern, but still features a stud for just a little bit of edge. Whether you choose a spiked stud or just a small, golden pyramid like the one in the picture, it'll look just right!
11. Patterned and metallic cover
Lovely Indeed recommends combining metallic material with loudly printed fabric to make an interesting visual contrast. We know it's just a passport cover, but why not spice up the simple things to make your day cheerful?
12. Family sized case
Blissful Patterns has just what you'll need if you're traveling as a couple or with your family! This passport case has space for not only two passports, but also a pen, plane tickets, and credit cards.
13. Embroidered cover
If you're feeling very crafty and also very patient, embroidering a custom passport case is a great way to make your travel process a little more personal. Before It's News shows you how to make one featuring two different colours of embroidery floss.
14. Recycled cover
This passport cover design by Whimsey Box is made completely from recycled materials! You might use cardboard or pieces of an old hardcover book. Try creating a lace trim from the scalloped edging of a paper placement. It'll be the greenest passport cover you've ever had!
15. Fabric and elastic cover
GreenGrass2 guides you through the process of creating not just a regular passport cover, but one that stays closed with a matching elastic band for a little bit of extra passport safety.
Do you know someone who travels a lot and whose passport could use a little bit of extra security? Share this post with them so they can get that by getting crafty!