Cute DIY Party Garlands for Any Occasion
No matter the time of year and no matter the occasion, we love parties. We love attending them, hosting them, organizing them, and even decorating them. Besides the fact that parties are a fantastic chance to see our friends and family and celebrate the happiest moments in life, we also love that they're such an awesome opportunity for getting creative! Whether you're preparing the food, choosing the theme, or making a few decor pieces, you're making something truly magical happen and using your DIY skills to do it. So, what's our favourite part of making a party happen, you ask? Well, we're quite happy to contribute in any way, but we really love decorating. Now, if you ask us, the best part of decorating for a party isn't necessarily the biggest things you'll notice in the room. We're actually completely obsessed with adding colour schemes and theme elements to the finer details of the party because we think those are they key to really impressive your guests and giving them a thoroughly well planned experience. That's why we won't shy away from telling people that our absolute favourite thing to make when we're on the party decorating team is the garland!
In case you're just as obsessed with the idea of making your own DIY party garlands as we are, if not more, check out these 15 awesome homemade party garland designs that will brighten the whole place up no matter what you're celebrating.
1. Exciting, brightly coloured tassel garland
Perhaps you're just looking for something fun, colourful, and decorative that will add a bit of pop, sparkle, and texture to the room even though you don't necessarily have a set theme for the party itself? In that case, your options are almost unlimited, but we have one special go-to garland design that we use for just about any even that doesn't actually required something specific. We completely adore making tassel garlands! We've made countless fun tassel garlands in innumerable colours and we're still not sick of them yet. Find out the easiest way to hop on the tassel garland train and make some of your own on Pizzazzerie.
2. Fringed circle fiesta garland
Does the idea of adding bit of fringe to the party intrigue you but you like the tassel idea we showed you above so much that you've actually already done that one and now you need something a little different? In that case, here's an equally colourful and awesomely textured alternative for you from Tell, Love, and Party! They show you how to make a circle garland fit for a true fiesta, but also how to cut inwards from the edges just so, making fringy pieces all around each individual circle. We can't get over how much we like the final product (and the fact that all you need is string, scissors, and paper)!
3. Bright candles birthday garden
Has your favourite part of any birthday party always been the candles and, even though you know you can't, you wish you could have lit candles all around the entire party to really brighten the place up? In that case, we have an idea that just might work as an alternative if you're willing to use your imagination a little bit! We love the way Alice & Lois created simple paper candles in all different colours and then strung them along in lines to be hung like garlands all across the wall above the snack table where the cake sits.
4. Easy DIY balloon garland
When we were little, it wasn't really a party without balloons. It didn't matter what we were celebrating or how many people were there; balloons were an ever present party guest in our home. Now that we're the ones throwing the parties, we'll admit that we still have that nostalgic fondness for balloons, only now we like to get a little more creative with how we display them whenever we can. That's why we fell in love with these balloon garland idea from Pretty Providence so hard! This idea is somewhere between a party garland and a miniature balloon arch and we're completely here for it either way. Use whatever colour balloons you please!
5. Colourful felt circles garland
Have you actually been pretty intent on finding a party garland idea that's a little more reusable than the paper and balloon ones we've shown you so far because you throw parties so often? In that case, you'll want one with all kinds of colours so it matches any decor scheme, and a pretty neutral but friendly looking shape so it can be used at just about any kind of celebration or occasion. Enter: the adorable felt circles garland by The Sweetest Occasion! They show you how to make it happen by cutting out circles in all different sizes and sewing them end to end straight across the middle so the garland is full and exciting looking with no sparse spaces in between the bright colours. After the party, you can fold it up and put it away for next time without causing any bending, tearing, or damage!
6. Fringy tissue paper garland
Perhaps you're actually in a little bit of a hurry to get your party decorated and you need something that's a little quicker to make happen and that will put a little less strain on your budget? In that case, tissue paper is about to come to your rescue in a totally awesome way! Check out how Oh Happy Day layered differently coloured sheets of tissue paper, cut them wildly along the edges to make a super cool fringe, and gave them a tussle and a shake to mix the colours into one another. We love the bright, cheerful appearance and the totally awesome texture of the finished product! In fact, we're half tempted to hang these all over out house as permanent decor just for fun.
7. Paper geode vertical garlands
Are you helping to throw a party that's a little on the fancier side so you've actually been scrolling our list hoping to come across an idea that's a little more stylish, maybe to the point of almost looking high fashion? In that case, we absolutely think you should take a look at how Lia Griffith used simple supplies like paper, string, and gold glitter to create these fantastic geode inspired vertical garlands that will make an amazing entrance detail or photo backdrop!
8. Mini party hat garland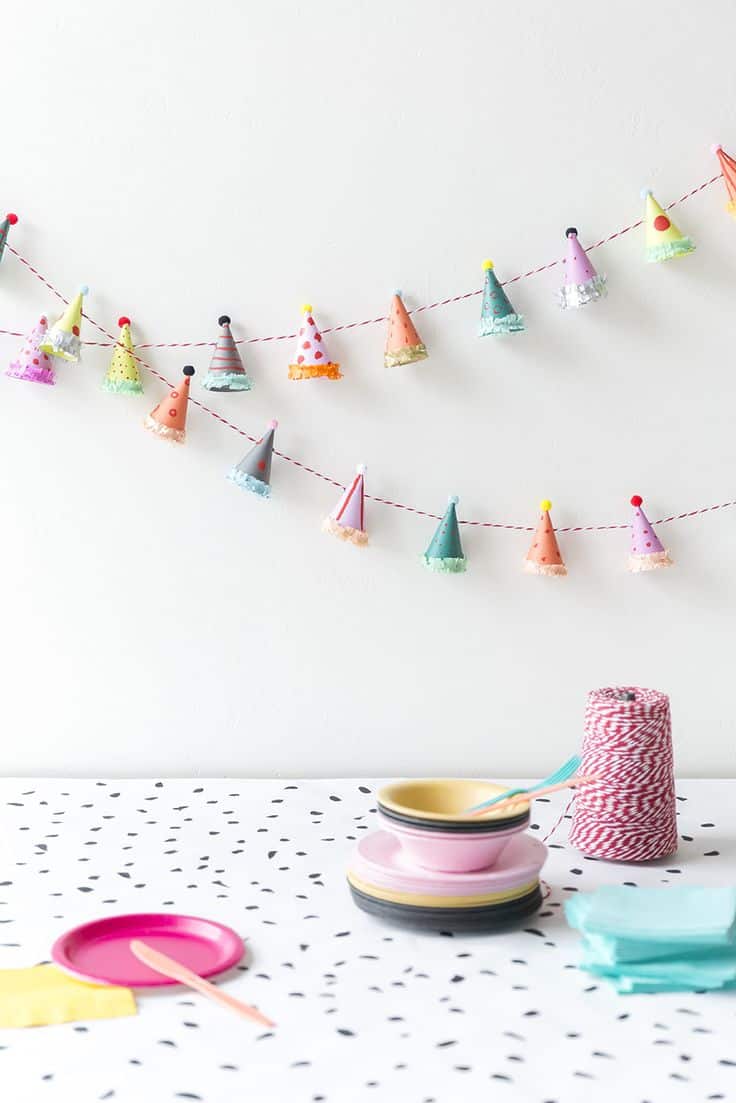 Were you pretty intrigued by the birthday candles idea but you actually hung them up and decided that you want a contrasting kind of garland to go with them for maximum fun birthday decor? In that case, we'd definitely suggest taking a look at how Craftbnb made an adorable birthday hat garland out of paper and string! We absolutely adore the idea of making each little hat on your garland in a different colour and pattern, just to keep things extra exciting.
9. Honeycomb garland
Have you ever seen those unfolding paper honeycomb decor pieces from dollar store and craft stores? Well, they might only look a little bit impressive when they're on their own, but if you've ever tried bunching them together with others, you probably already know just how impressive they can really look! That's why we adored this idea from Oh Happy Day so much. They show you how to take paper honeycomb pieces of all different sizes and colours and group them along string so they hang together like stylish jumbo garland that totally draws the eye of everyone in the room.
10. DIY pom pom and tassel garland
When you picture the most interesting party garland you can think of, do you actually envision one that's made from all kinds of different crafting supplies and fun, brightly coloured things? Then we have a feeling this awesome pom pom and yarn tassel idea featured on Alice & Lois might be right up your alley! They guide you step by step through the process of stringing furry pom poms of all kinds, colours, and sizes along a string and interspersing those with fun coloured wooden beads and cute, fluffy yarn tassels in whatever hues are left in your yarn stash. The finished product is eclectic and so decorative that we'd be tempted to leave this up all year round just for fun!
11. Pretty summer fan garland
Were you pretty intrigued by the idea of building a garland out of unfolding paper decor pieces but your space is very small so you're not sure that big, chunky tissue paper honey combs are necessarily your best bet? Then perhaps you'd do better with flat shaped paper fans instead! We're completely obsessed with the way Craftaholics Anonymous attached several beautiful summer fans of all different sizes and colours in a stunning garland that would suit any party or, honestly, just any corner of your house that could use some brightening up.
12. Paper and tissue ice cream garland
Were you pretty enamoured with the tissue paper honey combs idea but you've always like things more in miniature and you've been hoping to come across another design that will let you use them in a more creative way than just a string? Then we have definitely found the best option for you! We can't get over how adorable these little ice cream cones featured on Oh Happy Day. Their tutorial shows you how to make simple cones for each honeycomb "scoop" out of coloured cardstock, as well as how to string them all together in a cheerful line.
13. Interlocking paper circles garland
Are you still thinking about how much you loved the paper circles garland idea we showed you earlier, but you could kind of give or take the fringe aspect and you'd rather see less string if you had the choice? Well, the food thing about DIY projects is that you always have the choice, since you're in creative control! We'd suggest taking a look at this fantastically decorative paper circles garland that interlocks rather than just sitting along a string. It might not be fringy like the other design, but we think the contrast in colours and patterns makes up for that! Find out how it's made in more detail on We R memory Keepers.
14. Pretty pastel ribbon garland
Are you still thinking about the concept of making cheerful party garlands that you can actually leave up all year round or just use as decor because they're so adorable and not celebration specific? In that case, we think this pretty ribbon garland idea from Project Nursery might be a lot more up your alley! In fact, we love this design so much that we literally have a similar one (ours has more sparkles) hanging up in our kids' playroom right now. We did originally make it for a party, but we loved it so much that we kind of just never took it down.
15. Interlocking garland DIY
Did we really catch your attention with the few interlocking paper patterns we showed you earlier on our list and now you're so intrigued by the concept that you've been hoping to come across something that uses it even more? Well, if you've got origami skills of any kind, we think you'll be particularly excited to learn more about this interlocking paper shapes garland from Oh Happy Day! We love that this design would serve as a party decor, as cool photo backdrop, or even ongoing decor if you use photos you like enough.
Have you made other adorable party garlands before that you absolutely loved creating and you were very happy with when you were decorating but that you don't see here? Tell us all about how you made it or link us to photos of your finished work in the comments section!