15 Super Fun Paper Craft Tutorials
When it comes to simple crafts made with paper, we're just not sure we'll ever get tired of them. Even more than that, however, we're just not sure that our kids will ever tire of them either! That makes these easy, often quick little projects the perfect things to do when our kids are feeling squirrelly or creative and want to make something right away. In fact, our kids love paper crafting so much that we've gotten into the habit of keeping a list of good ideas bookmarked so we can pull a new craft out any time we please!
1. Origami mermaid
Are your kids definitely on track to learning proper origami but right now they're still pretty little, so you've been hunting for simple paper folding crafts that they can also embellished and combine a few other crafting techniques with, just for extra fun? In that case, we think you'll get a pretty big kick out of the way Pink Stripey Socks made this awesomely decorated origami mermaid!
2. Watercolour paper napkin bouquet
Just because you want to craft with paper doesn't mean that you have to work with actual sheets of paper alone! If you ask us, any supply made of paper will do just as well. That's why we thought this paper napkin bouquet was so cool! Besides the cool texture and volume of the finished "flowers", we adore how Red Tricycle very simply outlines the process for adding bright personality to them in a watercolour style.
3. Colourful paper plate dragons
Besides the fact that paper plate projects are an awesome facet of the most classic paper crafts, our household is also pretty obsessed with this tutorial from Pink Stripey Socks because our kids adore the idea of making their own dragons! In fact, they've followed this tutorial so many times now, decorating their dragons differently each time, that we have a whole fleet of them lined up on the window sill, ready to take colourful slight any moment.
4. Origami transformers
Are your kids actually a little bit older, slightly more practiced and patient, and so into origami that they've been thinking about starting to venture into the world of folding projects that actually move? In that case, we think you simply must take a look at the way What Do We Do All Day created these "transformers" that change shape and stripes when you pull or push certain parts. It's a great way to learn how to do origami with colour swaps and how to practice some weaving skills.
5. Modular origami bracelets
Are your kids definitely interested in working their way up to making the paper transformers we just showed you above but you're convinced that they could benefit from trying a slightly simpler project first that involves many of the same techniques but in more basic, beginner level capacities. This lovely dual colour, modular origami bracelet featured in detail on Paper Kawaii is the perfect example of what we mean.
6. Giant paper airplanes
Just in case your kids are very new indeed to the concept of paper folding and simple origami, here's a tutorial that will not only introduce them to just about everyone's first attempt project, but will also show them how to do so in jumbo! Take a better look at Fireflies and Mud Pies to see how these awesomely giant and decorated paper airplanes were made. They really get air, too!
7. Paper bag apple tree
Of course, folding along a creased line is by no means the only way that you can make some kind of recognizable shape out of paper! We're also huge fans of the way Creative Jewish Mom made this lovely twisted apple tree from none other than a simple paper bag! We love that it stands up well on its own, making it easy to display your kids' work after.
8. Royal paper crown
Are your kids the kind of imaginative playmates who can essentially always be found playing dress up? Well, we certainly know what that's like; sometimes we have to take our kids to the store still dressed as princes and princesses or we're not getting them out of the house that day. We've actually made (and grocery shopped wearing) these very royal looking paper crowns from First Palette before!
9. Tie dye style crumpled paper art
Rather than folding or gluing your paper into specific shapes, would you actually rather work with your kids on adding colour to thinks in new, different ways? In that case, we'd be willing to bet that you're going to simply adore the way Buggy and Buddy made this stunning crumpled paper art by, well… crumpling paper, of course! Their unique painting and scrunching technique adds a beautifully mixed watercolour type quality to the pages and you can create any colour combinations you choose!
10. Homemade harvest herb paper
What if we told you that, rather than just crafting with paper, you can actually make paper of your very own from scratch? Well, believe it or not, that's a totally doable project that you can even make look prettier and more whimsical than we ever expected when we first came across the idea of making paper! We're in love with this tutorial from Babble Dabble Do that outlines the process for making homemade harvest herb paper that you can still see flower blossoms in when you're done, but that you can absolutely also write on. It's great for thoughtful thank you notes or party invites!
11. Decorated newspaper sun hats
Did we actually really catch your attention when we started talking about ways to make dress up accessories from paper because your kids are always changing their games and looking for new pieces to wear, but paper is cheap and easy to work with? In that case, we think you simply must take a look at the way The Honorable Mention made an adorable "fancy" sun hat from newspaper, some fake flowers, and a feather boa. Leave yours plain or decorate it however you choose!
12. DIY geometric paper bowls
Perhaps you are the one who has actually been looking for nice new ways to make some paper crafts because you're continually astounded at the high quality of things you can make from mere paper? In that case, we would definitely suggest taking a look at how Tater Tots and Jello made these fantastic geometric paper bowls from decorative scrapbooking paper! They're great for holding jewelry, beauty supplies, or the small office supplies that you want to keep handy on your desktop.
13. Hand coloured paper houses
Are your kids always building little villages and worlds out of basically anything they can get their hands on, constructing whole new lands in their minds? Then we have a feeling they'll really enjoy the way Babble Dabble Do did the same thing but almost entirely out of paper! Their tutorial details how they created the shape of each building, coloured in the details, and added a few toys for some depth and personality, like plastic cars and trees.
14. Calla lily cut and paste craft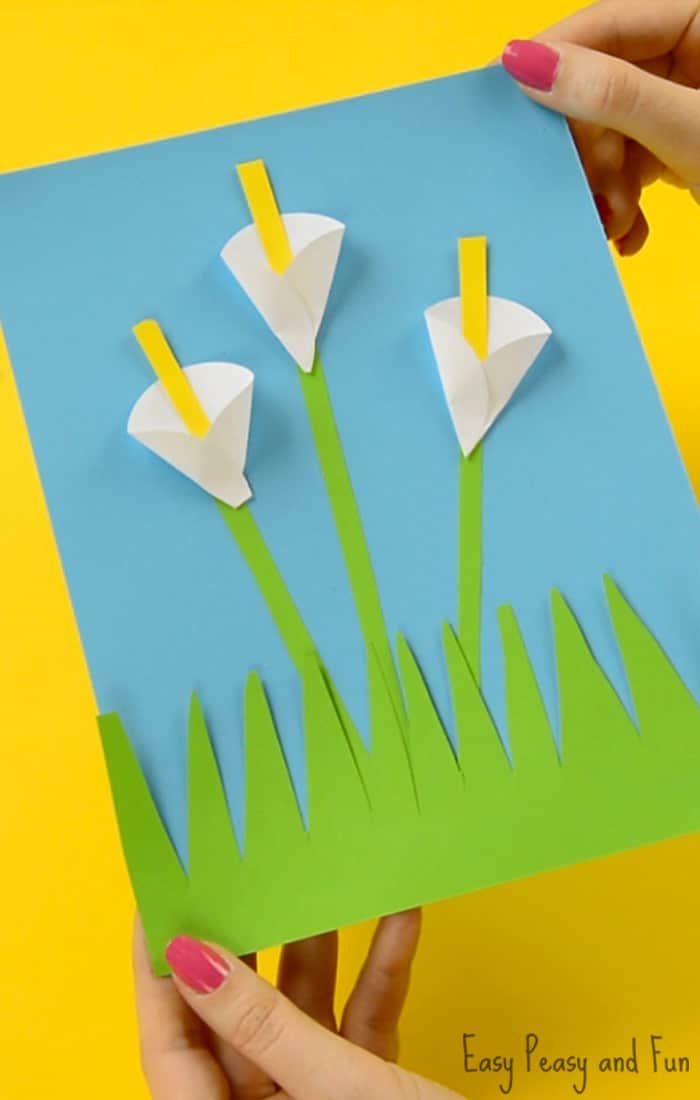 Maybe you've been scrolling through our list hoping to find a couple more simple cut and paste crafts because your kids are still very small and they're going through the phase every child does where that's all they want to do? In that case, here's another cute concept for your list! Check out how Easy Peasy and Fun cut, pasted, and folded little paper circles in order to make cute calla lily flowers that jump out from the page!
15. Kirigami water blossoms
Just in case you're still looking for an origami style project that is very simple to do but still has some kind of awesome special feature so that your kids stay very interested, here's a lovely tutorial for paper flowers from Babble Dabble Do that actually blossom when you spritz them with water or place them on its surface! They show you how to cut, layer, and fold the flower pieces so that they look like a closed blossom at first and then open into an actual flower when the moisture hits.
Have you made other kinds of awesomely unique paper crafts and DIY projects before that you and your kids both really loved doing but that you don't see here on our list? Tell us all about what you created an how you did it or link us to photos of your finished work in the comments section!