Cool DIY Outdoor Games for Summer
When it comes to playing in the backyard during long summer days, our kids aren't the only ones in the household who take part! We've actually spent a large portion of our evenings making really fun jumbo outdoor versions of some classic game and now our backyard is like a social meeting spot for people of all ages from the neighbourhood. After all, it doesn't matter how old you are if you're having fun and getting fresh air with friends while you play!
1. DIY rainbow paver Hopscotch
Do you remember playing hopscotch as a kid, drawing the game in a chalk outlined on the sidewalk or driveway and then having to redo it again when the rain washes it away? Well, here's a tutorial that will help you make a more durable version that can even be played on the grass! Take a better look to see how Happiness is Homemade made awesomely colourful numbered squares out of cork board.
2. Garden Tic Tac Toe
If you're going to make something that gets used in your garden all the time, would you rather it at least look a little bit like it belongs there? In that case, we think you simply must take a look at the way Color Made Happy used a squared off bit of concrete and some rocks to create a simple Tic Tac Toe game, embellishing the board and pieces with chalk and all purpose paint.
3. Recycled bottle tennis ball bowling
Have your kids always loved bowling but you can only take them so often, and your backyard simply isn't big enough for a full sized bowling set like the ones in stores? Then perhaps you'll get along a little better with this smaller pop bottle and tennis ball set instead! Kids-o-Mania shows you how to make it in just a few simple steps.
4. Sprayed lawn Twister
Technically, a classic game of Twister could be played outside without any small pieces getting lost in the grass or anything, but we tried that once and a branch we didn't see tore a hole in our mat! That's why we were quite so pleased to come across this awesome idea for spray painting the coloured circles in the grass instead! You Plus Me for Always has all kinds of tips and tricks for dong it nice and evenly, an in a way that won't hurt your grass.
5. Wooden football toss
If you already have a little bit of experience with simple woodworking and you know that your kids love tossing a ball around in the backyard, then we'd definitely suggest taking a look at how Cherished Bliss made this awesome football toss game with two different heights to aim for, like target practice.
6. Giant outside Yahtzee
If you've ever played Yahtzee before then you already know just as well as we do just how much fun it is, whether you're playing together with someone or even alone! We were very excited indeed when we saw that Lemon Thistle had a tutorial that shows you not only how to make a durable outdoor version of the game, but one with novelty sized jumbo dice that won't get lost in the grass!
7. DIY ladder golf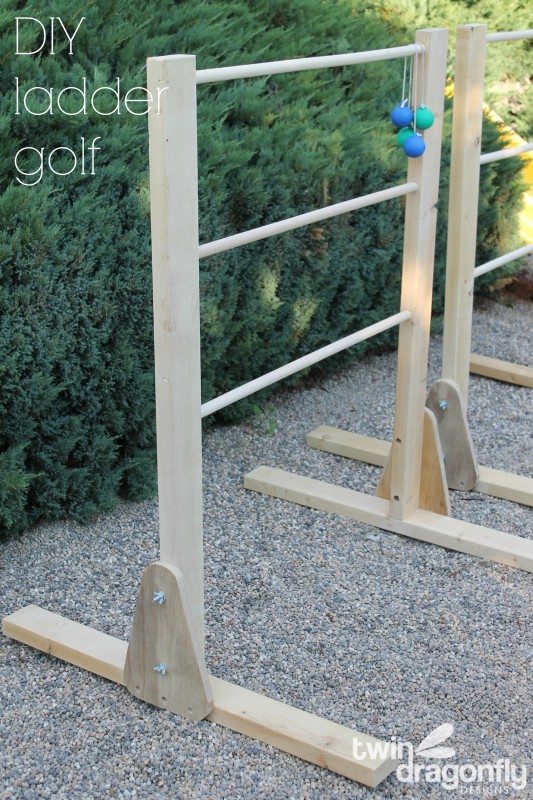 Do you like the idea of building a wooden tossing game that people can have fun playing together, in teams, or alone, depending on who's visiting on any given day, but football has never really been popular in your household? In that case, we'd absolutely suggest taking a look at the way Twin Dragon Fly Designs outlines the process of making this simple ladder golf game that will keep everyone busy for hours!
8. Giant outdoor Kerplunk
If we're being fully honest with you, this giant version of the indoor board game Kerplunk is probably the coolest thing we've see on this whole list! That's why we've actually bought the supplies to make one ourselves and will probably be putting it together this weekend so we can use it for the rest of the summer. See how it's done in fantastically clear detail on A Little Craft in Your Day!
9. Yard Scrabble or Boggle set
Have we really caught your attention with this whole idea of making jumbo versions of games you'd usually play on your tabletop inside the house but you've always been more of a word games kind of person? In that case, we'd absolutely suggest taking a look at how From The Carriage House made these awesome outdoor letter tiles that you can use to play Scrabble or Boggle!
10. Giant DIY backyard dominoes
Just in case you're not quite over the novelty of making jumbo versions of things even still, here's another awesome idea for your consideration, especially if you like working with wood! This tutorial from Lemon Thistle outlines the simple steps of making large wooden dice that will have your whole family playing all kinds of dominoes based games in the backyard all afternoon long.
11. Glow in the dark night bowling
Did we actually really catch your attention with our mention of making outdoor backyard bowling but your kids have really been amping up their involvement in the crafting process lately and you know they'd rather make and use something with a little bit more novelty involved? In that case, we have a feeling this awesome glow in the dark night time bowling set outlined in clear detail on Growing a Jewelled Rose might be a little more up your alley.
12. Scored bean bag toss
Just in case you love the idea of making toss games but you don't want to work with wood, since you're newer to this whole idea of making DIY projects, here's another idea that's a little easier to do! Check out how Mod Podge Rocks put numbers on the undersides of plastic frisbees in order to make a scoring line for bean bags! You can buy the beanbags from the store or make your own like they did. They've even outlined those steps for you!
13. DIY painted cornhole boards
Have we really piqued your curiosity with the mention of making an awesome outdoor beanbag game for your family but you actually do have some experience with building games from wood and you don't find that prospect intimidating? Then perhaps you're the perfect person to give this awesome corn hole board tutorial from A Wonderful Thought a try!
14. Jumbo Connect 4
Ever since we mentioned giant backyard Kerplunk, have you caught yourself thinking about all the other awesome tabletop games you used to play in the 1990s that you'd love to make jumbo versions of now? Well, we're sure you can imagine, then, just how incredibly excited we were when we came across this fantastic guide from Build Basic for making your very own backyard version of Connect 4!
15. Giant DIY Jenga
Of course, we couldn't possible end a post about awesome jumbo games that you can take from the dining table right to your backyard without showing you how you can make a kitschy coffee shop style novelty Jenga! You'll have to play it on your patio, naturally, rather than on your lawn, just to make sure that things actually stay upright and don't topple prematurely, but Lemon Thistle has all of the information you need to make it all happen!
Have you made other kinds of awesome DIY outdoor games that were a huge hit with family and friends but that you don't see here on our list? Tell us all about what you created and how you did it or link us to photos of your finished work in the comments section!