In our house, there is one member of the family that really rules the roost (and everyone else's hearts): the cat! We're always looking for fun ways to use our DIY and crafting skills to make nice, fun things for our favourite furry friend because we get just as much amusement out of doing it as the cat does exploring something new. Lately, we've been thinking about making ours some kind of awesome new cat house, so we've been keeping our eyes peeled for great tutorials to help us out along the way.
If you're feeling just as intrigued by the idea of building a DIY cat house as we were, if not more, here are 15 of the very best ideas, designs, and tutorials we've come across so far in our search for inspiration!
1. Epic cardboard cat house
So long as you have a couple cardboard boxes, some tape, a pair of scissors, and marker lying around, you already have everything you need to make this two-storey cat house outlined step by step on Jonasek The Cat! We like the way the floors are separate rather than being cut out to join in the middle, technically giving kitty two different places to sleep in one.
2. Rounded cardboard cat house with ladder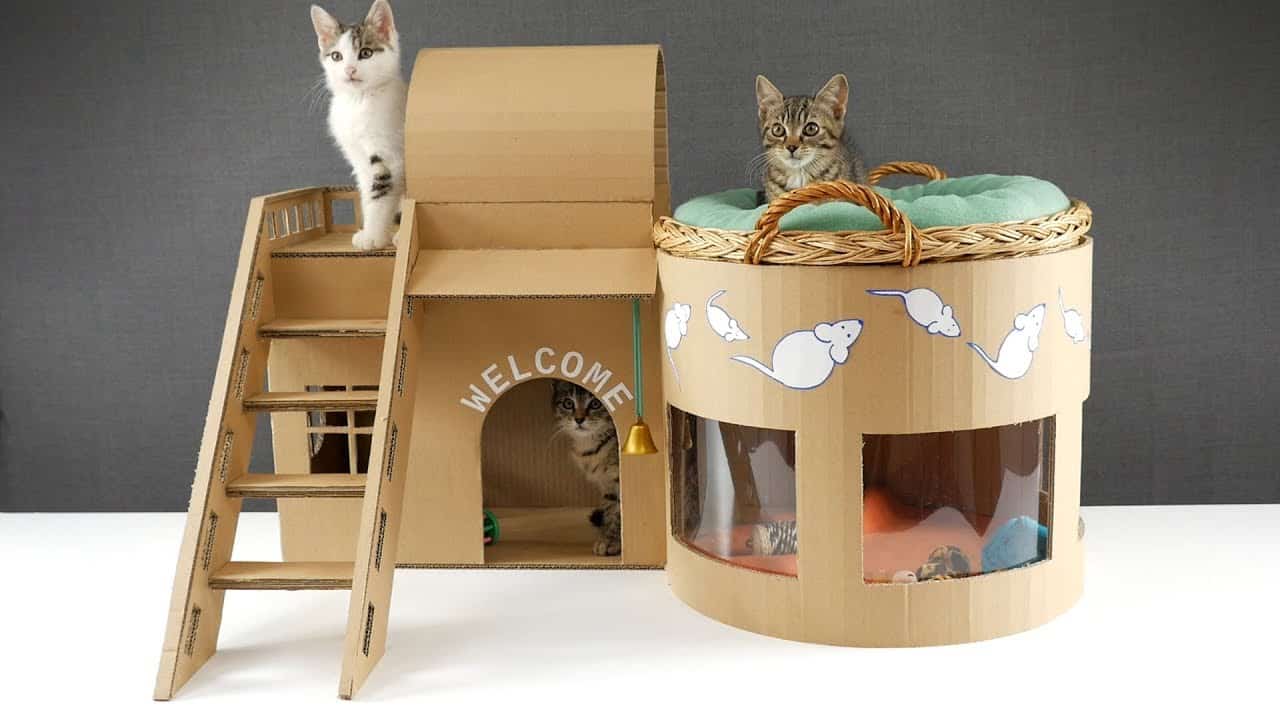 Do you really like the idea of making a cardboard cat house for your feline friend but you're feeling up to more of a challenge than what stacking two boxes on top of each other and drawing on them involves? Then we think you might get along a little better with the way EverXFun outlines the process of cutting pieces into unique shapes and folding them to create a whole little kitty condo complete with its own ladder.
3. Cheap DIY cat house from a t-shirt
Are you actually such a fan of upcycling that you'd prefer to reuse more than one thing at once if possible? In that case, we think you might appreciate the way Smart Fun DIY managed to upcycle cardboard boxes and a t-shirt in making this flexible little hut that's perfect for homing more than one kitty at once.
4. Palm springs inspired cat house
Are you actually quite handy with wood and paint rather than just cardboard and you can't help wondering whether you can't make something with a little more kitsch and character to it? Then we have a feeling you're going to get a real kick out of the way A Beautiful Mess made this funny little plywood cat house that's painted and styled to look just like a stereotypical holiday home in Palm Springs, Florida!
5. Vintage kitty camper