In our house, there is one member of the family that really rules the roost (and everyone else's hearts): the cat! We're always looking for fun ways to use our DIY and crafting skills to make nice, fun things for our favourite furry friend because we get just as much amusement out of doing it as the cat does exploring something new. Lately, we've been thinking about making ours some kind of awesome new cat house, so we've been keeping our eyes peeled for great tutorials to help us out along the way.
If you're feeling just as intrigued by the idea of building a DIY cat house as we were, if not more, here are 15 of the very best ideas, designs, and tutorials we've come across so far in our search for inspiration!
1. Epic cardboard cat house
So long as you have a couple cardboard boxes, some tape, a pair of scissors, and marker lying around, you already have everything you need to make this two-storey cat house outlined step by step on Jonasek The Cat! We like the way the floors are separate rather than being cut out to join in the middle, technically giving kitty two different places to sleep in one.
2. Rounded cardboard cat house with ladder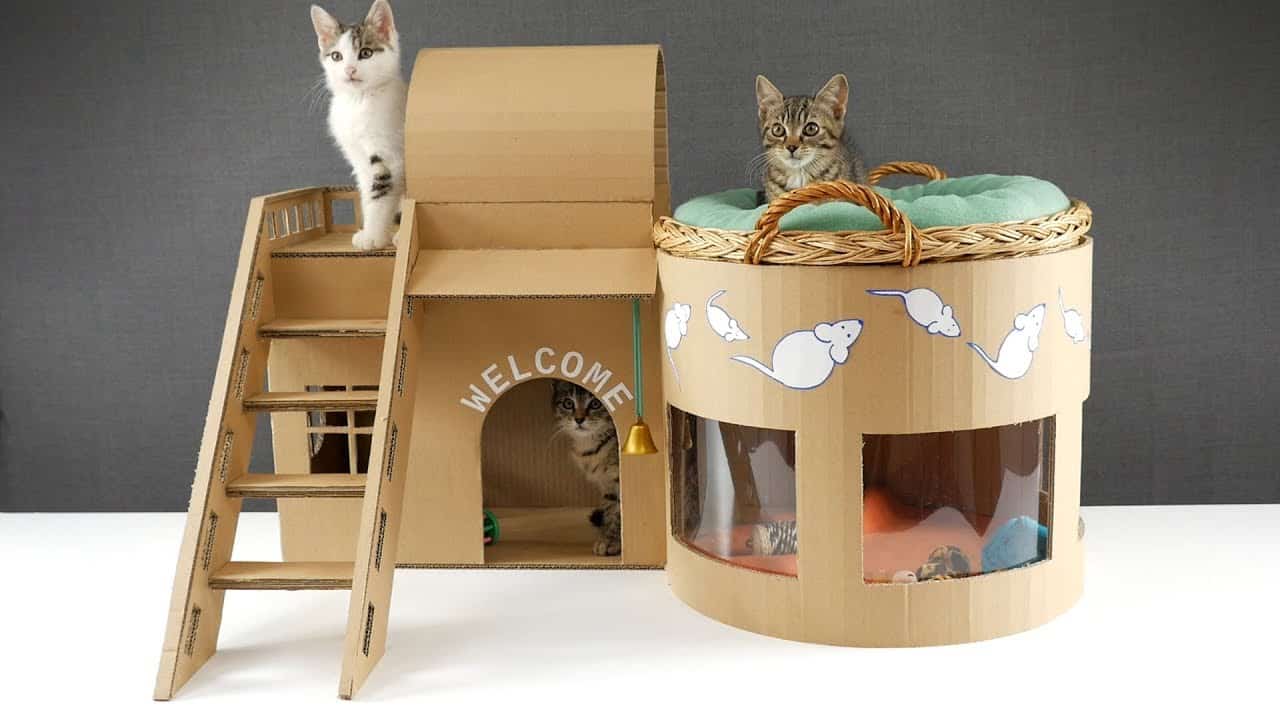 Do you really like the idea of making a cardboard cat house for your feline friend but you're feeling up to more of a challenge than what stacking two boxes on top of each other and drawing on them involves? Then we think you might get along a little better with the way EverXFun outlines the process of cutting pieces into unique shapes and folding them to create a whole little kitty condo complete with its own ladder.
3. Cheap DIY cat house from a t-shirt
Are you actually such a fan of upcycling that you'd prefer to reuse more than one thing at once if possible? In that case, we think you might appreciate the way Smart Fun DIY managed to upcycle cardboard boxes and a t-shirt in making this flexible little hut that's perfect for homing more than one kitty at once.
4. Palm springs inspired cat house
Are you actually quite handy with wood and paint rather than just cardboard and you can't help wondering whether you can't make something with a little more kitsch and character to it? Then we have a feeling you're going to get a real kick out of the way A Beautiful Mess made this funny little plywood cat house that's painted and styled to look just like a stereotypical holiday home in Palm Springs, Florida!
5. Vintage kitty camper
Did we really catch your attention when we started talking about cute DIY cat houses with a lot of personality and kitsch but the Palm Springs idea is a little out of your reach since you've never worked with wood? Then we have a feeling you might get along a little better with the way Cuteness folded and painted some cardboard to make this hilarious kitty cat camper van!
6. Cat shaped crocheted kitty bed
If you were to list your very best DIY skills, would your top skill and the one you feel the most confident in because your ability to crochet? Then you just might be the perfect person to give this adorable and soft crocheted kitty bed a try! BuddyRumi shows you how to make it in the shape of a kitty too, just in case the mere concept wasn't enough feline fun for you.
7. DIY cat tent from a t-shirt
Maybe you're still interested in the idea of upcycling an old t-shirt to make some kind of comfy cat bed but you're not sure you have a shirt quite big enough to stretch over a whole box like you saw above? Then we'd definitely suggest taking a look at how Instructables made this adorable but slightly smaller cat tent instead! It's actually a lot simpler to make than it even looks.
8. Easy embellished cardboard cat house
When you started thinking about the idea of making a cardboard cat house, did your mind actually start picturing something a little more traditionally shaped, just like a doghouse might be? Then we're pretty confident you'll get a kick out of the way Happiness is Homemade created a small, kitty cat sized version of the same style of house in just a few simple steps!
9. Crocheted kitty basket
Did we really catch your attention when we started talking about the idea of crocheting a nice place for your cat to sleep but you're just not sure that you're prepared to take on the bigger challenge of the cat shaped house we showed you earlier? Then we think you might have better luck with this simpler pattern from Eilen Tein that shows you how to make a cozy little basket instead.
10. Vintage suitcase kitty bed
Did we really catch your attention with all this talk of upcycling things but you're looking to reuse something a little bigger than cardboard or a t-shirt? Well, if you happen to have a vintage suitcase sitting around, or at least half of one, then we think you'll be very pleased indeed to see this tutorial from Fancy Seeing You Here that teaches you how to add legs and a cushion to make a cat bed from a suitcase that might not otherwise be used!
11. DIY iMac cat bed
Suitcases aren't the only other things you can upcycle, of course! We're actually huge fans of the way And Possibly Dinosaurs made use of an old, broken computer by turning its outer shell into the walls and ceiling of a little cat bed that's the perfect size for a single kitty! We just know our cats would adore stepping on the keys of the keyboard every time they got in and out.
12. DIY cat teepee
Did we actually really catch your attention when we started talking about the idea of making a kitty cat tent but you were picturing something a little more grandiose than the t-shirt design we showed you earlier on our list? Then we have a feeling something like this fantastic teepee made from a blanket might be a little more up your alley! Get the full details for making one of your own on Local Adventurer!
13. Vintage suitcase cat bunkbeds
Were you a huge fan of the idea we showed you of upcycling a vintage suitcase like we showed you before but you have two cats and you'd prefer to repurpose both halves of your suitcase? Then we'd definitely suggest taking a look at how Hallmark Channel made this bunkbeds version of the vintage suitcase cat bed you saw before!
14. Insulated, waterproof DIY cat shelter for strays
If you're going to make a house for any cats, would you also like to make one for the strays you've seen around your yard outside? Then we'd suggest taking a look at how Lifehacker made these outdoor cat huts that are insulated against cold weather and filled with foot and water to give outdoor cats who need a break from the elements a bit of respite.
15. Layered cardboard cat temple
Maybe you really are mostly interested in crafting with cardboard but you're still up for more of a challenge than some of the other cardboard ideas you've seen so far? Well, if you're quite a patient person, then we think you just might get a kick out of the way Instructables cut many circles in decreasing size and stacked them on top of each other to make an almost Mayan looking cat temple.
Have you made other kinds of awesome DIY cat houses before that your kitties were very happy with indeed but that you don't see here on our list? Tell us all about what you made and how you did it or link us to photos of your finished house in the comments section!