15 Fun Novelty Drink Recipes for Summer
Whether we're hosting a fantastic get together on the back porch with friends or just making a nice dinner for our family, there's just something about long summer days that makes us want to go above and beyond with the menu in some way. The meal might be simple (bonus points if we don't have to make everyone feel hotter by turning the oven on) but that doesn't mean we can't make a fun dessert or- even better- make something kind of delicious punch or novelty drink to keep the people around us feeling refreshed! Of course, because we have many people in our lives who are either too young to drink or sober, we prefer to make delicious concoctions that everyone can enjoy. If you do feel like making it a cocktail, go ahead and throw a shot into your glass before you pour!
Just in case you're feeling as enthusiastic as we were about the idea of making fantastic, super fun, and wildly delicious summer drinks as we were, if not more, here are 15 of the best recipes and flavour combinations we've come across so far.
1. Refreshing lime water
Are you the kind of person who, on most days, will actually choose water over most other beverage options, but every once in a while you don't mind just a touch of extra flavour to keep things interesting? In that case, we think you might get along very well indeed with this refreshing lime water drink recipe featured on Self Proclaimed Foodie! The citrus taste is light and cool, mimicking that of cocktails like gin and tonic without actually including any alcohol.
2. Tropical party punch
Are you of the opinion that summertime is the time for as much delicious, juicy fruit flavour as you can possibly squeeze into the sunny days? Then we have a feeling you'd probably prefer a recipe that's a little more tropical than just water and lime. That's why we thought this awesome tropical cocktail featured on Real House Moms sounded like such a good idea! Check out how they combined all kinds of flavourful fruit juices with a yummy cherry and pineapple garnish.
3. Pink lemonade punch (or princess punch)
We actually stumbled across this recipe back when our kids were demanding a lovely pink princess theme for their last birthday party, but since lemonade is one of our very favourite things to make and sip at in the summer, we held onto the recipe for longer than the party prep lasted! Love Bakes Good Cakes guides you step by step through the process of making yourself a delicious pink lemonade that's equal parts sweet and tart, for the perfect refreshing flavour.
4. Agua fresca
If you're going to make yourself an exciting fruit based drink this summer that's a little bit more of a treat than usual, would you rather do it using an actual mixture of real fruit instead of canned or box juices? Well, particularly if you prefer a little bit of fizz to your drinks, we have a feeling you'll get along very well indeed with this fantastic authentic agua fresca recipe featured, along with a full ingredients list, on Mandy's Recipe Box! It's a strawberry lovers' dream.
5. Cherry limeade
Are you mildly interested in the idea of making homemade lemonade but you're just not convinced that that's quite enough of a unique treat to really excited your family or guests the next time you feel like going above and beyond on a summer evening? Well, if they've ever enjoyed cherry flavours in their desserts, candies, or beverages, then we have a feeling this fantastically flavourful cherry limeade recipe featured on Wine and Glue will be a huge hit in your house!
6. Cherry basil soda
Are you very intrigued indeed by the idea of making a cherry based drink because that's almost always your favourite option in any flavour group, but you're wondering whether something with a little fizz and a slightly more unique flavour might serve you better tonight? In that case, perhaps you'd prefer to make a nice, big batch of this cherry basil soda outlined by Foodness Gracious!
7. Kid friendly, immune boosting citrus sangria
Are your kids the kind of curious little munchkins who want to try everything they see you eat and drink, so you're constantly having to keep an eye on your cocktails just in case? Well, maybe for the next party you can treat them by making them a kid friendly version of their own so they feel very adult indeed! We love this recipe from Eazy Peazy Mealz virgin citrus sangria, especially because all the vitamin C packed into the mixture actually makes this drink an immune booster to ward off sneaky summer colds.
8. Lemon berry spritzer
Are you still kind of scrolling through our list thinking about how much you do like a glass of classic lemonade, but you still wonder whether you might find a sort of amped up version just to really treat yourself with or push yourself outside the usual box? Then maybe giving this lemon berry spritzer a try instead is the best idea for you! Get the full ingredients list and mixing instructions on Mommy Hates Cooking.
9. Slow melt Arnold Palmer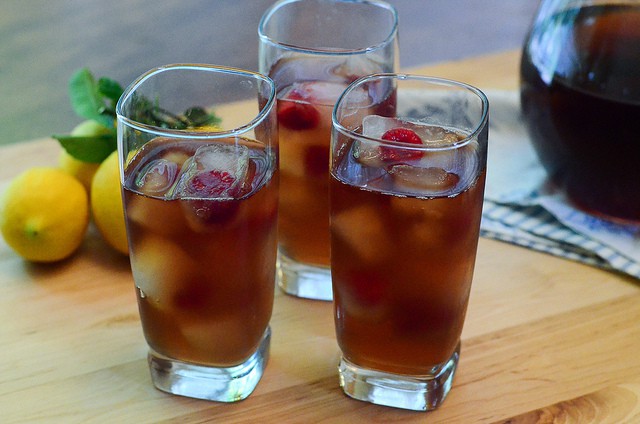 Now, if you've ever had an Arnold Palmer before, you already know that it's a mixture of lemonade and ice tea. That's all well and good, but what makes this particular "slow melt" recipe featured on From Valerie's Kitchen… slow melt? We tried it out, and we're here to tell you that the secret is all in the lemonade ice cubes! Mix your drink as usual but with a touch less lemonade than normal and then pop in the lemonade ice cubes. This will keep your drink cold and add extra flavour rather than watering the drink down as it sits on the table next to you in the sun.
10. Sweet peach tea
Do you come from a long line of ice tea and sweet ice tea lovers, so you're an old hand at mixing the perfect batch whenever your family starts craving it? We're like that too and we don't often feel the need to change up a good thing, but every once in a while we do find ourselves starting to crave something new. That's why we liked finding fun ways to put a twist on our classic favourites! This delicious sweet peach tea recipe featured on Around My Family Table is the perfect example of what we mean.
11. Raspberry ice tea
Just in case we really caught your attention with the idea of putting a fruity twist on the ice tea concept you love so much but peaches have actually never really been your thing, here's another super delicious alternative for your tastebuds' consideration! Taste of Home guides you step by step through the process of making ice tea with raspberries instead. This might actually be our favourite option on the whole list!
12. Unicorn floats
If you're going to make your kids some kind of fruity novelty beverage as a summer treat, do you know that you're going to have to go all out and really get weird and creative with it to impress them, since they're already so full of such funny recipe ideas themselves? Then we think we might have found just the novelty drink recipe for you! Take a look at how The Bewitchin' Kitchen made these fantastic unicorn floats from a deliciously sweet combination of pop, juice, and rainbow ice cream.
13. Non-alcoholic raspberry mint julep
Did we really catch your attention when we started talking about raspberry flavoured drinks because those have always been your favourite berries but you've just never really been a fan of sweet teas or iced teas so you're looking for an alternative? In that case, we have a feeling this delicious non-alcoholic raspberry mint julep featured on Sober Julie might appeal to you a little more! We love the idea of making these as an option for anyone who would like to enjoy a cocktail but is too young, can't drink for health reasons, or is aiming to remain sober.
14. Mermaid punch mocktail
Just in case the ice cream unicorn drink we showed you earlier is a little too much for even your kids but you'd still like to make them something novelty and delicious, here's another fantastic (and super fun themed idea) featured on Our Family World! They show you how to make a big batch of "mermaid punch" by mixing all kinds of delicious things together until you get a wonderfully green result that you'll probably love just as much as they do.
15. Pink lemonade and watermelon fizz
Are you still perhaps scrolling through and thinking about how pink lemonade just might be the winner for you, but you can't help but feel like you should probably put some kind of fun twist on things because you've made regular pink lemonade so many times before? Then look no further, because this fantastically fizzy watermelon pink lemonade outlined by My Organized Chaos might actually be one of the most delicious summer drinks we've ever tried.
Do you have another favourite non-alcoholic summer drink that you love making for your family and friends but that you don't see here? Tell us all about how it's made in the comments section or link us to photos of how mouthwatering it looked last time you served it!