Best Vinyl Cutting Machines in 2023 – Get the Best One Out There
Considering the outstanding level that technology has reached, crafters have never had it so easily, what will all the machines laying around, ready to process their favorite materials for them with just a couple or so of clicks.
Cutting machines are all the hype thanks to their ability to process a plethora of materials. While many use these machines to cut paper, some of the most daring crafters took the leap and experimented with more exotic materials, such as vinyl.
This, in turn, has opened a new world of possibilities to the day-to-day crafter, seeing as processing vinyl can yield awesome products, including but not limited to decorations, greeting cards, invitations, decals, and even stickers.
Editor's Choice
Best for Beginners
Best Value
On the downside, not all cutting machines that can handle paper are capable to work with vinyl just as easily. Therefore, you may want to make sure that the product you're interested in has innate vinyl processing capabilities if you want to work with this material in the long run.
The good news is that you don't have to be alone on this journey of discovering the best vinyl cutters. That's exactly why we're here, to guide your steps and help you make an educated decision regarding what's the best vinyl cutter that will fit your needs and won't have you break the bank in order to buy it.
In our guide, we've ranked some of the best vinyl cutting machines so that you don't have to waste your precious time researching the costs, capabilities, and proficiency of each product. Without further ado, here's a summary of our ranking followed by a more in-depth approach to each product in the list.
If you're in a hurry and want to get to the bottom of it as quickly as possible so that you can purchase a machine and get on with your business, check out our top recommendations below:
Cricut Explore Air 2
Cricut Maker
Silhouette Cameo 4
Best vinyl cutting machine
for beginners, hobbyists,
and small businesses
Best all-round vinyl cutting machine
for beginners, hobbyists, and professional
crafters alike
Best value vinyl cutting machine
recommended for commercial use
that can handle materials up to 10
feet in length
Truly beginner-friendly: you
just feed the material to the
machine, press a button,
and enjoy your new vinyl
print in a matter of seconds
Lets you tap into your creative side by
providing you with no less than 300 supported
materials, so that you can craft not only with
vinyl, but with other materials just as easily
Huge cutting force: Silhouette Cameo 4
boasts an impressive cutting force
of 5000g, letting your process through
some of the toughest materials you can
find, let alone vinyl
Low cost of maintenance:
cutting machines are
usually not only expensive
as they are, but also require
quite a lot of money to
maintain. Cricut Explore Air 2
is not only cheap, but also
doesn't require a lot of money
to maintain
Impressive cutting feature: Cricut Maker's
cutting power lets you create a lot of products
from vinyl, ranging from vinyl decals to
stencils, invitations, greeting cards, and even
stickers. The products you create with Cricut
Maker can be easily used by you personally,
but you could also turn them into profit or gift
them just as easily
Auto Blade: the Auto Blade feature
can save you some precious time
by automating the cutting process,
so that you don't need to perform
manual configurations every time
you need to cut something
High quality prints: despite its
low cost of acquisition and
maintenance, Cricut Explore Air 2
can provide you with high-quality
vinyl prints, matchint ones from
professional print shops
Intuitive, streamlined experience: Cricut Maker
provides you with a beginner-friendly
experience that can help you get started and
work on your projects without previous experience
with similar products
Matless cutting: this awesome feature
enables you to cut unlined material
without needing a mat beforehand
Check price on Cricut.
Check price on Cricut.
Check price on Amazon.
What Are The Best Vinyl Cutting Machines In 2021?
Versatile
Lets you perform a broad range of operations that would normally be handled by more than one machine, including but not limited to creating craft stencils, vinyl decals, invitations, greeting cards, and even T-shirts
Child-proof
One of the most overlooked aspects of cutting machines is them being child-friendly, and Cricut Maker enables children to use it to create crafts without requiring any supervision
Cut precision
Cricut Maker can handle more than 300 materials and cut through them with incredible precision. Some of the materials include vinyl, paper, leather, fabric, and even mat board
Great cutting power
Cricut Maker boasts an impressive 4000g of cutting power and 2.4 mm clearance so that you can use it not only for paper, cardstock, and vinyl but for thicker, more resilient materials as well without skipping a beat
User-friendly software
Cricut Design Space comes with an intuitive, streamlined interface, thus making it possible even for inexperienced users to interact with it without previous experience or even good PC operating skills
Beginner-friendly
Arguably one of the most easy-to-use vinyl cutting machines on the market, the Cricut Explore Air 2 lets you use it by simply inserting the desired material (in our case, vinyl), attaching the pen, choosing a design, and pressing a button
User-friendly software
On top of the machine being easy to operate even for complete novices, Cricut Explore Air 2 also benefits from the intuitive software that is Cricut Design Space, which can be operated without previous experience with similar tools
Fit for various needs
Whether you're out looking for a machine that can cut cards, decals, stickers, or other crafts flawlessly, Cricut Explore Air 2 can help you achieve your goals in minutes, which makes it fit even for small businesses
Reasonable cutting force
Cricut Explore Air 2 benefits from a whopping 400g of cutting force, which is considerably higher than any other entry-level model of vinyl cutting machines. This can ensure you can cut your way through a wide range of materials, let alone vinyl and paper
Fast Cutting Speed
The Silhouette Cameo 4 is reportedly 3 times faster than its predecessor (the Cameo 3) and can cut through materials at 30 cm per second. However, note that faster cutting speeds also means that the machine will be noisier during the actual cutting process
More cutting power
Compared to its predecessor (Cameo 3), the Silhouette Cameo 4 cutting machine delivers more than 20x worth of cutting power. The Cameo 3 only had 210g cutting power, whereas the newest model boasts a whopping 5000g, making it possible to cut through harder materials like butter
Huge cutting size
Thanks to its built-in roller feeder, the Cameo 4 can handle materials that are 10 feet long. Depending on the model you choose to stick with, Cameo 4 can handle 12, 15, or 24-inch x 10-foot materials, which is definitely both impressive and a huge improvement compared to older models
Easy to use
Considering its parameters, it's safe to say that Silhouette Cameo 4 is a commercial-grade cutting machine. Fortunately, this doesn't mean that it's difficult to use. In fact, this machine is one of the easiest commercial-grade cutting machines you could use
Comprehensive software
Silhouette Studio 4 is not only a huge upgrade over the 3rd version of the same utility, but it also stands out thanks to the level of freedom that it provides its users with (compared to other software products from various competitors)
View price on Amazon
Compact size
The compact size of Silhouette Portrait 3, as well as the fact that it's lightweight, means that you can move it around without pulling a muscle or having to apply complex space management techniques in your car
Auto Blade
Much like its more expensive counterpart (the Cameo 4), Silhouette Portrait 3 also includes the Auto Blade feature, which eliminates all the guesswork from your crafting operations. You just have to select the material type and let the machine handle everything else
Plenty of cutting power
Silhouette Portrait 3 boasts the same degree of cutting power (210g) that the previous model of Cameo (Cameo 3) did, which is plenty enough for basic crafts such as cards, labels, or stickers
Many advanced features
It's not likely that a budget-cutting machine comes with advanced features, but Portrait 3 managed to cram some of those in so that you won't miss on them even if you're on a budget. These features include the Auto Blade, Bluetooth connectivity, and the ability to cut through several materials, including card stock, paper, and vinyl
User-friendly
Besides it being really affordable, to begin with (about 50% cheaper than other similar models), the Silhouette Portrait 3 is also easy to use, so you'll be able to get started quickly and without spending a fortune
View price on Amazon
Good cutting power
USCutter MH 34in packs quite a punch as far as cutting is concerned, despite it being reduced in size. It has 350g of cutting force and can handle materials up to 30.5 inches x 8 feet
Minimal setup
The USCutter MH 34in requires minimal setup and can work its magic on your materials almost as soon as you take it out of the box. Even with minimum experience, you should be able to set it up in up to 30 minutes
Fits many needs
Whether you want to use it at home for your personal use or launch a small crafting business, this machine can handle various jobs, from creating signs and banners to cutting stickers and performing heat transfer for T-shirts and fabric
View price on Amazon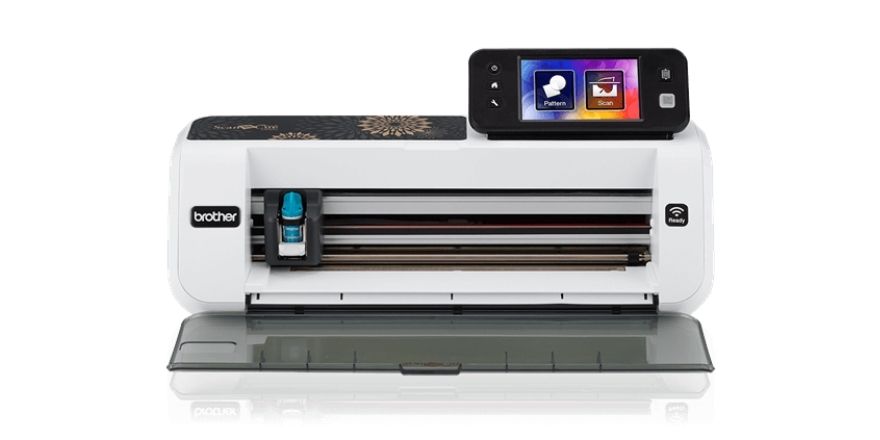 Reasonable cutting power
Brother Scan and Cut has a reasonable cutting power of 350g, which should be enough to cover various projects. If you want to buy this unit with vinyl cutting in mind, it should be more than enough, considering that it has a cutting surface of 12 x 24 inches
Simple to use
Not only is this machine easy to use for a broad range of customers, but it also packs an intuitive software solution with streamlined components and an Auto Blade feature to eliminate all the guesswork from your crafting process
Built-in scanner
Brother Scan and Cut is, at the time being the only vinyl cutting machine that has a built-in scanner you can use to scan your drawings directly into a cut file. The principle is very simple: you just have to scan the drawing and let the machine do all the cutting.
Reduced noise levels
Another perk that many cutting machines seem to lack is a reasonable level of noise during their cutting steps. The Brother Scan and Cut machine doesn't only have a reasonable noise level: it's actually next to silent while operating.
Now that you've seen the shortlist, we can move on and learn a bit more about each machine that we've included in our list.
View price on Amazon
Best 2021 Vinyl Cutting Machines (Detailed)
The Cricut Maker is, without a doubt, the best all-round vinyl cutting machine that money could buy at the time being. The reason behind our choice is that Cricut Maker isn't simply a vinyl cutting machine, seeing as it's so versatile you could use it for a lot more projects.
Thus, aside from it being perfectly capable of creating print-shop quality decals, paper crafts, invitations, stickers, greeting cards, and sewing patterns, it's also capable of embossing, scoring, and even performing iron-ons from the comfort of your home.
By comparison with the Cricut Air Explore, it's just as capable and then some, seeing as its budget counterpart, can only handle a small bunch of the operations that the Maker can carry out.
It goes without saying that if you aim to open a crafting business and do that for a living, the Cricut Maker is definitely something you'll want by your side as a trustworthy assistant, and there's really no point in stopping at one, either.
If you're a great designer of stickers, decals, crafts, and why not even shirts, then you should definitely consider investing in a Cricut Maker. This machine has a tremendous amount of customization options so that you can have the creative freedom you deserve.
Furthermore, it's also incredibly easy to use and provides you with an unmatched level of quality, and the machine is not the only one that gets all the credit, seeing as the matching software it comes with also boasts awesome features.
There are a bunch of reasons why Cricut Maker made it to the top spot of our ranking, and we could talk about them on and on, but instead, we figured that we'll simply give you a glimpse into the wonderful world that Cricut Maker can help you build and let you discover the rest on your own.
Great cutting force: as opposed to other similar machines, Cricut Maker can cut through harder, more resilient materials other than vinyl, such as craft foam and matboards, thanks to its generous cutting force of 4000g.
Intuitiveness: Setting up Cricut Maker and starting your crafting journey assisted by this machine couldn't be easier. Sure the machine is a bit heftier, at least compared to other similar products, but its sturdiness is definitely a plus (unless you plan on moving it often).
Fast results: there are few (next to none) other models who can carry on a cutting job as fast as the Cricut Maker can, which not only saves you precious time but also means that you won't have to listen to the noise it generates for as long.
Several materials supported: accordingly, Cricut Maker can handle more than 300 materials, which makes it a must-have, especially if you don't plan on using it only in vinyl cutting operations.
Awesome software: Cricut Design Space is an intuitive app that you can use to interface with your Cricut Maker machine. The software solution is not only intuitive but also provides you with access to several designs and fonts you can easily use in your crafts.
Although everything seems great, there are a couple of shortcomings regarding the Cricut Maker: for once, if you plan on using the software solution for your personal use, it's completely free, but you'll have to cough up at least $10 a month if you want to access more designs.
The second drawback is that you'll have to plug it into a computer or a tablet at all times if you want to use it, which could limit you in a number of ways. Last, but not least, the price might get in your way, but trust us, at that price range, you won't be able to find anything close to the Cricut Maker in terms of capabilities.
Cricut Maker Pros
User-friendly
Easy to grow accustomed with
Intuitive, streamlined software solution
Free comprehensive software
Low maintenance costs (accessories and supplies included)
Can work with more than 300 materials
4000g cutting force
Cricut Maker Cons
Optional purchases in the Cricut Design Space app
Not too easy to move around
No Auto Blade or Cross Cut feature available
As we've mentioned above, this machine can do a lot of things that the Cricut Maker can do, and the best part is that they can be interfaced with using the same software solution.
However, it's easy to see why the Cricut Explore Air 2 comes in cheaper, considering that it lacks a bunch of features. On the bright side, if you're just starting to explore the wonderful world of vinyl crafting, the Cricut Explore Air 2 should be more than enough for your needs.
You can use it for a broad range of tasks, from making cups for special occasions to designing invitations, signs, greeting cards, or other similar crafts.
Note that you shouldn't expect it to process any complex materials, given that it's more limited than Cricut Maker. However, if you plan on purchasing a machine that can handle cutting vinyl for your home projects or nothing too fancy, then the Explore Air 2 model should be able to cover just about everything.
The genius behind Cricut Explore Air 2 is just how easy it is to use it. All you have to do is insert the material you plan on using, attach the pen (the cutting component) to the machine, choose a design, and configure the cutter to the material you're using.
After performing all the steps above, you only have to press a button. Optionally, you can kick back and relax while your design comes out of the machine, but I guess you could also stare at it until it's done like most of us do.
More often than not, cutting machines that are not exactly expensive don't do much in terms of design quality or speed, but Cricut Explore Air 2 handles everything nothing short of great. Have we also mentioned that it's incredibly easy to use? Sure we did.
But that's not everything attractive about this machine. Here's a quick list of features that we're sure you'll find to be just as important (if not more) as we did:
Impressive cutting force: for an entry-level cutting machine, 400g of cutting force is a lot to help you do the job quickly. It can cut through a lot of materials in virtually no time.
Cricut design library: we've already mentioned at the previous Cricut product that you can access a database where you can find hundreds (if not thousands) of ready-made designs and fonts. As an Explore Air 2 owner, you can also benefit from all that.
Flawless operation: thanks to its intuitiveness, you don't need to perform needlessly complicated operations in order to cut your vinyl designs with Explorer Air 2, thus the human error factor is almost completely eliminated. You just choose the cut and let the machine worry about the rest.
Handles several materials: The Cricut Explore Air 2 can process a wide variety of materials, ranging from paper to cardstock and vinyl, without breaking a sweat.
If you feel like you want more from your cutting machine in terms of material variety, cutting force, or thickness, you should also take into account the fact that the Explore Air 2 is, after all, an entry-level piece, so it makes sense that it's limited in a bunch of ways.
The 400g cutting power is one of the most important aspects of the Explore Air 2, considering that it's 1/10th of what the Cricut Maker can do. However, if you only want a machine for hobby projects, this machine could meet your expectations.
In terms of cutting size, it can handle the same material size as the Cricut Maker, meaning that the Explorer Air 2 has a 12 x 24 inches cutting size. In reality, this size is actually 11.5 x 23.5 inches.
What we're trying to convey is that the main differences between the Explore Air 2 and the Maker are that the Maker boasts a lot more tools than its counterpart and a 10x higher cutting force. Furthermore, the Maker can help you process more than 300 materials, let alone vinyl.
However, if you just want a vinyl cutting machine for hobby projects or small businesses, the Explorer Air 2 provides you with more than you need since it can handle paper, cardstock, and vinyl printing as quickly as possible.
Cricut Explore Air 2 Pros
Affordable compared to other similar products
Beginner-friendly, and can be operated even by novices
Fast cutting process
Can handle paper, cardstock, and vinyl without issues
Cricut Design Space is easy to use
The software can give you access to a broad range of designs
Cricut Explore Air 2 Cons
Lacks some features
Weak cutting force
Silhouette may just be a perfect hybrid between consumer-grade and commercial-grade cutting machines, seeing as it can handle a huge amount of material, has tremendous cutting force, and can (and does) play well with an impressive collection of supported materials.
This is precisely why we've bestowed the 'Best Value Choice' title upon it, considering that it brings you a great chunk of commercial-grade vinyl cutting machine capabilities at the price of a merely more expensive consumer-grade machine.
Not so far ago, Silhouette's flagship was the Cameo 3, which was a decent competitor to most of the vinyl cutting machines on the market, but no match for top-of-the-line ones such as the Cricut Maker.
If you take the cutting power alone, for example, the Cameo 3 had only 210g in that department, while the Cricut Maker showcased an impressive 4000g, which is almost 20x.
However, with the launch of Cameo 4, things have taken a turn, and the Silhouette flagship seems to have surpassed Cricut Maker (as well as many other big names on the market) in more than just one way.
As opposed to Cameo 3's launch, which many considered to be just a "facelift of the previous model," Silhouette seems to have outdone itself by implementing a broad range of advanced features, increasing the power of the machine tremendously all the while making it more fit for professional users.
It's safe to say that Silhouette Cameo 4 is one of the most powerful vinyl cutting machines on the market, if not the most powerful one. Back in the days of Cameo 3, there was simply not enough elbow room as far as the list of supported materials was concerned.
With Cameo 4's impressive 5000g of cutting force and 3mm clearance, you can cut through way more than 100 materials, including some of the most stubborn ones, such as mat board, fabric, leather, craft foam, and, of course, vinyl.
Speed weighs in just as heavily when it comes to parameters you should choose your vinyl cutter based on, so it makes sense that people are paying a lot of attention to just exactly how fast can Cameo 4 cut their materials.
If you're a Silhouette fan and have been using the Cameo 3 for a long while and you're still on the fence about whether you should upgrade or not, you'll be glad to learn that compared to its predecessor, the Cameo 4 is three times (3x) faster when it comes to cutting speed.
Furthermore, Silhouette managed to reduce the noise levels, which was another caveat of using the Cameo 3, and the current model operates at acceptable noise levels.
We mentioned that you could create projects of up to 12 inches x 10 feet in size, and that wasn't possible until recently. The built-in roller feeder is a much-needed upgrade that enables you to handle up to 10 feet of vinyl. You could do that as well with the Cameo 3, but you also had to purchase the roller feeder separately, but not anymore!
The previous model of Cameo had connectivity issues, but currently, this doesn't seem to be the case any longer. You can safely connect to your Cameo 4 via Bluetooth through your PC or laptop, but you can also use the dedicated mobile apps to get the job done if needed.
Cameo 4 has an Auto Blade feature that not only detects the material you're going to use and automatically adjusts the cutting force to yield flawless end results for your projects but also detects if the blade is fit for your project and notifies you so that you don't mess up your projects.
The rotary blade is another nifty feature of the Cameo 4 that enables you to cut leather and/or fabric without ruining the material or wrinkling it. Although you're after Cameo 4's vinyl cutting capabilities, the rotary blade is a nice addition that will serve you great for other purposes, as well.
If you are planning to use the rotary blade, you will also need to use a special kind of mat called Strong Tact. This will ensure that the fabric will stick to the mat, and therefore you'll benefit from lower chances of messing up your project or the materials used.
Cameo 4's Kraft blade is basically a smaller but equally competent X-Acto knife that lets you cut materials up to 3mm in thickness and applies a force of up to 5000g during the cutting process. It can cut through mat board, so you can rest assured, knowing that vinyl won't be a problem at all.
There's a drawback to the Kraft blade, though: you can only adjust it manually, so if you often rely on the auto blade, you should take this into consideration and attempt to familiarize yourself with it before starting a new project.
Among its impressive lineup of accessories, the Cameo 4 also has a punch tool that lets you create weeding points in your materials without significant effort, so you can say goodbye to ruined projects due to failed weeding patterns.
Last, but not least, Cameo 4 houses a cross cutter, which lets you cut the vinyl down to the size you need it to be without relying on external tools such as X-Acto knives or scissors.
It's worth mentioning that the auto blade and the cross cutter are the only accessories that come with the Cameo 4, and the rest of them need to be purchased separately.
The bottom line is that at least compared to its predecessor, Cameo 4 has come a long way and can provide you with anything you need from a vinyl cutter. The best part about it is that its recent upgrades make this machine fit for a plethora of projects involving other materials, even stronger ones.
Silhouette Cameo 4 Pros
Currently the most versatile vinyl cutter
Features 5000g of cutting force
Has 3mm clearance for thick materials
Built-in roller feeder lets you handle up to 10 feet of vinyl at once
A blade detection system that prevents project errors
Silhouette Cameo 4 Cons
Requires license upgrade to let you export designs
License upgrade needed to work with SVG files
Loading and unloading arrows are reversed
Quite expensive accessories
High maintenance costs (compared to other tools)
View price on Amazon
If you're a home user and don't need to create intricate projects for your pretentious customers, then it shouldn't make sense to want to invest in an expensive machine, even though most of them come with all the bells and whistles you secretly desire.
In this case, a more sound thing to do would be to invest in a machine that's more accessible and work your way up from there. Well, if you're already started to go down this road, you may want to know what's the best affordable vinyl cutter that money could buy. Spoiler alert: it's the Silhouette Portrait 3.
Not only is this machine affordable, but it also packs a few more things that may tilt the balance in its favor, such as it being reduced in size and lightweight (perfect duo for carrying around or traveling with), and an overall effective vinyl cutter.
Furthermore, it's plug and play, which means that all you have to do before you can use it on your vinyl designs is to take it out of its box, install its dedicated software on your computer, and you're all ready and set to start cutting some vinyl with it.
However, seeing as Silhouette Portrait 3 is an affordable machine, it makes perfect sense that it also has some drawbacks, at least when compared to other vinyl cutting machines.
For starters, this machine comes with a cutting surface that is reduced in size compared to some of its counterparts, given that it can only handle materials of up to 8″ x 11″ in size. This, in turn makes it unfit for more complex jobs such as performing heat transfer on T-shirts in one go.
It's still manageable if you're creative enough and willing to cut up the T-shirt's design and perform the heat transfer in multiple takes, but you probably won't stand it if you'll have to perform this operation multiple times (such as bulk orders).
The cutting force of this machine is of 210g (so the same as the Cameo 3), but if you're only going to use it to cut vinyl and/or paper, you won't need more than that, and that's for certain. In fact, most vinyl or paper projects rarely do require over 100g of cutting force.
Now for the not-so-great news: the Portrait 3 has only one holster, as opposed to the Cameo 3 that had a double carriage. Unfortunately, this means that you'll only be capable of running one job at a time, while the Cameo 3 enabled you to run two steps at the same time, for instance, drawing and cutting.
Taking all that's mentioned above into account, it's easy to see why the Silhouette Portrait 3 is simply the best affordable choice. Not only it's extremely affordable, but it's also light and small enough that you can take it anywhere you like, and packs quite the punch as far as cutting power is concerned.
Additionally, if you buy this machine for your home projects, you'll also get free access to PixScan Technology, which allows you to photograph your designs with a smartphone, upload the picture in the Silhouette Design Studio, and cut it without breaking a sweat.
You shouldn't purchase this machine if you expect it to do a lot more than helping you cut designs made of paper or vinyl, because it won't. We've been pretty clear about that not only does the Portrait 3 have a modest cutting force, but it's also quite limited as far as cutting size is concerned.
Therefore, if you need a vinyl cutting machine that you could also use for more advanced projects or one that comes with more cutting power or a larger cutting surface, feel free to browse through some of the other recommendations on our list.
The bottom line is that the Silhouette Portrait 3 is an extremely affordable, lightweight, small vinyl (and paper) cutting machine that is a great fit for hobbyists or small businesses, but you shouldn't expect it to work wonders, especially with more complex projects.
Silhouette Portrait 3 Pros
Most affordable vinyl cutting machine
Lightweight and reduced in size (easy to travel with)
Features auto blade
210g of cutting force
Accessories not expensive as with other Silhouette models
Grants you access to PixScan Technology
Silhouette Portrait 3 Cons
Reduced cutting size (8″ x 11″)
Lacks wireless connectivity
High noise levels despite its size
Only has one holster (for one tool at a time)
View price on Amazon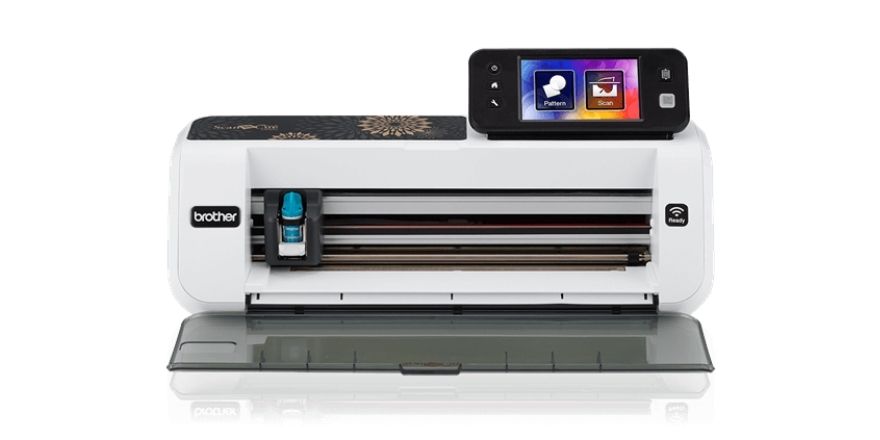 The Brother brand is quite popular when it comes to printers, multifunctional printers and, why not, cutting machines. However, users have been lowkey complaining that the prices practiced by this brand are more justified by the brand itself and don't necessarily reflect the quality of the products.
However, this doesn't mean that the Brother Scan and Cut 2 is a bad machine or ineffective in any way. In fact, it's one of the best vinyl and paper cutting machines, and that's not just judging by the fact that it found its way on our list.
To be more specific, Brother Scan and Cut 2 is actually the best vinyl cutting machine that comes with a built-in scanner. But why would you need a scanner if your machine is perfectly capable of importing design information from files on your phone or your computer? Stick around, and we'll tell you all about it.
But let's discuss a bunch of first-sight things about the Brother Scan and Cut 2. First of all, the machine doesn't look boring or dated at all. In fact, it does have an LCD screen that's not exactly small, and some users are actually annoyed about it. We like it, but to each its own, I guess.
The fact that the LCD screen is of generous proportions makes it also incredibly easy to operate it, so you don't have to tiptoe around it with a stylus pen; you can use your finger just as you would with your smartphone, and there would be no accuracy incidents whatsoever. Even so, the Brother Scan and Cut 2 comes with a designer pen, so you don't have to worry about that at all.
Just to clear the air a bit, customers aren't bothered by the LCD screen or its size, but actually its positioning. Instead of being embedded in the body of the cutting machine, it sticks out from the frame and leans back. It doesn't actually lean back, it's just tilted at an angle so you can see what's happening on it.
Alright, so the fact that you have this LCD screen on the cutting machine means that you won't depend on your computer or your smartphone to complete your projects. No, instead of needing an additional device, you can do everything directly on the machine by interfacing with it through the LCD screen.
And this is the point where you'll discover the beauty of having a built-in scanner. A built-in scanner such as the one embedded in the Brother Scan and Cut 2 can help you digitize your designs and feed them straight to the machines as patterns.
In turn, the vinyl cutting machine will replicate the design without you needing to photograph it, import it through a proprietary software utility, and only then feeding it to the machine. It actually saves you from a lot of headaches.
Brother Scan and Cut 2's built-in scanner has a resolution of 300 DPI, which is quite generous and turns working with designs as well as adjusting the cuts the machine is about to make into children's play.
All you have to do is place the paper (your design) on the mat and feed it to the cutting machine. After you hit the Scan button, you can choose between monochrome or color scanning mode, and the machine will take care of everything for you from that point onward.
If you're attempting to scan something, you might want to use strong contrasts between the background (the paper preferably) and the model. Otherwise, the scanner might not be able to tell them apart, which would result in low-quality scans and potentially stalling your project.
Another noteworthy aspect of this machine is that you can use it for complex patterns as well. However, you might need to familiarize yourself with the scanner before you can jump to complicated patterns, so you might want to start off with something a little bit less soliciting for the machine.
Moving on, Brother Scan and Cut 2 has a more than decent cutting force for a paper and/or vinyl cutting machine of 350g. As we've mentioned several times above, you should rarely need more than 100g of cutting force when working with paper or vinyl, so the extra Gs are definitely a nice touch if you plan on using harder materials as well.
Although it can cut through paper and vinyl in a delightful manner, Brother Scan and Cut 2 can generate quite some noise, so you might refrain from operating this machine if you have thin walls and easily annoyed neighbors or during nighttime.
Now for the bad parts; we already mentioned that this machine is expensive. Therefore, you'd expect a full set of accessories from a machine made by such a respectable brand, not to mention the price it comes with. Well, as it turns out, Brother Scan and Cut 2 comes without a USB cable, and here's the kicker: the cable is actually paramount if you want to connect the machine to your PC.
Furthermore, aside from it being an expensive product on its own, it also has various accessories that match its price, so you'll also have to save some money to spend on accessories and supplies if you want to stick with Brother Scan and Cut 2.
By far, Brother offers the most expensive consumables, supplies, and accessories for this machine, which translates into the fact that this machine's ownership costs are high.
The good news is that it doesn't matter which vinyl cutting machine you're using; all the blades get dull in time and need to be replaced after a while. Not only that, but paper dulls blades more than vinyl does, which is precisely why you should use different blades for different projects.
The bottom line is that the Brother Scan and Cut 2 can serve you well if you can afford it, what with all the costs that replacing various accessories entails, not to mention the price of the machine on its own.
However, it's a great machine, and if you're all about not being tied to a computer or smartphone while you're working on your vinyl designs, then Brother Scan and Cut 2 is exactly what you need.
Brother Scan and Cut 2 Pros
Doesn't require a device (uses a built-in LCD screen)
Has a premium look to itself
Comes with a 300 DPI built-in scanner
Cutting force of 350g
Large built-in screen (30% larger than the previous model)
Brother Scan and Cut 2 Cons
Expensive vinyl cutting machine
High noise levels
Expensive accessories costs (high ownership costs)
Can only handle a bunch of materials
USB cable missing from the package
View price on Amazon
If you're a bit more ambitious and want to take your crafting hobby to the next level, then you should know that there are several tools that are specially designed for small businesses. The machines in the USCutter MH Series are one fine example of vinyl cutting machines that fit the need of small businesses.
Most users believe that if a machine is a great fit for being used for small businesses, it should inherently be expensive and even require one to break the bank, but that's not the case with the USCutter MH Series, seeing as they're actually the most affordable vinyl cutters that could serve the needs of a small business.
One important aspect about these machines is that they come in various sizes, which is a luxury that most consumer-grade vinyl cutters don't seem to be able to accommodate. Despite the selection of sizes, the 34-inch model seems to be the most popular in the series, and it makes absolute sense.
For starters, 34 inches is a lot of elbow room as far as cutting size goes, which means that you'll be able to cut large vinyl pieces as easy as pie. Considering the value, the pricing of the machines in the MH series makes absolutely no sense, but this doesn't mean that there are no drawbacks.
If you're trying to find a bargain and strike a machine that excels in terms of quality and is also the cheapest on the market, you won't find that in USCutter MH Series, so you might as well start looking for alternatives.
However, if you're down to earth and don't expect a cheap machine to work wonders on your projects and understand that there's a tiny compromise in this field due to the reduced price of the machine, then you two are a perfect match, and you might as well keep on reading.
First of all, the USCutter is absolutely perfect if you're running a T-shirt business, thanks to its increased print size that can help you customize even a large T-shirt in just one go. Compared to the Silhouette Portrait 3 that could need multiple runs for the same design, it's most definitely an improvement.
And that doesn't just apply to the Silhouette Portrait 3, mind you, but the wounds are still fresh after we just mentioned it above; no, in fact, most desktop cutters are limited in this regard.
With desktop cutters, you oftentimes need to cut up your designs into several parts and run several heat transfers to achieve the final result and believe us that it's an absolute nightmare if you have a bulk order and you have to keep doing that for each T-shirt in the batch.
Large vinyl cutters such as the ones in the USCutter MH Series are perfect for this type of job, but you can also get creative and use them for other projects, including but not limited to multiplying stickers or creating decals for various vehicles.
Thanks to their increased cutting size, large vinyl cutters can handle this type of job faster and with less headache than any other desktop cutter that's currently on the market, and that's a fact.
The USCutter MH Series vinyl cutting machines have more than enough cutting power (350g), especially considering that paper and/or vinyl cutting projects rarely require more than 100g of cutting power. If you plan on using it with thicker or stronger materials, you'll definitely put those extra Gs to good use.
We've already mentioned that it's the cheapest large vinyl cutter on the market but only mentioned good things so far about the USCutter MH Series machines. However, there are a few drawbacks that you need to be aware of before deciding to invest in such as product.
For once, these machines use stepper motors as opposed to using servo ones, and it makes sense since they're trying to cut off costs. While stepper motors aren't inherently bad, they are somewhat less effective than servo ones based on two considerations: they're louder, and they're slower.
Unfortunately, that's not all. See, most of the desktop vinyl cutting machines have their own design software solutions, and almost most of them offer these utilities for free (for the most part), but unfortunately, this doesn't apply to the USCutter machines.
Furthermore, this machine doesn't have wireless connectivity, which means that it needs to always be connected to your computer via wire. This, in turn, means that you'll benefit from almost no flexibility as far as moving the machine around is concerned. I mean, you'll be able to move it around, but it will depend on the wire to keep connected to your PC so it can operate.
Last, but not least, one of the worst drawbacks of purchasing a vinyl cutter from the USCutter MH Series is the fact that the standard warranty only covers you for up to 90 days, which is incredibly low compared to other similar machines. You could upgrade the warranty (by paying, obviously) to a full one-year one, but we feel that this should be covered by default without having to pay any extra fees.
Furthermore, the manufacturer mentioned that the machines in this series don't get along with running in environments with high levels of static electricity. This could mean that the machine could malfunction in this type of environment, and might not be covered by a warranty, so you should be careful.
Despite all these inconveniences, we feel that they're all justified by the fact that the machines in the USCutter MH Series are absurdly cheap for what they have to offer, so you get exactly what you're paying for. The machine may feel a bit outdated, but it can handle large designs and save you a lot of time, not to mention that it's not exactly difficult to learn how to operate it.
USCutter MH Series Pros
Most affordable commercial-grade vinyl cutter
A decent cutting force of 350g
Cheap accessories
Can process large prints
Cuts vinyl surprisingly well
USCutter MH Series Cons
Standard warranty only covers you for 90 days
Features no wireless connectivity
Could malfunction in environments with high levels of static electricity
Design software doesn't come for free
View price on Amazon
Roland is a huge brand, so it should make perfect sense when we tell you that they didn't compromise on their commercial vinyl cutting machine, right? If you've had enough of home projects and small orders and you want to move up with your vinyl cutting business, then the Roland GX-24 is what you should be aiming for.
Not only is the Roland GX-24 fit enough to handle more complicated jobs than your desktop vinyl cutter or, dare we say, even the small business one, but it's also cheap considering what features and value it brings to the table. If you're serious about your vinyl cutting business, this machine should pay for itself in just about no time.
The cutting surface of the Roland GX-24 is, as its model slightly suggests, of 24″, which should be enough to satisfy the needs of a wide range of customers. One of the selling features of the Roland GX-24 is its Optical Eye, which is basically an advanced optical registration system that's meant to recognize crop marks and align the media in order to perform highly accurate cuts.
Thanks to this feature, you'll be able to create decals or multiply stickers in a matter of moments. All you have to do is edit the document and add three dots at the corner so that the vinyl cutter is able to triangulate the shapes and get to work.
One of the drawbacks of having a commercial-grade vinyl cutting machine would be the noise it generates and the fact that this type of machine is rather slow. Thankfully, this is not the case with Roland GX-24, seeing as it uses servo motors instead of stepper ones.
Usually, commercial-grade vinyl cutting machine manufacturers try to keep prices down during the fabrication process, which is precisely why most machines use stepper motors. While these stepper motors aren't inherently bad, they lack the silence and speed of servo motors.
Roland GX-24 uses servo motors, which obviously helps it carry on the jobs you give it quicker and more silent than many of its counterparts. Roland GX-24 also brings a cutting force of 350g to the table, which is more than enough considering that paper or vinyl cutting projects rarely need more than 100 grams.
Last, but not least, the Roland GX-24 has you covered with a 3-year warranty, which is by itself amazing, just considering that many products only come with a 1-year warranty, while some others may cover you for even less time (say, 90 days).
A long warranty time such as Roland GX-24's hints pretty clearly at one thing: that this machine was built using high-quality materials and that it was designed to resist over time.
It's worth mentioning that this machine doesn't come in cheap, seeing as it's one of the premium products on our list. However, taking into consideration the features that it boasts, and not to mention that it covers you with a 3-year warranty, we believe that it's something you shouldn't miss if you're considering expanding your vinyl cutting business.
More so, 3 years of using this machine without incident should be more than enough to get its money's worth, right? Now for the not-so-pleasant parts. First of all, it seems to be a standard procedure not to offer free software if you're a commercial-grade vinyl cutting machine producer, seeing as Roland GX-24 comes with a software utility you have to pay for.
Furthermore, the software is nothing to write home about, as it feels dated and not as capable, at least when compared to the utilities of some other desktop vinyl cutting machines.
Second of all, it offers you no wireless support. In addition to it being quite a sizey machine that you won't find easy to place anywhere in your house or store, you'll also have to figure out a way to pair it with a computer with a wire as conveniently as possible. It goes without saying that this machine is not for carrying around.
The bottom line is that if you were to set aside the minor inconveniences about the Roland GX-24, which seem to be standard when it comes to commercial-grade vinyl cutting machines, it's a solid choice if you're moving up in the vinyl cutting business.
Roland GX-24 Pros
Generous 3-Year warranty
Fast and quiet thanks to servo motors
Comes with an Optical Eye
350g of cutting force
It's easy to familiarize yourself with it and use it
Has a maximum cutting speed of 20″ per second
Roland GX-24 Cons
Design software is not free
Outdated design software
Non-US customers have to pay more for maintenance
Provides no wireless connectivity
View price on Amazon
So we've gone through almost all the phases of being a vinyl-cutting aficionado, from working a small machine at home and providing kids with party decorations to creating decals and stickers for cars and whatnot.
However, if you really want to step ahead of the competition and you feel like vinyl cutting is an untapped market, then you really have to invest in a professional vinyl cutting machine.
That's not to say that other machines we've mentioned in our ranking are not fit for business usage, but just having a commercial-grade vinyl cutter won't 'cut it' most of the time (pun intended).
You'll also want to make sure that your machine can handle the heat for a long time and that it can not only get the job done fast but yield pro-level results as well in the low amount of time it can finish your projects.
Without further ado, we've decided that the Graphtec CE6000 is without a doubt the machine that's the most suitable for your professional vinyl cutting needs. Contrary to what you might expect from a machine of this caliber, it won't break your budget.
However, note that this machine aims to meet the needs of a small to medium company, so if you were to buy it and use it at home, you might find it a tad too expensive for your budget. However, the price is fully justified if you would take a moment to consider the value this machine could bring to your business.
There's no such thing as perfection, at least as far as machines with moving parts are concerned, so you shouldn't expect this to be all smooth sailing, but in our opinion, the Graphtec CE6000 gets as close as possible (at least in its own category of products).
Now that we've moved past the introduction let's see exactly what's the big hype with this machine and how did it manage to secure a spot in our ranking. One of the most important aspects of Graphtec CE6000 is that it's intuitive and provides you with a streamlined experience, even if you're a complete beginner.
That may not sound like a lot, but remember that this machine wasn't designed with personal use in mind. It was created for professional use, and this involves that the people operating it have at least a bit of previous experience with similar if not nearly identical products.
This machine comes with a library of errors that are displayed in order to prevent you from operating it wrongly and thus wasting vinyl on busted projects. Another neat thing that comes in really handy is that the Graphtec CE6000 checks both the material and its edges to prevent vinyl waste.
Most of the time, when working with professional vinyl cutters, you may notice that at least some parts of your material (i.e., the vinyl) end up crumpled or not cut exactly to precision, regardless of how you position it on the cutting mat. Thanks to the alignment checker mentioned above, these issues are a thing of the past with this machine.
However, you shouldn't take things for granted, no matter how beautiful they sound on paper, so you might refrain from skipping on checking the material. If you want to make sure that your vinyl won't end up crooked halfway through a big cutting project, here's what you can do:
Make sure that the vinyl is perfectly aligned on the cutting mat, then feed it to the machine (without starting the cut). If you notice that after a few feet of material your vinyl is still in top shape, then you can rest assured that you won't have any unpleasant surprises (crumpling-wise) during the cutting.
As you may know, cutting machines (especially desktop cutting machines) are not exactly pleasant to work with due to the level of noise they generate while cutting, especially if they come with speed boosts (i.e., the faster they go, the noisier they get).
So you may understand why for many, it's a surprise that Graphtec CE6000, which is huge by comparison with desktop cutters, is much more silent. With most cutters, the sound they generate during the cutting operation is a result of using cheaper parts, especially the motors.
For instance, most manufacturers prefer stepper motors to keep the price of production low, and this raises two problems: stepper motors aren't as fast as servo motors, and they're also a lot noisier than their counterparts.
Graphtec CE6000 uses only top-grade components, so not only can you work on your project silently while you use this machine, but you'll also have your projects ready in no time.
Tangential Emulation may sound like a Sci-Fi series on Netflix, but it's actually one of the features that Graphtec CE6000 is endowed with that actually helps you create curved designs such as circles and ovals in a smooth, clean manner. By far, this machine is one of the best ones as far as working with curved designs goes.
Another awesome feature of Graphtec CE6000 is called ARMS, which stands for Advanced Registration Mark Sensing. While the non-abbreviated form may not sound like much, it's actually quite a big deal since this feature can help you save some time by automatically detecting shapes on your designs.
All you have to do is add contour lines at the edges of the document, which the vinyl cutting machine will detect, and then use them to triangulate objects that need to be cut from the material you fed to the machine (in our case, it would be vinyl). If you have bulk orders, you'll find that ARMS is an absolute lifesaver.
Now for the not-so-awesome parts of Graphtec CE6000. First of all, you'd expect that a professional-grade vinyl cutting machine would be well-equipped and have an absolute full set of tools on its belt. While that's the case regarding more advanced perks, it lacks a simple component that could make your job even easier: a media catch basket.
Furthermore, considering that you pay a lot of money for this product, you won't receive a free copy of the software utility you'll need to interface with the machine. You will receive the drivers and firmware for free, but as far as the software program goes, you'll also have to cough up some extra dollars in order to receive access to it.
The bottom line is that the Graphtec CE6000 is a truly competent machine. It can get the job done fast and relatively silently and has a plethora of advanced features that will help you kickstart your vinyl cutting business in no time.
Graphtec CE6000 Pros
Tangential Emulation feature for cutting curved corners cleanly and smoothly
ARMS system that can help you duplicate stickers quickly and easily
An advanced error detection system
Material and alignment detection system
350g of cutting force
35 inches per second cutting speed
Vacuum suction to prevent vinyl from slipping from the mat
Top-grade components used for assembly
Silent while operating
Graphtec CE6000 Cons
Expensive (not suitable for personal use, budget-wise)
Dated software
The software utility is not free
Has no built-in wireless connectivity
We are well aware that the Cricut Maker already has a cozy spot in our ranking, but that's precisely why we left it for last and mentioned that it's a bonus. Sure enough, the Cricut Maker is excellent for day-to-day vinyl cutting operations, but when it comes to cutting designs for T-shirts, things could get a bit more complicated.
For once, you won't only need a (more than) decent vinyl cutter to create T-shirt designs, as you'll also need to either pair up with someone who has an effective heat press or buy one yourself. Now here's the interesting part: in the T-shirt design business, the heat press is the most important component.
Oftentimes this also means that you'll spend more money on a heat press than you initially planned, which leaves your budget a bit difficult to manage if you also want to buy a cutting machine. Considering that Cricut Maker won't exactly leave a huge hole in your budget, it's a great addition to your T-shirt designing business.
Furthermore, as you'd expect, Cricut machines work best if they're paired together, which entails that you could get a heat transfer machine from Cricut (such as the Cricut Easy Press 2), and pair it up with Cricut Maker, which should help you get your business up and running in no time.
It's a popular opinion that the Cricut Maker 3 and Easy Press 2 make an absolutely amazing team when it comes to T-shirt designing, so you can safely consider one or the other, but you can get the best of both worlds by purchasing both devices as a bundle. Well, not a literal bundle, but together.
Now you may wonder why Cricut Maker is being handed the award of the best vinyl cutter for T-shirt designers, and we're going to tell you just that. First of all, it's really affordable, whether you're a hobbyist or you're just starting to make a little profit from your T-shirt business.
The Cricut Maker comes with a 2x speed upgrade, which can guarantee that you'll have the products ready on time, just waiting to be delivered to your customers. The only drawback is that things will get a bit noisy if you're going to use the double speed feature.
Furthermore, not only is the machine affordable on its own, but it also comes with a low cost of ownership, which translates into you not having to pay a fortune each time one of your blades gets dull or you have to buy supplies for your T-shirt designing business. Low cost of supplies and accessories means that you'll be able to keep more profits in the long run.
Another reason why we feel you're going to love Cricut Maker as your trustworthy assistant in your T-shirt designer business is that the software it comes with has a really smooth learning curve. Therefore, not only you'll be able to ace it in no time, but you won't have to learn how to operate complicated features and will have more time to focus on getting things done.
A while back, Cricut Design Space was only available as a web browser application, which was not inherently bad considering that you could've accessed it from basically any device that had Internet browsing capabilities, but it was only possible to use it while connected to the Internet, which was sometimes a bummer.
Nowadays, you need to download an actual client and set it up on your device, and the best part about it is that you can use the client in both online and offline modes, so you no longer depend on a functioning Internet connection to manage your machine and your designs.
You can use Cricut Design Space for free, but you'll soon learn that there are a few limitations if you choose to go down that path. Well, not exactly limitations, but you'll miss out on a lot of designs and fonts from the Cricut database, which you can only access by purchasing a membership and paying for a subscription periodically.
It's worth mentioning that if you're a creative spirit and know your way around graphic designing programs, you won't have any difficulty with operating Cricut Design Space, and might not even need the premium membership.
Cricut Maker has a tremendous cutting power of 4000g, which will help you work not only with vinyl (which rarely requires a cutting force of over 100 grams), but also with harder, more stubborn materials such as fabric, leather, mat board, or craft foam, just as long as you respect the 2.4 mm clearance.
The bottom line is that the Cricut Maker is a versatile machine, so if you want a little help in the cutting department for your T-shirt business, then, by all means, you should bite the bullet and at least give it a try. We're absolutely positive you won't regret your choice.
Cricut Maker Pros
Can work with over 100 materials
A tremendous cutting force of 4000g
2x cutting speed upgrade
Low noise operating levels (as long as you're not using the 2x speed feature)
Wireless connectivity
Free, intuitive software solution
Cheapest accessories on the market
Low cost of ownership
Dual carry feature (can run multiple steps)
Neat design
Cricut Maker Cons
Some accessories are sold separately (fabric knife, knife blade)
Hidden software fees (membership, but not mandatory)
Loud when used at 2x cutting speed
Best Vinyl Cutting Machines – CONCLUSION
All things considered, if you're ready to start your own vinyl cutting business, or you just want a little help creating various elements from vinyl, you may consider investing in an efficient vinyl cutting machine.
The machines we've listed in our guide are wildly varied based on numerous factors, ranging from their cutting force to their versatility and user-friendliness. It's worth mentioning that each one of the machines has strong points, but also drawbacks.
Depending on your expertise as a vinyl cutter, you may find that some names on our list may be more suitable for your business than others but cost more, while others may be more affordable but lack in crucial departments such as cutting speed, noise, or overall flexibility.
However, we're quite confident that if you look closely, you'll definitely find a vinyl cutting machine that will fit your needs like a glove and won't have you break the bank, whether we're talking about purchasing the machine itself, maintaining it, or buying accessories for it.