Mashed Potato Recipes That Are Anything But Plain
If you're anything like us, you firmly believe that the mashes potatoes are the best part of literally any meal. In fact, you've probably sad down and eaten a whole bowl of just mashed potatoes for dinner before, and we don't judge you for it one little bit! Have you ever thought, though, that mashed potatoes have a lot more potential than we sometimes give them credit for? Why not switch your favourite dish up sometimes?
Check out these 15 mashed potato based recipes that are making us hungry just posting this!
1. Roasted garlic and Parmesan mashed potatoes
You've probably had cheesy mashed potatoes and also garlic mashed potatoes before, but this amazing recipe by Liz on Call combines the two and we're so glad about it.
2. Mozzarella and mash pie
What's better than cheesy mashed potatoes? According to Kayotic Kitchen, the answer to that question is a baked cheesy mashed potato pie! We're inclined to agree with them. Mozzarella has never looked so good.
3. Mashed sweet potato with kale and Boursin cheese
Maybe you're looking for something just slightly more gourmet than the regular mashed potatoes you grew up one? Try switching them out for creamy mashed sweet potatoes and then making them even more creamy by adding mouthwatering Boursin cheese! Get the recipe on A Family Feast.
4. Mashed potato bagel with chili lime shrimp
This might be one of the strangest recipes we've ever come across, but that makes us all the more excited to try it! What's not to love about delicious toasted bagels, creamy mashed potatoes, and fresh tasting chili lime shrimp? Seafood lovers rejoice! Amazing Sandwiches shows you how to construct this delicacy.
5. Loaded mashed potato cups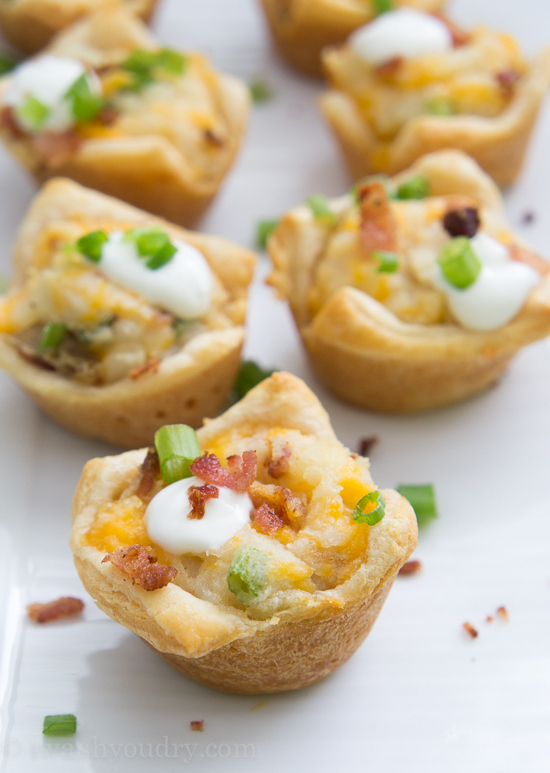 These delicious little mashes potato cups let you have a few bite sized servings complete with cheese and bacon without feeling too guilty, like sitting down with a heaping bowl of cheesy potatoes topped with bacon might! Get the recipe from I Wash, You Dry.
6. Mashed potato rings
Move over onion rings, there's a new fried treat in town! These fried mashed potato rings by Spoon Fork Bacon look like the kind of novelty dinner food you'd find at the local fair or summer exhibition!
7. Mashed potato balls with bacon bits
Cutting into one of these warm mashed potato balls reveals a cascade of melted cheese, and they're allso encrusted in tiny chunks of bacon. Are mouths are watering just thinking about them. Find out how to make these treats on Centsless Deals.
8. Mashed potato puffs
Cinnamon Spice and Everything Nice gives you yet another awesome mashed potato finger food idea that's perfect for a summer barbecue! People can grab as many bite sized potato cubes as they please (and we bet they'll want many- we would) and continue about their socializing!
9. Fried and loaded mashed potato balls
What's better than biting into a fried treat that already sounds great and discovering cheese in the centre? We can't think of very many things, to be fully honest with you. Find out how to make these lightly fried little potato surprises over at Taste and Tell.
10. Mashed potato bombs
Spend with Pennies suggests a similar idea with a cheesy centre, but rather than frying the potatoes, they've encased them in warm pastry so they become a part of the surprise filling. We're pretty sure they're called "mashed potato bombs" because they'll blow your mind.
11. Cheese and mashed potato toastie
Believe it or not, we found another sandwich recipe involving mashed potatoes! In addition to the potatoes, this toastie recipe by Grilled Shane involves cheese and broccoli, and combination that we can certainly get behind.
12. Cheesy mashed potato pancakes
If you've ever tried Ukranian potato latkes then you already know that they taste like pure joy. Just A Taste shows you how to make a simple mashed potato pancake version that your family will snap up off their plates in seconds.
13. Mashed potato waffles
Regular Belgian waffle batter isn't the only thing you can use your waffle iron for! Check out these awesome looking (and tasting) little mashed potato waffles by Joy the Baker. You'll get a hint of the satisfying crunch that fried snacks give you, without actually eating fried things.
14. Mashed potato tacos
Who could have possibly dreamed up such a delicious combination? Tacos and mashed potatoes are two of our very favourite foods and we have Meat Eating Military Man to thank for this menu-changing recipe.
15. Mashed potato focaccia
If you think regular focaccia is amazing, then you're about to have your mind blown! This version of the classic recipe is made with mashed potatoes and we're pretty sure you'll love it. Check it out on The Wednesday Chef.
Do you have another favourite unique mashed potato recipe that we simply must try? Tell us about how you made it in the comments!