Make Some Macrame Magic With These Incredible DIYs
There's something really special about these textural, boho-inspired designs. They're right on trend and can easily create a welcoming, stylistic ethos inside your personal space. From the walls to the tabletops, there are numerous ways to incorporate these materials. And with some guidance, you can handmake some of our favorite finds. Make some macrame magic with these incredible DIYs below!
1. Planters
Brit + Co starts us off with these easy-to-create macrame plant hangers. We love the pops of color and how they add some extra bohemian style to the nooks of your home. It's a wonderful way to personalize your green thumb too.
2. Mirror Hanger
Here's some more macrame magic that adds a bit of extra style to an everyday item. Your mirrors can be hung in a new way with some help from Made In A Day. It's much better than using traditional frames.
3. Feathers
These feathers are stunning and can be used to accent your home in so many ways. Add them to a gallery wall or on the table tops. Learn how to whip some up at Honestly WTF.
4. Bunting
There's even macrame bunting that you can learn how to make thanks to Wool Couture. How sweet would this be on a mantle or inside a nursery? And the mauve tone really adds a delicate texture to the finished product.
5. On A Branch
Macrame wall hangings are some of the most popular trends in interior design right now. And thanks to geniuses like Farmhouse on Boone, you can learn how to DIY them yourself. And this one is especially fun because of its branched foundation.
6. Chandelier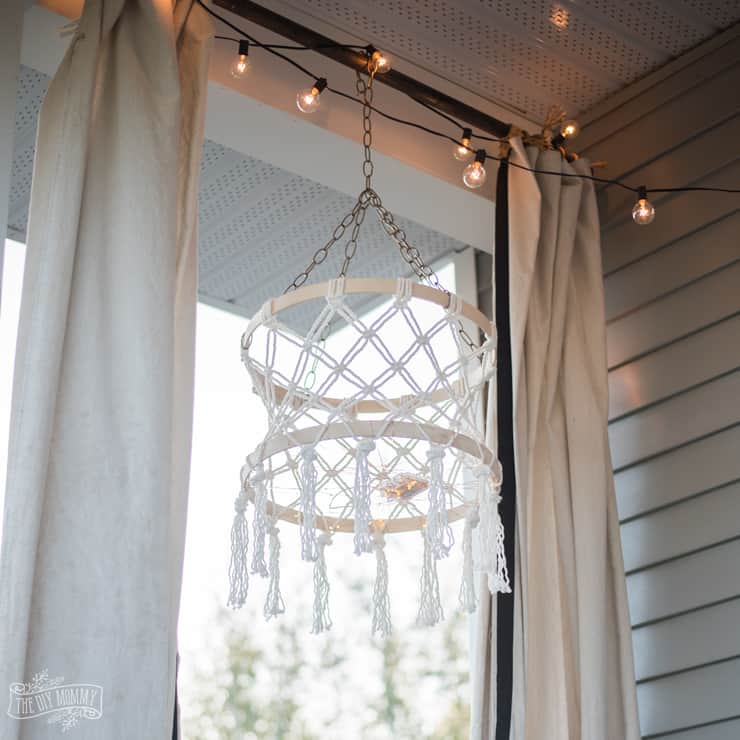 Yes, there's such a thing as a macrame chandelier too. At The DIY Mommy you can grab all the details behind its makings. And then top off a beautiful nursery or home office with it!
7. With Flowers
We immediately started swooning over this macrame and floral combination design from Ruffled Blog. It's beautiful for wedding backdrops but it would also act as a stunning headboard for your bedroom. Snag more details after the jump.
8. Add Beads
Beads could definitely be adding to your macrame magic as well. It helps with texture and with personalization. Just look at these rings we found at The Body Book.
9. Wreath
This project combines both feathers and rings! We love this gorgeous wreath from Craftberry Bush and its modern-boho spin on what we're used to seeing inside more traditional spaces. You can add color and extra texture if you'd like to personalize it further.
10. Driftwood
There's a lot to love within this macrame design from JustineCelina. There's weaving bits and bouts of varying texture, but it's the driftwood foundation that really makes this a large standout. It's such a great, artful piece to have inside the home.
11. Colorblock
You can do a more traditional macrame wall hanging and allow it to take on a contemporary finished look with some colorblocking. Check out more behind this design by hopping on over to One Brass Fox and dipping into the tutorial.
12. Ombre Hanging
There's a gorgeous ombre design from Classy Clutter that caught our eye. Again, this is a great piece that combines both bohemian spirits and contemporary interior design genres. This piece would be beautiful in a teen bedroom, don't you think?
13. Curtains
And finally, if you hop on over to A Beautiful Mess you'll find a macrame project you may not have seen coming. Turn your material inside curtains for the windows, the walls, or as room separators (and for closet doors). It's a wonderful way to provide texture, focus, and some carefree spirits to the mix of your home.