15 Delicious Late Summer Pie Recipes
The beauty of eating pie is that it's a delicious treat that you can most often enjoy hot or cold. That makes it the perfect dessert for late summer, when the days are still hot but the evenings are cooler, or even a little bit chilly. We also love pies because they let us celebrate all the different fruits and berries that make summer so great!
Check out these 15 mouthwatering pie recipes that are the perfect way to get your pre-fall fruit and berry fix but with a sweet, baked twist before things go out of season.
1. Plum and mascarpone pie
Bon Appetit shows you how to make a delicious pie with sweetly glazed plums piled high in the centre. Besides scrumptiously sweet baked flavour of the crust, you'll go crazy for the mascarpone filling and then juicy plum flavour.
2. Blueberry slab pie
Do you adore pie but you have a big family and most rounded pie dishes don't make enough to serve everyone dessert? Martha Stewart has the solution for you! Instead of making a classic looking circular pie, try making a massive pie slab instead. The idea of a blueberry pie this big is making our mouths water.
3. Peach raspberry gallette
If you don't know what the difference between a pie and a gallette is, try thinking about how a deep dish pizza differs from a thin crust! Instead of sitting in the crust like a bowl, the raspberries and peaches in this gallette recipe are kinda of wrapped in a shallow layer of crust. Marta Stewart shows you how to make your own.
4. Strawberry ginger polka dot slab pie
Did you love the idea of making a slab pie but you're not sure blueberry is the best flavour for your family? Well, we recently fell in love with strawberry ginger pie and we'd be willing to bet that you'll love it too! Brooklyn Supper shows you how to make one featuring some novelty circular crust cutouts.
5. Deep dish cherry pie
Do you remember our deep dish vs thin crust pizza comparison? Well, the gallette was the thin crust of the pie world, but lets not forget about the deep dish! Check out how decadent this thick cut of cherry deep dish pie by Food52 is.
6. Apricot raspberry pie
When we go on the hunt for new pie flavours, we love finding slightly unconventional flavour combinations. Even if the ingredients themselves aren't that crazy, it's nice to merge two fruits that aren't often featured in the same dish to make a new taste experience. That's how we feel about this raspberry apricot pie by Design Sponge!
7. Peach slab pie
Still looking for an alternative slab pie that'll satisfy the whole family? Try juicy peaches if the other slab suggestions don't tickle your fancy! We love this criss-crossing top crust design too. Check it out on La Pech Fraiche.
8. Peach custard pie
Do you love peach pie but you're looking for a way to shake the classic fruit pie idea up a little? Try making things a little more rich tasting by making yourself a sweet custard pie instead of just a regular baked fruit pie! Our mouths are watering just thinking about it. Get the recipe from Martha Stewart.
9. Cherry bourbon pie
Perhaps you're looking for a more adult specific pie, with a flavour that's got a little more kick? Of course, baking with liquor evaporates all of the alcohol content, but you'll still get that signature bourbon hint if you give this cherry bourbon pie with a crumbled top a try, just like Bon Appetit did here.
10. Vegan fresh summer fruit tart
Just because you're eating vegan doesn't mean you can't eat fun, delicious desserts as well! In fact, fruit pies are one of the best ways to treat yourself when it comes to baked goods. This fresh summer fruit tart from Lunch Box Bunch helps you celebrate nearly all of your favourite summer fruits at once!
11. Blueberry ricotta tart
Do you like the idea of a blueberry pie, but you're actually not the biggest fan of very sweet flavours? Believe it or not, cheese is one of the easiest ways to take care of that flavour difference! We love this idea from Martha Stewart
for jazzing up a blueberry pie with some deliciously rich ricotta.
12. Peach blueberry ice cream pie
When you started reading this list, were you actually hoping to discover the kinda of pie that just- excuse our pun- takes the cake? Well, we think we've found it! This pie is actually less of a pie and more of a dream dessert. You won't have to ask guests if they'd like a side of ice cream with their slice because, besides ripe peaces and juicy blueberries, it already includes ice cream! Check the whole delicious story out on Bon Appetit.
13. Balsamic strawberry and blackberry pie
We're pretty much always excited about any dessert involving blackberries and strawberries, especially if they're in combination. This recipe, however, caught our attention extra hard thanks to Kitchenista Diaries' suggestion of adding basil too. Talk about a delicoius flavour contrast!
14. Strawberry lemonade icebox pie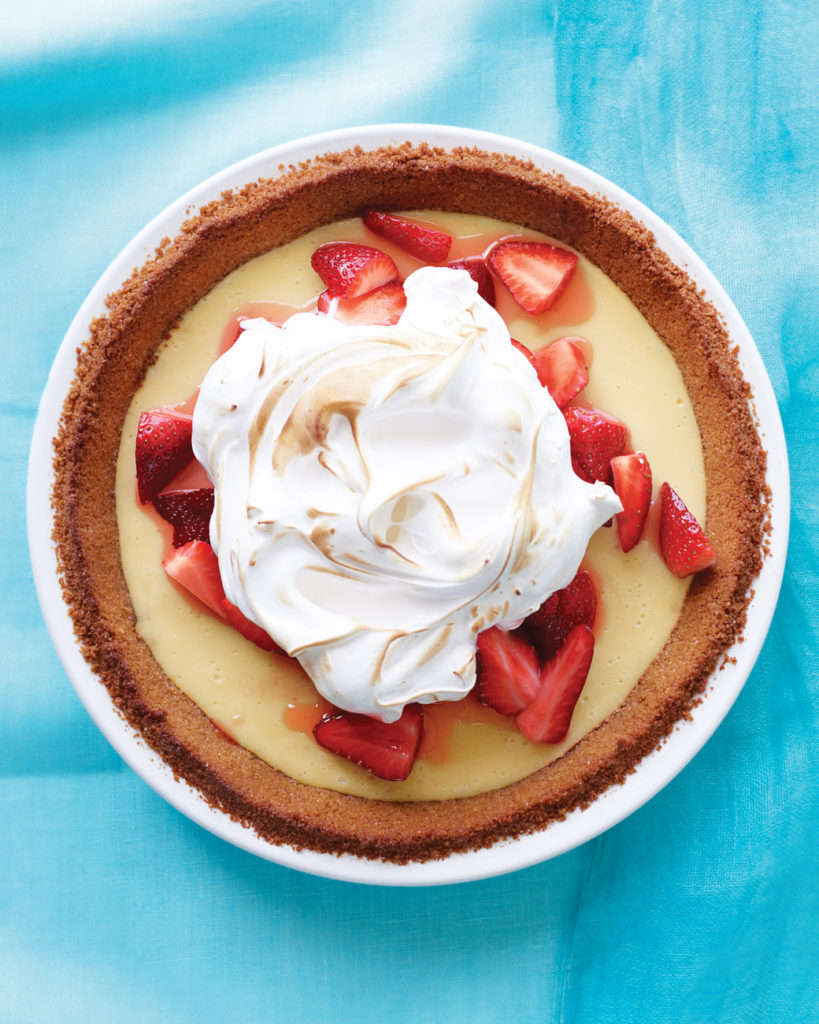 Are refreshing cold pies your absolute favourite kind? Well, we can't think of any better dessert to get your last warm weather kicks out of than a strawberry lemonde flavoured "icebox" pie! Between the sweetly summery flavour and the refreshing coolness of each bite, we're basically obsessed with the idea. Check it out on Martha Stewart.
15. Lime and blackberry Italian meringue pie
We're at the end of the list, so we figured it's time for something a little more impressive and gourmet! What's better than a fancy meringue when it comes to pies? One that combines unique flavours, of course! This lime and blackberry combination from Bon Appetit is everything we didn't know we needed.
Do you know someone who absolutely adores pie and definitely enjoys exploring new seasonal flavours every time the weather changes? Share this list with them for a bit of late summer dessert inspiration!