15 Landscape Edging Ideas To Pull From This Spring
It's time to sharpen up those weedeater blades and make sure your lawn mower is gassed up. Spring is coming in hot and that means the grass will be growing, the weeds will be showing, and the flowers are almost in bloom. Below you'll find 15 landscape edging ideas to pull from and get your yard in working order for the season of entertaining and enjoying the sunshine.
1. Wood Cuts
houzz showcased this easy-to-replicate, wood cut edger that can be done inexpensively and by novices. You can even use recycled wood bits to get the design going – or even go for a more contemporary style by adding some neutral paint. Or go a more rustic route by keeping them organic.
2. Terracotta
Over at primrose, you'll find a more traditional being aroused. This terracotta edging will give a smooth and chic ending to your proper landscaping. If you want to stray from the deshelved, go for this look.
3. Brick
hgtvhome brings us another classic edging material that's worth the feature. Brick always works and is perfect for all kind of homes in all kinds of climates. They're also really easy to lay even for those without a lot of experience in landscaping.
4. PVC
There are a lot of different ways to use PVC lining as well. You can get really creative with the designs, as you see here with this space found on aliimg. This spiraling is a good option for when you have more square footage to work with.
5. Recycled Wood
farmandfoundry.com showcased what we mentioned before. Upgrade your wood pieces by adding some color or distressed elements. This is a great route to take when you want to personalize your small garden this summer.
6. Metal Wheels
How unique and innovative is this idea? We find it while scouring reciclaedecora.com and loved the upcycled style. Old wheels can give a cottage-vibe to your homemade garden with ease and photo-op flavor.
7. Seashells
Maybe you live by the beach or you just really love all things inspired by holiday (or nautical vibes), whatever the case, larger seashells can work the magic as well. Again, this is an easy DIY project to take on, even for those that haven't done too much in the way of landscaping. Check out more of this idea at justideasland.blogspot.com.
8. Chic Concrete
The Garden Glove gives us the cleanest of edging materials: concrete. With a firm eye, you too can create something like this – which we see mostly in retail or business areas. But our homes can utilize it as well, esepcially larger designs with more a lux quality.
9. Car Rims
Similar to the bicycle wheels, car rims can do the same thing. All you have to do is hit of the flea market or junk yard to find (free) inexpensive bits to use. We found this beauty while visiting waplag.net.
10. Vintage Plates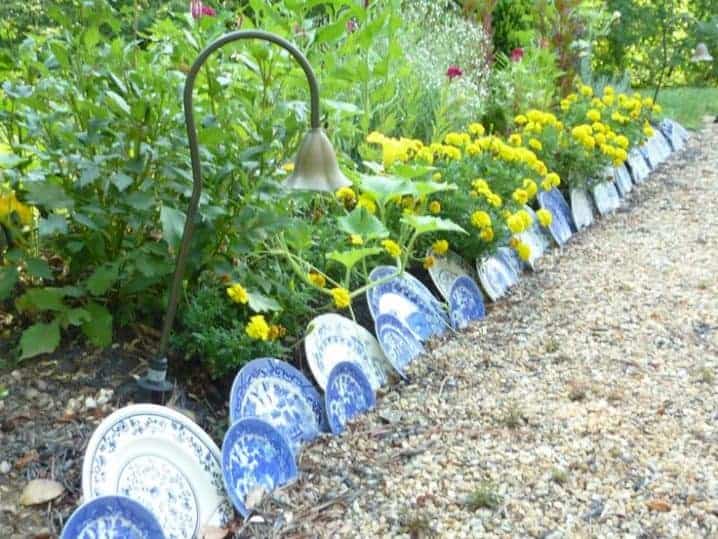 For a true vintage vibe or boho quality, think about using plates to garnish the garden. It's a simple edging technique that a lot of avid gardners already use. Like this setup from 1001gardens.org, it really adds a lot of personalization to the outdoor space.
11. Slab Stone
Slab stone is a graet balance between chic and neat – with rugged and natural. You can easily find slab bits like this at your local hardwood store (think Lowe's). Thanks for the idea alicdn – it's a favorite for both larger and smaller garden areas.
12. Artistic Brick
You can always get a little creative with your brick (or terracotta). For those with more experience or wanting to add a lux quality to their outdoor landscaping, think about using this setup from lushome as your inspiration. You can – essentially – do anything your heart desires while making walkways to and fro the house.
13. Natural Stone
Natural stone, like you see here at minimalisti, is another option. This really depends on the vibe you want to go with and what kind of texture you envision (as well as color – which you can play with). Layer and stack to your heart's desire as well.
14. Raised Bed
We love these raised beds at hgtvhome too – which are really great for gardening. Create small escapes and highlighted points throughout your entire yard, especially if you're growing particular florals or veg. Build these easily at home with some tutorials to follow.
15. Large Stones
And finally, we found this peek on pinterest and immediately were drawn to the large stones. Collect your favorite bits and then scatter them around like so. This is a super simple way to edge but with packfuls of personality.