When it comes to making things ourselves, we're actually the kind of people who would usually prefer to create something practical, with a purpose we might actually use. Every once in a while, however, we enjoy making ourselves something completely decorative, just for the fun of creating something pretty! Lately, we've been completely obsessed with the idea of making stunning projects from lace, so we've been keeping our eyes peeled for beautiful tutorials to help us get started.
1. Repurposed vintage doilies and frames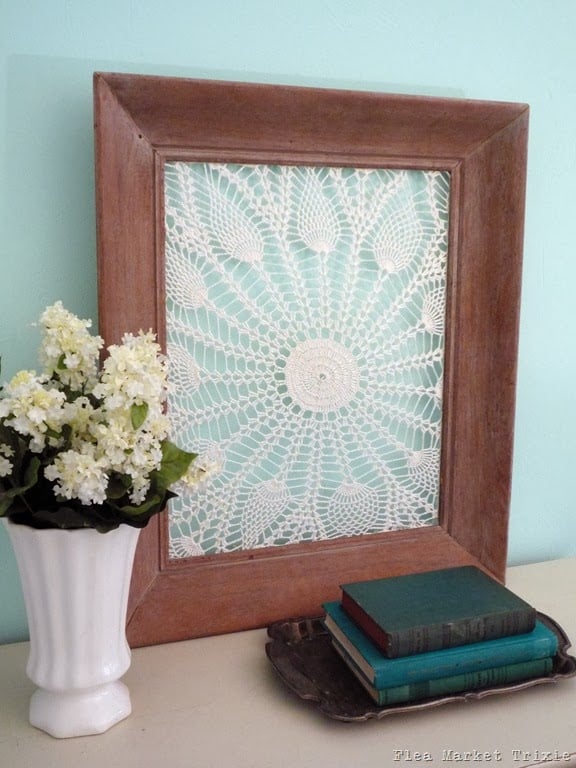 If you're going to make something that you purposely intend to be purely decorative, would you actually prefer to go all the way and just make outright art to hang on your walls? Well, when there's lace involved, a lot of the delicate, decorative work is already done for you! That's why we thought this stunning framed and stretched lace art from Flea Market Trixie was such a good idea! It's pretty enough for experienced crafters to love but simple enough for beginners too.
2. Pretty lace decoupaged flower pots
Besides loving the look of lace and pretty homemade crafts, have you also always been a plant lover? Then we think you'll be rather pleased indeed to see that greenery and lace can be combined in one beautiful place! We simply adore the way A Beautiful Mess did a little bit of fabric decoupage in order to create these lovely lace cactus and succulent planters.
3. Lace stencilled stepping stones
Do you love the idea of adding the delicate shape of lace to something but the area of your house is one that you just don't think the actual material itself would survive the wear and tear of? In that case, we'd definitely suggest taking a look at how Instructables used their lace as a stencil instead! Check out how they added the beautiful lines of lace to a set of stepping stones using this technique.
4. Lace stencilled ceiling
Are you actually such a huge fan of the idea of doing some lace stencilling that you think you might even be willing to commit a piece of your home to the design a little more permanently? In that case, we think you might get a real kick out of the way Bella Tucker used the same lace stencilling techniques you saw before to create a stunningly visually textured ceiling!
5. Lace stencilled dresser drawers
Just in case you're still totally in love with this lace stencilling concept but you just haven't seen the project that works best for you yet, here's an alternative tutorial for your consideration! We think this lovely, old fashioned looking dresser that Uniquely Chic Furniture made over using lace stencilling is nothing short of stunning. We like the way it adds a vintage look at any room!
6. DIY lace doily hot air balloon
If you're going to put in the time and effort it takes to make something lace based from scratch, would you much rather create something lovely and whimsical looking, just for decorative fun? Then we have a feeling you might find these beautiful lace decoupaged hot air balloon mobiles very lovely indeed! Get the full details for making your own on Crafting News.
7. Lace stencilled closet wall makeover
Did we actually really catch your attention when we started talking about the idea of lace stencilling permanent fixtures in your home but you're just not sure you have a suitable space for the ceiling project we showed you before? Then perhaps you'd prefer to do something similar with a wall instead! We love the way Scout and Nimble created an accent wall in their closet using that very technique we admire so much.
8. Lace frosted glass
Have you actually, in addition to looking for lace based projects, been hoping to come across a project that will help you make some kind of privacy window for your bathroom? Well, believe it or not, you can actually combine those two projects into one to create something breathtaking! Take a better look at Blog Lovin' to see how they did some more lace stencilling, this time using glass frosting rather than paint.
9. Vintage lace doily table runner
Do you actually have quite a large number of lace doilies of all different styles, kinds, and ages that you've been hoping to turn into something pretty? Then we have a feeling you'll get a real kick out of the way Vintage Junky made this lovely old fashioned looking table runner by tacking their doilies together to make a beautifully unique lace piece.
10. Lace doily pendant lamp
Did we actually really pique your curiosity when we started talking about the idea of making a rounded, structure shape from fabric lace using decoupage-like techniques but you can't help thinking you might prefer to make something with at least a little practical function, rather than something that's just decorative? Then we'd definitely suggest taking a look at how Dos Family made these beautifully rounded lace doily pendant lamps in just a few simple steps.
11. Lace stencilled chair
Just in case you're still thinking about how much you like the idea of lace stencilling furniture pieces but you're new to the DIY world so you're looking for something a little bit quicker and simpler to do to get you started? In that case, we'd definitely suggest taking a look at how Creativity in DIY made these lovely lace stencilled chairs in just a few surprisingly simple steps!
12. Lace doily bowls
Are you still feeling like you're not quite over the idea of moulding structure lace into simple shapes but you're the kind of person who loves practical crafts that will help you keep your home organized over just about any other kind of craft? In that case, we have a strong feeling you'll get along a little better with something like these adorable lace doily bowls outlined step by simple step on A Little Craft in Your Day!
13. Framed lace earring holder
Perhaps you were a pretty big fan of the stretched and framed lace idea we showed you earlier on our list but you really just don't think you have room for plain decor pieces that don't serve some kind of function in your little apartment? In that case, we'd definitely suggest taking a look at how U Create Crafts used theirs (made with slightly finer lace than you saw before) as a lovely standing earring rack!
14. Lace covered tea light candle holders
Have you always been a candle lover, whether you're making the holders or not, so you're always keeping your eyes peeled for new tutorials to make lovely looking tea lights? In that case, we have a feeling you'll really appreciate the way The Budget Decorator used strips of black lace trim to transform these lovely little tea lights into something stunningly gothic vintage looking.
15. DIY lace earrings
Are you actually such a huge fan of lace that you can't help wishing you could find even more ways than you already have to wear it and show off its beauty uniquely? In that case, we think you just might be the perfect person to give these lovely cut out and embellished lace earrings featured in detail on Guidecentral a try!
Have you made other stunning DIY projects out of lace before that you were very happy with indeed but that you don't see here on our list? Tell us all about what you created and how you did it or link us to photos of your finished work in the comments section!