When it comes to making things ourselves, we're actually the kind of people who would usually prefer to create something practical, with a purpose we might actually use. Every once in a while, however, we enjoy making ourselves something completely decorative, just for the fun of creating something pretty! Lately, we've been completely obsessed with the idea of making stunning projects from lace, so we've been keeping our eyes peeled for beautiful tutorials to help us get started.
1. Repurposed vintage doilies and frames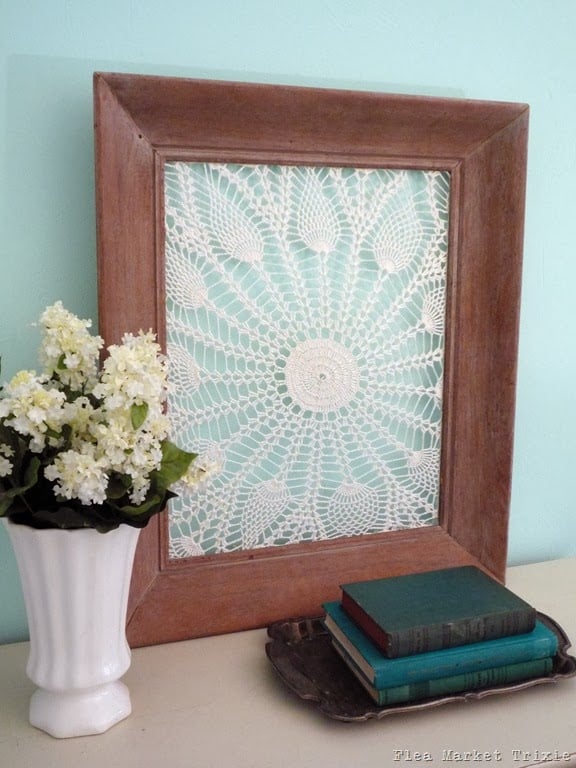 If you're going to make something that you purposely intend to be purely decorative, would you actually prefer to go all the way and just make outright art to hang on your walls? Well, when there's lace involved, a lot of the delicate, decorative work is already done for you! That's why we thought this stunning framed and stretched lace art from Flea Market Trixie was such a good idea! It's pretty enough for experienced crafters to love but simple enough for beginners too.
2. Pretty lace decoupaged flower pots
Besides loving the look of lace and pretty homemade crafts, have you also always been a plant lover? Then we think you'll be rather pleased indeed to see that greenery and lace can be combined in one beautiful place! We simply adore the way A Beautiful Mess did a little bit of fabric decoupage in order to create these lovely lace cactus and succulent planters.
3. Lace stencilled stepping stones
Do you love the idea of adding the delicate shape of lace to something but the area of your house is one that you just don't think the actual material itself would survive the wear and tear of? In that case, we'd definitely suggest taking a look at how Instructables used their lace as a stencil instead! Check out how they added the beautiful lines of lace to a set of stepping stones using this technique.
4. Lace stencilled ceiling
Are you actually such a huge fan of the idea of doing some lace stencilling that you think you might even be willing to commit a piece of your home to the design a little more permanently? In that case, we think you might get a real kick out of the way Bella Tucker used the same lace stencilling techniques you saw before to create a stunningly visually textured ceiling!
5. Lace stencilled dresser drawers