15 Impressive Knitted Sweater Patterns
Now that fall is here and winter is coming, we've completely hunkered down into knitting mode. There's just something about this time of year that makes us want to knit as many warm things as possible, and we've been particularly obsessed with making sweaters this season! We've always got our eyes peeled for fantastic new sweater patterns.
Just in case you love the idea of knitting yourself or your loved ones some new winter sweaters just as much as we did, if not more, here are 15 of the best patterns we've bookmarked recently.
1. Discipline sweater
The stitches are simple, the fit is easy to manage, and the directions are clear; this fantastic (and wonderfully classic looking) pattern is the perfect start for beginners or a nice palette cleanser for experienced knitters who need a break from more complicated things! Get the full details on Brome Fields.
2. Caora sweater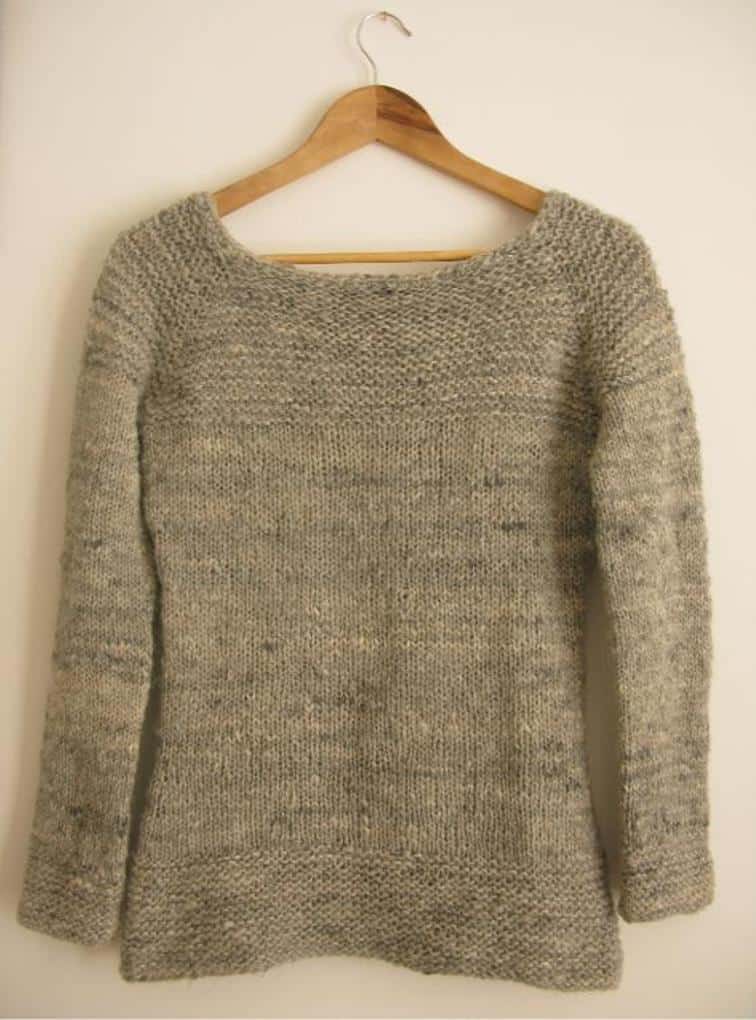 Did you quite enjoy the idea of making a simple sweater that's comprised mostly of easy knit stitches but you think you'd rather create at least a little bit of contrast at some points, perhaps just around the edges? Then check out how Littletheorem Knits did just that by swapping to garter stitch at certain spots in the sweater's construction.
3. Seriously Chunky sweater
Have your favourite knitted projects always been the ones that are the chunkiest designs out there because they're extra cozy, they knit up quick, and you love the stitch definition the yarn usually has? In that case, we'd absolutely suggest taking a look at how Knitting Bee made this fantastic oversized sweater with a simple basket weave pattern.
4. Heavenly sweater
Just in case you loved the simple stockinette pullover idea but you're a little more experienced in sweater construction and you adore the idea of knitting in slightly thinner yarn, here's a casual pattern that's great for everyday wear! We love the way Ankestrick created subtle eyelets all along the bottom edge.
5. Not A Jersey Girl cable sweater
There are all kinds of ways to make different looking cables in knitting but this sweater is one of our favourites because it's a slightly more unique shape and it's a great example of how good cables look next to other simple elements like ridges and edge borders. Get the full details for making one of your own on Ewe Ewe.
6. Rainier sweater
Maybe you've always loved sweaters that fit more casually but are definitely going to keep you warmer, since fashion is hardly your greatest concern? Then you'll appreciate the way Quince & Co. looks effortlessly stylish but also comes with a high neck that will make you feel less drafty in chilly weather! We also enjoy the comfort of a drop shoulder.
7. Caroline sweater
This particular pattern from Onling is beautiful in its simplicity. Besides the fact that we love a raglan style sweater where the sleeves split off, we think this stockinette gem is a great opportunity to use yarns with lovely variegation that won't suit a lot of effort based stitch detail. Show those colours off!
8. Oversized Scoop sweater
Would you rather make yourself something you can curl up in when you get home from work or throw over your pyjamas to enjoy your morning coffee in without looking very frumpy? Then we think perhaps this wonderfully cozy, oversized scoop sweater from Brome Fields might be just the kind of pattern you're looking for!
9. Dockside sweater
When we wear sweaters that have full length sleeves, we often find ourselves hiking them up around our forearms because we're always doing things with our hands. That's why we like the option of having a three quarter length sleeve garment to wear sometimes! This casual fitting pattern from Two of Wands that's simple enough to go well with variegated colours is one of our favourite options.
10. Prudence Sweater
Are you actually the kind of person who wants very long sleeves, and might prefer some more length in the torso as well? Well, an experienced knitter can extend just about any pattern but it's always easier when the instructions and measurements are built right in, which is why we love the dimensions of this sweater by Brome Fields!
11. Mystery Green sweater
What if your ideal sweater is more of a coloured washed, oversized pullover because you'd like to be able to wear it in any context, with any number of winter layers underneath? Then check out how Katherine H. Designs made this design with a little bit of interesting stitching detail that will show well with light variegations, but that's so easy you won't be pressed if darker patches of colour hide it in certain sections.
12. Ragtime pullover
would you rather knit a garter stitch sweater in the old fashioned piece and seam style, rather than doing it top-down or bottom-up and in the round like most patterns are written now? Then we have a feeling you're going to love the way Justyna Srock construction this comfortable, well-fitting pullover!
13. Aran Garter Stitch sweater
Did you love the idea of making a garter stitch sweater because you love the wiggly texture of the simple, classic stitch but you'd prefer to make it in the round so the finished product is seamless? In that case, we'd absolutely suggest taking a look at this fantastic, super comfortably fitting pattern from Design Studio. We love the edgeless sleeves and bottom hem.
14. Nele Top-Down Raglan sweater
Just in case you're still thinking about how much you love the idea of making a top-down raglan pullover but you'd love to include some kind of colour patterning, here's a fantastic design from Fashionworks that shows you how to stripe! Rather than creating equally thick stripes, however, they show you how to swap based and contrast colours part way through.
15. Niall cardigan
Cardigans can be comfortable, warm winter garments too! Just in case you'd rather throw on a more classically shaped open sweater rather than the circular scoop style we showed you earlier on our list, here's a simple, subtly ridged pattern outlined step by step on Noble Knit.
Do you know a fellow crafter and avid knitter who has expressed that they have the sweater knitting itch lately but also that they could use some more options or inspiration? Share this post with them to give them all kinds of great patterns to look at!