DIY Journals and Notebooks Help Stylishly Organize Your Thoughts
Whether you're a student, a writer, an artist, or an extremely organized bullet journaler, finding the perfect notebook can be a challenge. Stand out from the crowd with this roundup of DIY journals and notebooks. These items also make great handmade gifts, so feel free to create a few extras for teachers, coworkers, friends, family, and other special people in your life.
Upcycled Book Journals
If the pretty patterns on vintage Reader's Digest books suit your style, use them to create a beautiful new journal for recording all your special memories.  Jennuine explains how to complete this project in about 15 minutes. (You'll need to allow 30 minutes extra for drying time, plus overnight setting before the journal is ready to use.)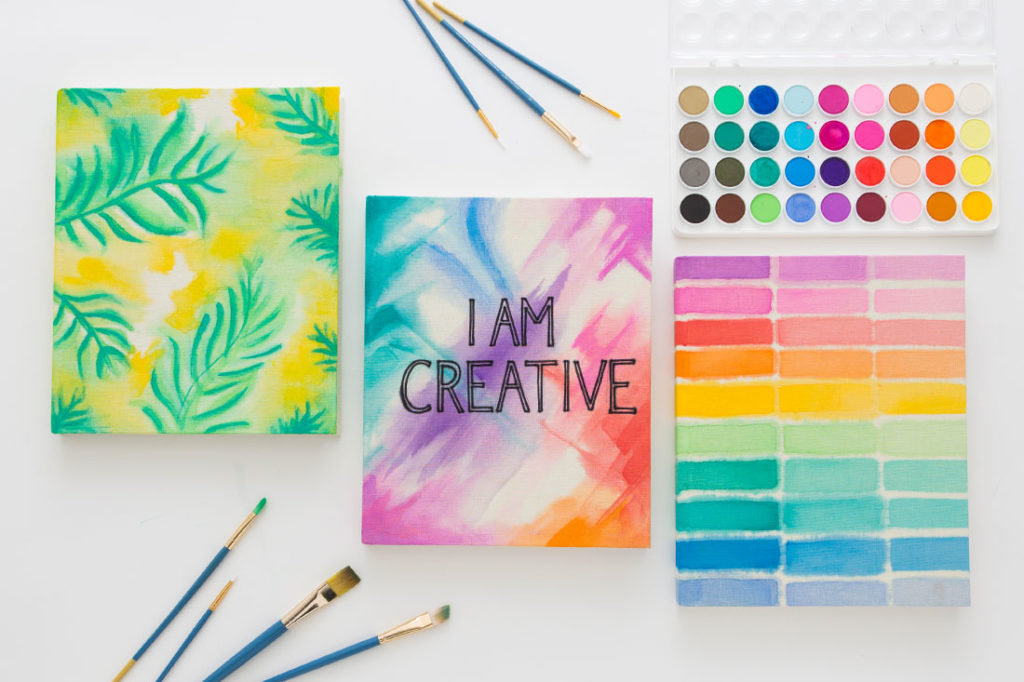 Painted Canvas Journal
If you have a blank canvas journal, personalize the cover with a custom watercolor painting.  Brit + Co has instructions for three different designs you can make.
Handbound Leather Journal
You can't go wrong with classic leather. This DIY journal makes a special treat for yourself or a good gift for the artist or writer in your life. Fill it with blank paper for doodling, lined paper for writing, or a combination of the two for maximum flexibility.  Melissa Esplin has the tutorial on her blog.
Stitched Cover DIY Mini Journal
This tiny journal is the perfect size to keep in your purse. The hand stitched cover gives it a homespun charm. How Did You Make This? has the details.
Copper and Marble Journal
It's hard to believe, but the secret to this amazing DIY journal is self adhesive vinyl! Learn more at Style Me Pretty.
Washi Tape Journal
Use strips of washi tape and a monogram to give a plain journal some pizzazz. Head over to Clean and Scentsible for the details.
Duct Tape Notebook
Duct tape comes in a wide range of fun patterns and its durability makes it perfect for notebooks that will be used often. Ribbons & Glue suggests pairing Hello Kitty duct tape with ribbon and letter stickers or die cut letters, but the possibilities with this technique are endless.
Paper Doily Notebook
Highlight an intricate cut paper doily by wrapping it around a blank journal. Add stickers and a coat of Mod Podge Hard Coat sealant to protect your work.  Mod Podge Rocks explains.
Magazine Collage Pattern Journal
Personalize a plain journal with a geometric pattern made from magazine pages.  Omiyage Blogs explains how to create your collage and provides several examples. When you're done, seal your work with Mod Podge or clear contact paper.
Doodled Journal Covers
Highlight your artistic talents with a kraft cover journal adorned with Sharpie and gel pen doodles. Craft Whack shows you how to create three different designs.
Printable Boss Lady Notebooks
Make work fun with these funky retro "Boss Lady" printable notebook covers. Study DIY has links to the free printables, as well as instructions for how to use them to decorate your favorite spiral bound notebooks.
Printable Watercolor Notebooks
Can't paint, but love the look of artsy watercolors? Then you'll flip for the free printable from My Sister's Suitcase. Use the beautiful and motivational designs to decorate inexpensive composition notebooks. Add washi tape to the binding for a decorative touch. If you want to make one as a gift, add letter stickers to personalize with the recipient's name before sealing with Mod Podge.
Journal Cover from Fabric Scraps
Bloom and Blossom explains how to make a fabric cover for the journal of your choice. This project lets you use up tiny scraps of coordinating fabric. When your journal gets full, simply slip it out of the cover and add a new one.
Fabric Covered Notebook with Pen Holder
Isn't it annoying when you have a great idea, but can't find a pen? Keep yourself organized with this clever sewing project that lets you mix and match pretty fabrics.  The Ribbon Retreat has the details.
No-Sew Fabric Covered Notebook
If you like the idea of a fabric covered notebook, but never learned how to sew,  Going Reno suggests using spray adhesive to make your notebook cover. (If you're worried about the fabric fraying, coat the edges with Fray Check sealant.)