Turn Instagram Pictures Into Poloroid Magnets
Photography has grown substantially in the last few years.  Since pretty much every single cellphone is now equipped with a camera, people are shooting pictures left and right and documenting their daily happenings.  Most people solely use their phone as their go-to camera and very rarely have a real camera handy when they are out-and-about. This means people are storing all of their pictures on their phones, making it very uncommon for them to actually do anything with all of the photos they have snapped.
As Instagram has gained more popularity, all of the photos being taken on phones are now being shared with friends, family, and followers. Even the iconic 'square' Instagram photo has gained popularity and people are now embracing the shape when it comes to cropping their images.  I decided to take the concept of Instagram (i.e square photos) and share a way to actually print out those photos from family vacations, surprise birthday parties, and special moments you have captured and turn them into something super cool.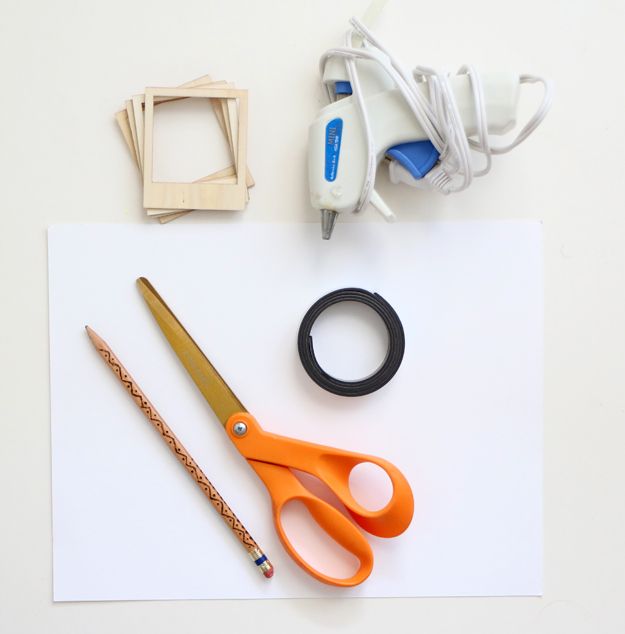 You can easily turn your Instagram photos into adorable, functional magnets. Not only will these magnets keep papers neat and tidy on your fridge, but they will also put your favorite moments captured on your phone in a place for all to see.  The only problem now is  deciding which photos in your album to turn into magnets!
Here's what you'll need:
Wood Veneer Poloroid Frames
E6000 Glue
Heavy White Cardstock
Sticky Back Magnets
Printed Instagram Pictures
Pencil
Scissors
Step 1: Lay your cardstock on your table and place one of your Polaroid frames on top of it. Grab your pencil and trace around your frame.
Step 2: Use your scissors to cut out your cardstock.
Step 3: Grab your magnet. Use your scissors to trim down your magnet so it will fit on your cardstock. Once you have the correct size, peel back the liner covering the adhesive. Then, stick the magnet in the center of your cardstock.
Step 4: Print off your Instagram picture making sure to get the size the same as your Poloroid frame. It can be a little larger since the edges can be trimmed down. You just want to make sure it is not too small.  Flip your magnet over so it is against your table.  Then, cover your cardstock with glue.
Step 5: Place your picture on top of your cardstock. Use your fingers to smooth over your picture, making sure it is adhered to your cardstock and has no air bubbles.
Step 6: Grab your wooden frame. Flip it over and add glue to the back side.
Step 7: Finally, place your photo facedown on your wooden frame, gluing your photo to the frame. Let the glue dry
Once the glue is dry, your magnets are ready to use! Go ahead and place them on your fridge, or any other metal surface around your home or office space!
These Instagram magnets would make a nice housewarming gift, or a gift for a fried just because!