Refreshing Infused Water Flavours
In the years of experience that we have in DIY circles and the crafting world, we find that tea is always a big topic. Delicious and health beneficial teas are just something that are easy to make for yourself without hassle but fantastic to enjoy. We're not actually huge fans of how drinks, however, even in the fall when the weather starts to get chilly. Even so, the idea of infusing water with some healthy, natural flavour really appealed to us because we thought it might help us up our water consumption over the course of the day and that's never a bad thing! In our quest to help ourselves enjoy drinking water a little bit more, we came across the concept of fruit infused waters that are supposed to be enjoyed chilled and since that day we've never looked bad!
Just in case you're as intrigued by the concept of healthy, flavourful infused waters as we were, here are 15 of our favourite recipes and ingredient combinations to get you started!
1. Watermelon cucumber citrus water
If your primary aim is to really up your water intake, then it only makes sense that the ingredients you put in your infused water also be things that contain a lot of water themselves, right? That's part of the reason we love this watermelon cucumber citrus idea so much! We also enjoy that Joyfulscribblings added some citrus and a bit of mint just to make sure that the whole concoction really has flavour, but still in a taste complementary way.
2. Simple lemon lime water
Perhaps your main interest in making yourself infused waters is just to add a slight but of simple flavour so that the water tastes like something? In that case, why mess with the classic recipe that restaurants have been serving since the beginning of the industry? Unsophisticook suggests letting slices of lemon and lime soak in your glass or jug to give each gulp of water a fresh taste that also keeps your digestive tract clean and benefits your metabolism.
3. Orange mint water for tummy cramps
Are you very into the idea of citrus water but lemon and lime isn't quite interesting enough a combination for you and you don't like watermelon enough to try the citrus cucumber idea we showed you above? In that case, perhaps cutting a couple ingredients out and sticking to just orange and mint would be preferable for you! Momsdish gives you tips on how to properly flavour the water to your tastes.
4. Strawberry basil water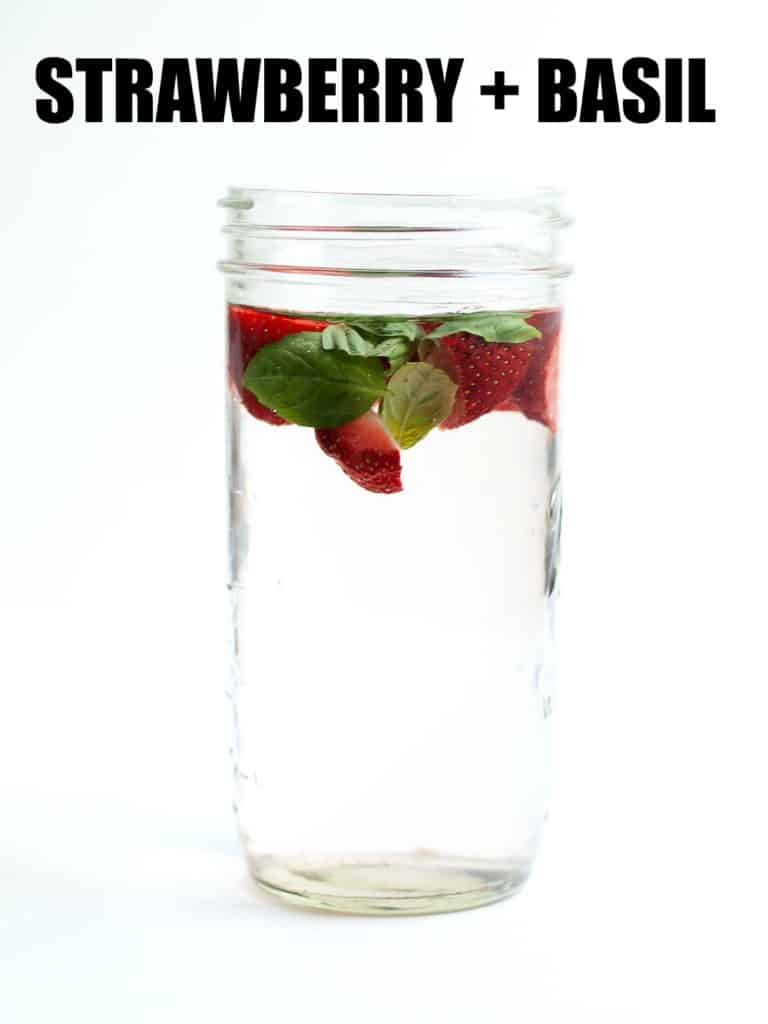 Maybe you love the idea of infusing water with fruit but your very favourite fruits are berries? Well, believe it or not, berries of all kinds can actually be used in fruit infusions too! They're so flavourful that we find we don't need to mix them with very many other things, so many of the berry recipes we like best only contain two or three ingredients. You simply don't need more, especially if you're using aromatic fresh strawberries like Happy, Healthy Mama did here! They've added mint for maximum refreshment.
5. Orange, mint, and cucumber detox water
Whether you really believe in the concept of "detox diets" or not, there are undoubtedly some ingredients that you can add to a healthy water that will help your body flush toxins from your system in a healthy way. This "detox" water from No Gojis, No Glory is one of those recipes! The combination of orange, mint, and cucumber gives you refreshing flavour, boosted vitamin C, and maximum water intake power.
6. Lemon strawberry water
Remember how we told you that most of our favourite strawberry recipes only have one or two ingredients because the berries are already so flavourful in themselves? Well, here's another example for you! Just in case you're not a huge fan of mint, mixing lemon slides with your strawberries in water will make it feel like you're enjoying a strawberry lemonade but without all that sugar. See how this one's made in more detail on Jessica Escamilla Fitness.
7. Blueberry lemon water
Does the idea of lemon and berry water appeal to you specifically because the taste hearkens back to a yummy summertime lemonade, only healthier? In that case, here's another one for you! Happy, Healthy Mama suggests adding blueberries instead of strawberries, just in case you're allergic or simply looking to try another flavour. This one has a slightly milder taste, but it's still nothing but delicious and pleasant.
8. Apple cinnamon energy booster water
We've talked a little bit about the actual health benefits of various kinds of infused waters, but what if your biggest problem throughout the day is really your energy levels? Water can certainly help you with that and it's a healthier choice than caffeine, but we understand that sometimes you just need a little extra pick-me-up on a touch day. That's where this absolutely delicious apple cinnamon water from Budget Savvy Diva comes into play! The natural nutrients and health benefits of each ingredient will help you feel a little more alert but without the crash of caffeine or sugar.
9. Mint, pomegranate, cucumber, and lemon water
By this point, you're probably realizing that you can make fruit infused waters with just about any fruit around, so why not get a little more creative and play with flavours? We love that Pattkla included pomegranate in their mixture because it tastes unique with mint, cucumber, and lemon. The pomegranate also gives the drink a light colour like you're enjoying something sweet, but without actually ingesting all the sugar.
10. Peach ginger water
Fruit and mint aren't the only things you can put in infused water! Ginger isn't a fruit, but it's flavourful, full of health benefits, and will certainly complement plenty of fruits. Our favourite thing to combine with ginger, however, is peach slices! For a combination so good that it's practically like having a treat even though it's still just fruit water, check out the recipe on Happy, Healthy Mama.
11. Blueberry orange fruit water
We talked about blueberry and lemon water that tastes a little bit like blueberry lemonade, but what if lemons aren't your favourite because you don't deal with sour flavours very well? In that case, try getting that delicious berry citrus combination by using oranges instead! The Peach Kitchen walks you through just how much orange and just how many blueberries you should infuse it with for maximum flavour.
12. Blackberry mint infused water
By now, you can probably tell that mint is a popular flavour in the land of infused waters, and also that it's one we absolutely love including in our flavour combinations. Just in the interest of making sure you have lots of options so you can really get the most out of your infused water experience, here's another mint recipe but with blackberries this time! See how it's done on The Casual Craftlete.
13. Blackberry, lemon, and rosemary water
Are you intrigued by the idea of using herbs in combination with the fruit you choose for your infused water but you're still just not quite sold on the idea of using mint? Well, luckily for everyone, Happy, Healthy Mama is here to remind us that you can use other herbs too! This recipe suggests infusing water with blackberry, lemon, and delicious rosemary!
14. Cherry and mint infused water
What if your favourite fruits aren't really just a berry or a citrus fruit? Well, as long as you cut them in half so the water can absorb the juice inside, cherries actually make for awesomely flavoured infused waters too! Like so many of our favourite recipes, this one from Little House Living combines the cherries with mint but don't be afraid to experiment with new combinations!
15. Strawberry, lime, cucumber, and mint water
Are you looking for something with enough flavour to make an entire jug of infused water for everyone but that still tastes fresh and like a water, not like an over-concentrated juice? In that case, this recipe from Wholefully that contains strawberry, lime, cucumber, and mint is a great option! It's delicious, refreshing, and packed with nutrients all in one place.
Do you have another favourite type of refreshing fruit infused water that you just love making but that you don't see on our list? Tell us all about how it's made or link us to the recipe in the comments section!