15 DIY Herb Gardens To Grow Alongside Your Kiddos
Mini gardens are so much fun to start up. They test your patience and, in the end, give you a beautifully gratifying feeling. And these 15 DIY herb gardens are perfect to grow right alongside your kiddos. Have them be involved from the initial seed planting. They'll love being a part of watching it blossom into something brand new.
1. Canned Windowsill Planters
Grab some cans, dip them in some paint, and start planting! With some help from The Glass Garden, your favorite herbs can be grown right from the windowsill. And the kiddos can help every step of the way!
2. Wall Hanging Planter
You can hang them up too! Just check out these snazzy designs from Camille Styles. A piece of wood and some mason jars are all you need to get yourself started.
3. Upside-Down Planters
Apartment Therapy showcased a lot of nifty ideas. And those nifty ideas just happen to have this unique way to garden! You can create an upside herb garden for inside the house! Take the leap now.
4. Teacup Planters
BHG will give you all the details behind these teacup beauties. Vintage or new, they make the perfect little spot to grow some mini herbs right on the windowsill. We love this dainty way of testing your green thumb.
5. Gutter Mount Planters
How unique is this? 1001 Gardens create an indoor herb garden with some help from gutter bits. Visit now and check out all of the details behind the masterpiece.
6. Cubby Hole Planter
Inhabitat has one of the funkiest ideas on the list – and possibly our fav. You can use this indoor or outdoors. But the modern "cubby" style is such a unique way to create your own herb garden!
7. Baking Pan Planter
Grillo Designs grabbed an old baking pan and turned it into the perfect planter. It's super cool to hang up on the wall and a great recycling project. Grab the deets after the jump.
8. IKEA Pint Glass Planters
This is a great IKEA hack! Snag some inexpensive pint glasses and then use them as your planters! Snag all of the tutorial by following along at Curbly.
9. Wooden Box Planter
If you want to add a bit of farmhouse quality to the house, grab a wooden box as your starting point. We found this inspiration by perusing the fabulous inspiration at Houzz.
10. Micro Planters
Have you ever thought about creating a micro herb garden? Grab the essentials at Etsy and easily become smitten once that first tiny sprout comes to life. The kiddos will be really excited about this one!
11. Burlap Bag Planters
Yes, even burlap bags can be your start to your very own herb garden. For those that love some cottage charm, grab the details of this idea by visiting Gardenista. It's an inexpensive project too!
12. Shoe Organizer Planter
Instructables will show you how to use that old show organizer from your apartment and turn it into something special for your green thumb experiments. It'll fit all your herbs nicely and keep things separately as well. Just remember to add labels.
13. Tea Tin Planters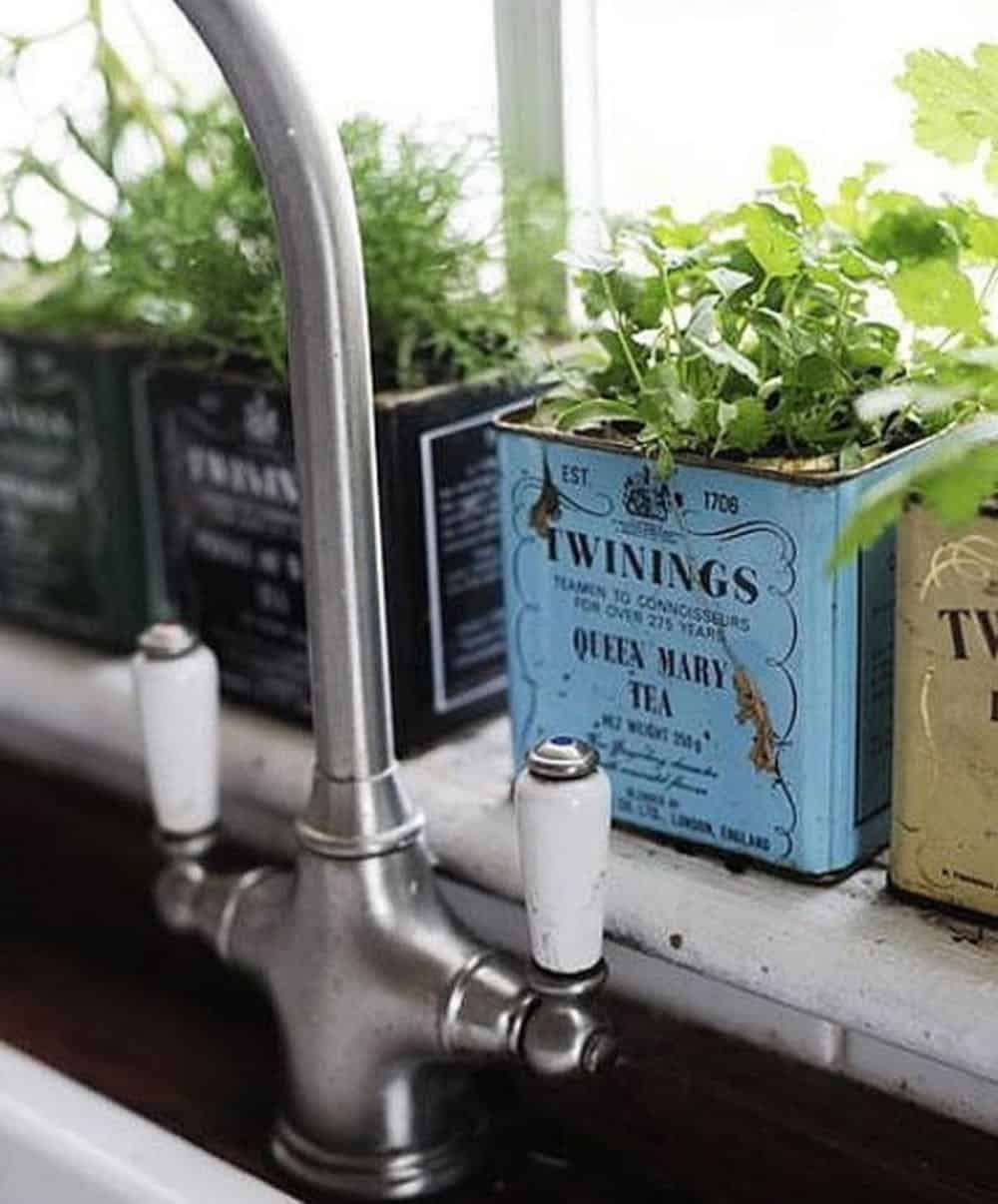 Just like those cans in the first project, old tea tins work wonders for your herb garden as well. They'll add a vintage charm to the end design and you can set them up nicely on the windowsills. Find it at Try for DIY.
14. Bottle Planters
Old glass bottles could do it too. If your past novice experience – since you'll be working with glass – this is a great project for you to try. Check it out at Design Sponge.
15. Painted Mason Jar Planters
Gold Standard Workshop finished off our herb garden journey with this fun and easy tutorial. Grab some mason jars, add a dash of color, and you've got the best starting point for your little herb garden.