Stunning DIY Headboard Designs
When it comes to building gorgeous pieces for the master bedroom, we're always a little wary. Our bedroom is our haven, so we always want to be sure that we've done a good job and will be happy with that work for years to come. Thanks to awesomely helpful online tutorials, however, one thing we've never had trepidation about making for our bedrooms ourselves is a beautiful new headboard. The beauty of having the confidence to make something yourself is that every few years, once you've tired of one look or style, you can make yourself a new one to match your updated tastes!
Check out these 15 stunning DIY headboard designs that will keep your sacred, comfortable area looking its best.
1. Old door headboard
Are you making over more than just your bedroom and the headboard? Then you might already have some great unconventional DIY supplies laying around just from what you've changed elsewhere! We've seen plenty of household upcycling ideas, but undoubtedly one of our favourites is this idea from Country Living for using an old door turned sideways and painted as a brand new headboard.
2. Fence picket headboard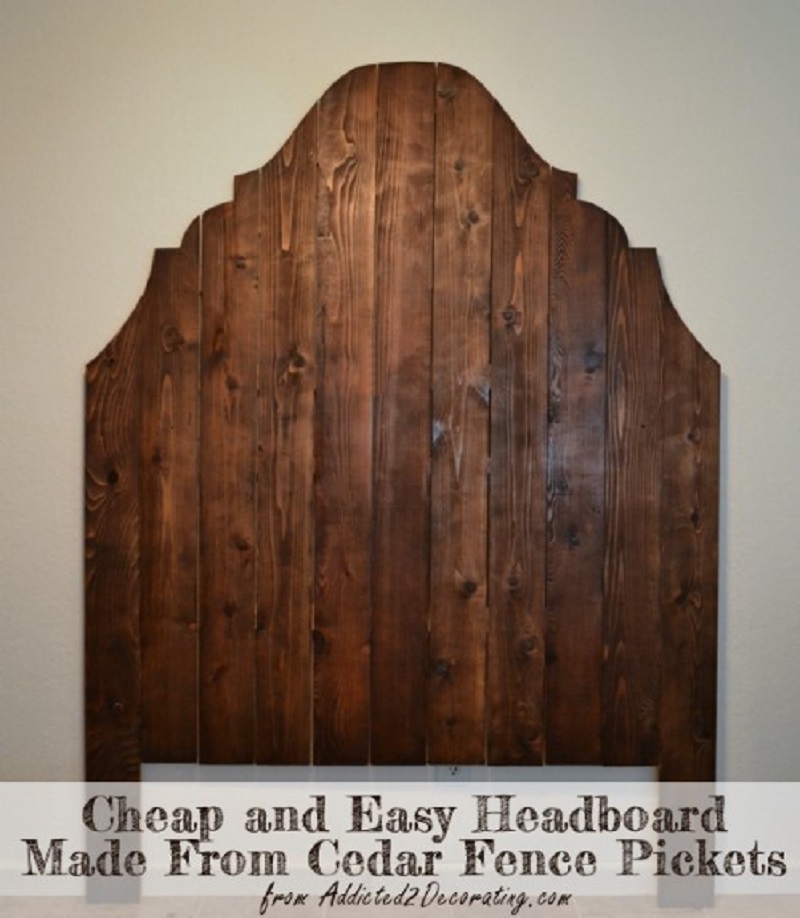 Do you love the idea of making your new headboard from upcycled materials but you don't have a spare door lying around? Maybe you'd prefer something with a little more rustic chic? Then we have a feeling you'll enjoy this lovely weathered headboard made of fence posts! Get the full steps for making your own on Addicted 2 Decorating.
3. Tall fabric upholstered board with nail head trim
Perhaps the look you're trying to establish in your master bedroom is a little more stately than weathered wood presents? Then check out this fantastic fabric upholstered headboard from HGTV! They've added even more detail than the pattern in the fabric by fastening it around the edges with rustic nail heads.
4. DIY tufted headboard
Are you looking for something a little more classic and understated than what we've shown you so far? A tufted headboard with cut out corners is a timeless look and it's not even very hard to make yourself! Thrifty Décor Chick guides you through the whole process of making your own. We love that you could choose something neutral for subtle décor schemes or something a little crazier for rooms that are already very bright and fun.
5. Rustic pallet headboard
Perhaps you really do love the rustic and weathered décor aesthetic we showed you earlier, but you're not really sure that fence posts quite present the shape you want for such a centre piece in your bedroom? Try using upcycled wooden palettes instead! Rice Designs shows you how to transform them into a stunning headboard from a simple pile of wood packing.
6. Monogrammed fabric headboard
Do you love the idea of a fabric headboard like the one we showed you above but it's lacking just a little bit of personalization? Then check out how Heavens to Betsy created a similar look but with a small twist! They've added a small monogram right at the top in the centre for a little bit of customization.
7. Mantle moulding headboard
Were you intrigued by the idea of upcycling something from another part of your house in order to make yourself a brand new headboard but the painted door suggestion we showed you before just wasn't quite grand looking enough for you? Then turn your attention to Ana White to learn how to make a headboard from what was once a mantle moulding!
8. Faux tiled headboard
Have you always loved décor that involves a difference in materials, patterns, and textures but you still want to keep things at least a little bit subtle? Then white is a great colour choice because it'll match or contrast just about anything. When it comes to texture and materials, have you ever thought of using tiles in the bedroom outside of the en suite bathroom? Sweet C's Designs shows you how to employ them for an extra interesting look!
9. Painted floral headboard
Perhaps you already have a plain wooden or plastic headboard that you'd like to transform rather than starting again with something else from the beginning? Then try your hand at painting a design! BHG shows you how to make these adorable flowers, which you could to do with stencils if you don't have a steady hand, or even free hand if you're confident in your own art skills.
10. Old shutter headboard
Were you intrigued by the idea of using an old door from somewhere in your house as a new headboard, but there aren't any rooms you're comfortable taking the door off of just now? Well, maybe your windows can spare a little instead! Check out how Recyclart created a cute, cottage-like headboard from a spread of  wooden window shutters that you can paint any colour you choose!
11. Antique window headboard
If you're going to use windows as your inspiration, why not just go all out and use the entire thing? Liz Marie teaches you how to create a floating headboard from an entire vintage window casing, complete with the glass. Luckily, the high up setting will keep the glass safe while you sleep! We adore the way they left the painting cracked and peeling ever so slightly because it's authentically rustic.
12. Latticed headboard
When you started browsing for DIY headboard ideas, were you picturing something with a little more visual texture and pattern rather than something that's simply solid all the way through? Then check out how Little Bit Funky create a latticed effect behind their pillows! We love that it's customizable enough to be painted any colour you'd like to match your current décor scheme.
13. Ruffled curtain headboard
Perhaps both your personal style and décor scheme are a little softer than things like wood and glass and you think you might prefer a headboard that isn't really a board at all? Then try making the piece out of curtains instead! Homemaker On A Dime teaches you to do it with beautiful layers of ruffles.
14. Salvaged barn wood headboard
Are you still totally enamoured with the idea of using upcycled wood to get a rustic finish to your headboard, but none of the others we've shown you so far quite caught and kept your attention? Well, you can't get much more rustic than using wood that came from an actual barn door! Design Sponge will walk you through the complete process of making your own.
15. DIY book headboard
Are you a teacher, a writer, or even just an avid reader? Well, we've found the perfect headboard style for any bookworm or word lover! Design Everyday takes you step by step through the process of selecting books and fastening them open into a stunning collage across the wall behind your bed.
Have you made yourself another type of DIY headboard that you're very proud of but that you don't see on our list? Tell us all about how you did it in the comments section or link us to pictures of your handiwork!