17 Surprisingly Glam Duct Tape Crafts
Once just limited to boring old silver, duct tape now comes in a wide range of colors and patterns that are perfect for all sorts of DIY projects. Our roundup of duct tape crafts shows you just how versatile this crafting supply can be.
1. Duct Tape Rose
If you're not exactly known for your green thumb, duct tape roses added to a low-maintenance potted plant are the perfect choice. The Duck Brand website has the full tutorial for this project.
2. Duct Tape Feathers
These funky feathers are perfect for adding a little extra color to gifts wrapped with plain brown paper. Creative Me Inspired You has the details.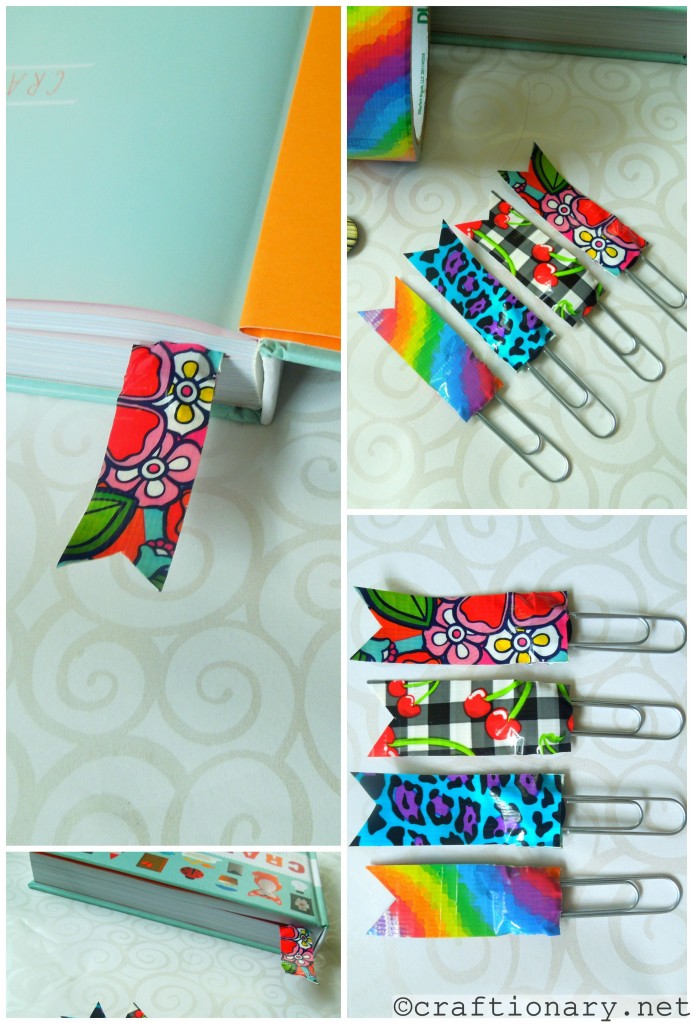 3. Duct Tape Bookmarks
Make work more enjoyable with office supplies featuring duct tape embellishments. Learn how to create these cute bookmarks over at Craftionary.net.
4. Duct Tape Pencil Cup
Use mini rolls of duct tape and empty tin cans to make these industrial chic pencil cups. Photo courtesy of Brit + Co.
5. Duct Tape Tray
Cover a shoe box lid with snakeskin print tape to make this stylish home organizer.  I Heart Organizing has the details.
6. Duct Tape Pouch
Use vinyl lettering and colorful duct tape to make a pouch for organizing pens, makeup, or other small items. Gingersnap Crafts has the full tutorial.
7. Basic Duct Tape Key Chain
Never lose your keys again when they're attached to this stylish key chain. Learn how to make it over at The Crafty Blog Stalker.
8. Duct Tape Flower Key Chains
If you'd prefer a flower key chain, this design from 101 Duct Tape Crafts is sure to please. Consider making a few extra to have on hand as last minute gifts for friends and family.
9. Duct Tape Luggage Tag
Are you a frequent traveler? If so, help your suitcase stand out with a custom luggage tag made from pretty duct tape.  Karen Kavett has the instructions for this clever project on her blog.
10. Duct Tape Purse Refashion
Give a purse that's seen better days an entirely new look with duct tape.  Second Chances by Susan has the details.
11. Duct Tape Beach Bag
Hit the beach in style with a waterproof bag made from duct tape. Mix and match patterns to create a one-of-a-kind bag design.  DIY Beautify explains how to complete this project.
12. Duct Tape Coin Purse
Keep track of all your spare change with an adorable duct tape change purse made from a sandwich bag. Create Mixed Media has the complete tutorial.
13. Duct Tape Earrings
You might not want to wear earrings made from duct tape everyday, but this easy project is a great option for creating accessories that perfectly match your outfit. Learn more on the Duct Brand website.
14. Duct Tape Statement Necklace
These three DIY statement necklace feature pendants made from duct tape. Visit Creme de la Craft for the tutorial.
15. Car Garbage Bag
If you're sick of your passengers always leaving trash in your car, encourage them to clean up with a DIY car garbage bag. Find the complete instructions over at Make Something Mondays.
16. Duct Tape Party Banner
For last minute entertaining, create DIY party decor using duct tape. This banner works especially well for outside parties, since it's waterproof and won't be ruined if rains. Learn more over at The Crafting Chicks.
17. Deco Spheres
Deco spheres displayed in a pretty bowl are an easy way to decorate your home, especially if you make them yourself using Styrofoam balls and duct tape. Crafts 'n Coffee has the details.