Fun Diy Projects Made With Air Dry Clay – e.g. Air Dry Clay Plant Pot
When it comes to crafts and DIY projects, we're big fans of the hands on kind! The more we get to actually create ourselves, the better. Projects that upcycle, customize, or alter are fun too, but every once in a while it's nice to make something from scratch. You'll be surprised how satisfying it'll be to say "I made this entirely myself"! One of our favourite tools to work with when it comes to hands on projects is air dry clay. It's easy to use, it's not complicated to finish, and the finish product has a beautiful crafted appeal.
Check out these 15 simple air dry clay projects that are both useful and fun to do no matter your level of experience working with it!
1.Clay votive
A Beautiful Messteaches you how to mould hollow cylinders to be filled with cute little tea light candles for a warm glow in your room. Nothing will glow, however, unless there are holes for the candle to glow through, so the tutorial teaches you how to make those too!
2.Hanging clay planter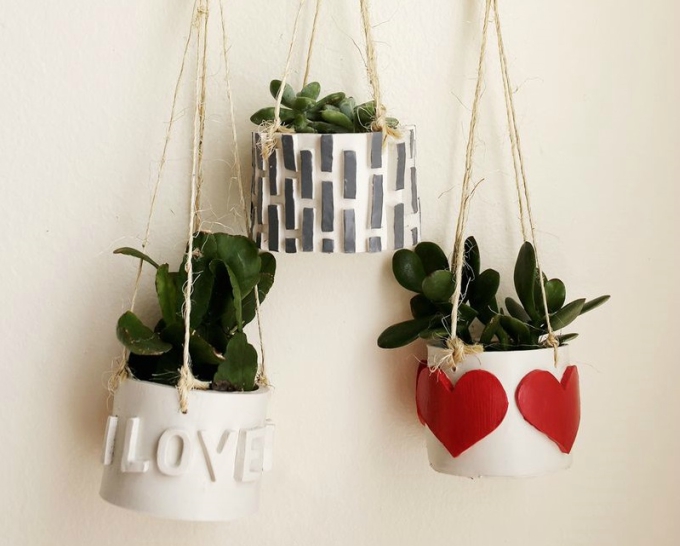 Here's another great air dry clay tutorial fromA Beautiful Mess! This time, however, you'll be moulding out a hollow case for a whole plant to sit in rather than just a little candle, so it's a bigger project with a little more attention to detail required so that you have the option to hang your succulents or other little house plants. We love these designs, but we also love how easy it would be to make another shape or design of your own!
3.Minion figurine
Do you love novelty figurines? Are your kids obsessed with the Minions movie? Air dry clay is a perfect way to build your very own cartoon character for play or display! Find out how this little yellow Minion character is made onAir Dry Clay Blog.
4.Painted clay birds
Air dry clay is also the perfect tool for creating hanging ornaments of your own. Whether you want these to be Christmas ornaments or hanging springtime decor, you'll be able to create any shape you choose. We adore these little clay birds byAlicia Sivertfor hanging in a sunny summer window, but we especially like the fact that you can paint them however you choose so it look as though many different types of bird have stopped by.
5.Rounded air plant pot
If you love the idea of making yourself a plant pot but you're not so sure that the hanging style is the one for you, try these adorable little rounded pots byAlisa Burkeinstead! Because they're made of clay, they're best for air plants, which are rather self sufficient and therefore easy to care for. Once you've moulded your rounded shape, paint them in bright colours and patterns to suit your decor!
6.Clay pendant light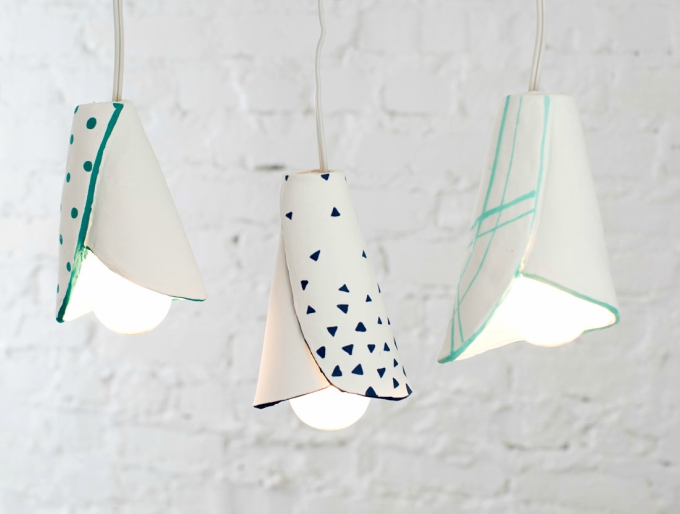 Are you looking for an air dry clay project that's a little more high maintenance and more of a statement decor piece?Brit + Co.guides you step by step through the process of making lamp shades for hanging pendant lights. You could make these from any colour of clay, but we quite like the minimalist way that a clean white with a few simple accent colours looks.
7. Air dry clay beads necklace
What's better than a craft that leads to more crafts? We sure can't think of anything!Curly Madeshows you how to make awesomely patterned and coloured chunky beads that you can turn into all kinds of statement jewelry pieces!
8. Make stamped clay succulent pots
One of the best features of air dry clay is how it can be customized once you've moulded the basic shape you need. We've already talked about painting it, but that's not your only option!Damask Love
shows you how to stamp a pattern into the clay before it completely dries. We love how this creates a repeating pattern that stays even and consistent.
9.Geometric clay pendant tutorial
Delia Createsshows you how to created a heart shaped pendant from air dry clay, but it's not just your classically rounded Valentine's Day heart. The way that air dry clay holds its shape lets you create an awesomely geometric heart that looks especially good if you add some metallic painted accents.
10.Gold clay handles or knobs
Delineate Your Dwellingreminds you that air dry clay can be used to create practical things too! Just because you're making something practical, however, doesn't mean you can't glam it up. Try replacing the regular old handles on your cupboard or dresser drawers with handles moulded from air dry clay and painted whichever colour you choose!
11.Geometric clay jar
Do you find yourself always looking for places to store your very small office supplies or loose change? Eliminate desk clutter and reduce your chances of losing things by making yourself a small, geometric clay jar! Create your basic shape keeping the centre hollow and use that inner space to put things in, just likeDelineate Your Dwelling.
12.Colourful clay animal heads
Are you looking for a little bit of unique decor to set your room apart and keep things interesting? Air dry clay can help you with that too! We love the kitschy style of these painted clay animal heads, and we also love that they're a lot simpler to make than it might seem just by looking at them. Find out how they're done on Delineate Your Dwelling.
13.DIY plant pockets
Here's another alternative in case the other plant pot options previously listed just don't quite do it for you stylistically! Instead, try creating one of these hanging plant pockets for sturdy plants like succulents. They're modern looking and unique and you can also customize them by painting the inner background a colour that matches you're current decor scheme. Just follow the steps onDesign Love Fest.
14.Lace imprinted clay storage pots
Do you like the idea of stamping a consistent pattern into your clay designs, but you're looking for something a little more pretty and feminine? Use a piece of lace to imprint an intricate pattern across the front of your vase, jar, or or plate! We love how these lacy clay pieces byDesign Momlook!
15.Modern clay wind chime
Did you know that, once it dries, air dry clay will clink gently against other clay pieces and make quite a relaxing sound? This makes it perfect for small wind chime decor, just like these ones byDesign Sponge. We love how these look left pristine and white, but you could also mix up colours, patterns, or textures when it comes to decorating your final product.
Have you created other air dry clay projects that you don't see here but that we simplymust see? Tell us about it or link us to pictures of your work in the comments section!