Fun DIY Kinetic Sand Ideas
Do you remember well when DIY slime swept the crafting world and completely enamoured kids and adults alike with its awesome texture and super fun mixing process? Well, just in case you haven't caught on to the next awesome trend of that nature yet, we simply must encourage you to get into the world of kinetic sand! This is an awesome sensory play project that feels great and has diverse crafting potential. The bonus is that you can make it yourself in all kinds of different ways!
Just in case you're as taken with the texture and concept of kinetic sand as we are, if not more, here are 15 of the very best recipes, tutorials, and play area ideas that we could find online to get you and your kids started.
1. Naturally coloured DIY kinetic sand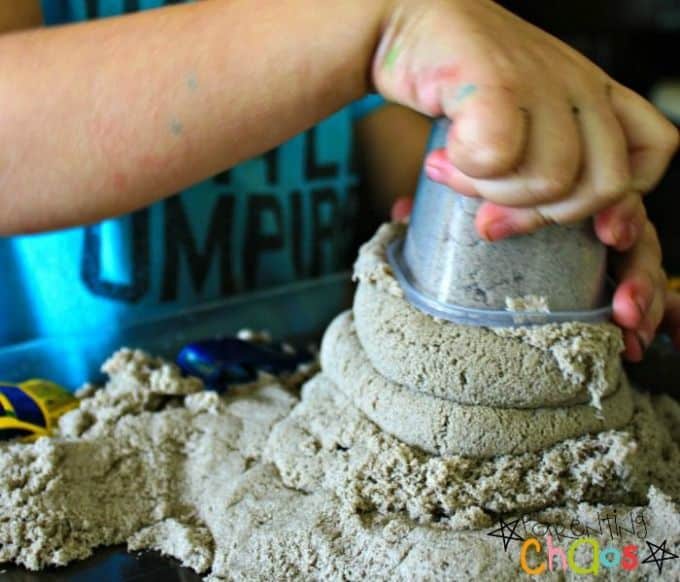 Are you actually completely new to the whole kinetic sand game, particularly the DIY kind rather than the store bought kind, so you're looking for a simple, introductory project just to try it out? In that case, we'd definitely suggest taking a look at how Parenting Chaos made this simple, soft, and neutrally coloured sand all on their own!
2. Extra fine kinetic sand
Are your kids actually a little bit weird about texture things and you're not sure they'll enjoy the very chunky feeling of the larger sand formula you saw above? Then perhaps you'd prefer to make this finer, slightly softer version of the mouldable kinetic sand outlined step by step on Living Ithica! The play-ability is quite the same but it feels a little bit softer in your hands.
3. Dense kinetic sand
Perhaps you'd actually like the opposite of what we were just talking about and you think you and your kids would prefer to make a sand that's less fine and a little more thick and mouldable rather than feeling soft? In that case, we'd definitely suggest taking a look at how Instructables made this formula that's a little more dense to work with!
4. Kinetic sand made with eyedrops
Have you actually made kinetic sand before and you're simply looking for different recipes now that are made with different ingredients because it's always interested you that there are so many versatile ways to make things? Then we think you'll get a real kick out of the way this kind of sand by DIY Kinetic Sand was made with eyedrops! It's always nice when you can get crafty with supplies that you already have on hand in your house.