What Is Kinetic Sand Made Of? Kinetic Sand Ideas
Do you remember well when DIY slime swept the crafting world and completely enamoured kids and adults alike with its awesome texture and super fun mixing process? Well, just in case you haven't caught on to the next awesome trend of that nature yet, we simplymust encourage you to get into the world of kinetic sand! This is an awesome sensory play project that feels great and has diverse crafting potential. The bonus is that you can make it yourself in all kinds of different ways!
Just in case you're as taken with the texture and concept of kinetic sand as we are, if not more, here are 15 of the very best recipes, tutorials, and play area ideas that we could find online to get you and your kids started.
1.Naturally coloured DIY kinetic sand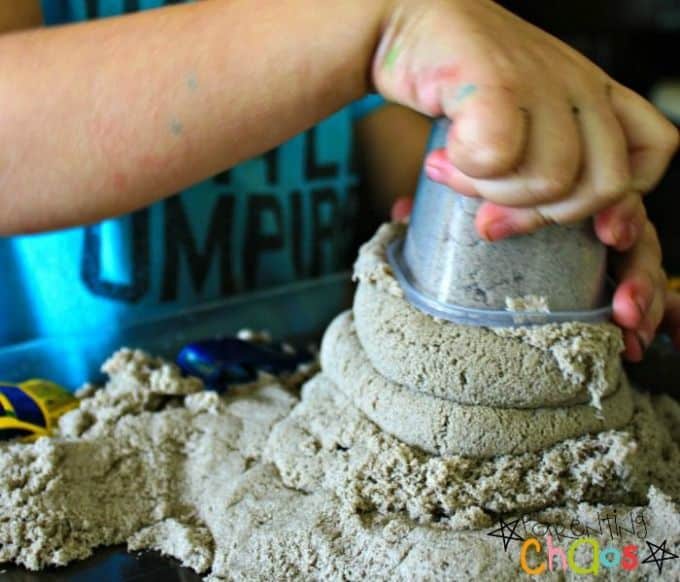 Are you actually completely new to the whole kinetic sand game, particularly the DIY kind rather than the store bought kind, so you're looking for a simple, introductory project just to try it out? In that case, we'ddefinitely suggest taking a look at howParenting Chaosmade this simple, soft, and neutrally coloured sand all on their own!
2.Extra fine kinetic sand
Are your kids actually a little bit weird about texture things and you're not sure they'll enjoy the very chunky feeling of the larger sand formula you saw above? Then perhaps you'd prefer to make this finer, slightly softer version of the mouldable kinetic sand outlined step by step onLiving Ithica! The play-ability is quite the same but it feels a little bit softer in your hands.
3.Dense kinetic sand
Perhaps you'd actually like theopposite of what we were just talking about and you think you and your kids would prefer to make a sand that'sless fine and a little more thick and mouldable rather than feeling soft? In that case, we'ddefinitely suggest taking a look at howInstructablesmade this formula that's a little more dense to work with!
4. Recipe for kinetic sand made with eyedrops
Have you actually made kinetic sand before and you're simply looking for different recipes now that are made with different ingredients because it's always interested you that there are so many versatile ways to make things? Then we think you'll get a real kick out of the way this kind of sand byDIY Kinetic Sandwas made with eyedrops not water! It's always nice when you can get crafty with supplies that you already have on hand in your house.
5.Play sand slime
Have your kids actually been so in love with slime and everything it entails for so long now that you can hardly convinced them to try their hand at something else, even though youknow they'll adore kinetic sand once they've given it a chance? In that case, we think you might get along a little bit better with this fantastic combination of the two! Check out howKids Activities Blogmade a play material that's more like a play sand slime specifically.
6.Rainbow kinetic sand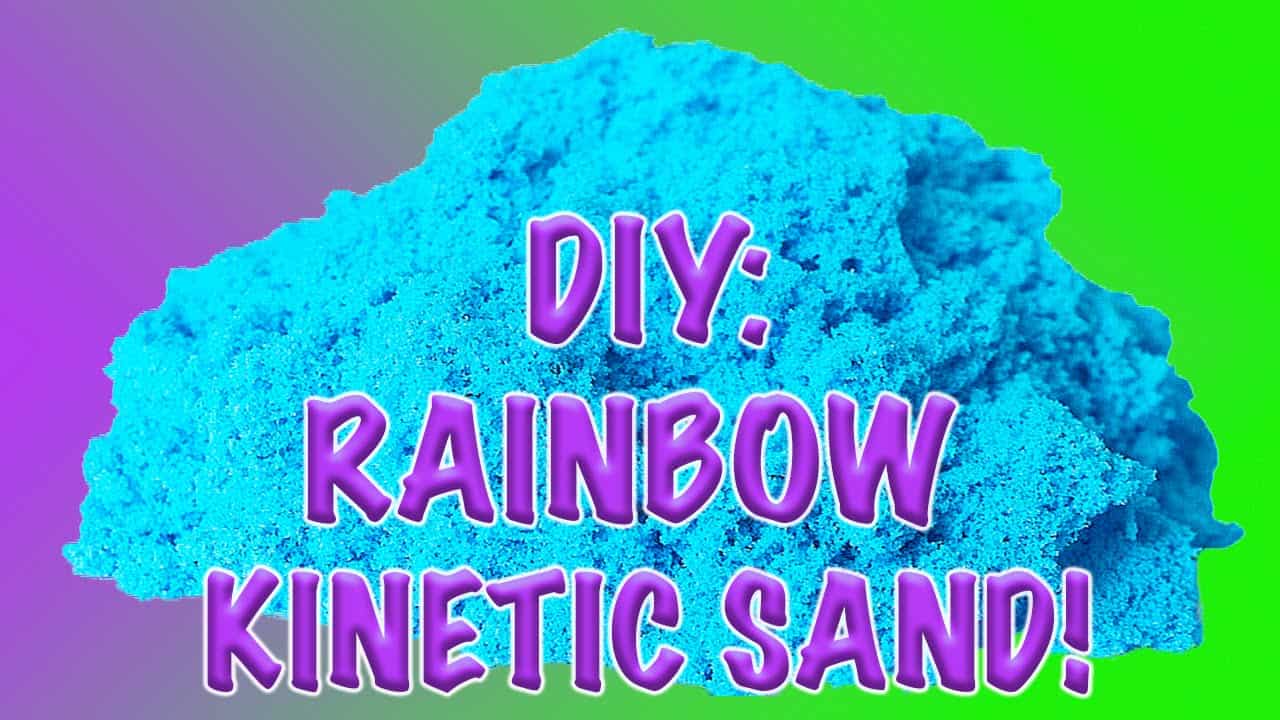 Perhaps your kids aren't picky about textures at all and you know they care a lot more aboutcolour than feel? In that case, we think you simplymust take a look at the wayHappy Toy Timemade this amazing rainbow kinetic sand that's customizable in just about every bright colour you can think of, or a mixture of them together! It's surprisingly easy to do.
7.How to make sculptures with kinetic sand
Have you actually made kinetic sand before and already discovered that your kids are huge fans of it but they've only ever really squished it around in a sort of abstract way rather than actually making itinto anything? In that case, we'ddefinitely suggest taking a look at the wayMy Craftsmade some fun moulded structures and sand castles using their kinetic sand and beach toys!
8.Colourful sand slime
Did you really love the idea of making a kinetic sand that's actually textures a little more closely to slime, like an amalgamation of the two, but you're still convinced that your kids would prefer a design that's a little brighter? In that case, we'dabsolutely suggest taking a look at howTime to DIYmade these super fun colourful versions of the sand and slime idea you saw above!
9.Edible kinetic sand
Are your kids actually very young indeed but you want to start them on sensory crafts and toys nice and early? Well, we know when our kids were toddlers that they often put things in their mouths, so having safely edible versions of things around was a lifesaver. That's why this fantastic edible kinetic sand recipe outlined step by step onSurviving a Teacher's Salarycaught our eye so well!
10.DIY kinetic sand without glue
As you might have noticed by now, many DIY kinetic sand recipes are made with liquid school glue, just like slime is. What if you don't currently have any of that though, or perhaps you'd prefer an alternate recipe that doesn't involve glue because someone in your family is allergic? In that case, we have a feeling this no-glue recipe fromDIY Kinetic Sandmight be a little more up your alley!
11.Kinetic sand made without real or play sand
Have you long been skeptical of the idea of making kinetic sand that actually involves real sand or granulated play sand because you just know your kids will make a huge mess mixing it up, but you still want to get that awesome sandy texture in your kinetic finished product? In that case, we'dabsolutely suggest taking a look at howSunny Hack Gamesmade this fantastic sand-free sand mixture (yes, it's possible)!
12.Cuttable kinetic sand
Have you seen those kinetic sand ASMR videos online that trend hard and so often go viral but you can't help wondering how they get a sand that is so fine and at the same time so dense that it can actually be cut? Then we've foundjust the tutorial for you! Check out howThe Asian Parentmade this homemade version that's got theperfect texture for making your very own ASMR.
13.Construction themed sensory bin
Perhaps your kids are little enough that they probably won't be ready to help you out with making the sand yourself or moulding it into anything but you know they'lllove playing with it? Then we're pleased to tell you that we've found a way to give them an awesome play experienceand keep it a little more contained than just putting it on the counter top would allow for! Get the full details for making this adorable construction site themed sensory play bin onInspiration Laboratories.
14.Glow in the dark kinetic sand
If you've ever tried making glow in the dark slime already and seen how much of a hit that is with kids, then wedefinitely think you'll appreciate the fact thatPlay Learn Growhas found a way to do the same thing with kinetic sand as well! Their tutorial shows you how to make it happen surprisingly simply so your kids can have awesome sensory experiences with or without the lights on. It's like a science experiment!
15.Cookie cutter kinetic sand play
Were you quite intrigued by the idea of making shapes and structures with your kinetic sand but you don't actually have any beach toys on hand for your kids to get creative with? In that case, we'd suggest reaching for simple things around your kitchen! Check out howKids Activities Blogcreated shapes and neat effects using simple things like cookie cutters, cutlery, and pencils.
Have you made other kinds of kinetic sand or tried out other awesome types of sensory play with it? Tell us all about it or link us to the recipe or pictures of your work!