50 French Macaron Flavors To Experiment With In The Kitchen
French macarons are indulgent, they're special, they're fun to add to party spreads, they're great gifts if you want to give something edible but they take time to perfect. Either way, the most exciting part of this European cookie are all the flavor options! We've compiled a list of 50 French macaron flavors to experiment with in the kitchen – whether you're a novice or a pro!
1. Basic
PopSugar starts us off with a basic French macaron recipe for all of us to try our hands at first. Take the jump and experiment this afternoon!
2. Chocolate with Chocolate Ganache
For chocolate lovers everywhere, this chocolate on chocolate recipe is right up your alley. Check out ChowHound for all of the details.
[amazon box="1646111397″]
3. Strawberry Cheesecake
Indulge a little in a strawberry cheesecake bite from Glitter Inc.. It's all the flavors you love of this classic dessert but in a single serving form.
4. Lemon
Lemon macarons sound like a wonderfully tart and tasty treat don't they? Grab the recipe at Frugal Mom Eh.
[amazon box="1617691712″]
5. Lavender Coconut
If you want something a bit more sophisticated and unique, check out Broma Bakery and this fabulous recipe for lavender and coconut macarons. They're light and perfect with afternoon tea.
6. Salted Caramel Praline
Patisserie Makes Perfect make a super indulgent salted caramel and praline macaron that looks like dessert heaven to us. These ones would also be great as an edible, DIY gift idea.
[amazon box="B07SQWL44G"]
7. Snickers
Moje Wypieki gives us a great tutorial on how-to make Snickers macarons! You may need to translate the recipe, but it's worth it!
8. Cookies & Cream
If you go visit Broma Bakery again, you'll find this fan-favorite recipe to dive into. Who doesn't love an Oreo and the mix of both cream and chocolatey of chocolates.
9. Toasted Marshmallow
Good Morning Cali gives us a super sweet recipe that everyone will want a bite of. There's something so youthful and fun about marshmallows, especially when toasted on the fire.
[amazon box="B081DSC9KH"]
10. Chocolate Caramel
Chocolate and caramel is another classic combination and this beautiful recipe is from Oh Sprinkles. And we are loving how delicious but gorgeous these macarons are!
11. Red Velvet
Notes from My Food Diary has a French macaron recipe for another flavor that so many people crave and love. Red velvet bites with cream cheese filling, yum!
[amazon box="B07FWBSJMJ"]
12. Coffee & Bailey's
Here's a more grown-up flavor to indulge in over at Liv for Cake. Mixing coffee and Bailey's is a favorite, especially in French cookie form!
13. Cake Batter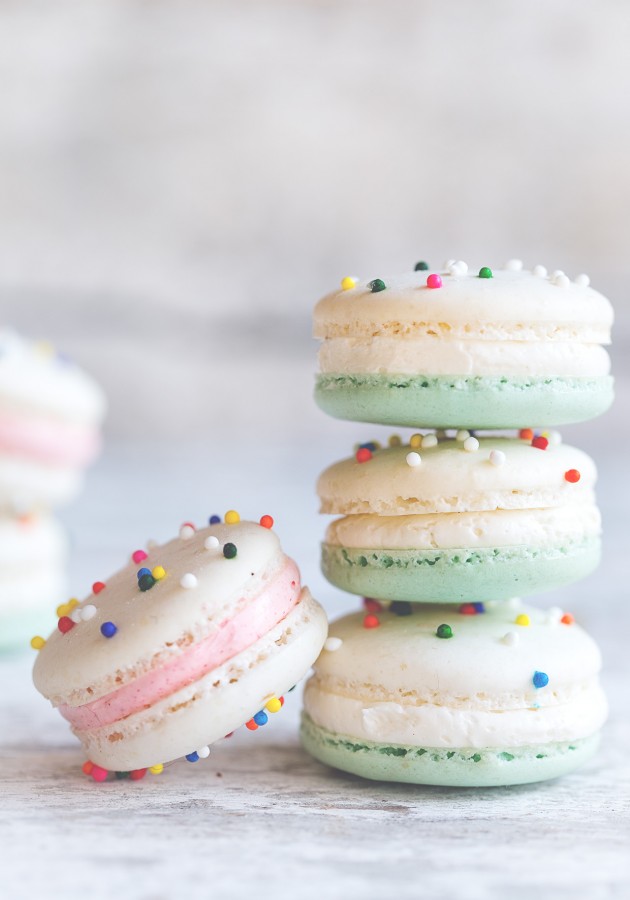 Bakers Royale gives us cake batter macarons that everyone will be running for! Use these to celebrate birthdays, showers or maybe even used as some DIY gifts.
[amazon box="B07FZBVLJS"]
14. Mint
If you love minty, fresh flavors then you'll need to hop on over to Sweet & Savory to get the details on these. The recipe is easy and they're perfect for dinner parties!
15. Mimosa
Baking A Moment takes our favorite morning indulgence and puts in in bitesize form! Champagne touches and orange flavors, check out the recipe now!
16. Strawberries & Cream
Who doesn't love strawberries and cream? It's a classic, light flavor and Cookies For England shows us how to infuse it into a French macaron!
[amazon box="2812310731″]
17. Chocolate Hazelnut
Sweet & Savory teaches us how to make some chocolate hazelnut French macarons and we're gushing over the combination. They're the best dessert flavor!
18. Lavender & White Chocolate
Fresh Dessert makes one of the more unique combinations that settle well on a shower table or at afternoon tea with the girls. Who wouldn't want to take a bit into these lavender and white chocolate sweets.
[amazon box="B07Q8SM9TV"]
19. Kahlua
Sweet Revelations gives us another "grown up" flavor that we urge you to try your hand at. Drop some Kahlua into the mix and serve these up for some celebrating.
20. Vanilla
Over at Sprinkles for Breakfast, you'll find a classic recipe that will need to go into safe keeping. This is a great flavor to try your hand at making.
21. Earl Grey Salted Caramel
food, je t'aims makes some seriously unique macarons too! Earl grey bites are delicious especially when paired with comforting and delicious salted caramel.
22. Blackberry
Macnifique makes a blackberry macaron that we're drooling over. We love the richness and tartness behind these berries, and we know they'd be absolutely delicious at the focus of this sweet.
23. Candy Corn
Persia Lou has a special, Halloween-inspired treat for us! Learn how to make them after the jump!
24. Champagne & Raspberry
If you're in the mood for celebrating, then these champagne and raspberry macarons are perfect! Best Friends For Frosting has all the details.
25. Blueberry Cream Cheese
ai love baking makes a delicious blueberry cream cheese macaron. Crisp cookies and the creamiest and sweetest of fillings are involved here.
26. Apricot
Oh So Very Pretty has another light and fruity treat for spring and summertime flavor lovers. Visit the blog and snag this apricot macaron recipe!
27. Mango White Chocolate
Over at Joanne Eats Well With Others you'll find a great tutorial on how to make these sweet and delicious mango white chocolate macarons. Make some of these for your next brunch!
28. Pistachio
Daily Delicious has a recipe for pistachio macarons. They're a bit more sophisticated and less on the sweet side, you can even dip these in some dark chocolate for a boost!
29. Strawberry Colada
If you want another "grown up" French macaron flavor Taste and Tell has the scoop! Strawberry coladas for everyone at your ladies dinner – but in the form of dessert instead of drinks!
30. Rose & Vanilla
The Moonblush Baker gives us another flavor that involves the beauty of mother nature and this time … it's rose! We love these bites for weddings and the like!
31. Lavender & Honey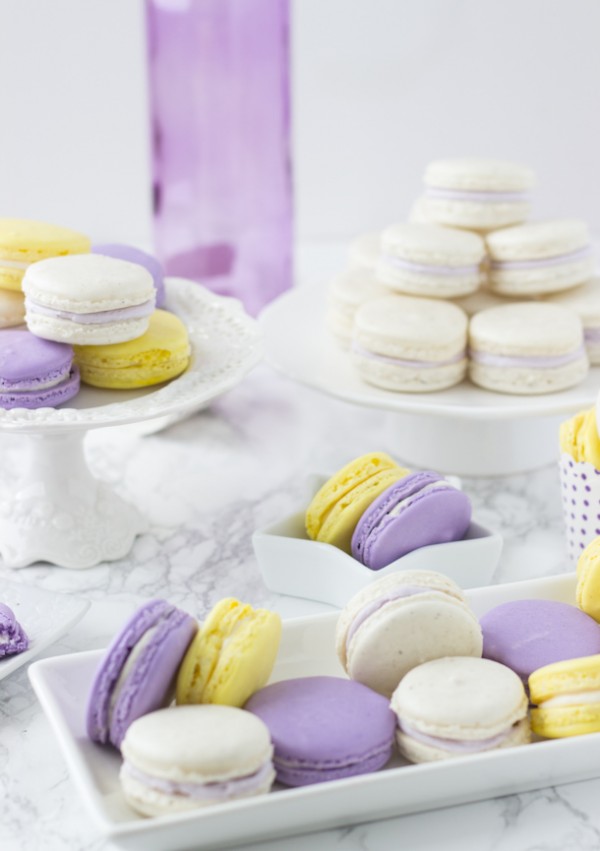 And over at Blahnik Baker you'll find out how to sweeten up lavender with some honey. These are both beautiful and pack a tasty punch.
32. Green Tea & White Chocolate
Honey & Soy makes a green teach and white chocolate combination that creates the perfect balance. The tartness of the tea is sweetly beautifully by the chocolate.
33. Chocolate Peanut Butter
A personal favorite of the bunch, Sally's Baking Addition makes a peanut butter chocolate macaroon that looks to be sheer, edible perfection. Dive into these tonight!
34. Malted Milk
Cookie Dough & Oven Mitt takes those malted Easter eggs to an entirely new level with this recipe. These malted milk macarons are such a fun spring baking project.
35. Salted Caramel
If you're a fan of salted caramel confections then Cook with Manali has everything you need. These sweet and savory bites will be right up your alley.
36. Snickerdoodle
The Java Cupcake has a snickerdoodle macaron that everyone will want to take a little bite of. For those that love the cookies with the cinnamon sugary sweetness, you'll love these too!
37. Peppermint
For a holiday-inspired treat, check out these peppermint macarons from Persia Lou. These too can be dipped in some chocolate for an extra-special treat.
38. Strawberry Lemonade
Avocados and Ales has another personal favorite flavor on their menu. These strawberry lemonade macarons are everything you could want this summer.
39. Dark Chocolate Truffle
For those that love chocolate, this dark chocolate truffle macaron recipe is for you! Let the Baking Begin! has all the details you need.
40. Coffee
Her Cup of Joy makes some delicious coffee-flavored macarons that are the perfect way to end a dinner party or add a punch to the brunch table.
41. Neopolitan
These neapolitan macarons may take a bit more to make, but they're totally worth it. Snag the recipe over at Suzie Sweet Tooth.
42. Funfetti
Sweet & Savory seriously has the best macaron recipe for celebrating. Whether it's a birthday party or a baby shower, these funfetti macarons are so much fun to make and eat!
43. Lavender Rose
I Sugar Coat It combines both lavender and rose to make the most feminine flavor of the bunch. Check it out after the jump!
44. Chocolate Cherry
Who doesn't love a yummy, chocolate and cherry combination? Snag the recipe at Taste and Tell.
45. Pumpkin Spice
Foodie Misadventures makes the perfect fall-inspired macaron! These pumpkin spice bites will give you the burst of autumn flavor you'll be looking for come September.
46. Gingerbread
And if you're a fan of holiday flavors, The Domestic Rebel has a gingerbread bite for us to try! If you love the cookies around Christmastime, punch up the sophistication with these Frenchies.
47. S'mores
Blahnik Baker shows us how to incorporate all the great parts of s'mores into a bite-side macaron! Hop on over and check out the recipe.
48. Splatter Paint
A Side of Sweet doesn't show us a new and improved flavor, instead they show us how to make something so beautiful out of your dessert. These splatter painted cookies are stunning!
49. Chocolate with Salted Caramel
We love salted caramel and obviously chocolate too, but we love them even more when paired together. Home Cooking Adventure has the recipe.
50. Lemon Raspberry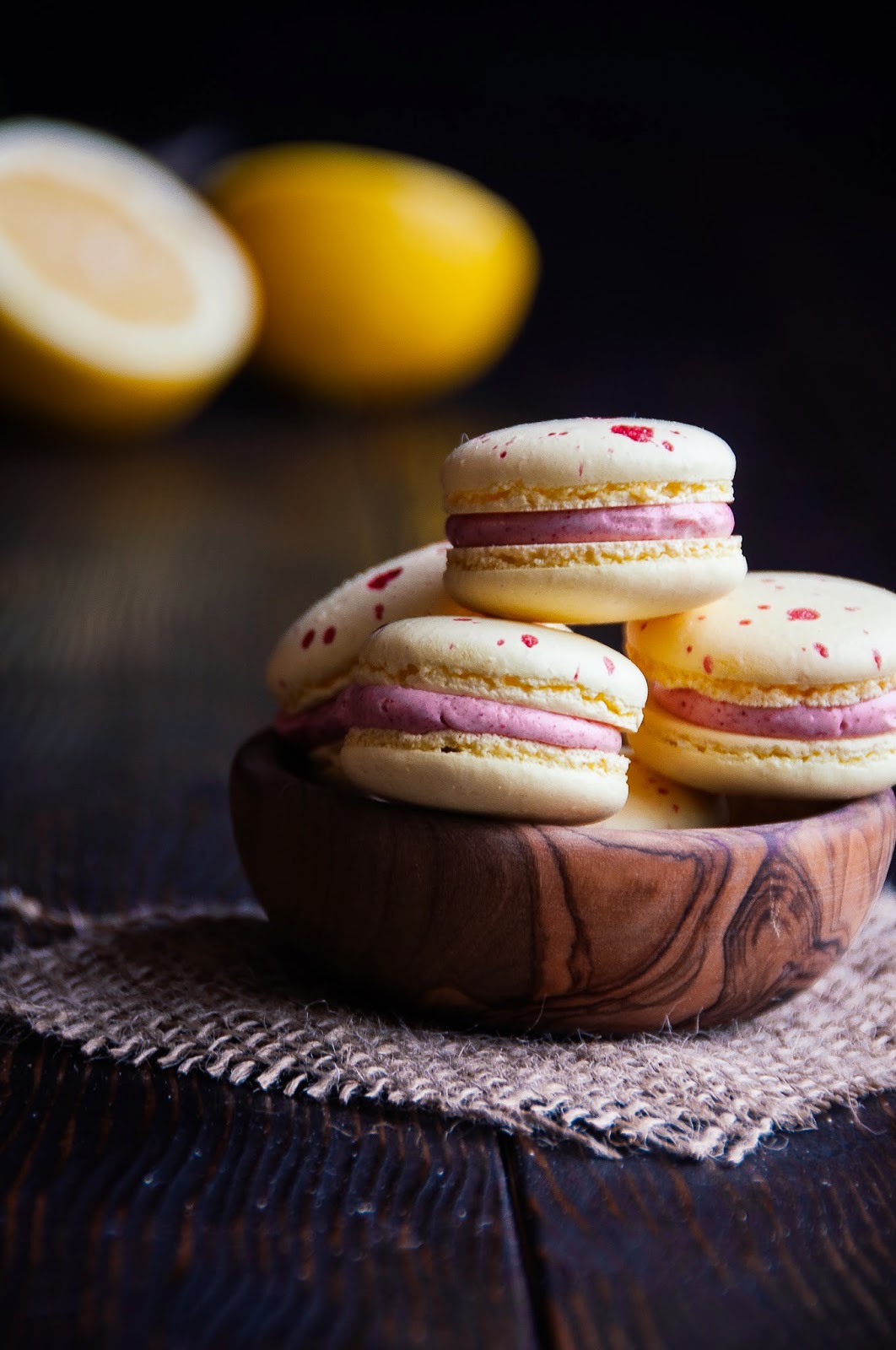 Hint of Vanilla makes a gorgeous lemon and raspberry macaron that gives us that summertime flavors we love. Tart and sweet and full of life, this macaron will satisfy.
SaveSave