15 Deliciously Festive Holiday Cocktails
The holidays are a time to relax and enjoy yourself, so it's not surprise that some people like to enjoy a cocktail or two while they attend a Christmas party or socialize with friends and family. There are plenty of delicious cocktails out there, but if you're going to make yourself something special for the season, you might as well make one that suits the occasion!
Check out these 15 delicious holiday cocktail recipes that will have you feeling extra festive this holiday season!
1. Ginger bee sting cocktail
Just because you love gingerbread most of all when it comes to Christmastime baked goods doesn't mean everything you make has to taste like them, but adding a little bit of ginger to your day will certainly cheer up any cold weather blues you're feeling! This delicious cocktail from Good Housekeeping is pure ginger and lemon taste for those who love simple cocktails that aren't too sweet.
2. Winter sangria
Are you a huge of sangria in the summer? We've always loved the process of making it, serving it in a big punch bowl full of floating fruit, and sipping the sweet, fruity taste with our friends. In fact, we love sangria so much that we're always on the lookout for seasonal recipes so we can enjoy it all year round. That's why we were so glad to see this rich tasting winter sangria by Bakeaholic Mama!
3. Holiday mule
If you've never tried a holiday mule drink before, you're missing out! This particular recipe from Home Sweet Jones combines cranberry juice and the wonder of chilled ginger beer with actual cranberries and some Christmas orange slices to garnish. You might even add a rosemary sprig if you really want some extra holiday taste.
4. Gingerbread people Jello shots
If you're looking for something unconventional and novelty, these little gingerbread men are definitely the thing for you! They might look like something kids would like to eat, but we assure you they're meant for adults only. That doesn't mean, however, that you can't have fun making and decorating them before you enjoy their deliciously spiced ginger taste. See how they're done on A Beautiful Mess.
5. Jingle Juice
If you've ever had "jungle juice" then your stomach might have just turned, but we promise you that this is a much more delicious concoction than that! Much like the holiday sangria we were talking about, this drink is chalk full of fruits like grape fruit and oranges, but this time it's orange juice based and features cranberries more heavily. Check out how it's made on Baked Bree.
6. Winter bourbon smash
If you've never had a "smash" drink then you're in for a special surprise once you get this cocktail all mixed up and ready to sip. This recipe from Minimalist Baker uses bourbon, citrus, and raspberry jam to create an interesting flavour combo that will warm you right up on a chilly evening.
7. Christmas cranberry juleps
Can you tell from this list that we really appreciate a good cranberry recipe over the holidays? Honestly, we love cranberries so much that we'd put them in everything we make around Christmas, but for now, we'll just tell you about this cocktail by Good Housekeeping. It combines the basics of a classic mint julep with our favouite cranberry taste for extra holiday spirit.
8. Blood orange mimosas
Besides tasting like the richest, juiciest Christmas orange you've ever had, the darker colour of blood orange mimosas are the perfect festive holiday cocktails for everyday lovers of the regular mimosa! Just because you want to get a little seasonal doesn't mean you have to deviate completely from your favourites. Get the recipe on Good Housekeeping.
9. Merry Manhattan
Are you sensing a theme here yet? We just can't help taking classic drinks and putting a fun holiday spin on them! For those who enjoy a good Manhattan, it's time to rejoice because we've got one for you as well. This version is made with cranberry juice and garnished with adorable looking (and delicious tasting) little sugar rolled cranberries on a cocktail skewer. Get the instructions on Foodess.
10. Sparkling clementine thyme cocktail
Clementines were always a classic part of our Christmas traditions, popping up in our stockings on Christmas morning and scenting the house in dried peel pot pourri. Incorporate that nostalgia into your holiday cocktails with this sparkling cocktail that tops those clementines with thyme in a delicious way! See how they're made on Heather Christo.
11. Salted caramel white Russian
Are you looking for a drink that's a little less fruit based and a little more decadent? Then this richly spiced and super creamy salted caramel white Russian is definitely what you're looking for. Regular white Russian drinks are already delicious things, but this version gives you a classic taste that will remind you of a baked good or a seasonal latte. See how they're made on Kate La Vie.
12. Easy DIY rum eggnog
Buying yourself some eggnog on the week of Christmas is always an option, but we don't find the store bought kind half as delicious as the homemade recipes we've tried or made ourselves! Good Housekeeping tends to agree. They're ready to show you, however, not just to make regular eggnog, but to make it into a delicious rum based cocktail dusted with cinnamon across the top.
13. Apple pie cocktail
We're pretty big fans of novelty things and combination foods, so you can imagine how excited we always are when we find a cocktail that tastes like another one of our favourite holiday treats! This apple pie cocktail by Vegan Yack Attack is the perfect example. We love the sugared rimmer and fresh cinnamon stick to top the flavour off!
14. Candy cane cocktails
Are you a huge lover of all things related to classic fruity cocktails and you're always on the lookout for new novelty flavours that just scream "Christmas"? Then we've found the martini for you! Boulder Locavore teaches you how to make a tasty cocktail mixture that tastes of mint, complete with a refreshing (and totally adorable looking) crushed candy cane rimmer.
15. Christmas Cosmos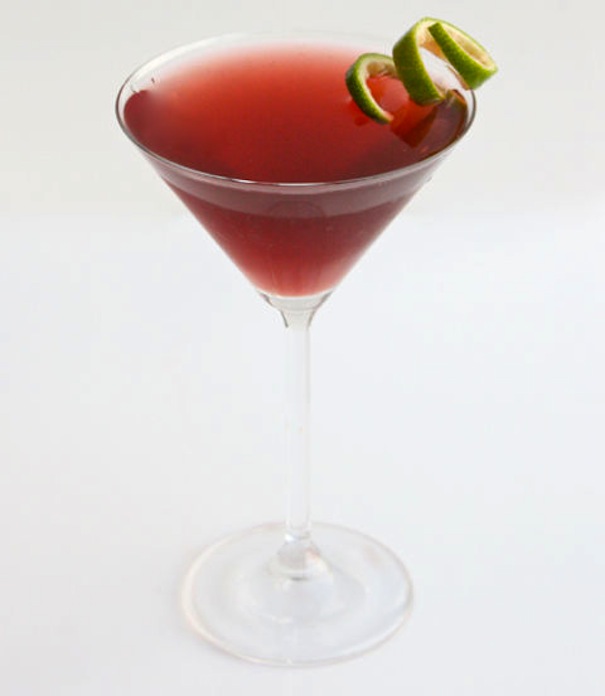 Maybe your taste in cosmos is a little bit more demure and traditional? Then you might not want to deviate too much from what you love, be we urge you to try something at least a little bit new! Good Housekeeping understands how you feel, so they've laid out a few simple flavour adjustments for you to try in your next Cosmo.
Do you know someone who enjoys a festive delicious cocktail as much as we do? Share this post with them for a little bit of holiday inspiration!