How to Make a Fall Leaf Ghost
Like ours, are your kids the kind of little crafters who willalways get the most excited whenever they have a chance to use any kind of unconventional tool in their crafting? Then I'd be willing to bet that they'll love making things with leaves this fall just as much as my own kids do. That's why I decided I simplymust document and lay out the process when I sat down with my kids and made these adorable fall leaf ghosts.
If you've always been the kind of crafter who prefers to follow video tutorials rather than written instructions, keep scrolling to find that open near the bottom of this post as well!
For this project, you'll need:
A large fall leaf
White paint
A paintbrush
Two googly eyes
Black paper
Scissors
A glue gun
Step 1: prep
Gather your materials and put them all wihtin reach!
Step 2: paint the leaf
Use your paint and brush to paint the front surface of your leaf entirely white. If you need to do more coats to get a truly opaque white coverage, let your leaf dry and then paint an additional layer of white on top.
Step 3: make the mouth
Once your leaf is all white and fully dried, cut an oval shape from your black paper. I found this easiest to do by cutting a strip from the page, cutting a small rectangle from the end of that, and then simply rounding off the corners with my scissors until I had the oval shape I wanted in the right size. This will be your ghost's mouth.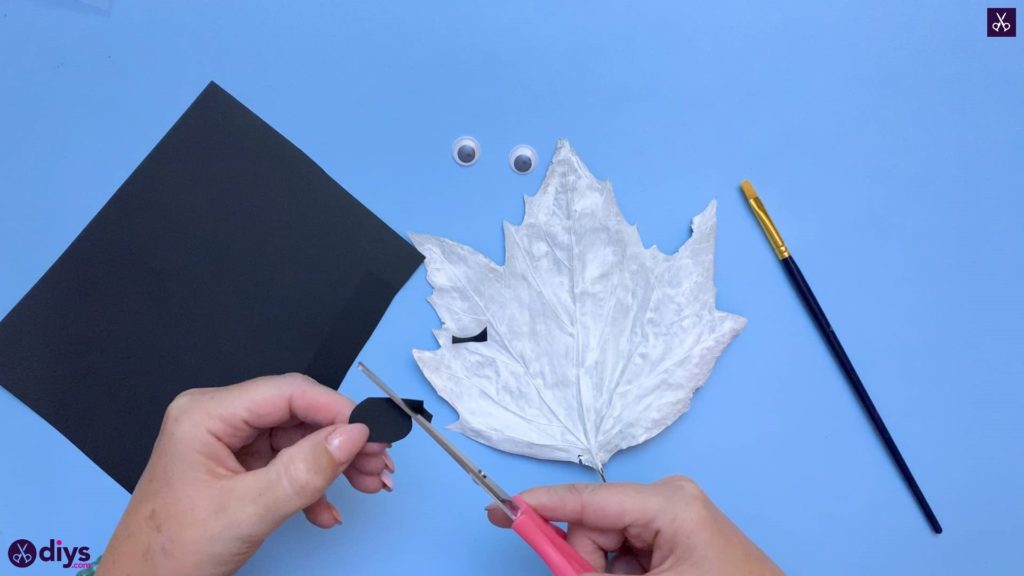 Step 4: glue eyes
Apply glue to the back of your googly eyes using your glue gun. Stick them in the middle of your ghost's face, closer to the top. I made the flatter end where the stem is the bottom of my leaf so that the raised parts face upwards like the shape of a classic cartoon ghost trying to spook someone.
Step 5: finish!
Use your glue gun to apply glue to the back of your ghost's black paper mouth. Stick it in the center below the eyes to make it look like the ghost is shouting "boo"!
There you have it! Just in case you'd like to try this project out for yourself, here's a fantastic tutorial video to help you!