15 Pretty Crafts Involving Embroidery Floss
If you've ever done cross stitching, needlepoint, or other embroidery based projects, you already know how great embroidery floss can be to work with. Beyond being a versatile crafting tool, the floss comes in all different bright colours just to make it even better to work with. Needlepoint based things aren't the only things you can make using embroidery floss though. If you're willing to get creative, the possibilities are almost endless.
Have we peaked your interest yet? Then check out these 15 awesome decorative and functional projects made with embroidery floss!
1. Embroidery floss wrapped hoop earrings
Are you a huge fan of making your very own jewelry but you've always found the idea of making your own hoop earrings hard because that requires bending metal? Well, not every project has to be made from actual scratch yourself. Sometimes customizing things that are already made is just as good. That's why we love the idea of making these embroidery wrapped hoop earrings by Ed White Photographics. Simple wrapping techniques are the key here and you have full control over which colours you choose!
2. Colourful thread wrapped stool
Once you've mastered the wrapping techniques it took to make the hoop earrings, you're prepared to make just about anything! That has almost no limits, so why not include furniture to easily customize your living space? We love the way Vintage Revivals used brightly coloured embroidery floss to add a bit of colour blocking detail to the legs of this kitschy side table. Choose colours that contrast the rest of your décor space or march in different shades.
3. Rhinestone and embroidery braid necklace
Are you still very into the idea of making things with embroidery floss but, rather than just wrapping it around things, would you rather actually create something from the floss itself? In that case, you might like this stunning bib necklace idea that's made from strands of embroidery floss held together and braided. We love the additional detail of weaving the braid around a string of rhinestones for a little bit of extra sparkle. Get the full instructions on Thanks, I Made It.
4. Colour blocked wrapped bangle
Perhaps you're still not over the idea of colour blocking and you'd actually love to do some embroidery floss wrapping but you just haven't seen the project that's quite grabbed your attention yet? In that case, we present to you this awesome bangle design from Lovely Indeed! No matter what colours you choose, this project will look great when you're all finished.
5. Simple embroidered jewelry bag
If you're going to work with embroidery floss, we guess it makes sense that you might occasionally actually do some embroidery! Just because you're using your hand stitching skills, however, doesn't mean you can't get creative with what you're stitching the design on! We love this idea from Fabric, Paper, Glue for stitching a simple geometric design onto a small canvas bag so you have somewhere to put your jewelry when you travel.
6. Floss feather necklace
Are you a huge fan of feathers but you find that feathered accessories don't often come in the colours you want? There's nothing wrong with preferring bright shades over natural ones, after all! Hey Wanderer shows you how to make a pretty coloured faux feather out of embroidery floss in different shades rather than settling for a feather colour you don't want. Their necklace tutorial is easier than it looks!
7. Thread wrapped accessories
Are you scrolling through this list wondering how you'll ever choose between all of the different embroidery crafts there are out there to make? Then maybe you'd prefer a multi-faceted tutorial like this one from Little Bits of Delight. They walk you though the steps of making a whole matching set of different embroidery floss wrapped things, like sunglasses and bangles.
8. Embroidery tassel earrings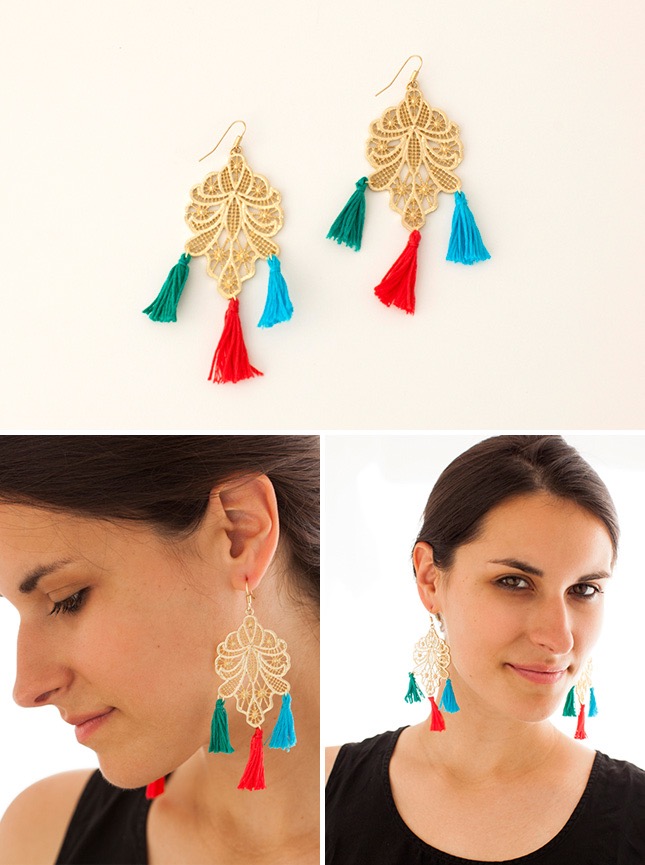 Are you the kind of of crafter who loves overhauling things you already own to give them a new lease on life? Then maybe you'd rather jazz up some accessories from your jewelry box than make something from scratch. Check out how Brit + Co. did just that when they made these tassel earrings!
9. Embroidered Chuck Taylors
Maybe the thing you're really hoping to give a new look to is your favourite pair of shoes? Then we have a feeling you're going to love this simple suggestion from Right Where I Left Off! They show you how to embroider simple colour blocked sections or geometric shapes like little triangles into canvas shoes.
10. Thread wrapped side combs
Sometimes the best way to add a bit of subtle colour to your look is with hair accessories! This doesn't mean you have to make yourself an elaborate head piece or anything; sometimes a little bit of embroidery floss wrapping is all you need! Hair combs are perfect for pinning thin hair up and Brit + Co. will help you customize yours.
11. Wrapped quote necklace
If you've never made simple wire bending jewelry then you are missing out and we suggest trying it immediately! There are all kinds of shapes you can make, but we're quite partial to the idea of making letters so you can create your own quote pieces. If you have tried it before and now you're just looking for a way to up your DIY came, check out how Wild Amor wrapped their quote necklace with coloured embroidery floss for a little more flare!
12. Floss and hemp wrapped flower jars
Do you adore the wrapping concept but you're also the kind of person who just appreciates as much visual aesthetic as you can get? Then check out these hemp and embroidery wrapped jars that include texture and colour changes all in one place! Two Birds Boutique shows you how it's done.
13. Pretty tassel chain necklace
Did you like the idea of making tasseled jewelry from the earrings we showed you earlier but you don't actually have your ears pierced and you don't like clip-ons? Don't worry, we have an alternative suggestion for you instead! Brit + Co. guides you through the process of making a tasseled necklace charm for a low hanging chain.
14. Embroidered map artwork
Are you an avid traveler who's always adding to the list of places you've been, but you're very nostalgic about your trips and love documenting them? Of course, photos and things like scrapbooks and keepsake boxes are great ways to do that, but here's a way that's a little more unique, just in case you're a décor enthusiast. Martha Stewart suggests using embroidery floss and a needle to track your progress across the map, stitching from place to place in a colour that stands out well from the map in the background.
15. Clothespin embroidery floss storage
Have you gone crazy with the embroidery crafts already and now you've got all these colourful ends that you don't know what to do with until you need them again? Well, figuring out a good storage option for your floss is certainly a good idea so that they don't become too knotted to use again for future projects. We had that problem and we solved it by using this floss wrapped clothespin idea from Mrs. Jones!
Have you made other awesome crafts and accessories using embroidery floss but you don't see anything similar on our list? Tell us all about how you did it or link us to pictures of your work in the comments section!