10 Best Hat Embroidery Machines for 2023
Are you the kind of sewing enthusiast who has long mastered the basics of using a sewing machine, and now you're looking for a new model that will help you refine your skills a little bit in a slightly more specialized area? Well, if you're also the kind of person who has discovered an enjoyment of hat embroidery just as much as we have, then we havejust the list for you!
We've actually been on the hunt lately for a new machine and, while we'd ideally like one that we can use as a backup or replacement for our regular sewing machine as well since it's more than a little worn in and well-loved by this point, the real priority is to find a machine that will also give us heightened embroidery features. More specifically, we want to invest in a machine that will help us embroider hats since that's our very favorite thing to create and we have all kinds of ideas!
Editor's Choice
Best Hat Embroidery Machines
We're big researchers because we're usually working on at least a bit of a budget, and we enjoy considering as many options as we can very carefully, no matter what we're purchasing, just to make sure that we're really investing our money in the right choice. We're sure it'll come as no surprise, then, that this little list of our top recommendations resulted from our shopping process! We've always appreciated seeing what other people with the same interests as us have found in their searches, so we thought we'd share ours with our fellow hat embroidery enthusiasts. Check out these 10 fantastically affordable hat embroidery machines that we came across in our search!
We already knew going into this search that sewing machines specializing in embroidery design, and more particularly in embroidery that will transfer well to hats, was going to be a slightly more expensive endeavor than usual. That's why we were okay with it when we realized we were feeling drawn to computerized models that have slightly more advanced screens and capabilities, like this one from Brother. This durable machine has a 3.2″ LCD color touchscreen that lets you navigate and preview your designs before you set the machine to work, creating the design within a well-sized embroidery hoop and with specially designed needles.
In terms of the design capabilities themselves, this machine offers an impressive range of templates and easy connectivity for custom designs you've created yourself, thanks to a simple USB port for importing. In our opinion, however, the best part of this particular model is the sheer range of design templates and language capabilities, so you can really get creative, even before you've learned how to design your own.
This model has a range of 138 built-in designs, including designs within themes like scrollwork, florals, and quilt patterns. This machine also offers you options for creating embroidered lettering in seven English fonts, three Japanese, and one Cyrillic that's beautiful for monogramming.
Pros
Comes with 138 built-in designs.
Features a 5″ x 7″ hoop area for all your projects.
Cons
It is a Brother machine, so it's a bit expensive.
View price on Amazon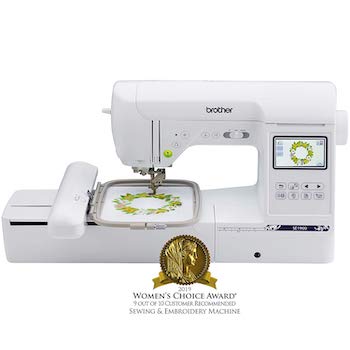 Do you appreciate several of the features that you saw in the machine above as far as embroidery goes, but you can't help wishing it had a few more specialized features when it comes to sewing as well since you're determined to upgrade with this machine partially as a replacement for your old one? In that case, we'd definitelysuggest taking a look at this next design fromBrother that's comparable in the hat embroidery department but has a little more to offer in the realm of regular sewing (so long as you're prepared to pay for it).
Like the machine above, this one comes with an impressive 138 embroidery design range, as well as 11 font options that are good for monogramming (although this time they're all English-based). These are easy to work with and edit thanks to a large LCD touchscreen that's intuitive to navigate. This and the nice 5×7 embroidery field make it a great machine for the hat-based projects you're hoping to complete. When it comes to the rest of your sewing projects, however, this machine is wonderfully equipped as well!
Its auto-stitch settings are comprised of a 240 built-in stitch range (including both fundamental and decorative options), 10 different options for auto-sized buttonholes, and also some more standard features like an automatic needle threading and cutting system and a jam-resistant drop-in bobbin winding capability that just about anyone would be able to navigate.
Pros
Comes with 240 built-in stitches.
Features an automated threading function.
Cons
The required software is expensive.
View price on Amazon
If you're going to invest quite so much money in a particular machine, would you rather put more of the emphasis of what you're purchasing onto the screen and its interactive capabilities, since that's where you'll preview and finalize the details of your embroidered design before you actually make a start on the hat you're working on? Well, particularly if you're also still a little bit interested in having the machine also serve as a fully functional sewing machine, then we think you might get along a little better with something like this model fromJanome!
The backlit LCD screen effectively displays all stitch and design options (of which there are many) and lets you put the finishing touches on custom pieces, which you can import using the included ATA PC card. The touchscreen gives you the ability to enlarge, reduce, turn, flip, and combine basic images before you start the embroidery on a hat or other surface in a space up to 5×7 in height and width. This particular machine pack also provides you with stitch memory, a double-needle guard, a range of diverse and detachable presser feet, a free arm feature for sleeves and cuffs, and all the usual adjustable sewing functions made simple to use thanks to visually labeled turning dials.
Pros
Features a touch screen for easy selection.
Comes with multiple presser feet.
Cons
Some threads can get tangled easily.
View price on Amazon
For the kinds of projects you usually like to create, do you actually prefer to work with a serger over a sewing machine more often than not? Then we think you'll get along much better with this alternative machine fromSinger that is a fully equipped serger and also an embroidery machine that works well for hats. In terms of its serging power, this model gives you the ability to work with anywhere from one to five threads at once, giving it a good cover stitch effect.
It also gives you a self-adjusting tension system that works on auto-sensing technology, but you can also take over manually with an easy dial. The model will let you adjust sewing speed, direction, stitch length and width, and easily lets you choose between four fundamental types of hemstitching.
This particular machine isn't computerized for design editing like the ones you saw previously, but it's still quite effective for machine embroidery so long as you're prepared to create more of your design manually. Because it's so adjustable, accessible, and easy to navigate, and because it comes with a plethora of different needles and pressers for for working on different materials and with different effects, this serger is one that beginners to manual machine embroidery for simple things like monograms on hats and other pieces might excel at using.
Pros
Works with 2-3-4-5 stitches.
Can work up to 1300 stitches per minute.
Cons
the thread stand is pretty flimsy.
View price on Amazon
Although youdo create other kinds of sewing projects, are the bulk of the things you have planned for this new investment actually solely embroidery-based, meaning you're looking for something that really prioritizes its embroidery features over all else? Then we think this alternative model from SINGER might serve you a little bit better. In addition to three LED lights that provide you with great visibility, adjustable tension that's not complicated to use, and a super simple automatic needle threader, this machine also comes with a range of detachable and easy to swap feet that are great for all kinds of functions in sewing and embroidery, including working with satin and making buttonholes.
In terms of its actual embroidery capabilities, this machine includes both small and large embroidery hoops for different-sized projects. It also features a uniquely shaped base with an expansive embroidery area so that you can add monograms and other little details to all manner of projects, hats included. It even comes complete with an advanced bobbin system that can wind while you're embroidering!
Meanwhile, the backlit screen, though smaller than some you've seen, gives you full control over selecting and making limited customizations to over 200 stitch patterns, six alphabet options for lettering and monograms, and features that make importing your own designs from a USB stick incredibly simple. You absolutelycan complete simple sewing tasks on this machine, but this machine definitely centers embroidery as its primary function.
Pros
Comes with 6 alphabet options for lettering and monograms.
You can also import extra designs with a USB stick.
Cons
Work table is pretty narrow.
View price on Amazon
If you're going to invest in any kind of new machine, would you like to make sure it comes as part of a complete package so that you're already fully equipped and ready to go with all the pieces you'll need custom to your new technology? Then we're pretty sure this next option fromJanome has just the kind of kit you're looking for. Besides the machine that you'll actually need to embroider all the hats we're talking about making, you'll also get a little trolley bag for taking your machine on the go, a whole range of needles in different sizes, some machine maintenance tools, an impressive number of durable bobbins, and other notions that are useful to have in the kit of any embroidery enthusiast.
Like we mentioned with the serger we showed you earlier, this machine gives you more of a manual embroidery experience than some of the computerized options with screens and memory databases. It's quite simple to create monograms and other embroidered details on with a little bit of practice, however, particularly if you don't have experience with sergers. To make things a little easier, the machine is programmed with over 60 stitch types, several automatic buttonhole options, and various fonts and choices for monogramming and lettering, including both block and script options.
Pros
Programmed with 66 stitches and 4 buttonholes.
Features an automatic thread cutter.
Cons
The machine can sometimes tangle up the thread.
View price on Amazon
Are you actually quite advanced indeed in embroidering hates and other pieces, so you'rereally looking to upgrade into something very advanced and well equipped if you're going to invest in something new and put that money out? Then you just might be the perfect person to give this computerized sewing and embroidery machine fromJanome some consideration!
In this design, your expansive, fully lit, colorful touchscreen is like the control panel, rather than coming in combination with other adjustable dials. This screen's programming lets you start with a template or import a custom design and then resize it, combine it with another element, duplicate, flip, or rotate it, or swap its colors. It's truly designed to give you maximum creative control.
The spacious, uniquely shaped base that provides you with a work surface is useful for sewing but more specifically customized for embroidery as well. Over it, you'll find no fewer than five LED lights that give you extraordinary visibility. Rather than limiting you to a maximum 5×7 sized frame within which to create an embroidered image, this machine offers you almost two additional inches all the way around, letting you create even larger designs than what you've seen so far.
Pros
Can embroider up to 200mm x 170 mm.
Knows over 200 stitches.
Cons
Missing instruction booklet.
View price on Amazon
Have you been feeling quite interested indeed in several of the different machines and features you've seen so far but, even though you're impressed by the more well equipped and expensive models, you're just not sure that your budgetor your skillset is quite big enough yet to make or even need that kind of purchase? Well, that doesn't mean you have to pass up the opportunity to own an embroidery machine or even one that's got combination sewing capabilities! This model from Brother is the perfect example of what we mean.
As you might imagine, given the much more affordable price, this slightly smaller machine also boasts a slightly smaller embroidery frame, measuring only 4×4. The machine still features its own color, and touch-operated backlit LCD screen, letting you choose from 80 full embroidery designs, over 100 automated stitches, and several auto-sized buttonholes.
Additionally, the screen lets you control imported designs that you've made yourself, thanks to a convenient and simple-to-use USB port. Despite this machine costing the least so far, its embroidery field is actually one of the best-sized options for embroidery hats, like we mentioned as our overall goal.
Pros
Knows some 80 embroidery designs and some 100 stitches.
Possible to import extras via USB.
Cons
View price on Amazon
Just in case you've seen a few things you liked, but you're still feeling intent on exploring as many options as you possibly can, here's another mid-range price computerized embroidery machine from Janome for your consideration, just with a different combination of great features than you've already seen! Because it's also quite useful as a standard sewing machine as well as an embroidery tool, this model comes equipped with all kinds of awesome basic supplies that will set you up for using this option specifically, even if you've owned other kinds of machines before; many notions and supplies are transferrable between models and brands, but not always!
Regarding its embroidery capabilities, this machine is directly comparable to some of the others you've seen, but with different features from each of those. This machine lets you choose from custom designs of your own that you can store in its memory system and load with a simple USB port or from its pre-programmed stock of 135 stitches in four different creative modes.
Pros
Comes with extra tools.
You can choose custom designs.
Cons
Bobbin problems are often encountered.
View price on Amazon
Are you still thinking about how much you loved the idea of a serger that will also help you with embroidery but if you're going to invest in a new machine at all, you want to make sure it has essentially any feature you could ever hope for, fully equipping you for essentially any embroidery project you might decide to take on? Then we'dabsolutely suggest taking a look at this fully computerized combination machine offered by Janome! Rather than just having a little computerized system with limited memory built into the mainframe, this machine is actually powered by a much larger independent screen and system called a Remote Computer Screen, or RCS.
This system gives you a much more advanced control over editing and option selections, offering you thousands of color combinations you can choose from. The one on this machine can even power another external machine if you hook it up as well!
The memory with this system is shockingly impressive as well, allowing you to store literally one million different individual stitch types, or up to 100 fully designed and intricate customized independent designs. The computer system isn't the only part of the machine that has automated capabilities. You'll also find an automatic thread cutter that will cut jump threads even between letters during embroidery, as well as a whole separate motor dedicated just to bobbin winding, meaning that the machine can wind and refill new bobbins even while you have it running to finish an embroidered design.
The machine also comes with several extras, including a series of lettering hoops to hold your pieces still while they're being embroidered. The best part of these extras is that this is the only machine thatactually includes a hoop specifically designed for hats!
Pros
Features an automatic thread cutter.
The screen gives you editing powers with over 65,000 colors.
Cons
Needles aren't the sturdiest.
View price on Amazon
Conclusion
Do you know another DIY and fashion enthusiast who loves to make headwear and has been thinking about investing in their own hat embroidery machine? Share this post with them, so they have at least a few more models, types, suggestions, and recommendations to choose from within their search!