15 DIY Shirts To Cut Up, Sew Up, And Create
Want to add something new and unique to your wardrobe? Maybe you want to personalize your clothing just a little bit? You can do that with this list of easy tutorials. These 15 DIY shirts are easily cut up, sewn up, and created with a bit of TLC and imagination. Take a peek at the projects below and think about how to reuse and recycle some older pieces while you're at it.
1. Cutout Denim
A Pair And A Spare starts our new wardrobe off with this super cool denim tee DIY. Learn how to cut out bits to accentuate all the right areas. Creating this will be like pulling off a design right from the runway.
2. Circle Knit Top
You'll want to dive in and take a peek on the creation behind this circle knit top. It'll become an easy and clear staple in your closer in no time. Check it out at Honest To Nod.
3. Geo Cuts
We're loving all the easy stuff you can do to a simple white tee and that's all thanks to Brit + Co. You can just cut own some geo shapes in your top to create something brand new – wear it with a skirt and dress it up or throw it on for the gym!
4. Gathered Cami
The Essentials Club gives an easy tutorial for this adorable and charming gathered cami top. It too looks like it was pulled right off the racks at your favorite store. Learn how to make it instead of shelling out the dollar bills.
5. Tied Linen Wrap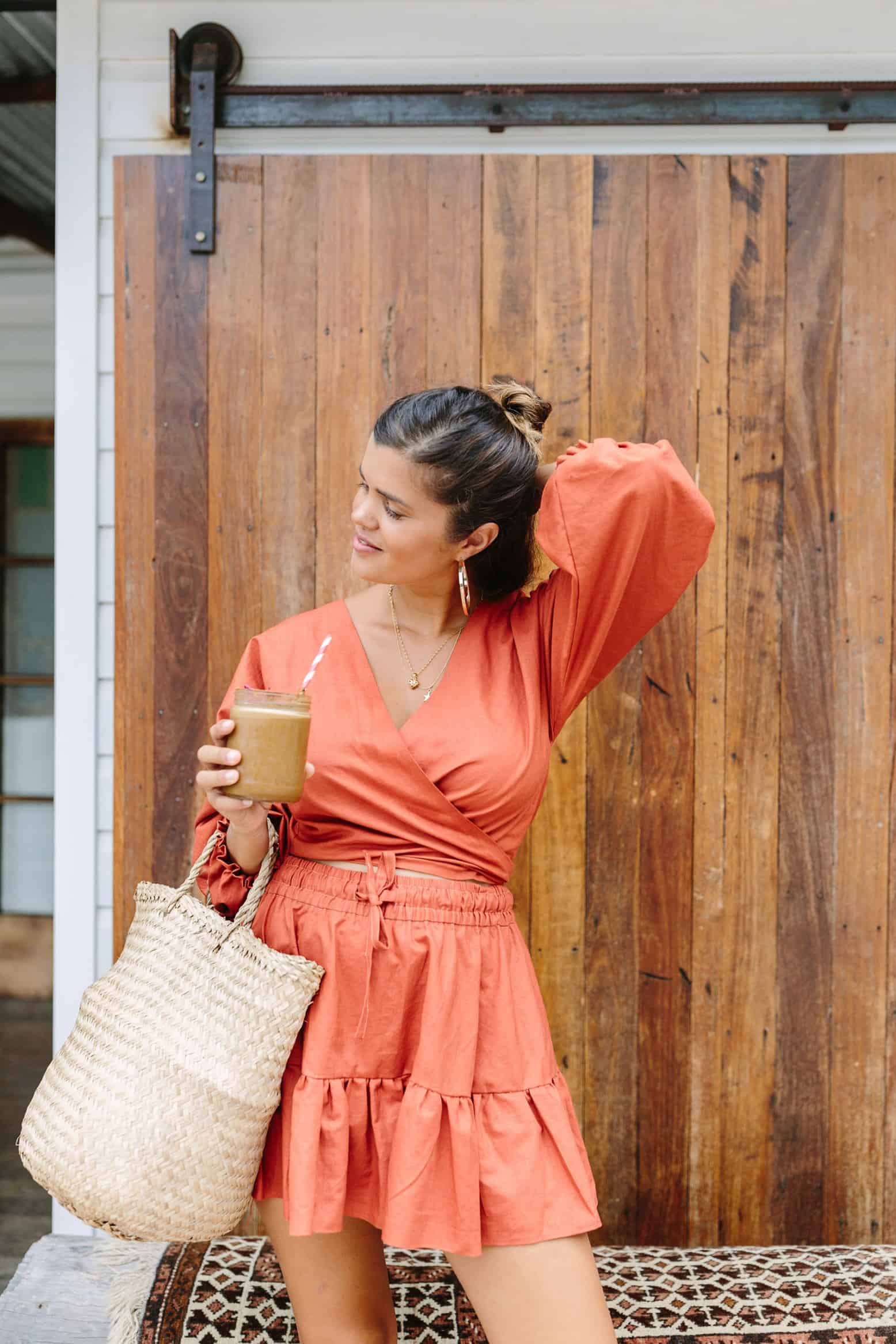 We're swooning for this linen wrap shirt from A Pair & A Spare too. Of course, we love the entire outfit but we also know that this kind of shirt can be a super versatile addition to your closet. Check out all the details after the jump.
6. Graphics
If you've got a love for simple graphic tees, check out some easy ways to make them at create/enjoy. There are so many different phrases and fun you can display. We love the makings of these because of how personalized and unique you can get.
7. Lace Up Sweatshirt

Over at A Beautiful Mess, you'll find an awesome tutorial for a lace-up sweatshirt with all the charm in the world. Start with an older tee and turn it into something brand new! Add colored lace if you want even more festivity too.
8. Distressing
Learn how to distress your tees like a pro with some help from Jojotastic. A bit of bleach marks or paint marks here and a couple of holes there and your tops will be filled with new and trendy styles. Grab the details after the jump.
9. Gathered Top
We instantly fell in love with this adorable blouse. Its gathering creates an easy summertime flair that's hard not to fall in love with. Check out all the details here by visiting our friends at Cotton & Curls.
10. Bow Ties
This fun geo-print top was turned into something extra sweet as well. Run over to It's Always Autumn and learn how to put the most perfect topping onto your shirts! The bow tie really brings in a bout of preppy appeal.
11. Flannel Shirt Dress
A Beautiful Mess also brings us a tutorial for taking an oversized flannel shirt and turning it into an adorable dress! With some booties or tights – your fall and winter wardrobe just got a versatile new piece to live in and enjoy throughout the season.
12. Embellished Tees
You could also embellish some of your simple tees with some pockets. And if you want to learn how Polkadot Chair will walk you through the easy process. Just pick some scrap fabrics that display your personality and go for it!
13. Twisted Back
Here's another brilliant way to upcycle your older white tees! Brit + Co gave us so many different hacks to transform outdated styles. This one really is perfect for a day at an amusement park or at the gym!
14. Peplum
Everyone needs at least one peplum in their closet. Thanks to Love Maegan you don't have to buy one – instead just learn how to whip one up in any afternoon with leftover tees and scraps of fabric!
15. Crop Top
The Felted Fox leaves us off with an easy crop top tutorial. What's great about this project is that you'll be able to learn how to make the skirt too. Houndstooth just got the best makeover with these silhouettes.