15 DIY Seashells Crafts To Add To Your Summer To-Do List
When the warmer-weathered months roll in, there are plenty of us that begin to dream of a beachside vacation. So, it's only fitting that seashells become a staple of the season – whether in decor or … a rainy day craft project. Now whether you're using actual shells or just their likeness, there's something really special about these small gifts of nature. Check out these 15 DIY seashell crafts to add to your summer to-do list below!
1. Hanging Planters
Brit + Co starts off our unique journey with these charming planters. Hanging designs are really trendy right now but the unique "pot" – as in, the seashell – brings in a newfound bout of style and surprise. It's really the perfect summer accompaniment to your apartment.
2. Coastal Butterflies
Green with Decor gave us a lot of inspiring ideas when it comes to working and getting creative with seashells. For example, you can take small shells and turn them into shadowbox art …. into butterflies more specifically! It's a great way to jazz up the guest bathroom or bedroom.
3. Door Hanger
You can even make a door hanger with some of those extra extra seashells you've been saving from beach vacation of the past. With some help from Home Made by Carmona you can make one of these as a welcoming piece to your bedroom or even your home office. Of course, it would also fair nicely on a covered patio or porch.
4. Oyster Candles
And then, if you have some oyster shells, you can create really cool candles by using them as the foundation. You can find the easy tutorial at Atta Girl Says. In the meantime, think of all the really cool ideas that you can use these with. Weddings, showers, summer dinner parties, bathroom decor, and more!
5. Beachy Tote
Whip up a beachy tote to take on your seaside vacay this summer! Grab a woven placemat (yes, really) and a handful of seashells for accenting – you'll probably need your glue gun as well. Then hop on over to Sweet Teal for all the instructional details.
6. Seashell Ice Cream Cone Ornaments
Handmade Charlotte has a summertime project that will sweep you off your feet and have you feeling like Christmas in July! Those seashells you've saved can be made into small little ice cream cones you can decorate the tree with. Take the leap and grab some inspo now!
7. Seashell Straws
Your poolside parties usually have a few yummy drinks up their sleeve – so why not make them a bit more festive with some of these seashell straws. The kiddos will love them especially. Visit Make & Tell to learn how.
8. Crystalized
Little Bins for Little Hands has a really great summertime project for the kids up to their sleeves. Not only is the finished look super fun but it's a fun learning experience for the little ones as well. They get to do a bit of science while school is out for the summer!
9. Choker Necklace
Some of the smallest of seashells could be turned into something really trendy and fun! This is also a wonderful DIY gift idea for the gal pals. Check out the tutorial while visiting Brit + Co.
10. Crab Tic-Tac-Toe
Hello, Wonderful has a fun DIY to dive into – and one that you can take on vacation for the family to enjoy. Turn those shells into crabs and them create a tic-tac-toe board for some intense playtime with the kids. You can even have family tournaments beachside!
11. Covered Vase
Consumer Crafts covered a vase with a bunch of seashells to ceate a fun, beachy vibe in their home space. It's a great way to decorate for summertime and add seasonal texture to corners of the house. From the guest bed to the home office, it's an easy DIY to get your hands on.
12. Wine Charms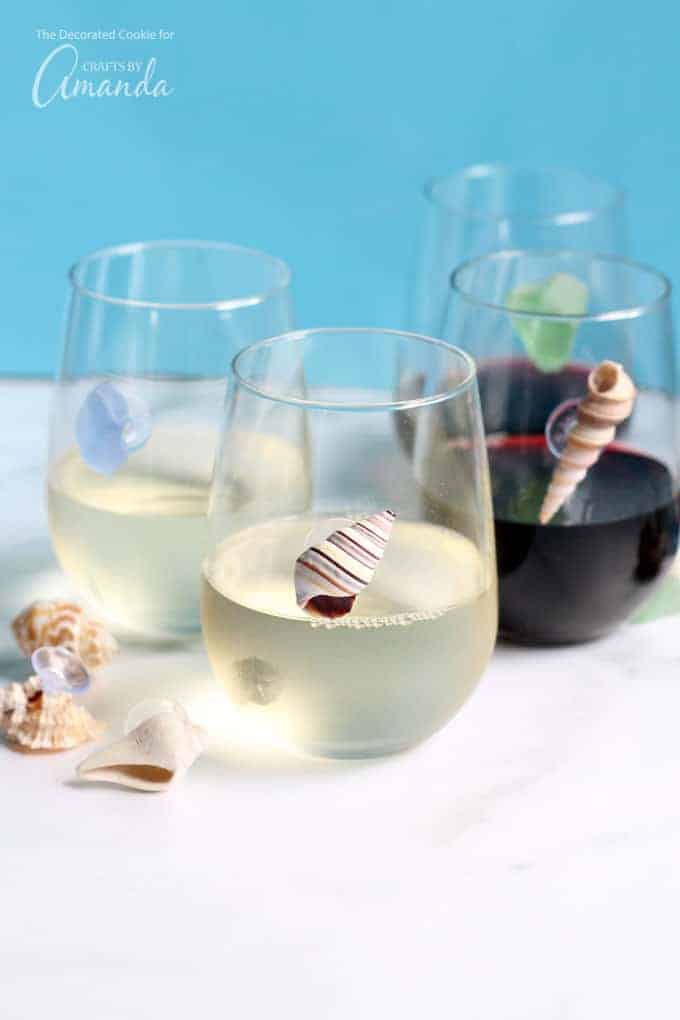 We are absolutely swooning for these wine charms from Crafts By Amanda! Top off your summertime dinner parties with markers that keep everyone's drink from getting lost in seasonal style. You just need to make sure you've got some of those mini shells to work with.
13. Rings
Crazy DIY Mom turned her shell collection into some fun new rings. The kids will want to make some of these with you – and then wear them all summer long! Grab a glue gun and the right essentials – and then dive in by the weekend.
14. Summer Mobile
We're loving this summertime mobile from Monster Circus. It's perfect for a nursery but it's also a wonderful piece of decor for other parts of the home – such as the craft room or home office. It's a similar process to creating the wall hanging above.
15. Mermaid Shell Sweatshirt
Finally, A Beautiful Mess leaves us off with this adorable mermaid-inspired sweatshirt creation. If you love a beachy vibe (and the mermaid trend), create something you can wear all year long! Hop on over now to grab the details.