DIY Rustic Terra Cotta FlowerPot
If there's anything my household loves just as much as crafting, it's gardening and houseplants! I'm actually such a green thumb that I've been looking for easy, cute ways to introduce my kids to the idea of gardening and helping them grow something nice and easy of their own. That's why we started a simple herb garden together. Because we're also such a crafty family, it only makes sense that we'd want to display our herb garden creatively somehow as well, right? We decided to paint and embellish some small terra cotta pots to plant each herb in and keep all together, and I opted to make mine a little bit rustic chic to go along with the rest of my kitchen decor!
I've always been a huge fan of crafting tutorials, so I'm sure it'll come as no surprise that I wanted to return the favour and document my own crafting process so that other DIY enthusiasts might have some guidance if they decide to try their hand at it as well. Check out these step by step instructions complete with photos! If you'd rather follow along with a video tutorial instead of written words, scroll to the bottom of this post to find just what you're looking for.
For this project, you'll need:
A terra cotta pot
White paint 
A paintbrush
Jute twine
Hot glue
A black marker
A wooden tag
Step 1:
Use your black marker to write the name of the herb you'll put in this pot on your wooden tag, then set it aside. You'll add it later like a nice finishing touch!

Step 2:
Use your paintbrush or sponge to paint the entire outside of your terra cotta pot white! I painted from the very bottom edge right up to the top lip of the pot's opening. Feel free to do more than one coat to really get opaque white coverage over the terra cotta's natural colour if you need to. Set it aside to dry.
Step 3:
Cut a trip of burlap that's a little longer than the circumference of your pot's bottom edge, then fold the piece in half width-wise so it maintains the same length but is half as thick and twice as opaque, with its two long edges lined up perfectly. Use your glue gun to apply some glue inside that fold, making little dots down its length, to stick the two halves together. Next, apply glue along one short edge of that strip and line it up horizontally with the bottom of the pot, so the long edge sits flush against the bottom edge of the pot and the end with the glue can be stuck down vertically. Wrap the rest of the strip all the way around the pot until you get back to where you started, and apply some glue on top of the first edge, sticking the strip down there where the two meet to make an overlap. Use your scissors to trim the excess and make a new, neat end. Where this seam is will be the back of your display.
Step 4:
Apply some glue about half an inch above the edge of the burlap wrapping you just finished, on the front of the pot opposite to where you just glued the burlap ends down at the back. Position your wooden sign how you'd like and press the centre of its back down into the glue there. Now you'll always know which herb you planted in that pot!
Step 5:
Do some jute twine wrapping around the top of your terra cotta pot! Apply a small line of glue about half an inch long from the top edge of your pot downwards and stick the end of your jute string down in the bottom of the glue line, positioned so you can wrap the string around horizontally. Start wrapping and, when you get back to where you started, move the string up a little to keep spiralling around next to the first string you laid down, so the two lie against each other. Keeping wrapping and spiralling the string upwards towards the top edge like this; your string will pass through the lie of glue with each wrap, holding it in place well. When you get to the top and there's no room to wrap anymore, carefully trim a new end. If you've finished in a place that isn't the top of the glue line you made before, use your glue gun to stick the freshly trimmed tip down neatly and discreetly.
Step 6:
Make a little bow from your jute twine! Curl the end inwards in a looped shape towards the rest of the string, letting a half inch of excess or so cross over itself when you make your loop. Apply a dot of hot glue where the two pieces cross to anchor the loop in place. Then curl a loop inwards and cross over that new centre point in the same way from the other side, applying another dot of glue to hold the second loop in place as well. Use your scissors to trim the ends evenly. Now, turn your bow around and apply how glue to the centre of the back, then stick it down on the front of the jute wrapping you just completed at the top of the pot, putting it right in the middle so it looks like the ends of your wrapped strings have been tied there in a neat bow.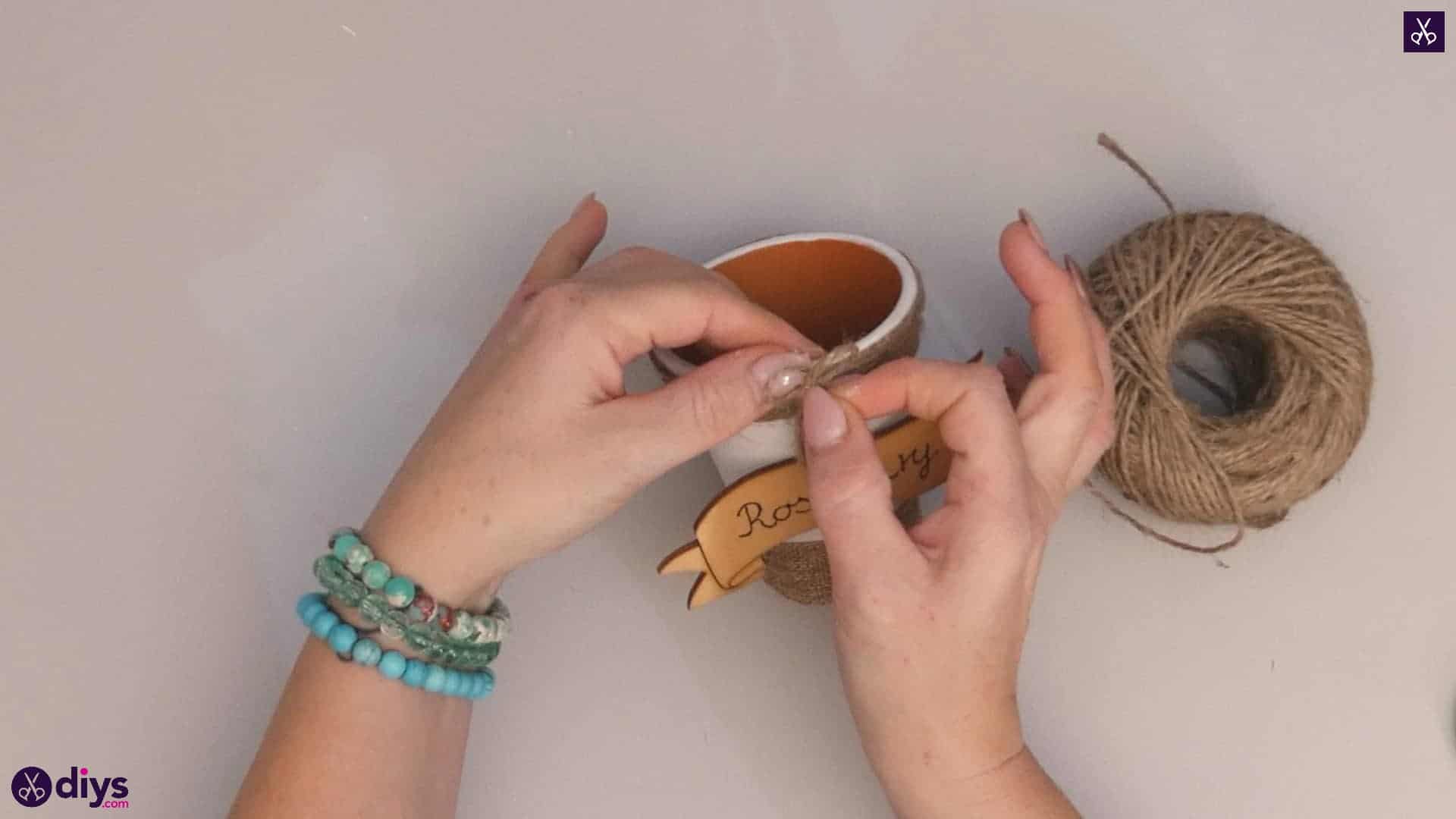 You're all finished! We made several of these little pots together, mine all rustic themed, and it's very fun to follow the aesthetic theme but change up the little details and elements. Just in case you'd like to try this project out for yourself, here's a fantastic tutorial video to help you!