DIY Projects Using Alcohol Inks
If you, like us, are the kind of DIY enthusiast who adores keeping up with trends in the crafting world and trying your hand at each thing that becomes popular, just to see what everyone is raving about? Then we're sure you probably know all about alcohol inks already! They're one of the latest projects to sweep the attention of DIY enthusiasts across the globe and the moment we started looking up tutorials with the thought to try our hand at it ourselves, we could immediately why everyone is so obsessed! These inks look almost like watercolour paintings but they have the ability to adhere to all kinds of different surfaces rather than just paper, meaning you can make almost anything look like a colourful, swirled masterpiece! Needless to say, we fell into a spiral of beautiful images and painting possibilities the night our curiosity got us searching for ideas and now we feel like we can't get enough of them.
Just in case you're as obsessed with the idea of trying out stunning alcohol ink projects as we were, if not more, here are 15 of the most stunning and unique ideas, designs, and tutorials that we've come across in our search so far!
1. Stunning fired alcohol ink wall art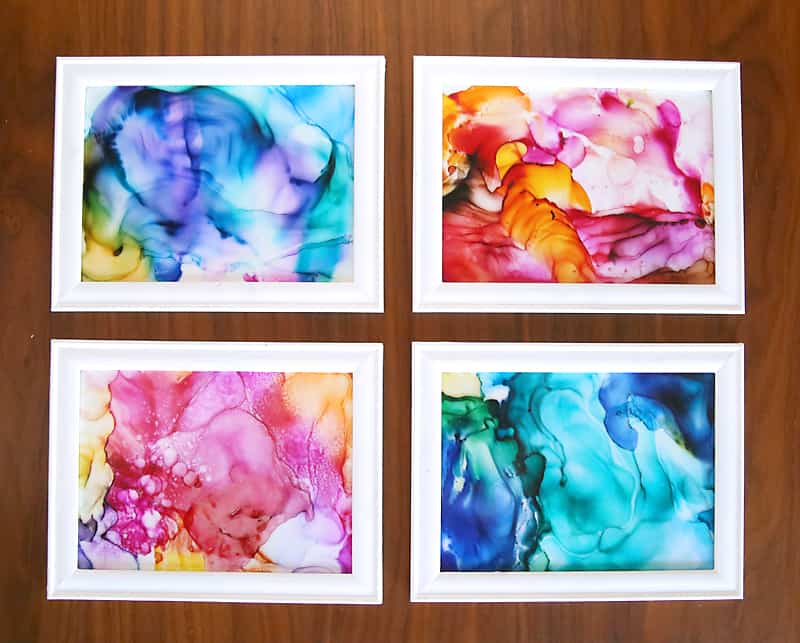 Are you the kind of advanced crafter who is always looking for ways to take a basic technique to the next level so long as it means making your finished project a little extra gorgeous? In that case, we'd definitely suggest taking a look at how It's Always Autumn made these stunning framed alcohol ink paintings that are actually fired! Yes, you read that right; part of the reason these designs have so many lovely swirls and bubbles within them is that the colours are moved around on the page using real fire. Take a look at the tutorial to see how you can do it nice and safely with a lighter!
2. Heated vinyl and wood alcohol ink art (without the fire)
Are you absolutely enamoured with the idea of making stunning wall art from alcohol inks and you even adore the aesthetic of the swirling fired paintings you saw above, but you're just not sure that you want to be working with an open flame since your kids are often close at hand while you craft? Well, if you're a regular DIY enthusiast who has all the tools under the sun and you happen to have a heat tool, then maybe you'd prefer moving your alcohol inks around with that instead! Crafts Unleashed shows you how they made this stunning art on vinyl that has been mounted mounted on a block of wood and then heated with a heat tool. We know that not everyone has access to such tools, however, so we tried it out with a small blowdryer instead and we're pleased to report that it worked just as well and created stunning blown shapes too!
3. Alcohol ink washer necklace pendants
Are you perhaps so in love with the way that alcohol ink swirl and bloom around and within each other that you can't stop wishing you could wear them around all day, just to make sure everyone can see how beautiful the effect is? Then we have a feeling you might get along very well indeed with these alcohol ink painted washer necklaces, particularly if your personal style is along the lines of being upcycled chic or even a little industrial influenced. Get the full details for making this project happen on Sarah Jane's Craft Blog.
4. Swirling alcohol ink coasters
Have you actually always preferred to display your DIY skills in the form of smaller decor pieces that are actually useful and a little more practical, rather than being just decorative? Then we have a feeling these stunningly colourful homemade alcohol ink coasters might be a little more up your alley. My Good Morning guides you through the process of making them out of ceramic tiles.
5. Stamped alcohol ink art
Did we actually really catch your attention when we started talking about the fact that many pieces of art that are created with alcohol inks look like watercolour paintings? Then we think you'll be quite pleased to learn that there are actually tutorials out there that will teach you to sort of paint with them in a similar technique on purpose to get that gorgeous effect! We're particularly fond of the way The Graphics Fairy used stamps to create the dark outline of a butterfly and fill it in with a wonderful splash of colours using their alcohol inks and more stamping.
6. Alcohol ink and Shrinky Dinks pendants
Were you a huge fan of the idea of using alcohol inks to make jewelry but you were actually hoping to get your kids in on the project too, so you're looking for something with a fun twist that might really keep them occupied? Well, our kids have always been huge fans of Shrinky Dinks and all things made using those as a base, so we'd definitely recommend taking a look at how Sarah Jane's Craft Blog made necklace pendants by combining those with their alcohol ink techniques!
7. Alcohol inks on ceramic tile pieces
Did we actually really catch your attention with the idea of putting alcohol inks on ceramic tiles because you have some leftover from the last home renovation project you did? Then we think you'll be rather pleased to learn that coasters aren't the only things you can make using those two materials! The Graphics Fairy suggests adding colour to tiles of all kinds in order to make different decor pieces or even different kinds of jewelry if your pieces are quite small.
8. How to make your own alcohol inks
What if you've been feeling positively desperate to try alcohol inks and all their different techniques but they're so trendy that all your local crafts stores have been out of them for the last few months? We actually encountered that problem as well recently but instead of giving up or waiting patiently, we couldn't help starting to wonder whether we might be able to actually make alcohol inks ourselves, since we adore making things from scratch anyways. We're sure you can imagine how pleased we were, then, to come across this DIY alcohol ink tutorial outlined nice and clearly on Polymer Clay Tutor! We've had the opportunity to use both these and the store bought kind now and we're pleased to report that these absolutely compare!
9. Alcohol inks blown through a straw
Are you actually still scrolling through our list and thinking about how much you adore the look of the alcohol ink art pieces where the ink has been blown around by some method or other, but you're still hoping that you might come across a more child friendly way to do it if you keep looking, since your kids are such trending art fans as well? In that case, we have a feeling you'll appreciate this drinking straw version of the same idea we've shown you very much indeed! The Graphics Fairy shows you how it's done in just a few simple steps.
10. Alcohol inks on glass marbles
If we're being honest, we've actually always loved glass marble projects so much that we're pretty sure we could write an entire post just on that! One of our favourite things to do with them is create jewelry, so we're sure you can imagine just how excited we were to come across this tutorial from Sarah Jane's Craft Blog that shows us a way to combine both of those things with our newfound love for colourful alcohol inks.
11. Blown alcohol ink glass ornaments
Are you still feeling quite intrigued by this whole idea of blown ink projects because you adore the way the colours bloom and splatter in all different shapes and visual textures… but you've also always preferred projects that have a little more structure, rather than just working on a flat surface? In that case, we have a feeling this fantastic hollow glass ornament art outlined step by step on By Stephanie Lynn might be right up your alley! Their tutorial shows you how to drop in a small amount of ink and use a straw to move it around the glass surface, layering colours carefully as they dry.
12. Alcohol inks on metal pieces
Were you perhaps very intrigued indeed by the idea of using metal to make colourful DIY jewelry but you're just not sure that simple rounded washers are quite the aesthetic you were aiming for? In that case, we think you might actually get along a little better wit something like this tutorial from The Graphics Fairy that shows you how to make something similar from small metal pieces like upcycled cogs and clock parts! The finished product is almost steam punk looking in its effect.
13. Alcohol ink applied with plastic wrap
Now that we've talked about several different ways to apply alcohol ink to various types of surfaces, are you finding yourself intrigued to learn about as many different techniques and textures as you can? Then here's another one for your crafting skill arsenal! Check out how Sarah Jane's Crafting Blog made a beautifully colourful glass vase by applying the inks using a plastic wrap technique that creates a nearly whimsical looking effect across the surface.
14.  DIY alcohol ink switch plates
Well, by now, we've talked you through just about all of the different textured and visual techniques we could find, but that doesn't mean you've seen everything there is to create with alcohol inks just yet! Here's another project idea, just to get you inspired to get creative right down to even the smallest details of your home. Check out how Fibre Artsy used alcohol inks to makeover their switch plates! We really enjoy their darker colour scheme to create contrast with the rest of the room.
15. Alcohol inks on glass microscope sliders
Did you quite enjoy the shape and aesthetic of the Shrinky Dinks and alcohol ink jewelry pendant we showed you earlier on our list but you're just not sure you actually want to work with the Shrinky dinks themselves because you've never really liked the feeling and you find hat they don't always come out as neat and evenly as you'd please? Then we'd definitely suggest taking a look at how The Graphics Fairy made a similar design using glass microscope sliders as their base instead!
Have you made other super fun and absolutely stunning alcohol ink art and DIY projects that you had a blast creating and adored the finished products of, but that you don't see anything quite similar to on our list? Tell us all about how you made it or link us to photos of your work in the comments section!