14 DIY Planters To Create For Both Inside and Outside The House
A great way to add a breath of fresh air to your home is to add some greenery here and there. From succulents to small plants, the bouts of organic tones and textures will definintely help to transform your space into something brand new and full of positive energy. But do so with style! These 14 DIY planters are perfect for both inside and outside the house!
1. Clay Houses
Say Yes begins our journey with this Scandenavian-inspired design. These minimalistic clay houses are easy to construct and fun to decorate with. If you do want some color, they're also easy to personalize with some paints.
2. Dinos
Toy dinosaurs are a great way to add personalized pizzazz to your green thumb efforts. Learn how to upcycle these cuties over at Maggie Overby Studios. A bit of gold spray paint turn them into youthful, modern decor pieces.
3. Tea Tins
Sisoo used vintage tea tins for her planting efforts. We love how this will easily give the space a cottage-inspired feel. Use a collection of these on the windowsill to decorate the breakfast nook.
4. Hanging Macrame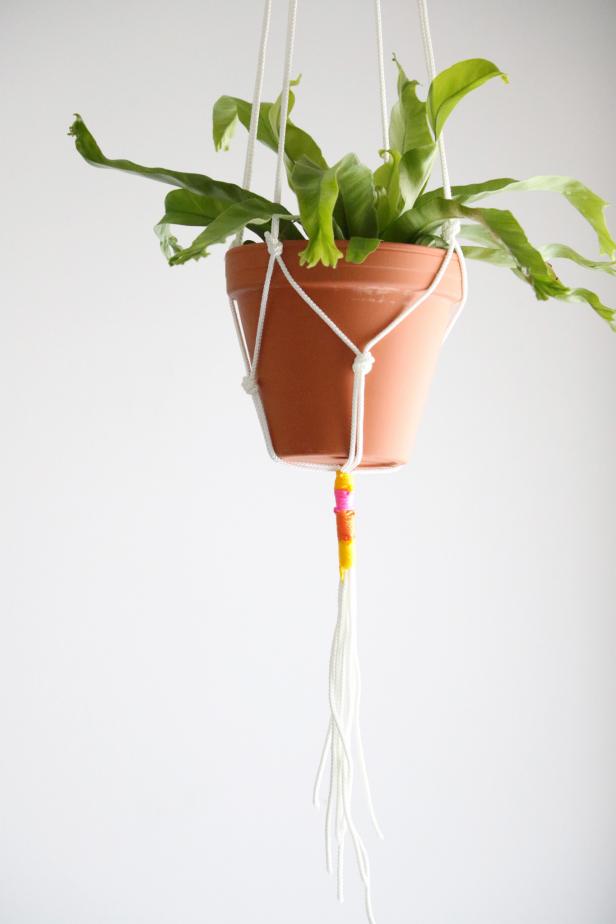 For those with a more bohemian spirit, check out this hanging macrame planter. We love the ease of this beauty and how this would make the covered porch even more welcoming. Check out the instructions at HGTV.
5. Crystals
Crystals may be our favorite planter idea on the list. If you hop on over to Jojotastic, you'll see how you can take crystals and turn them into a new home for your tiniest of greens. What's great is out these will fit nicely into any nook or cranny of the house.
6. Chandelier
If you like the idea of hanging planters, then you'll want to take a closer peek at this chandelier idea. At The House That Lars Built you'll learn how to take the beauty of those classic light fixtures and turn them into sky-fixed gardens.
7. House Number
Even your house number could be the perfect place to plant some greens. Check out Sarah Hearts to follow along with this modern yet farmhouse-inspired improvement project. It's a great way to personalize and add a welcoming touch to the front door.
8. Confetti
We're really digging this idea from A Kailo Chic Life. It's youthful and fun – and it's a great one for the kids to help with. Add some special pizzazz to the bedrooms or dorm areas with this one!
9. Marbleized
Marble prints are really trendy right now, so it's only natural that we found a planter that dawned the contemporary look as well. And that's exactly what the beauties behind we must be dreamers did with this piece. Take the leap and learn how to make your own now!
10. Gold Cans
Old cans can turn into modern planters in an afternoon. Grab some metallic paints and get to work. We love the "contemporary art" feel of this finished product from Pillar Box Blue.
11. Mixed Material
Mixed materials work well within all genres and if you're looking to bring some style to your outdoor areas these concrete and wooden planters are precisely what you need. The tutorial is over Classy Clutter if you want to check it out!
12. Ties
Who knew that ties could work as hanging planters too! It's such an innovative and fun idea. And it's as easy as it looks for out smaller greens. We found this idea at ModCloth!
13. Textured
You can get fun with your outdoor designs too. These textured pieces from Design*Sponge gave us so many ideas! Mostly though, we think they'd be extra special with a bout of color to personalize.
14. Disco Ball
Finally, if you visit out friends at A Bubbly Life you'll swoon for this small, disco ball planter. Perfect for home offices or dorm room desks, it'll add a party to any layer you add it to. Just grab some disco ball ornaments to begin the project!