15 DIY Cat Trees – How To Build A Cat Tower
When it comes to making crafts that we'll be giving away, we'll fully admit that we can be found making DIY things for our pets just about as often as we can be found doing so for our family and friends. Pets are family too, after all! There's just something so satisfying about making things for them ourselves rather than buying them in stores. That's why, when we decided it was time for our cats to get a new cat tree, we felt really determined to make it ourselves! We've been scouring the Internet for tutorials and info that might help us out and we've been pleasantly surprised by just how many helpful resources we've come across in the process.
Are you feeling just as enthusiastic as we were, if not more, about the idea of making your very own DIY cat tree? Check out these 15 awesome ideas, designs, and tutorials that we've come across so far in our search!
1. The ultimate DY cat tree
If you're going to put in all the time and effort it takes to make your very own cat tree, do you want to make it just about the ultimate piece you can so that your cat has all kinds of levels and pieces to enjoy? Then we'd definitely suggest taking a look at how Eamon Walsh DIY made this awesome piece with ramps, platforms for sleeping on, and blocks for hiding. They even give you tips for customizing the piece a little.
2. Simple two-platform sisal rope cat tree
Are you somewhat new to the world of DIY and handiwork and this is your first time actually constructing a standing piece of any kind, so you need a bit of help and a simple design? Then we're pretty sure this tutorial from Instructables has just the kind of tutorial and design you're looking for, just to keep things manageable!
3. Cat condo from stacked IKEA tables
Are you feeling a little unsure about the concept of constructing something from scratch, so you can't help wondering whether there isn't a design out there that will let you alter and embellish things to make a fantastic tower instead? Then maybe it's time to repurpose some furniture! We love the way this tutorial from IKEA Hackers shows you how to make a multi-level cat tree from some simple IKEA tables.
4. DIY Star Trek themed cat tree
Are you actually quite handy indeed and feeling confident, enough to be up for a slight challenge? Well, if you're also a total Star Trek fan, then we think you just might be the perfect person to give this awesome cat tree that's shaped like the Starship Enterprise a try! Get the full details for making it happen on Instructables.
5. Cut and wall mounted stool cat tree
Are you feeling very intent indeed on making your cats a tree to climb but you don't actually really have the floor space to spare for some of the free standing designs you've seen so far? Then we're pretty sure you'll get along better with this space efficient wall mounted cat tree instead! IKEA Hackers shows you how to do it in a way that actually looks like a little tree scaling the wall, with platforms for your cats to sit on where the branches might have bundles of leaves.
6. Multi-level cat tree with fabric and jute rope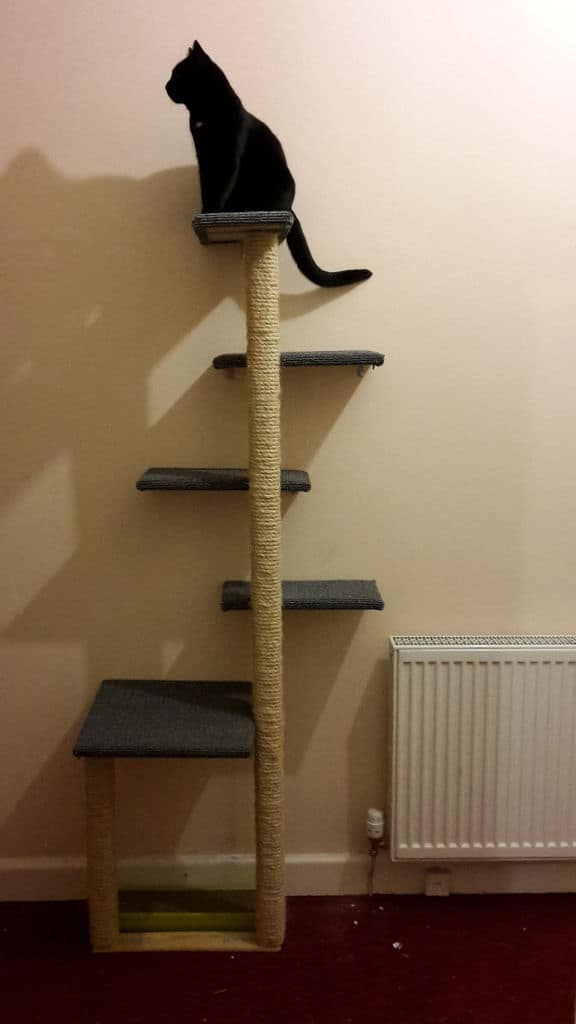 Do you like the idea of a cat tree that actually looks like a tree, and even that sits right near the wall, but you know your cat will claw it like a scratching post so you'd rather use something besides wood? Then we'd definitely suggest taking a look at how Instructables made this 3D tree and wrapped the whole thing in fabric and jute rope so your cat actually has something really satisfying to scratch at.
7. Carpet covered cat tree with a hammock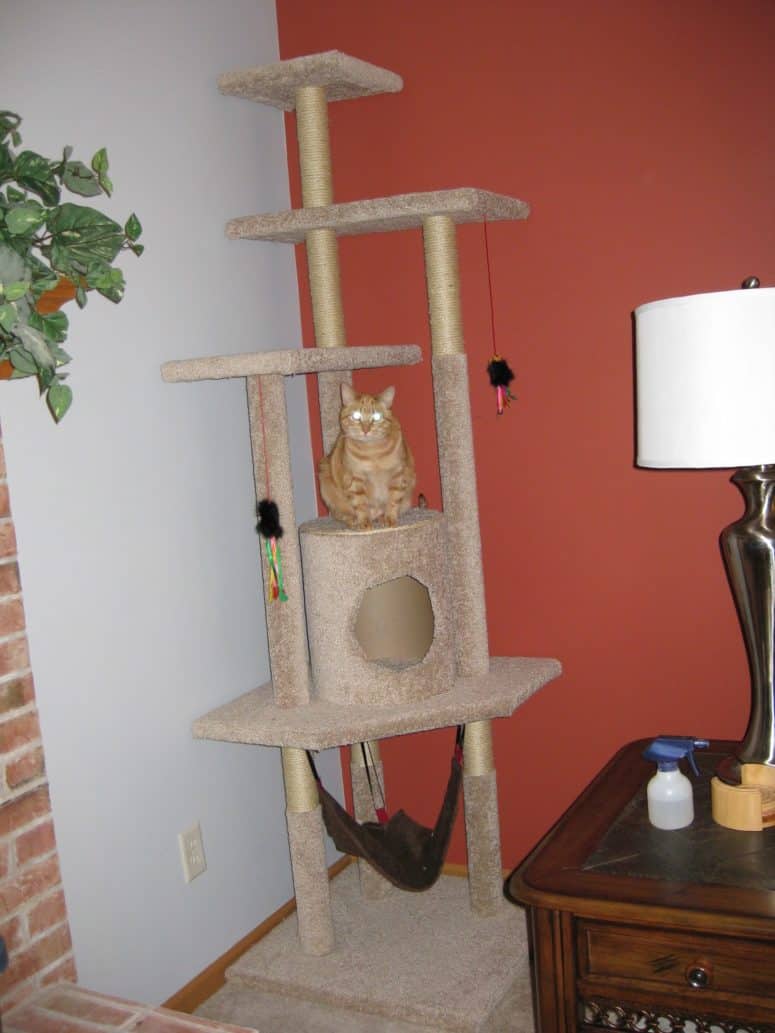 Are you torn somewhere between wanting to make the ultimate cat period with all kinds of platforms and wanting to make something that's really awesome for your cat to scratch on, but you're having trouble choosing between the two? Well, who ever said you have to choose? Instead, try making yourself something like this carpet covered cat tree with lots of platforms and even its own hammock! Pickle Perfect has all the details you'll need to make it happen.
8. Wrapped pole and basket cat tree
Are you feeling intent on making an awesome cat tree for your furry friends but you've noticed that they don't tend to sit on things, they'd rather sit in them? In that case, we think this alternative tree idea from HGTV might be a little more up your alley! They show you not only how to construct the tree itself but how to attach strategically placed baskets so your cat has all kinds of cozy places to curl up in.
9. Tall cat tree with a cat house
Is your cat the kind of little critter who loves being up high where they can see the whole room, watching what everyone's up to from the top of a cupboard or the space on top of the fridge? Then perhaps you'd be better off making something like this awesome extra tall cat tree with a little cat house at the very top that's perfect for keeping watch from. Instructables nhas a full guide for you to follow. `
10. Varied carpet cat tree
Are you just not sure that you have enough room to build some of the larger, taller designs you've seen so far, but you're also intrigued by this whole idea of making something that actually looks like a little tree, just for fun? Then we think you might have some better luck with this little tree design from Instructables that's covered in different colours and textures of carpet, making it really great for scratching.
11. Zen garden cat tree
If you're going to put all kinds of effort into making something rather large that will sit in the middle of your room, would you much rather turn it into something that's also as visually pleasing as it is functional for your kitty? Then we think you simply must take a look at the way By Brittany Goldwyn made this impressive cat tree from actual branches that's modelled after a zen garden, complete with polished stones at the base!
12. Three-level carpeted at tree with a bed on top
Are you still a beginner in the grand scheme of things when it comes to constructing pieces that will be free standing, so you're still looking for a design that's very simple indeed and you're not feeling settled on anything in particular yet? In that case, we think you're going to get along just fine with an effective, straight forward tutorial like the one from DIY Network!
13. DIY cat tree with a water shelf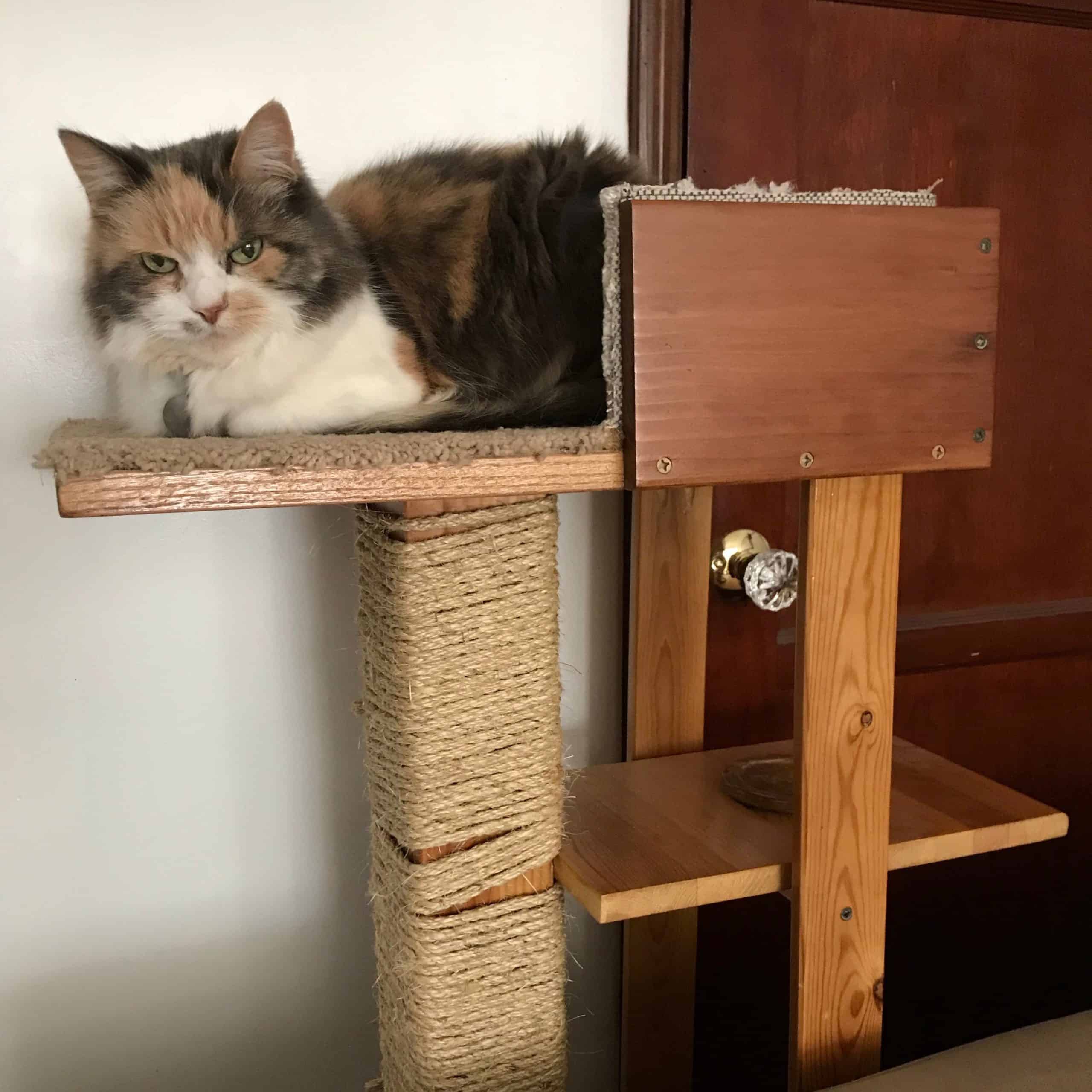 Does your cat actually love being high up so much that you can bare'y get them to come down off their current run-down cat tree unless you're feeding them? Well, since you're making them a new one anyways, then we think you might get a kick out of the way Medium made a basic cat tree that's already a great design on its own, but also features a little water tray, just to make sure any kitty who prefers to be up high still gets plenty of hydration.
14. DIY cat play tower made from actual trees
Have we piqued your attention the best so far with the concept of making a cat tree from actual wooden tree branches but you're just not sure that the rocky zen garden design we showed you earlier is quite the direction you want to take things in? The maybe you'd do better giving this alternative tutorial from Southern Revivals a little bit of consideration instead!
15. Small, low cat tree
Have you come to the end of our list feeling just as determined as ever to make your own DIY cat tree but you already know that, since you live in a small apartment, you're going to have to make one that's much littler than most of what you've seen on our list so far? Well, don't stress, cause that doesn't have to mean you're out of luck! Check out this tutorial from Ellie Jay that teaches you how to make a smaller, shorter cat tree that your at will still love.
Do you know another DIY enthusiast who has been feeling intent on the idea of making their very own cat tree but who still feels like they could use a little bit of guidance? Share this post with them so they have all kinds of inspiration and information to work with!