Creative, DIY Basement Room Ideas
Even if you're not a contractor, there are plenty of ways that you can get involved with redoing a pivotal room in your house. That's the situation we've found ourselves in recently in our desire to redo our basement! We're trying to be as active and creative as possible when it comes to things like making decor pieces and choosing aesthetics and colour schemes ourselves rather than hiring interior designers. Basically, we've been on the lookout for any resource that will help us get creative and fun with the basement space we have available!
Just in case you love the idea of thinking creatively about what to do with your own basement just as much as we did, if not more, here are 15 awesome tips, tricks, and suggestions for making the most of your lowest floor.
1. Balance functionality and aesthetic
Are you planning to do a rather large overhaul of the basement area but you're unsure about how best to use the space, before you even start thinking about things like decor and style? Then maybe reading through these suggestions from Sebring Design Build for balancing aesthetic and functionality might help! They suggest things like blending art and entertainment with additional living space, especially if you have a big family.
2. Try grey schemes for sophistication
Perhaps you're looking for a few suggestions that will help you take your new basement to the next level in terms of class and sophistication, just to make sure it looks like another beautiful room in your house and not an actual, typical basement like it used to? Then we think perhaps you'll enjoy the way Bob Vila suggests using calming grey tones in your colour schemes for a refined look. Of course, just because you're using neutrals like grey doesn't mean you can't include a decorative pop of colour here and there too!
3. Change the window frames
Have you actually already got most of your basement's makeover chosen and organized but now you're looking for tips on how to refine the details and really ensure that the space looks like a room and not a basement? Then we'd definitely suggest giving some thought to the way They Design talks about the visual impact replacing the frames around those small, high up basement windows can have. They'll always look a little typical of a basement because of where they have to be placed, but that doesn't mean they can't be well framed like any other window in your home!
4. Create a home theatre or movie room
If you're the kind of lucky soul who has a larger budget and the ability to really overhaul your basement into a diverse and fun extra space, why not go all out and create something like this fantastic home theatre space featured on Love Home designs? Providing that your basement is already finished and just awaiting customization, making your own home theatre is actually a lot less expensive and difficult than people often think.
5. Make a kids' space with lots of simple storage
In our house, movies aren't often watched without a whole lot of play time happening too, so perhaps you'd rather customize your newly finished basement to be less like a formal home theatre and more like a kids' media and play room? Personally, we're huge fans of the way 24 Cottonwood Lane suggests turning part of the room into a storage spot for the kids' toys and trinkets, giving them lots of cubbies and space to put things so the room stays clean.
6. Ways to make your basement look brighter
Just in case you feel like you could use a bit of guidance when it comes to letting more light into your dark basement before you get down to business on working on it, here's a great resource from Quiet Corner! They walk you through all kinds of tips and tricks for letting light flow, including putting it scattered potted ceiling lights and leaving space for a full length glass patio door if the structure of your home allows for it.
7. Evaluate all the costs before choosing a style
maybe you're feeling quite confident in your ability to choose aesthetics and styles because you're a creative, fashionable person and you've got some experience in home decor, but this is your first time preparing for an entire overhaul of a larger space? Before you begin setting your heart on ideas and details, we'd suggest reading things like this discussion from Realtor that speaks about why you should analyze all of your project's costs before you start making plans when it comes to what style of room you'd like. This way, you're not disappointed later when you realize the aesthetic and details you were picturing in your mind are actually too hefty or convoluted to get right without going over budget.
8. Tips to jazz up unfinished basements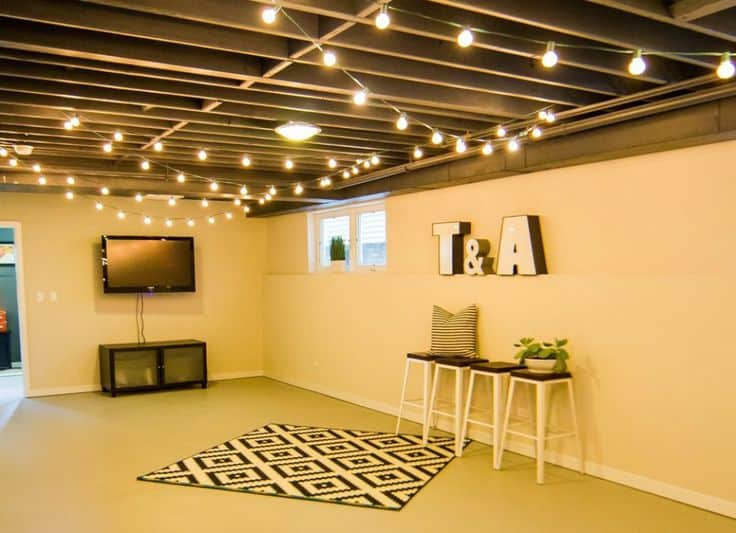 Perhaps your basement is actually still unfinished and, even though you're not ready to take on the project of transforming it entirely yet, you're looking for some pointers for making the most of the space you currently have? In that case, we think you'll appreciate these little tips from Bob Vila that suggest some lighting, decor, and media tricks to make the space feel more comfortable and interesting to be in so that it actually gets used and doesn't go to waste.
9. Consider your basement ceiling
When it comes to transforming a basement space, creating the new ceiling is something that people often find themselves forgetting about, feeling stuck on, or torn between ideas for. How best to cover up those rafters and open space boards from when it was unfinished? Well, there are a few techniques, but we're pretty partial to how well Art of The Arcade discusses ideas like this simple painted wood basement ceiling that contrasts well with the unpainted wooden floor you see here.
10. Cool unfinished basement bedroom
Did we really catch your attention when we started talking about ways to make use of your unfinished basement, but you're also thinking about how much you wish your house had an extra bedroom besides your main ones upstairs? In that case, we'd absolutely suggest taking a look at how Mid-City East features and talks about the idea of using simple features like soft floor mats, string lights, and DIY decor to make an unfinished basement bedroom that feels very comfortable indeed.
11. Make a classic unfinished games room
By now, we're sure you can tell that there are plenty of different ways to make use of your basement space whether it's finished or not, but we've always been a little bit enamoured with the concept of keeping a basement un- or hardly finished and turning it into a games room. It's just such a classic idea and not as many people do it as they used to since big media rooms in finished basements became so popular! That's why we were so intrigued by this feature on Climate Gate that suggests putting vintage gaming tables like ping pong, pool, air hockey, and foosball in your basement for a bit of old fashioned entertainment.
12. Make storage a priority
Whether you intend to finish your basement or not, we think it's a pretty good idea to heavily consider what Luxury Busla listed as one of their biggest priorities: storage! No matter how you plan to use the room, we all know that the basement is kind of like the garage; a place where the spare things that won't fit in the rest of your home will absolutely end up. The more discreet, stylish, and space efficient storage you put in your changed basement space, the more places you'll have to put things where they won't take over the extra room you could be using instead!
13. Embrace rustic themes in old basements
Perhaps your basement is very old and you're looking around at the whole beams and traditional looking finishes wondering how best to update, transform, and make better use of the space? Then we'd definitely suggest taking a look at how DIY Home Decor Guide talks about the concept of embracing a lot of that old, rustic feeling and incorporating it right into your aesthetic! For example, we adore the way this house kept some of the old wooden beams exposed for a bit of extra character.
14. Balance basement floor pros and cons
We already talked about carefully considering how you'll make over your basement ceiling and what you'll use, but don't get distracted by that and forget about your floors! After all, most basement transformations from unfinished to finished involve the very important step of covering a hard, chilly concrete floor, like you see here with this new wooden one. Take a look at The Spruce to get some more information about carefully considering your flooring options so you can make the very best choice for your home and your needs.
15. How to finish the basement yourself
Are you actually considering skipping the contractors and work teams all together and taking your basement from an unfinished lower floor to a finished room all by yourself? Well, we believe in you, but we'd also suggest doing as much research as possible first! Here's a great resource in the form of How to Finish My Basement, which walks you through suggestions, tips, and common mistakes to avoid.
Do you know another DIY and decor enthusiast who has been thinking about giving their own basement an overhaul to some degree but who you're convinced could use a bit of guidance and inspiration along the way? Share this post with them so they have a little extra help!