50 Different Pancake Recipes To Wake The Family Up With
From lemon to chocolate chips, pancakes respond well to a lot of different and fun flavors. With a bout of syrup and a side of crispy bacon, you'll have breakfast in the bag with some of these ideas we've scouted out. Wake the family up with any one of these 50 different pancake recipes this weekend!
1. Classic
Baker Bettie starts us off with some classic pancakes that will wake everyone up on the right side of the bed. Serve it up with scrambled eggs and some extra crispy bacon or sausage links!
2. Coconut Oat
If you like tastes that are a bit sweet, then you'll be loving these coconut oat pancakes. Grab the recipe from A Kitchen Café.
3. Whole Wheat Peanut Butter
It's really hard not to love peanut butter, no matter what its form is. And with these peanut butter pancakes from Cooking LSL, everyone will be a happy camper.
4. Skinny Funfetti
Something Swanky makes a batch of funfetti pancakes but without all the guilt. Check out this "skinny" recipe" after the jump.
5. Greek Yogurt
Creme de la Crumb made some Greek yogurt pancakes that are both moist and delicious. Follow along and snag the recipe for the weekend.
6. Nutella-Stuffed Cinnamon Sugar Donut
If you really want to indulge, this recipe from Cafe Delites is a must! Check out all the goodness behind these cinnamon sugar and Nutella-filled beauties now.
7. Healthy Red Velvet
Sprinkle of Green turned red velvet into something that you can indulge in without too much of the "bad."
8. Whole Wheat Chocolate Chip
These chocolate chip pancakes are so good they can be eaten on their own with no topping at all! They can easily be a grab and go option for the entire family. (via)
9. Vanilla Cinnamon Buttermilk
The Chunky Chef took classic buttermilk pancakes went up a notch in flavor. These fluffy bites are filled with vanilla and cinnamon too!
10. Hot Chocolate
Handle the Heat will satisfy sweet teeth all around the table with these hot chocolate pancakes. They're perfect for a special occasion like Christmas morning or even a birthday!
11. Cinnamon Roll with Cream Cheese Glaze
You can even make pancakes inspired by cinnamon rolls. Just visit Midget Momma to snag the recipe.
12. Maple Buttermilk
Food and Wine added a bit of maple to their buttermilk pancakes to make them a bit extra special. Top with fresh fruit and enjoy!
13. Paleo Mexican Hot Chocolate with Salted Dulce de Leche
Healthy Maven made a hot chocolate version pancake too. This time they're paleo-friendly though with a bit of heat.
14. Maple Bacon Poppers
What about some small pancakes that you can just pop in your mouth as you're running out of the door? Food Fanatic combined bacon and maple for extra deliciousness.
15. Pumpkin with Buttered Pecan Maple Syrup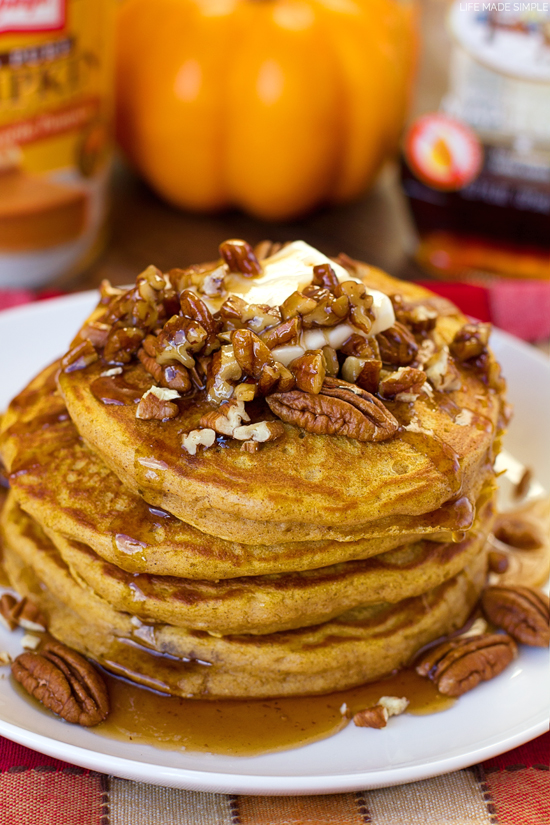 These pumpkin pancakes will start your morning off on the right foot. But it's the buttered pecan maple syrup that will take it to the top! (Life Made Simple)
16. Chocolate Chip Pomegranate
Girl in the Little Red Kitchen chose chocolate chips and pomegranates to make their breakfast extra special. The sweetness of the chocolate and the tartness of the fruit will play nicely together.
17. Tropical Almond
Brit + Co topped their almond pancakes off with some tropical fruits paying homage to the summer months. Check out the recipe after the jump.
18. Cookie Butter
If you feel like you want to indulge a little bit, then you'll want to visit Brit + Co right now! These cookie butter pancakes will give your the most wonderful daydreams.
19. Banna Oat
Banana oat pancakes sound pretty delicious too. Grab the recipe over at Blessings + Good Food!
20. Lemon Ricotta
Garlic My Soul has a recipe that's become a personal favorite of my own. Lemon ricotta pancakes are moist and are best served with a bit of powdered sugar and syrup.
21. Blueberries
Blueberry pancakes are a classic breakfast dish and that means you've got to have a great recipe tucked away inside your recipe book. Snag this one from Baker by Nature!
22. Chocolate Peanut Butter Cup
For peanut butter cup lovers, Kevin & Amanda made something that's not only beautiful to look at but indulgent and delicious to dive into! Follow the details after the jump.
23. Cinnamon Orange
Rhubarbarians knew that cinnamon and orange flavors bode well together too. Brighten up your mornings with a batch of these refreshing beauties.
24. Banana Almond Pancakes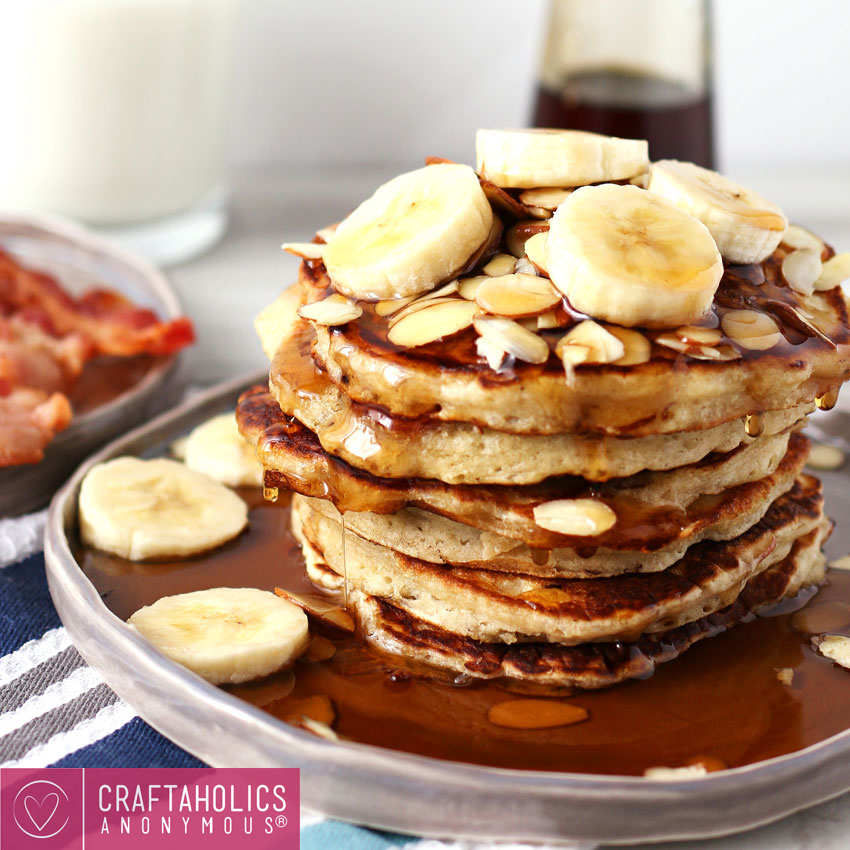 Here are some banana almond pancakes that you'll be more than satisfied with. You'll just need to visit Craftaholics Anonymous to get started.
25. Apple Pie
If you love a nice, warm slice of apple pie, then you'll really love a plate filled of freshly-made apple pie-inspired pancakes. Thanks for the inspiration Averie Cooks!
26. Maple Bacon
If you want a bite that's a bit more savory, then check out these maple bacon pancakes from Almost Supermom! You'll already have the bacon so all you'll need are some scrambled eggs at their side.
27. Key Lime Pie
Peas and Crayons made a light and refreshing batch of key lime pie pancakes that we're very excited to try! Just don't forget the dollop of whipped cream on top!
28. Oreo
Grandbaby Cakes gives us an awesome – and innovative – recipe fro Oreo pancakes filled with cookies and cream goodness. These need chocolate drizzle to finish them off right.
29. Orange Sweet Roll
No. 2 Pencil made a batch of orange sweet roll pancakes that are perfect for celebratory mornings or a way to start off Sunday brunch! Take the leap and snag the recipe now.
30. Chia Oat Banana
These chia oat banana pancakes are filled with healthy, good-for-you ingredients but they taste great too! We love the addition of fresh fruit too! (via)
31. Raspberry Swirl
Do you love the tart sweetness of a ripened raspberry? Then you'll love these raspberry swirl pancakes from Well Floured!
32. Lemon Poppyseed
Lemon poppyseed pancakes can be fun too! Visit The View from Great Island and follow along with the easy recipe.
33. Toasted Coconut
These toasted coconut pancakes will brighten up any morning. Two Peas & Their Pod give us all the details on how to make breakfast just a bit sweeter.
34. Gingerbread
We found the most perfect pancakes to whip up on Christmas morning. You'll just have to visit Six Sisters' Stuff to grab the recipe.
35. Double Chocolate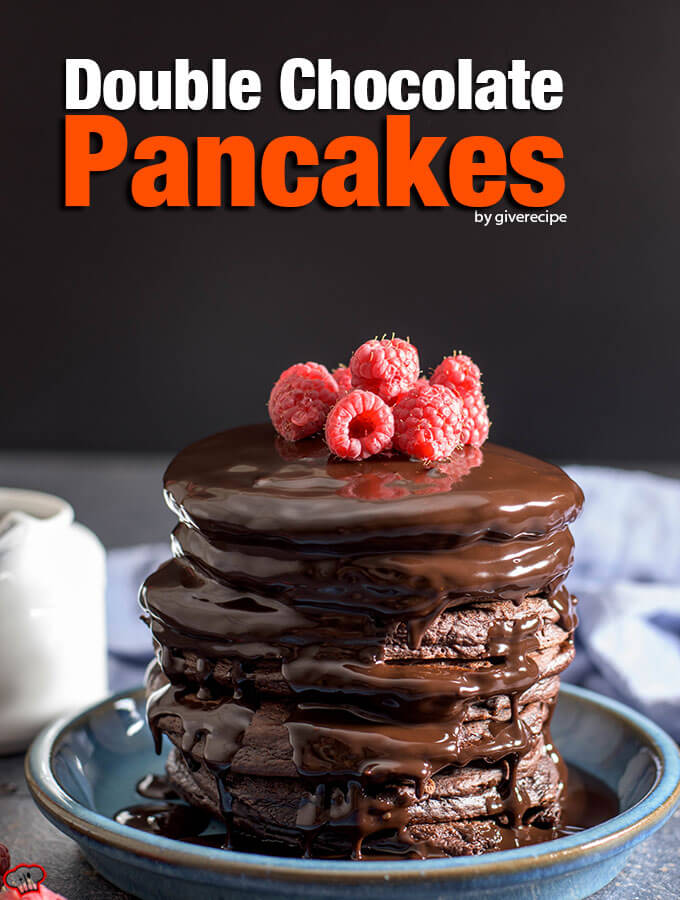 Another personal favorite of mine, these double chocolate pancakes are what dreams are made of. Allow Give Recipe to make those dreams come true.
36. Carrot Cake
We've got a recipe for all of the carrot cake lovers out there too! Follow along and grab all the details at About A Mom.
37. Snickerdoodle
This Mama Loves made something for the snickerdoodle lovers. If you're a fan of these classic cookies then you'll really love these at breakfast time.
38. Strawberry Shortcake
Indulge your family with these strawberry cheesecake pancakes this weekend! Cafe Delites will show us how to make these happen.
39. Harry Potter Butterbeer
Sugar & Soul did something completely outside-the-box and took their fandom to a completely new level. Harry Potter loved butter beer and we love butter beer pancakes.
40. Strawberry Lemon Poppyseed
Creme de la Crumb added some strawberry to their lemon poppyseed pancakes and we're loving the fruity outcome. Visit now and pocket this recipe too!
41. Pumpkin with Caramel Pecan Sauce
Here are more pumpkin pancakes but this time with a slightly different topic. You'll find the recipe at Julia's Album.
42. Nutella-Stuffed
It's hard not to watch to dive right into these Nutella-stuffed pancakes without a second thought. Satisfy your morning sweet tooth with these. (via)
43. Raspberry with Chocolate Glaze
Baker Bettie knew the best way to top off a batch of raspberry pancakes was with a bit of chocolate. Hop on over and see how you can replicate this dish inside your own kitchen.
44. Banana Split
The Breakfast Drama Queen took her recipe to an entirely new level too, just look at those sprinkles! Dive into your AM banana split now!
45. Peanut Butter & Jelly Oat
Peanut butter and jelly goes together every single time, whether on a sandwich or on a cracker or on a pancake. Learn how to set your morning off with this traditional duo now! (Blissful Basil)
46. Marshmallow Crispy Oreo
Brit + Co went with the vanilla Oreos! With a bout of marshmallow flavors, these are super sweet and delicious too!
47. Healthy Buttermilk
Who knew there were healthy buttermilk pancakes? Amy's Healthy Cooking did and she shows us how!
48. Healthy S'mores
Jar of Lemons went with a dessert inspired batch as well. Take all the best bits of s'mores and turn them into breakfast!
49. Cocoa Hazelnut
Nourish Gal went with a cocoa and hazelnut option. Check out this delicious treat and serve it up by the weekend.
50. Apple Walnut Buckwheat
These satisfying and hearty pancakes have so much to love and enjoy. Take the leap and make a batch for Sunday brunch! (via)