15 Different DIY Shelves To Make For the House
Instead of scouring the aisles for something that fits your vision, get your hands dirty instead. If you need to find some pieces to display and organize, we've got the perfect list for you to peek at. Here are 15 different DIY shelves you can make for the house. Take a look at each tutorial and let us know which you decided to go with. There's a variety of styles that work for so many different visions!
1. Crate Shelves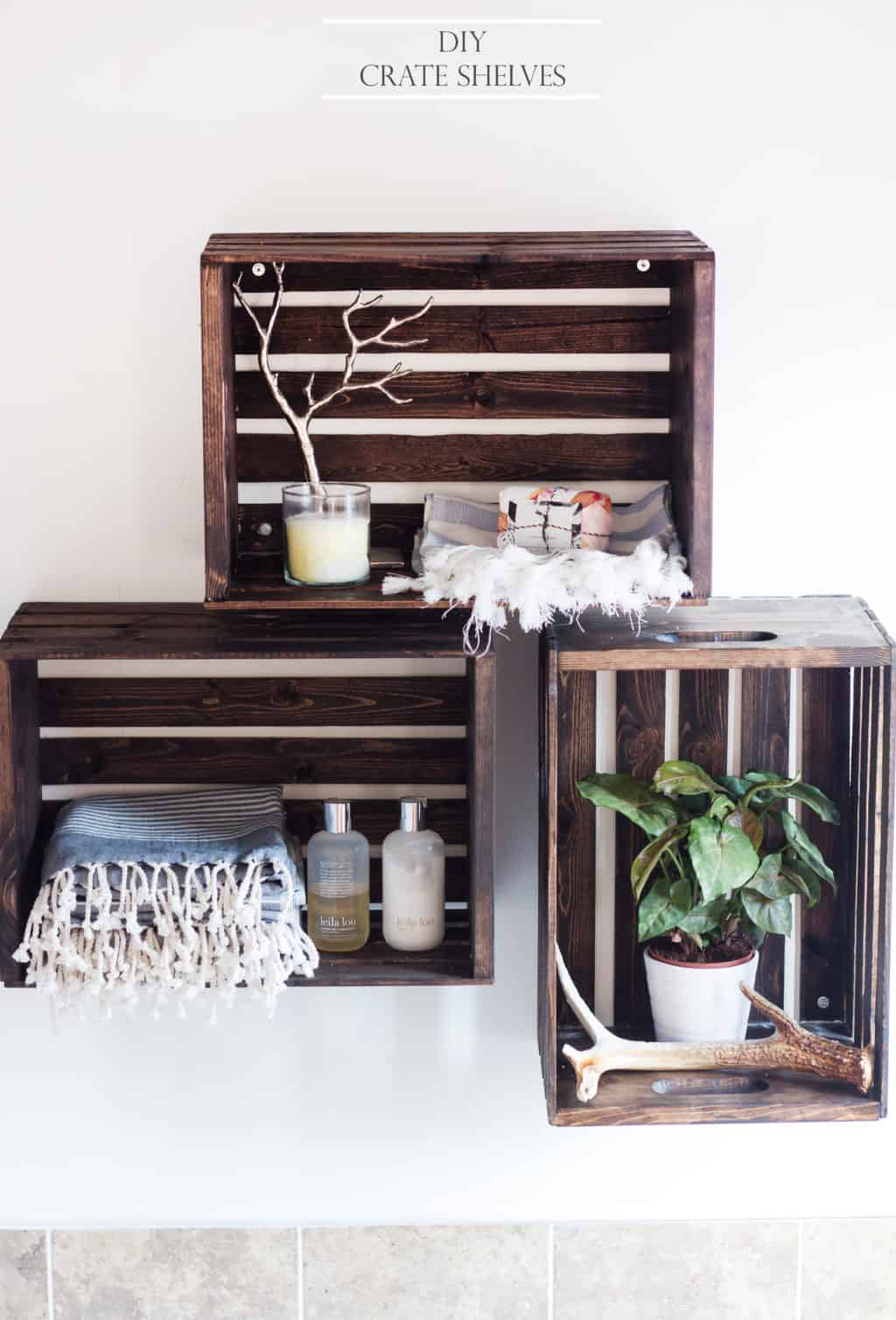 Blondie Locks grabbed some crates and make this rustic-inspired shelves out of them. These are great for organizing and perfect for farmhouse homes. Put them in any room of the house too, even the bathroom!
2. Marble Hanging Shelf
A Bubbly Life is giving us new life with this gorgeous, marble hanging shelf. We love its simplicity and the fact that it's right on trend. Hang this in your home office for a chic new accent!
3. Roped Shelf
Atilio gave us a great idea. Grab a floating shelf and add a rope. It'll keep your things in place and add an extra layer of "uniqueness" and personality to the display.
4. Lattice Shelves
For an extra pop of color and texture, check out these charming lattice shelves. Check out all the details by visiting Francois et Moi. They'd be great for a playroom or colorful corner of the house, don't you think?
5. Floating Copper Shelves
Vintage Revivals created some gorgeous floating shelves as well. The catch with the design is that they're copper. This beautiful, metallic tone is unique and sets the tone for a trendy space.
6. Corner Shelves
A Beautiful Mess serves up this super simple DIY for us to pocket. Do you have a corner that you need to style? Add some corner shelves and display your favs!
7. Colorblock Shelves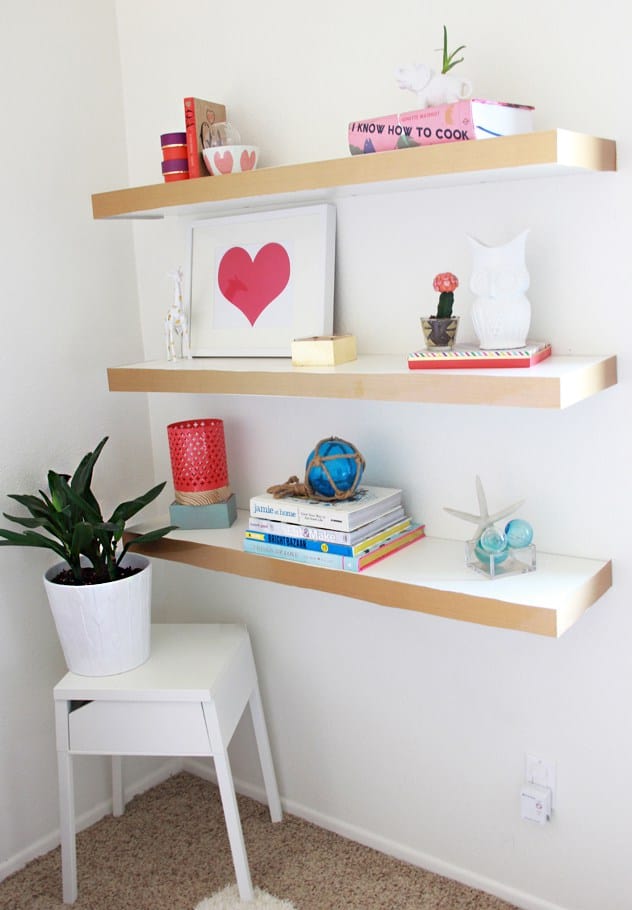 White and natural wood can be such a calm and crisp color pairing. And that's what we have here from A Bubbly Life. Take the jump and learn how to create these simple, colorblocked shelves for your home.
8. White + Copper Shelves
A Joyful Riot has a shelf idea that combines two materials. Classic, white wood shelves and copper pipes. It's such a funky way to provide function to the house. And it's perfect for those that like a bit of an industrial edge as well.
9. Reclaimed Wood Shelves
Keeping It Cozy went with all wooden designs. These reclaimed wood pieces are perfect for displayed your dishes inside the kitchen. Makes for open shelving with a whole lot of great style!
10. Belt Strap Shelves
Do you have any extra belt straps hanging around? If you do, you could start making these cool, funky shelves from At Home In Love. For those with a more offbeat vision for the house, this is the style for you.
11. Log Shelves
Girl Loves Glam cut some logs to make these adorable shelves. For those that need something unique in their gallery wall, check these cuties out! If you love rustic flavor, this is your jam!
12. Rope Shelves
Design Sponge went with some ropes. How funky and cool is this design? It's a great look for dorm rooms or youthful apartments as well. `
13. Wooden Box Shelf
Brit + Co has this wooden box shelf tutorial up their sleeve as well. It's really easy to follow, even for novice crafters! And you can change that hot pink out for any color that excites you!
14. Copper Pipe Shelves
Delineate Your Dwelling has some small shelf designs to take a peek at. If you don't need them to organize, and really just need something to add to the walls, then check these out! Copper is such a great natural to add for texture and color.
15. Distressed Shelves
And finally, we have  some mixed-material, distressed shelves to peek at. Over at Sugar and Cloth, you'll learn all about how to make these versatile pieces come to life. Home offices, bedrooms, or even the living room, could use these!