Delicious Stirfries for Busy Cooks
On of the best ways to combine quick cooking an good nutrition is to make a stir fry. Besides being totally delicious, stir fries are quick to make and you can include almost any ingredients that are already in your fridge!
Check out these delicious stir fry recipes that are full of nutrients and easy to make.
1. Honey lemon ginger chicken stir fry
Honey, ginger, and lemon make a fresh, delicious combination that suits veggies and meat alike!(Source: Lose Baby Weight)
2. Chicken and asparagus stir fry
Sometimes the best stir fry only has a couple ingredients! Chicken and asparagus make a delicious, healthy pair.(Source: The Melon Bowl)
3. Beef and vegetable stir fry
Some people prefer juicy chunks of beef instead of chicken in their stir fry. Throw in some rice and vegetables and you've got yourself a delicious meal!(Source: Taste)
4. Citrus chicken stir fry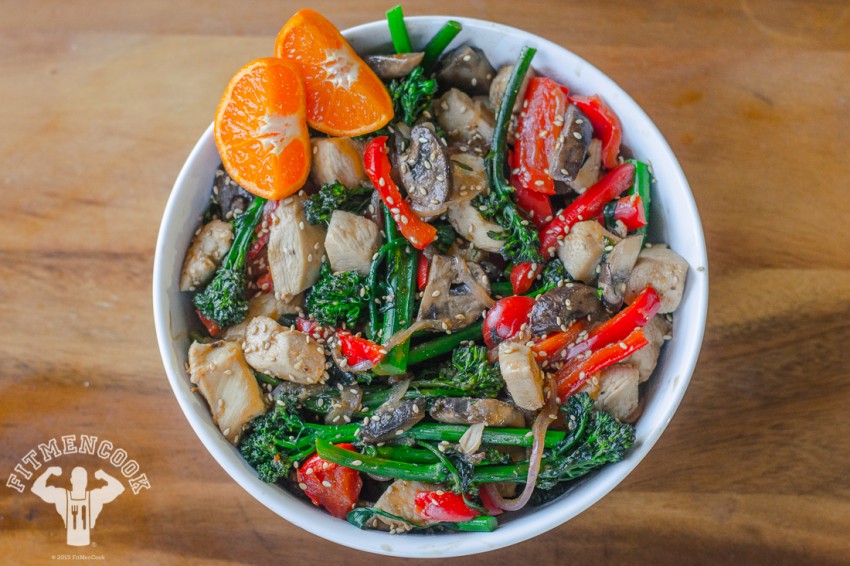 Perhaps you've heard of orange chicken before, but if you've never tried citrus chicken and citrus vegetables all together then you're missing out!(Source: Fit Men Cook)
5. Honey pepper beef stir fry
A huge pile of veggies isn't always necessary when it comes to good stir fry. Sometimes onions, sauce, and rice are all you need to leave emphasis on your delicious beef!(Source: The Chunky Chef)
6. Green curry shrimp stir fry
Do you prefer seafood to meat? Shrimp stir fry is the way to go, especially when it's flavoured with delicious green curry.(Source: Meal Plans)
7. Roasted cauliflower stir fry
Stir fries can be made into vegan and vegetarian dishes too! This roasted cauliflower recipe is nutritious and meat free.(Source: The Woks of Life)
8. Chinese-style cabbage stir fry
Like cabbage rolls, this cabbage stir fry recipe is the kind of thing that proves to people how yummy cabbage can really be.(Source: Omnivore's Cookbook)
9. Sweet and sour chicken stir fry
Sweet and sour sauce is a classic stir fry recipe. How could we ever leave it off our list?(Source: Simply Scratch)
10. Stir fried noodles with chicken
Sometimes you're a little too hungry for just meat and vegetables. Stir fried noodles are the answer!(Source: Jeannette's Healthy Living)
11. Orange beef stir fry
If you liked the idea of citrus chicken, we're willing to bet that you'll love this orange beef recipe too!(Source: Dinner At The Zoo)
12. Szechwan eggplant and pork stir fry
Don't let your stir fries get too repetitive. Eggplant and exciting szechwan flavour is a delicious break from the norm.(Source: Kevin is Cooking)
13. Stir fried chicken bok choy
Bok choy is healthy and flavourful without being too overwhelming if a taste experience. Pair it with chicken for straight up stir fried goodness.(Source: The Brook Cook)
14. Stir fried zucchini noodles
Whether you're avoiding regular noodles because you're watching your calories count or because you're gluten free, eggplant noodles make an awesome stir fry substitute.(Source: Kirbie's Cravings)
15. Tex Mex beef stir fry
Spice up your stir fry with a kick of delicious Mexican flavour that's totally unique!(Source: Nancy's Cravings)
Do you have another awesome stir fry recipe that you don't see on our list? Tell us about it in the comments section!