How To Make Mexican Salsa Roja – Step By Step Recipe
Homemade salsa roja tastes like the salsa from your favorite Mexican restaurant, but you can easily make this recipe at home! When I think of chips and salsa one word comes to mind: addicting. There is just something about the salty crisp chips and the acidic and flavorful salsa that just keeps us reaching back for more. When the waiter brings out a tray of chips and salsa, I might as well say adios to the burrito I just ordered, I am about to fill up on these chips and dip – with no regrets.
How To Make Salsa Roja
One thing, a true restaurant salsa connoisseur knows, is you can't find good restaurant quality salsa in the grocery store. In good salsa, you can taste the tomato, the lime, the cilantro all at once. The store bought stuff… it is all old tomato flavor with a hit of vinegar. Salsa should be bright and flavorful, not acidic and heavy.
And let's chat about texture. Real Salsa Roja is smooth and dip-able without any big chunks. It should coat the chip when dipped, not break your chip in two as you try and scoop up a chunk the size of Pluto.
Another thing this Homemade Salsa Roja has going for it, is the fact that you know exactly what went into the recipe. There are no preservatives. You don't have to worry about canned salsa containing chemicals. It is just pure, flavorful and healthy.
Making homeade salsa Roja means you can select the freshest ingredients and get the best flavor. Not only does this make for the best tasting salsa possible, it also makes for the healthiest salsa ever.
We have all heard that tomatoes have lycopene and for good reason! This superpower antioxidant helps give tomatoes the ability to fight against multiple types of cancer. Tomatoes are also high in many other nutrients like biotin, which contributes to healthy skin and hair along with healthy blood sugar regulation.
Onions are often used to add flavor to so many recipes, but most people don't realize the huge amount of nutrition they are gaining by adding onions into their recipes. Onions can protect us against developing cancer, they may prevent ulcers, and they can even help to lower cholesterol levels.
Ingredients for Salsa Roja recipe:
4 roma tomatoes, quartered
1/2 onion, quartered
2 jalapeños, cut in half and deseeded
1 tablespoon avocado oil, divided
1 lime, juiced
2 cloves garlic, minced
1/2 cup chopped cilantro
Salt
Pepper
Directions to make the Salsa Roja:
Place the tomatoes on a baking tray lined with nonstick foil. Drizzle on half the olive oil and sprinkle on some salt and pepper. Toss to coat.
Turn the oven onto high broil. Broil the tomatoes until they have blistered and browned in places. Set aside.
Place the onion and jalapeños onto the baking tray. Drizzle on the remaining half of the olive oil and sprinkle on some salt and pepper. Toss to coat.
Broil on high until they have blistered and are charred in some places.
Add the tomatoes, onions, jalapeños, lime juice, garlic, and 1 teaspoon salt into a blender. Blend until well combined but not completely smooth.
Transfer the salsa into a bowl. Stir in the cilantro.
Serve with tortilla chips.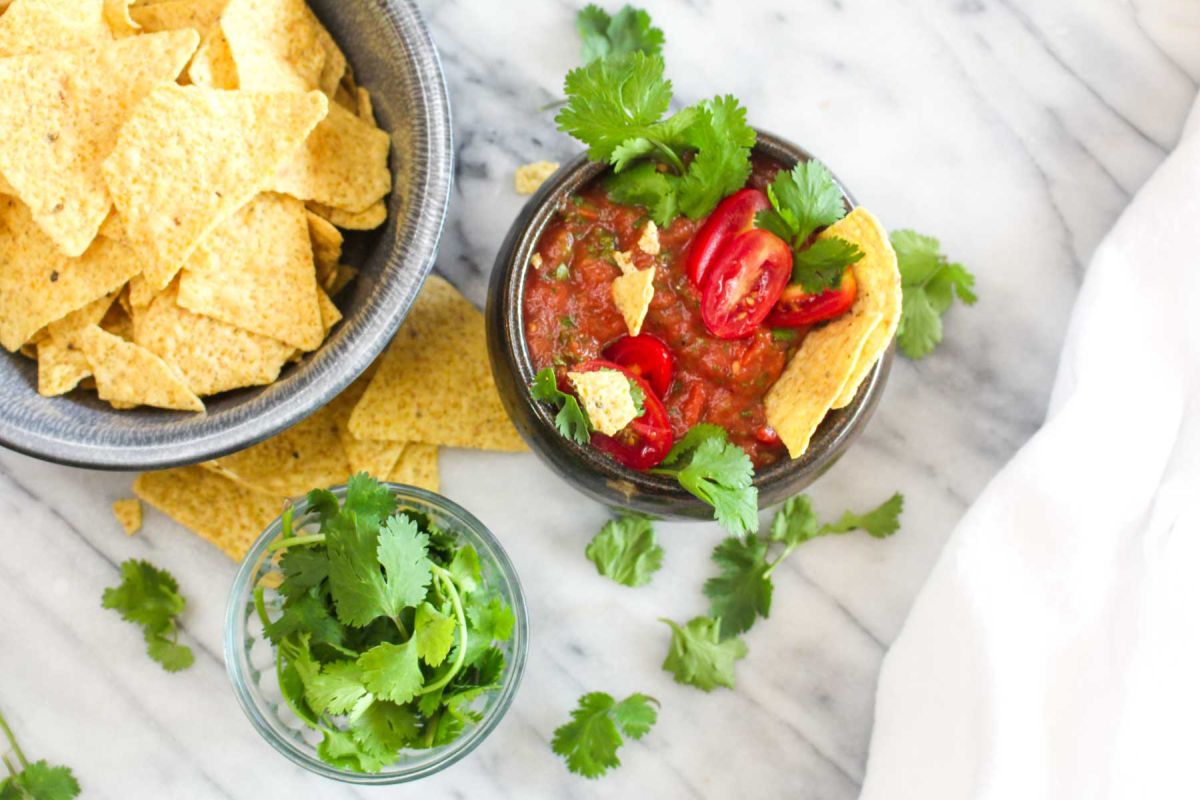 Conclusion
With this easy Salsa Roja recipe you can have a fiesta any night of the week. It only 20 minutes and a few simple steps, to make restaurant-quality salsa that packs a big nutritional punch.