Delicious Fall Desserts That Will Make Your Mouth Water
Dessert is obviously a year round thing. There isn't a single time throughout the year that we don't like to treat ourselves to the occasional sweet after dinner, but sometimes it's nice to theme your desserts for the season. That way you can enjoy different snacks and flavours at different times and savour them even more!
Check out these 15 delicious dessert recipes that are absolutely perfect for the family dinner table after a hearty fall meal!
1. Cranberry pear raspberry pie
Our favourite kind of pie is one that combines different berries and fruits that we might not find baked together other places. This particular cranberry, pear, and raspberry pie, for example, has a bit of late summer, a bit of fall, and just a hint of the holidays, all in one mouthwatering blend. Check out the full recipe on Women's Day!
2. Sweet potato snickerdoodles
Are you a huge fan of desserts that are made of unconventional ingredients you might not usually see in sweets or baked goods? We sure are, and autumn is the perfect season for indulging in that kind of thing. This delicious sweet potato snickerdoodle recipe is the perfect example of what we mean. Find out how it's made on Country Living!
3. Salted caramel apple tartlets
As if the fact that this recipe blends the delicious fall shapes of caramel apples and salted caramel wasn't enough, these might actually be the prettiest little desserts we've ever seen! They're rather unconventional as far as tarts go, since the filling is fresh apple slices rather than stewed or pureed ingredients, but the thought of caramel filled tart crust is making our mouths water as we type this. Get the instructions for making them on Platings and Pairings.
4. Healthy caramel apples
Perhaps the idea of a "healthy" caramel apple sounds a little crazy, but Half Baked Harvest has found a way to make it work while still making it completely delicious! Besides the apples, the health content mostly comes from covering the apples in oats. Don't worry, though, there's still a little bit of sweetness involved! Each apple is covered in a generous helping of dark chocolate drizzle.
5. Spiced apple cider cranberry cupcakes
Cupcakes are one of our very favourite desserts because there are so many flavours, toppings, and combinations you can make them in, making them perfect for creating unique seasonal kinds. If you ask us, American Heritage Cooking has the absolute perfect fall recipe! It combines the tastes of spiced apple cider and cranberries in a way that practically has us drooling.
6. Pumpkin bread truffles
Do you like your desserts best when they're just as cute looking as they are delicious? Then these adorable little pumpkin truffles from Sugar Hero were practically made with you in mind! They're pretty accurate looking, too, because each one you bite into gives you the delicious taste of sweet pumpkin bread.
7. Cranberry apple upside down cake
Can you tell that we really love the seasonal tastes of cranberries and apples by now? We admit it: those are some of our favourite things to eat in the fall, especially in combination with each other! Along with some seasonal spices, Sally's Baking Addiction shows you how to turn those two delicious ingredients into an amazing upside down cake.
8. Pralines and cream dream dessert
Pralines have always reminded us of fall and the holidays. When we were little, we got boxes of praline chocolates every year before Christmas and they've made us think of fall ever since! We never thought we'd find a pralines treat that we'd like even better than those chocolates, but then we stumbled across this pralines and cream dream dessert recipe from Chef in Training and we'll never go back!
9. Chestnut mascarpone mousse
The ingredients int his dessert make our mind start singing "Chestnuts roasting on an open fire…" and we're not even a little bit upset about that! Many of the desserts on this list are heavier ones, so if you're looking for something lighter and a little less filling, mousse is the way to go. We're also completely in love with the thinly shaved shortbread leaves on top! Check it all out on Baking Obsession.
10. Caramel apple cream cheese spread
Maybe you're a little bit of a sweets person, but you like your sweets in moderation? Then you might enjoy making yourself a sweet spread to add to other things instead of making a whole rich dessert that you might not end up eating! We've actually made and eaten this delicious caramel apple cream cheese spread from She Wears Many Hats and we loved it so much that we spread it on more than just apples. We might have even eaten it on our toast at breakfast. Everyone deserves cheat days, right?
11. Tomato spice cake
Are you the kind of dessert lover that enjoys rich, spicy tastes rather than very sweet ones? We don't blame you! Some of the most interesting desserts out there contain ingredients that wouldn't necessarily pop into our minds but we're willing to try just about anything when it comes to after dinner treats. This Tomato spice cake from Woman's Day is the perfect example of what we mean!
12. Salted caramel and chocolate pecan pie bars
Pecans remind us of fall. Salted caramel reminds us of fall. Chocolate is welcome in our diet during any season at all. So what more could we ask for than these delicious dessert bars that combine all three? These are another option that we've actually made before and they're the perfect combination of chewy and crumbly. Check them out on Averie Cooks!
13. Caramel apple pie cookies
Combination recipes are always a hit at parties, and autumn is a great time for things like family reunions and get togethers with friends you haven't gotten the chance to see since the summer. Cincy Shopper suggests combining cookies, mouthwatering caramel sauce, and the delicious fillings and spice of apple pie to give your friends all kinds of fall sweetness with each bite!
14. Hazelnut crunch pumpkin cake with brown butter cream cheese frosting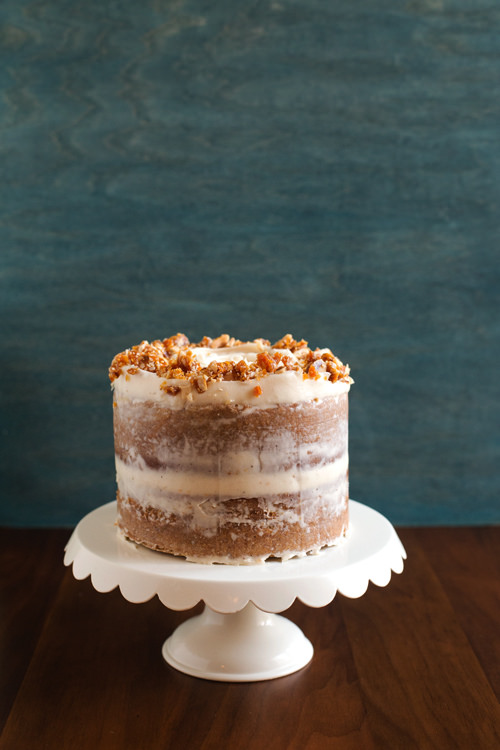 We'll eat pretty much anything if you spread brown butter cream cheese frosting on it, but we're particularly happy to see it on pumpkin cake topped with hazelnut crunch! Once again, this is a recipe that we've actually made before and, if you do it just like Hungry Girl Por Vida did, you'll get just the right amount of sponge texture to balance that delicious crunch out!
15. Gingery pear apricot pie
Pears, apricots, and ginger are so complementary it's almost like magic. While the pears and apricots give a pie a fresh, delicious taste, the ginger adds a bit of autumn spice that makes this recipe perfect for any sit-down dinner from Thanksgiving onward! Besides that, how can you not fall in love with these adorable leaf shaped pie crust cut outs? See how the whole thing comes together on Woman's Day.
Do you have another favourite dessert that you look forward to making every single fall, but you don't see it on our list? Tell us all about it in the comments section!