Delicious Fall Cupcake Ideas
If you ask us, there's never a bad time of year for cupcakes. People might not think they're a particularly "fall" treat, since so many people like pies and crumbles so much as soon as colder weather hits, but we think there are lots of different ways to get seasonal if cupcakes are your favourite thing! We've been intent on trying as many different fall cupcake flavours and ideas as we can this year and we're pleasantly surprised by how many recipes we actually found!
Just in case you'd like to explore some new ideas in the fall themed cupcake department, here are some absolutely scrumptious décor ideas and flavours that will keep your tummy happy for the rest of autumn and on into winter.
1. Chocolate fall acorn cupcakes
If you ask us, the best kind of cupcake topper is one that looks on theme and tastes seasonal. It's a double whammy, all in one décor and flavour element! That's why we loved these awesome fall acorn cupcakes by Easy Baked. They show you how to make "acorns" from peanut butter cookies and Hershey kisses held together with icing and nestle into the top of the cupcake to add a little more flavour and sweetness.
2. Autumn leaf cupcakes
Are you actually quite experienced in baking and now you're hoping to expand your skills when it comes to fancy cupcake décor? Then perhaps you'd prefer to try something like this fall leaf cupcake design from Happy and Simple! No matter what kind of cupcake you decide to make, their tutorial will show you how to cut out and create a cute little leaf shape from fondant and add details to make it look just as realistic as it is sweet.
3. Pumpkin spice latte cupcakes
Is your absolute favourite thing about fall the fact that pumpkin spice everything suddenly pops up again for the year? Well, we can't say we blame you because we're completely obsessed with pumpkin spiced things too! That's why we were so happy to stumble upon this recipe from Your Cup of Cake. It's wonderfully surprising how much these taste just like the actual pumpkin spice latte that started the whole craze!
4. Pecan pie filled chocolate cupcakes
Are your favourite baking recipes always the ones that somehow blend one treat with another thing you love? Then we have a feeling you'll be a pretty big fan of these pecan pie filled chocolate cupcakes! Betty Crocker guides you through the process of not only making deliciously moist chocolate cupcakes, but also making an actual pecan pie filling to put in the centre like a delicious surprise on the first bite.
5. Apple beer cupcakes
Speaking of unique and interesting tasting combinations, here's a fall cupcake that blends different ingredients and spices to taste seasonal while also involving a commonly loved drink! Rather than just making apple caramel or apple cinnamon, Brown Sugar Mama shows you how to make apple beer cupcakes, just to shake things up just a little bit.
6. Pumpkin cupcakes with browned butter cream cheese frosting and candied pecans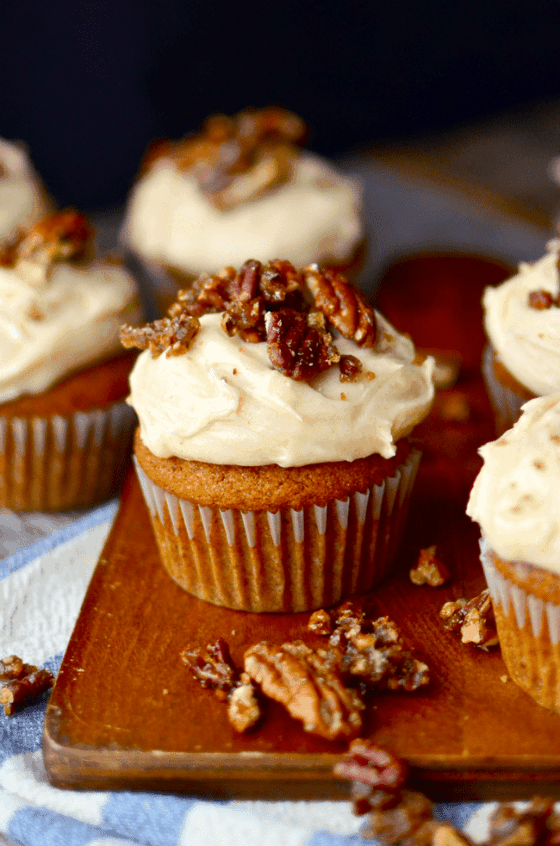 Did you love the idea of involving pecans in your cupcake recipe but you've actually never been a fan of filled cupcakes because they're so gooey when you eat them and you prefer the actual sponge cake texture itself? In that case, perhaps you'd prefer this recipe that's topped with candied pecans! Yammie's Noshery shows you how to make the cupcakes, mix some delicious brown butter cream cheese frosting, and put the candied pecans right on top.
7. Apple pie cupcakes with salted caramel buttercream frosting
Just in case you're still interested in the combination recipes but we haven't shown you one that has quite caught you eye yet, here's an alternative that's chalk full of blended flavours! Life Made Sweeter shows you how to make a cupcake batter that tastes just like apple pie but with the fluffy sponge cake taste, and then top it all off with deliciously rich salted caramel icing.
8. Maple cupcakes with pumpkin pie frosting
Don't worry if you haven't seen a combination recipe yet that has quite called your name; we've still got ideas for you! We actually tried these maple cupcakes with pumpkin pie frosting last week and they were so popular with our kids that they were gone by the next day at lunch. Check out how Amy's Healthy Baking blended the flavours perfectly by adding just the right amount of icing to each cupcake.
9. Cinnamon swirl pumpkin cupcakes
Are you a huge fan of seasonal pumpkin flavoured recipes but you really like the spiced part of the pumpkin spice recipes specifically and you find that many of the treats you find don't have quite enough cinnamon for you? Then we have a feeling you'd prefer this cinnamon swirl pumpkin cupcake batter and icing combination instead! Fin out how it's done (and spiced to perfection) on Sally's Baking Addiction.
10. Apple pie cupcakes with vanilla buttercream frosting
Are you pretty intrigued by all these different apple and apple pie based cupcake flavours that we've shown you so far, but the kind of icing they're paired with doesn't quite speak to you? Then here's another option for your consideration! Spoonful of Flavour shows you how to mix a delicious cupcake batter and how to make a simple vanilla buttercream frosting that gives you some subtle sweetness. We love the way they included a sweet apple pie filling mixture nestled right into the top!
11. Pumpkin maple cupcakes with cinnamon cream cheese frosting
Just in case you can't tell that we love flavour blended cupcake recipes, here's yet another one for you! This batter is made from maple and pumpkin flavours and topped off with a deliciously sweet (but not too sweet) icing made from cinnamon and cream cheese and whipped into the perfect texture. Find out how to make both of them on The Novice Chef.
12. Caramel pecan carrot cupcakes
Are you a big lover of spongey textured cupcakes but you actually refer the kind that are a little more dense rather than being really fluffy? In that case, we think you might actually prefer these carrot cake cupcakes from Garnish & Glaze! We love the way they topped the whole delectable thing with a sweet caramel drizzle and some crumbled pecans to really make it a treat.
13. Maple butter pecan cupcake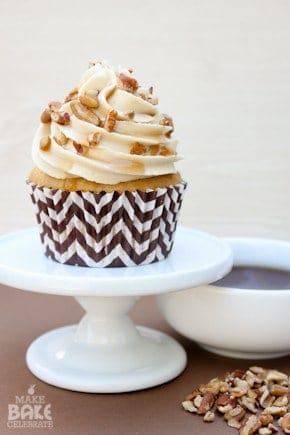 Are you a huge fan of maple but you're also never opposed to topping your cupcakes with the creamiest possible icing available, because the icing is not-so-secretly your favourite part? In that case, we think perhaps we've found the best recipe for you! Make, Bake, Celebrate shows you how to make a maple butter pecan cupcake topped with maple butter icing that's so decadent we have to practice self control when we make it so the cupcakes actually get iced and we don't eat it all right from the bowl.
14. Speculoos pecan cupcakes
Did we peak your attention when we said the words "maple butter" above but you immediately started thinking about how there's another type of dessert butter you like even more? Then we've absolutely got the perfect recipe for you! Your Cup of Cake shows you how to make deliciously fluffy pecan cupcakes topped with icing made from speculoos or cookie butter. This is another one that makes us struggle with not eating the icing right then and there before it even makes it onto the cupcakes.
15. Chocolate bourbon pecan pie cupcakes with butter pecan frosting
We've talked a lot about combination flavour recipes, but what if you've been sitting here reading our list and struggling over which one you'll choose? Well, who ever said you have to pick just one or two? Half Baked Harvest sure doesn't thinking picking and choosing is necessary, which is why we were so pleased to find their recipe for chocolate bourbon pecan pie cupcakes with butter pecan frosting! It's got just about every delicious seasonal flavour you could want in a fall recipe except perhaps pumpkin, but sometimes it's okay to take a break from the big trendy taste of the season to enjoy all the other things autumn baking ahs to offer too.
Do you have another favourite fall cupcake that you make every year but that you don't see on our list? Tell us all about it or link us to the recipe in the comments section!